About 20 miles to the north of Nha Trang there is a lovely forested area, high in the hills. The landscape is rugged and the small rivers and streams that feed the area have to meander through twists and turns as well as navigating sudden drops. It is here that you will find the very beautiful Ba Ho Waterfall; regarded as one of the best waterfalls in Vietnam. It gets its name from the nearby village of Ba Ho. The scenery here is exceptional; lush green countryside with the backdrop of the hills at all times. Ba Ho Village is a linear affair running along the sides of the single track road that typifies routes in this region.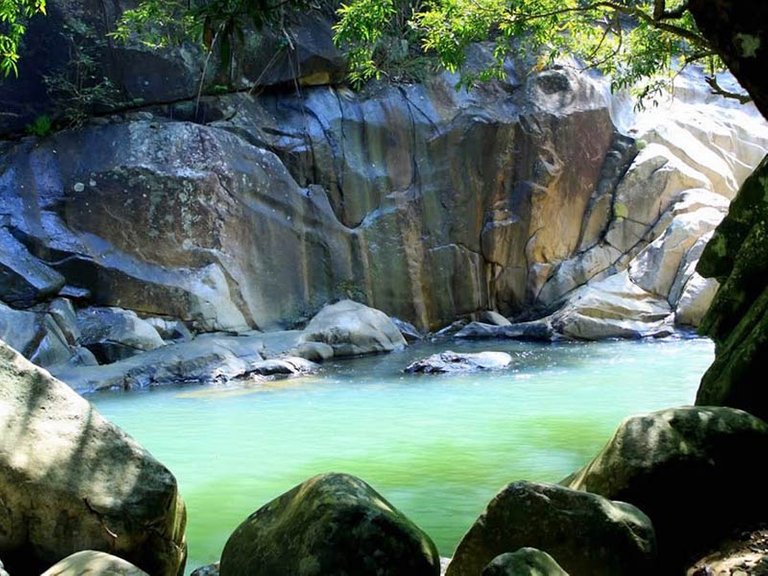 Loved by cliff jumpers, the idyllic Ba Ho Waterfall
Getting here is relatively simple in the dry season though can become quite hazardous in the wet. The roads are only partially paved and not in terribly good condition. It takes about an hour to ride from Nah Trang by heading out on the highway going north and looking out for the blue sign proclaiming Ba Ho. From this turn it stays relatively straight all the way to the stream. Locals here, are as everywhere in Vietnam, very helpful. Should you get a puncture there will be not shortage of roadside repairers.
Bo Ha Waterfall itself has three tiers.You can follow the stream to the first lake which is clear cool and perfect for a swim. The rocks are really good here. After a further half mile or so of demanding terrain you will reach the second, more narrow and more tranquil than the first. The third lake is a further quarter of a mile and is reached by way of a foliage covered path. The vegetation is remarkable. The Ba Ho Waterfall really is a delightful spot and a great addition to the attractions of Nha Trang. It really is a lovely way to spend an afternoon, strolling round the countryside and cooling off in the pools.
!steemitworldmap 12.389962 lat x 109.137937 Ba Ho Waterfall D3SCR
For other Nha Trang attractions see also:
#1 The Long Son Pagoda https://steemit.com/travel/@inseasia/attractions-of-nha-trang-1-the-long-son-pagoda
#2 Nha Trang Beach https://steemit.com/travel/@inseasia/nha-trang-attractions-2-nha-trand-beach
I have been developing the InSeAsia website for three years. It genuinely is a labour of love. I have lived in Southeast Asia for 9 years and have no plans to ever leave.
I am extremely grateful to anyone who follows me, up votes, comments or re-steems my work.
Come and check me out. If ever you come to Saigon, Vietnam get in touch and we can meet up.
Website: http://www.inseasia.com
Steemit: https://steemit.com/@inseasia
Facebook: https://www.facebook.com/InSeAsia/
Facebook group for Southeast Asia Steemians: https://www.facebook.com/groups/846253152208905/
YouTube: https://www.youtube.com/channel/UC4YQUTrPwK190V4vbJDLt_A
Instagram: https://www.instagram.com/inseasia/