The famous Cham temple Po Nagar Tower is one of Nha Trang's attractions. It is located in the medieval principality of Kauthara, which is close to modern Nha Trang in Central Vietnam. It was built in honour of Yan Po Nagar, the goddess of the country. She became identified with the Hindu goddesses Bhagavati and Mahishasuramardini, who the Vietnamese call Thien Y Thanh Mau.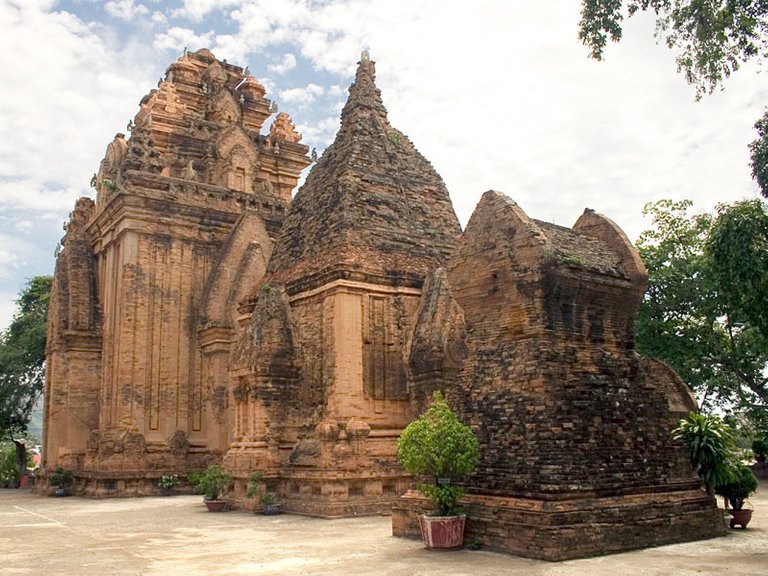 Dating from the 8th Century, the Po Nagar Tower
Nha Trang is a coastal town that is the heart of Vietnam's beach resort tourism. It is as famous for it's miles of golden sand as it is for it's historical treasures. It is a wonderful getaway city and offers holiday makers the chance of a great combination between beach activities and historical exploration. The Po Nagar Tower is just one of several, historically important sites in the region.
A stele here dates the temple from 781. It describes how the area had fallen under the rule of foreigners, who had damaged an original temple. The Po Nagar Tower and temple complex is built on Cu Lao Mountain. The temple is built comprising three levels, the top one having two rows of towers, it is about 25 metres (80 feet high). At the centre is a 1.3metre (4 feet high) stone statue of the Goddess Yan Po Nagar. She is in the seated position wearing just a skirt, ten hands holding various important symbols.
As is the case with most religious sites in Vietnam, the Po Nagar Tower is subject of many legends and folk tales, these are based around the goddess and the tower itself. In the 17th century the Champ people were forced out of the region and the Viets took control, they called the tour Thien Y Thanh Mau.
Whatever the truth of it's original The Po Nagar Tower is well worth a visit, it really is history before your eyes.
!steemitworldmap 12.265451 lat x 109.195394 Po Nagar Tower D3SCR
For other Nha Trang attractions see also:
#1 The Long Son Pagoda https://steemit.com/travel/@inseasia/attractions-of-nha-trang-1-the-long-son-pagoda
#2 Nha Trang Beach https://steemit.com/travel/@inseasia/nha-trang-attractions-2-nha-trand-beach
#3 Bo Ha Waterfall https://steemit.com/travel/@inseasia/nha-trang-attractions-3-ba-ho-waterfall
I have been developing the InSeAsia website for three years. It genuinely is a labour of love. I have lived in Southeast Asia for 9 years and have no plans to ever leave.
I am extremely grateful to anyone who follows me, up votes, comments or re-steems my work.
Come and check me out. If ever you come to Saigon, Vietnam get in touch and we can meet up.
Website: http://www.inseasia.com
Steemit: https://steemit.com/@inseasia
Facebook: https://www.facebook.com/InSeAsia/
Facebook group for Southeast Asia Steemians:
https://www.facebook.com/groups/846253152208905/
YouTube: https://www.youtube.com/channel/UC4YQUTrPwK190V4vbJDLt_A
Instagram: https://www.instagram.com/inseasia/