The Vinpearl Resort Nha Trang sits on its own island in the crystal clear waters of a bay that has been named as in the top 30 most beautiful bays in the world. This is what tropical islands dreams are all about; clear blue sea, white sand, palm trees and a terrific resort.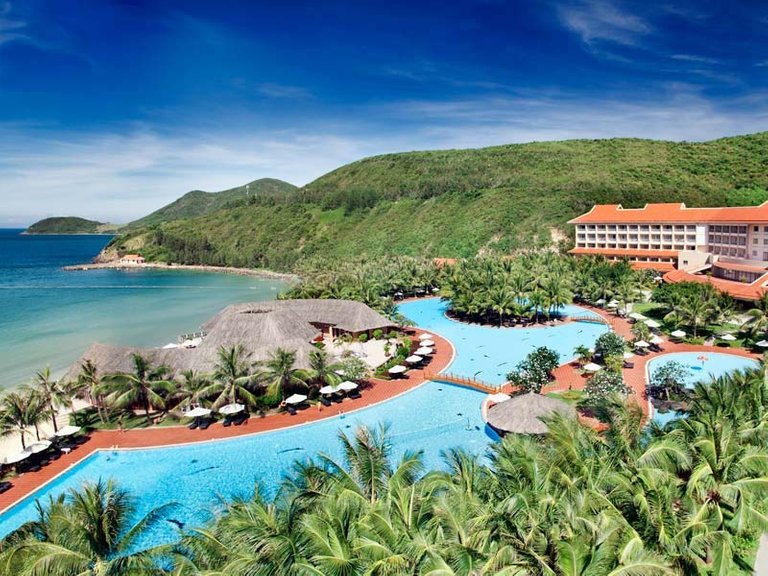 The ever popular Vinpearl Resort Nha Trang
Guest reach the island by means of the 10,900 ft cable car ride, which until recently was the longest such sea crossing in the world. Upon arrival the Vinpearl Resort Nha Trang provides 5 star treatment all the way. Among the great attractions here are the largest outdoor swimming pool in Southeast Asia, wonderful spa treatment and wellness facilities and superb restaurants. Of all Nha Trang attractions this is the most famous.
The Vietnamese have lavished the resort with a whole list of glamorous names including "Brilliant flower basket on the East Sea Coast" or "Vietnamese pearl".It goes without saying that it is well liked.
Connected to the five star resort is the 50 acre Vinpearl Amusement Park which contains many modern large scale rides comparable with anything in the region. There is a water park containing some excellent extreme rides and games, The Vinpearl Under Water World housing almost 300 rare species, an 5,000 amphitheatre for live performances and a shopping mall with food court.
The Vinpearl Resort Nha Trang is one of the best attractions in Nha Trang and in the country. It is extreme popular with locals and tourists alike.
!steemitworldmap 12.214211 lat 109.241465 The Vinpearl Resort Nha Trang D3SCR
For other Nha Trang attractions see also:
#1 The Long Son Pagoda https://steemit.com/travel/@inseasia/attractions-of-nha-trang-1-the-long-son-pagoda
#2 Nha Trang Beach https://steemit.com/travel/@inseasia/nha-trang-attractions-2-nha-trand-beach
#3 Bo Ha Waterfall https://steemit.com/travel/@inseasia/nha-trang-attractions-3-ba-ho-waterfall
#4 Po Nagar Tower https://steemit.com/travel/@inseasia/nha-trang-attractions-4-po-nagar-tower
I have been developing the InSeAsia website for three years. It genuinely is a labour of love. I have lived in Southeast Asia for 9 years and have no plans to ever leave.
I am extremely grateful to anyone who follows me, up votes, comments or re-steems my work.
Come and check me out. If ever you come to Saigon, Vietnam get in touch and we can meet up.
Website: http://www.inseasia.com
Steemit: https://steemit.com/@inseasia
Facebook: https://www.facebook.com/InSeAsia/
Facebook group for Southeast Asia Steemians: https://www.facebook.com/groups/846253152208905/
YouTube: https://www.youtube.com/channel/UC4YQUTrPwK190V4vbJDLt_A
Instagram: https://www.instagram.com/inseasia/