And so, my last day of this remarkable jaunt to Madrid begins. I breakfast as usual, whilst figuring out how to handle the last 12 hours. Frustratingly the Hotel Mayorazgo does not have a late check out option. One of the things I liked of my times in Canada was they way that they were helpful to the point of bending over backwards with special requests. I don't know if this is a Spanish thing or just this hotel, but with a flight at 10.00pm, being forced to check out at 12 noon, is annoying. I don't think all today's guests will be arriving before lunch, but hey ho! I must point out that the hotel has been more than fine for everything else, and it has superb staff!
My last must-see was to have been Picasso's Guernica, which hangs in the Museo Nacional Centro de Arte Reina Sofía. I had planned to use the metro to find it. Having stayed in my room until the last possible moment, noon, I spent the time reading up on the museo. Sadly I decided that discretion should be the better part of valor for me. Walking round the largest contemporary art gallery in the world, is not good planning for a 15-hour flight back to Vietnam. It would be too much for me. So I retired to the hotel bar with a beer, Google and a map book to look for an alternative, more restful end to my Madrid break. I have almost 7 hours to kill as I wait for my transfer to Madrid's Adolfo Suárez Madrid–Barajas Airport.
A quick search on Google directed my attention to Bodega Ardosa, a popular tapas bar not a million miles away. I jumped in a cab, armed wth the address and off we went.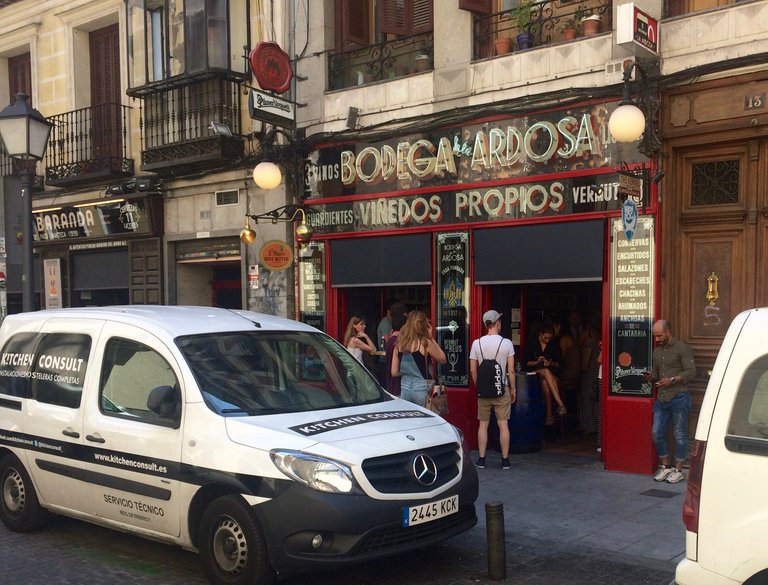 Bodega Ardosa
However, I don't know whether this bar is reported on searches as being terrific or whether it is popular because it is reported on searches, but I could not even get in. It was rammed out. So I called into next-door where Casa Baranda has been serving happy customers since 1919. I had a quiet glass of red, whilst waiting to see if next door calmed down.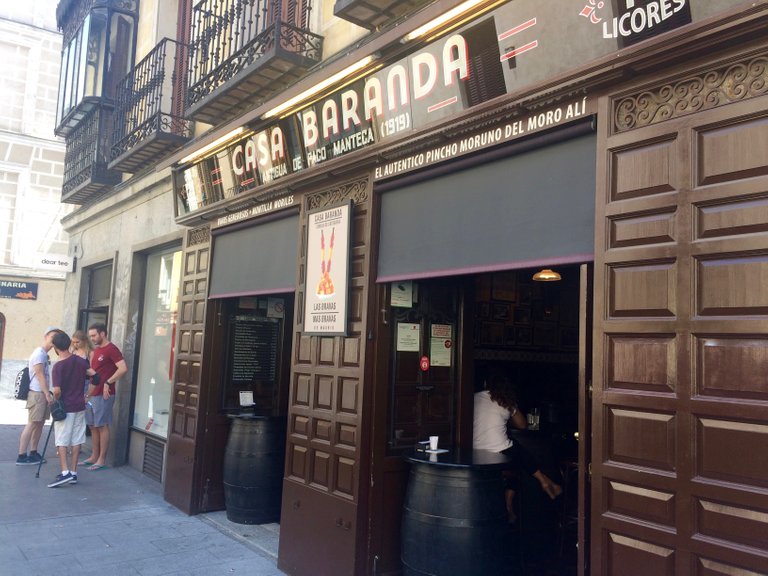 Casa Baranda
I really could get used to this and of drinking and eating. It is clearly a way of life for Madridians. It was 3.00pm and all the bars are packed. Everyone is eating small plates and conversation is vibrant. One does not need to understand what is being said to know that the art of conversation is alive and well here. There seems to be an unwritten rule in these places. The worldwide obsession with smartphones just doesn't happen in these places. Yesterday, every time I passed a modern fast food joint, all the occupants had their faces in their phones and nobody was talking; here the opposite is true.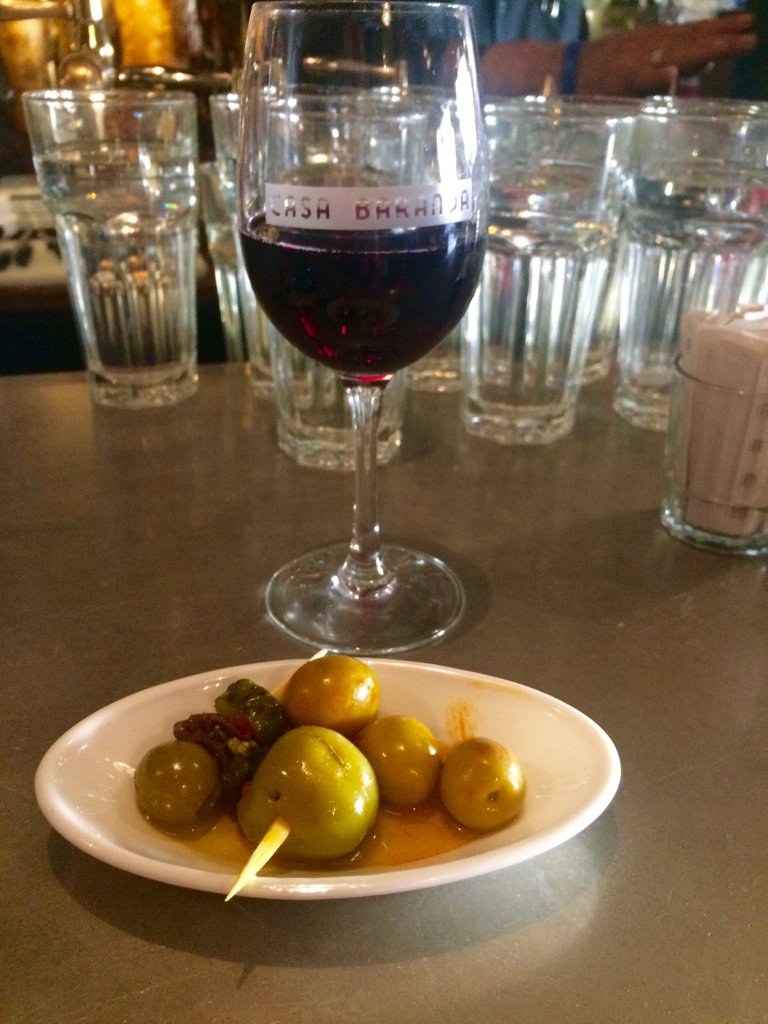 Good red wine and great olives at Casa Baranda
Casa Baranda was very fine indeed; a tiny hole in the wall sort of a place, but their hole was a very, very, very nice hole. In Madrid bar staff have to know a lot more than pouring drinks. The collection of meats and cheese behind the bar was evidence of the skills required. On the counter at the back of the bar the cheese stood on top of a small box, which turned out to be a sort of miniature dumb waiter to the kitchen. The entertaining barman, I suspect owner, would upon occasion, shout down a hidden hole and a few moments later a plate of patatas bravas or some other local speciality would appear as if by magic.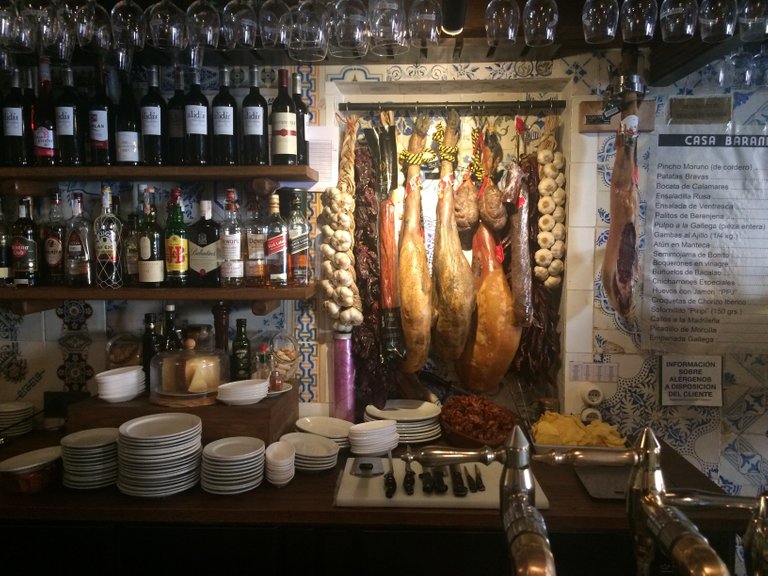 Just look at that meat and you can see the small "dumb waiter" under the cheese
Here the wine was accompanied by a little plate of various olives. One of which sat appetisingly on a cocktail stick accompanied by a small slice of gherkin and what turned out to be one of the most satisfyingly salty anchovies I've ever tasted. Another had a small artichoke heart inside. Bliss. I loved this place within a few minutes of my arrival it too started to fill up and was soon bustling, busy and a fun place to be. My second glass of red came with a small plate of delightful crispy bacon. One can eat in Madrid, just by drinking, this was brilliant. I reckon with practice I could get down to ten plates per day!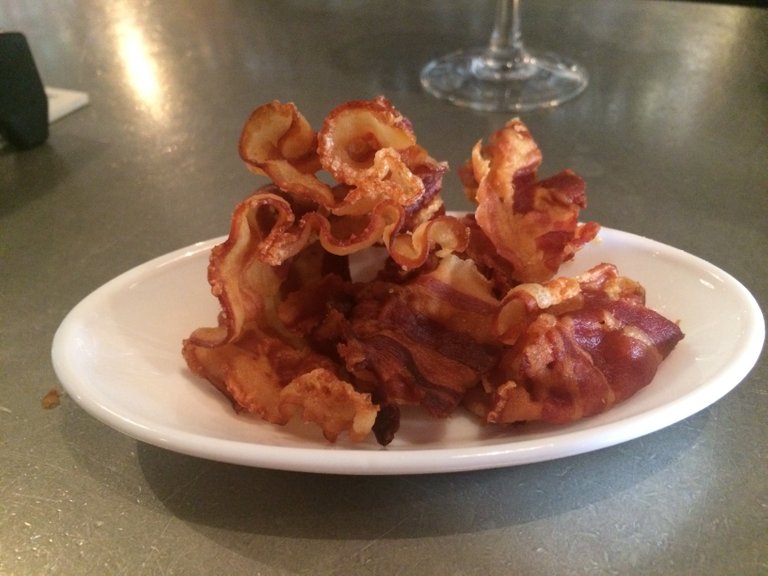 This crispy bacon was delicious, the perfect accompaniment
I decided to take a look next door and see if things had quietened down. They had, but only in so much as I could just about get the last seat in the house. Bodega de la Ardosa is a bustling vibrant noisy (in a nice way) place that has been serving drinks and great food since 1892. I am not surprised that it has survived. Upon entering the bar I realised that there were very few seats, so when I looked before and they were standing at the door to get in, it was even more impressive as the whole of the albeit bar space is given over to standing clientele. There is an additional room at the back, access to which is gained by ducking under the bar flap and walking through the bar. I guess they cater for hobbits.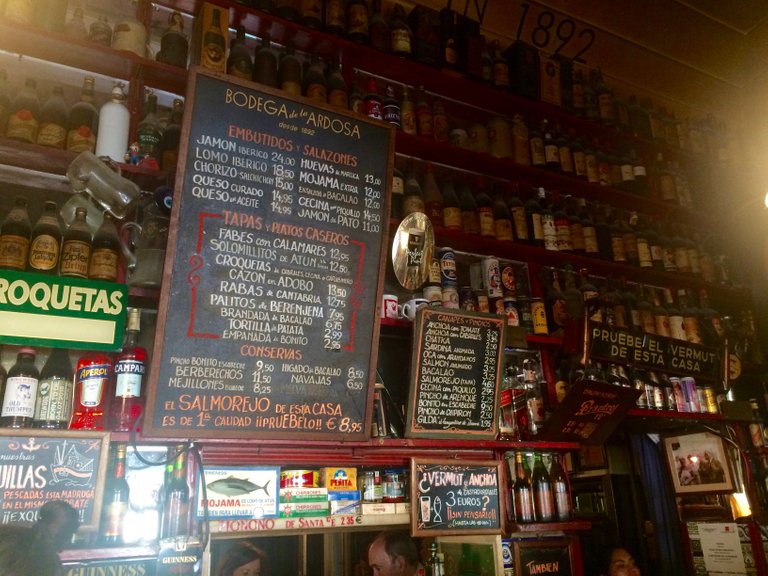 An interesting array of bottles and signage
One thing that I noticed with both these bars today is that they have a small wooden block next to the beer pump. They pull half a glass fo beer then slam it down, to dissipate the bubbles, I suppose, before filling it up. In Bodega de la Ardosa, the wooden block has been worn down or crushed impressively, through years of use. They are known for their Czech Pilsner, so who was I to argue?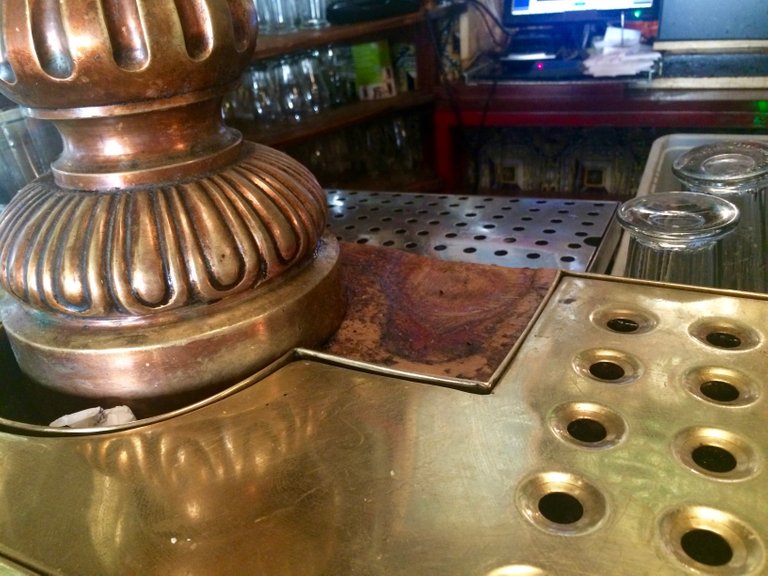 The wooden block showing years of use or should that be abuse
I just had to eat here; everything looked really good. I went with the tortilla, the Chatka with Russian King Crab and the smoked sardine. These small appetiser sized plates come in at about €3.00 each. Neither of these two adjacent bars had Wi-Fi, a stubborn attempt no doubt to stem the flow of faces in devices; admirable. The food arrived quickly, sadly they cocked up the order and instead of the smoked sardine I got a version of the weird meat dish that I disliked yesterday, I hate having to return food, but I really couldn't face that again, thankfully I noticed and they were very sweet about it. All settled, most of the food certainly did not disappoint. I loved the Russian crab dish best of all; it came on rye bread cracker, as did the smoked sardines. Annoyingly the sardines came with the tomato jam, which I really do not like. A small gripe but I do wish bars and restaurants would put ALL ingredients on their menus. Having already sent back one dish I was not about to send this one back. I scraped the weird tomato concoction off and suffered in silence. The tortilla was really good, light and very easy to digest, the perfect afternoon food. It all came with superb fresh bread; oh I have missed this as a daily occurrence.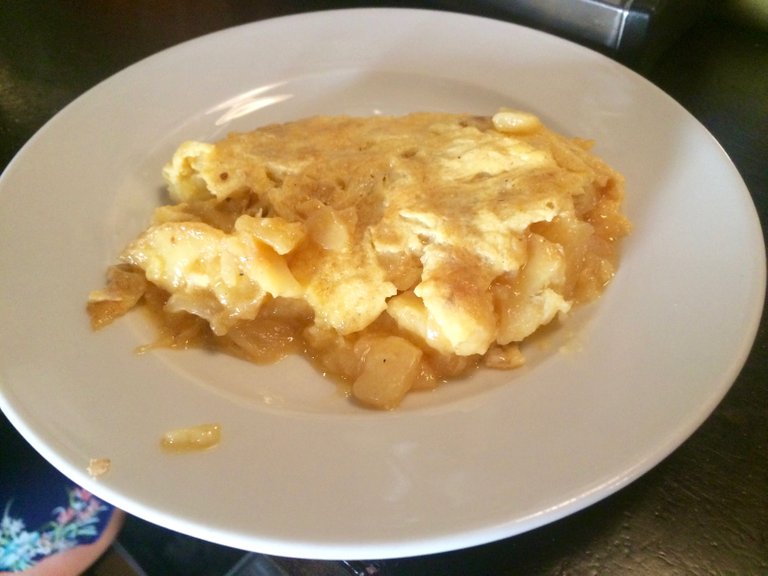 The Tortilla was good but I couldn't face the other dish again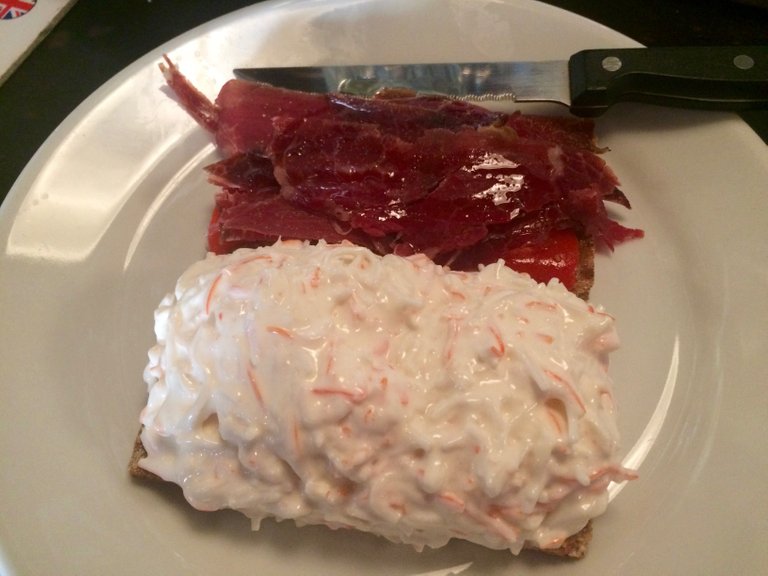 Chatka with Russian crab, really gorgeous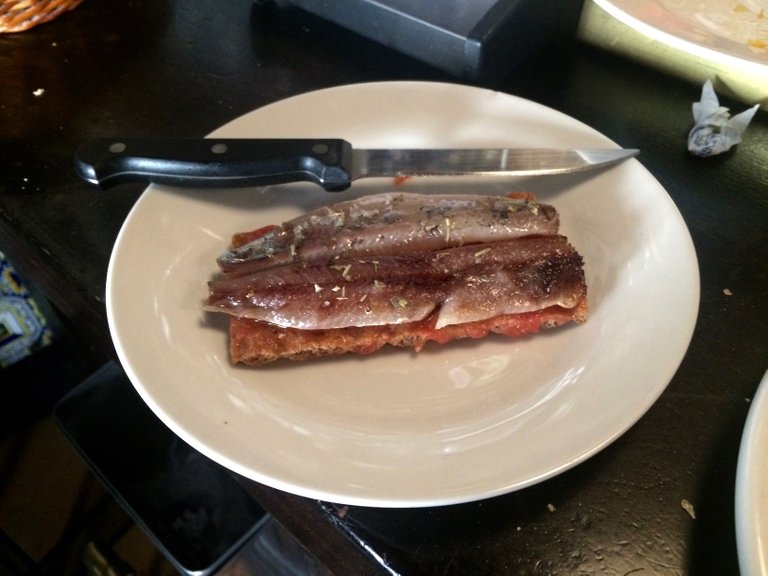 The smoked sardines would have been good but for the weird jam
So, two beers of good quality and three small plates of food all came in at €15.00, which I think is good value for a popular bar in one of the busiest areas of the city. Anyone paying a visit to Madrid I would strongly recommend Casa Baranda and Bodega Ardosa are found at, 11 and 13 Calle de Colon, respectfully. This is a great way to spend a lazy afternoon here.
This area is fascinating with loads of stiff to see and explore. Some of the best bars and restaurants are packed into the narrow streets here.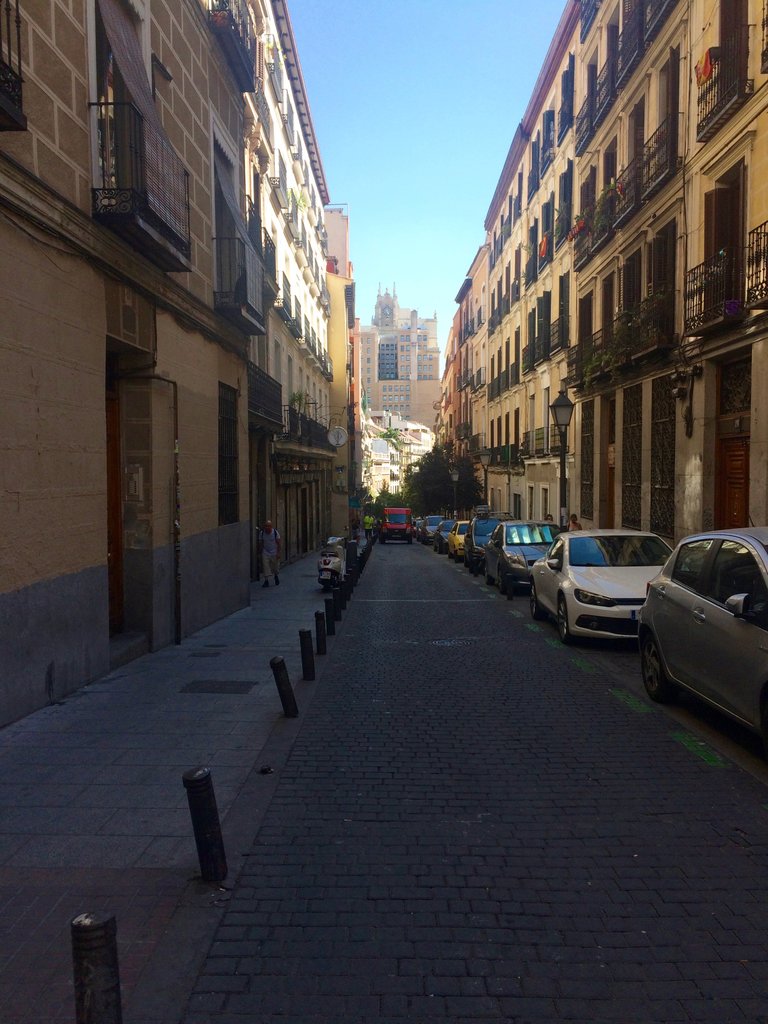 A typical little street packed with bars and places in which to eat
One sour note: Bodega Ardosa surprisingly does not take cards. I had to walk about 500 yards to the cashpoint and back in blazing heat to be charges 10% by Santander for the privilege . . .BOO Santander, fucking boo!
I dived into La Jauria to cool off and enjoyed an unusual beer, not at all like the lagers that are de rigour in Madrid, this was darker richer and full of flavour. Nobody spoke any English so I couldn't find out what it was. The bar was a typical old style bar at the front with a rather nice dining area occupying the back 50% of the space.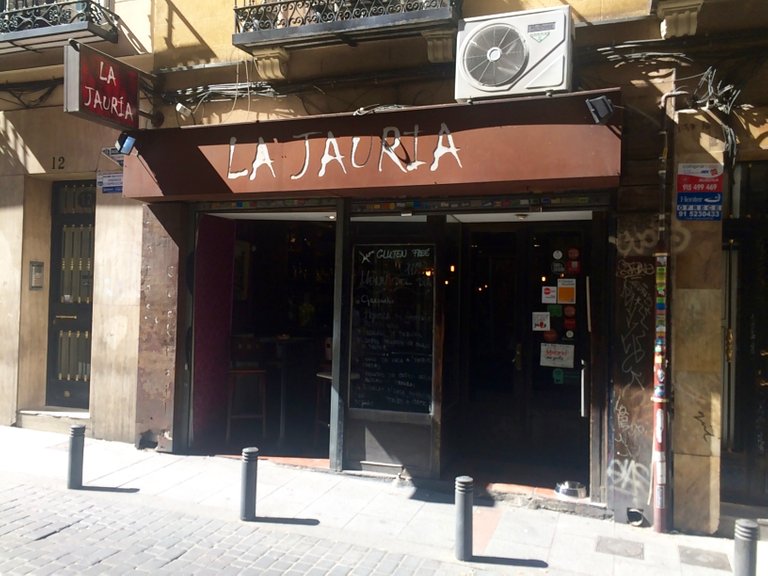 La Jauria
Suitable rested I headed back to the hotel, where I had a 1 hour wait for my ride to the airport and my flight back to HCMC.
Noticeable points regarding this trip:
1: I wore shoes for the first time in about 3 years; I even had to buy socks, as I didn't own any. They actually felt strange on my feet.
2: Europe and in fact the rest of the world would do well to adopt that staple of Southeast Asian bathroom culture, the "Bum Gun". This jet wash for ones nether regions becomes such a comfort, that it is sorely missed when one travels. More hygienic and infinitely better for the environment it should be in every toilet.
3: The Spanish way of life is very enviable. It is a polite, restful society in which nobody rushes around, car horns are mostly silent, tempers rarely get raised and a multicultural society exists, beautifully. And bars are smoke free!
4: It is possible to have relatively clean air in a major city. I haven't seen a sky as blue as this for quite while.
5: Tomato does not a jam, make! Personal taste obviously, but I think it's horrible.
6: After 5 years of trying and failing to grasp even the slightest basics of the Vietnamese language, it was comforting to at least try and speak a bit of the local lingo. You get it wrong here, and they just smile and help; are you listening Vietnam?
7: I still don't understand the fuss that people make about long haul flights. It means decent food, unlimited drinks, decent entertainment and generally speaking, excellent cabin crew. The idea of going from Vietnam to Spain for a 3 day break must seem mental to some, for me . . .well, I'd do it again next week if the opportunity arose.