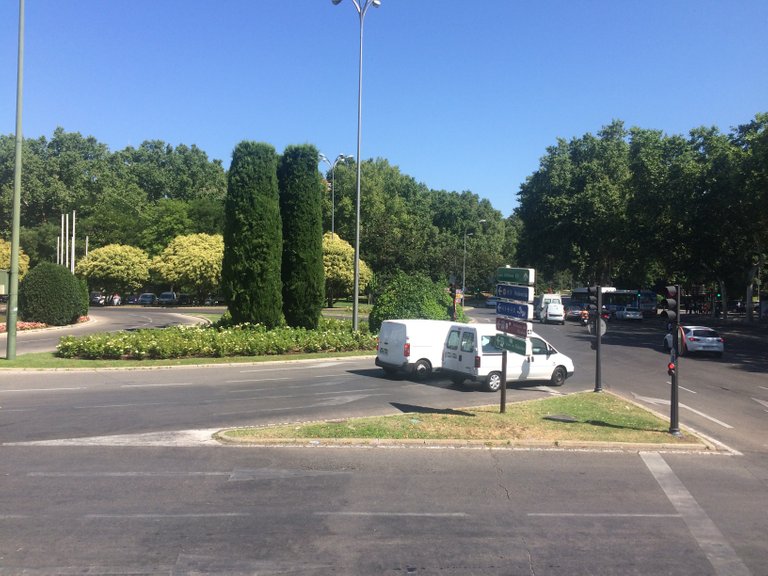 My explorations of Madrid continued directly after breakfast. I bought a Madrid Tour bus ticket. At €21.00 this has to be the best bargain in the city. There are two different routes that connect a various junctions. By utilising both routes you can get round almost all of the must see sights of the city. I used it to get to one that simply was unmissable for me. There is no way I was coming to Madrid without paying a visit to the Bernabéu Stadium.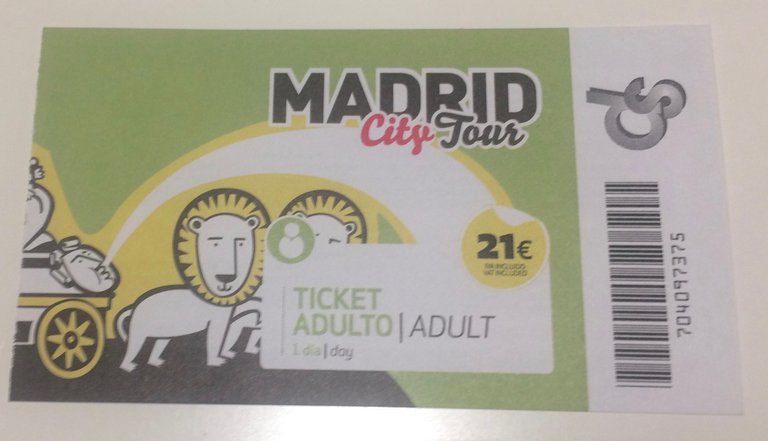 Exceptional value for money
Let me state first and foremost that I am in no way a Real Madrid fan, but what they have achieved cannot be argued against. I have never liked the way they do business. They have bullied smaller clubs for years. There has always been a whiff of corruption about them and they sign many players that I would never want to see at my club. Dirty players like Ramos and Pepe have always been part of their thinking. That being said, the Tour Bernabéu is remarkable.
I have visited many grounds in the world watching my club, simply catching neutral games and as a tourist. I have been to the Camp Nou in Barcelona, The Ajax Arena in Amsterdam, The San Siro in Milan and almost all of the grounds in the top leagues of England. I have done a few stadium tours as well, but the Bernabéu tour exceeds the lot. This was a truly fantastic two hours for anyone who is interested in football. By warned though, if you cannot handle steps, were are about 300 of them.
See separate article here: https://steemit.com/travel/@inseasia/three-days-in-madrid-tour-bernabeu
After the tour I settled down in a great little bar for a few cold ones and to try and get my legs working again. This city is not easy on the feet, but then again, few are for me these days. Whilst I sat drinking, I wrote up the article on the Bernabéu Tour. The beers were cold, tasty and surprisingly inexpensive for a bar next to a football ground.
Fully refreshed I jumped on the tour bus and set off in search of new interesting things. The bus leaves the stadium and almost immediately cruises through what is obviously one of Madrid's well-heeled districts; the American Embassy is here as are a lot of rather expensive looking apartments.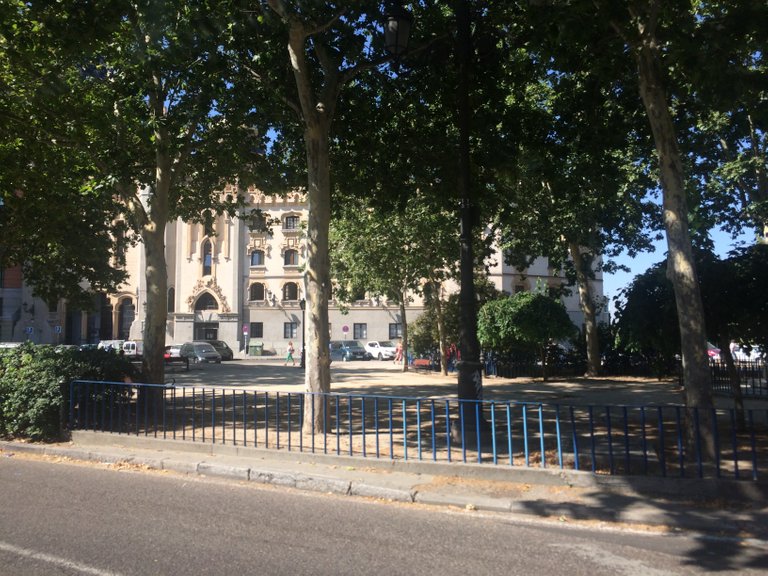 A Random shot from the bus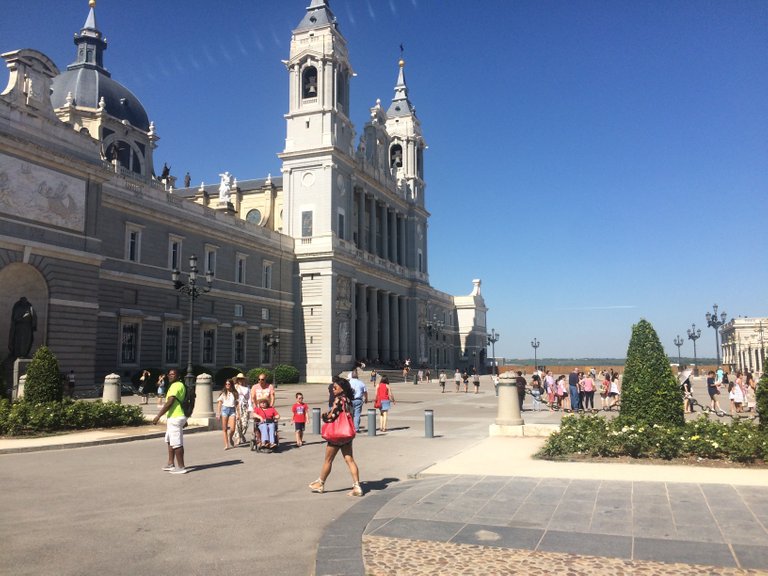 We drove passed the Museum
The bus passed through more of the city's amazing plazas until I reached Puerta de Alcalá, where the two bus routes meet up again. I can't stress just how easy to use this tour bus system is. If I could walk further I would have continually been jumping on and off, but I had to content myself with the view from the open air top deck, and what a view it was. There is a constant stream of wonderful architecture, amazing sculpture and green parks. The weather was simply perfect as well.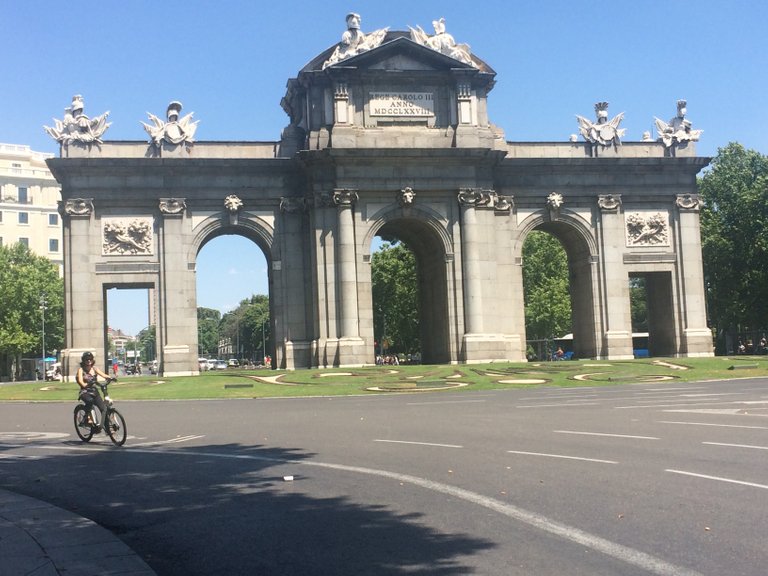 Puerta de Alcalá
I jumped off the tour bus at the top of Gran Via, where the shops start. I wanted to by some sport socks and find a pharmacy, my knees were now really beginning to get serious. So, it was time for beers, tapas and Ibuprofen, one has to prepare for the night shift. Frustratingly, I chose badly with the tapas. I accepted the waiter's recommendation but the tomato bread stuff was very weird. It just tasted of rather bad olive oil, which ruined everything. The meat was just ok.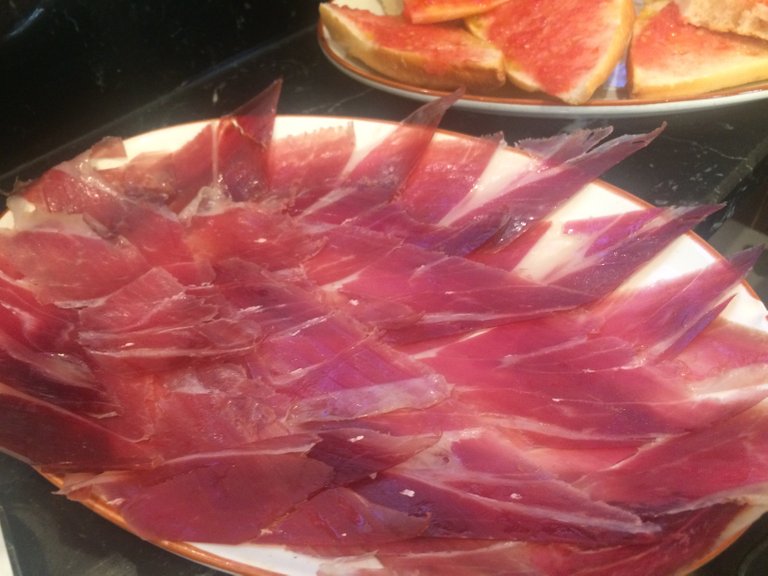 A rather disappointing tapas
I retired to the hotel for a small Siesta, the day was 10 hours old already and there was much to see and do. I had my dinner and set off in search of more fun and games. Social media has proven to be very useful on this trip with friends offering suggestions as to places I am likely to enjoy. So thanks to the recommendation of a friend I am off to find one of Madrid oldest and most famous sherry houses Le Venencia, Hemmingway's local!
I arrived at Le Venencia just as the light was fading. It's a weird little place that was indeed a favourite watering hole of Hemingway's when he wasn't too busy fighting the fascists. It's a tiny one and sherry bar serving excellent varieties all helped down with the ubiquitous bowl of olives.
Behind the bar is a huge collection of old dusty bottles which, for reasons known only to themselves, they won't let you photograph. I wasn't aware that bottles had souls that could be stolen.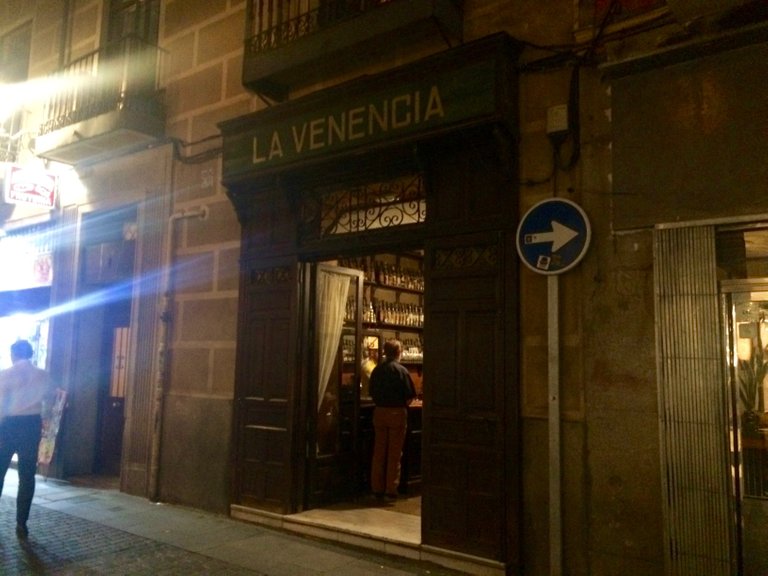 Le Venencia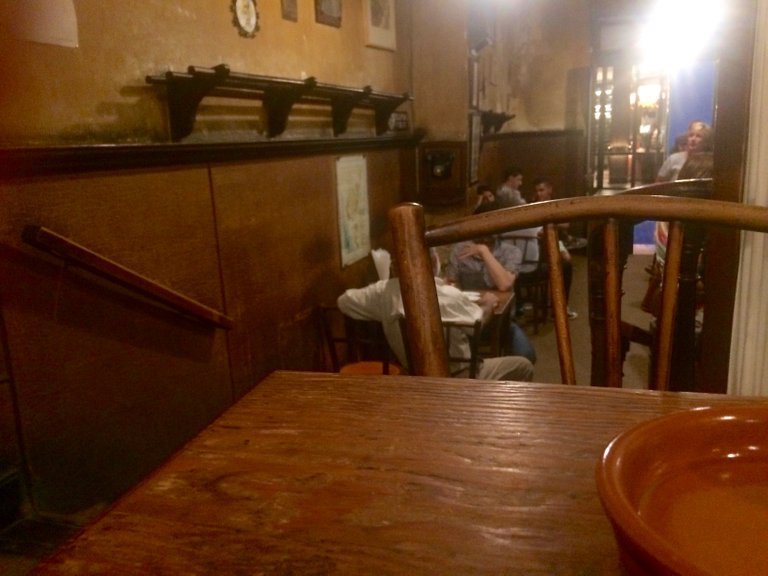 A cheeky photo shows the interior
The bar was busy with an eclectic mix of sherry aficionados. No music, just healthy conversation. Close your eyes and it's easy to imagine Hemingway holding forth at the bar as Martha Gellhorn watched on adoringly. The place hasn't had a lick of paint since those days and is all the better for it. Oh, and the sherry was super. I quite like these experiences, I wouldn't profess to being a big sherry drinker, but it was delightful and the setting made it more so.
The walls are adorned with posters from the 1950s and 60s advertising the Jerez (sherry) Festival de la Vendimia y Feria. One dated back to 5 weeks before my birth and has probably hung here since. That's a sobering thought. That year was the second festival held. The festival is still held to this day, but for some reason, in Le Venencia, the posters stopped decades ago.
One thing that almost goes unnoticed in Europe is the smoking ban. It's only after a while when I'm not coughing and when I get home with my clothes not reeking that I notice it. I long for the day when Vietnam catches up. It is illegal to smoke in bars in Vietnam, but like all other laws, these things are looked on as advisory by the locals.
I just had the one sherry and wandered off in search of bars of interest that are less anal about cameras. This district is known as El Barrio de las Letras and is completely packed with bars, tapas joints and restaurants.
La Pulperia de Victoria turned out to be a bright, smiley faced place where the beer came with complimentary chorizo and bread. It has a relaxed yet lively feel to it. The beer was good and the chorizo was amazing. The UK could learn a lot from Spain. The bar culture here is so sophisticated by comparison. Drinking small beers with a little food has to be better for people than guzzling pints on an empty stomach. It just makes one slow down and imbibe at a sensible pace. I have not seen any drunkenness since arriving.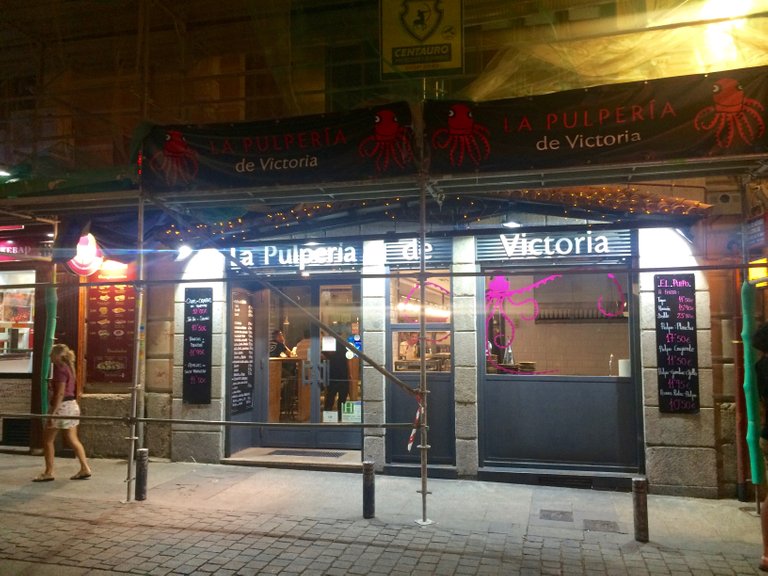 La Pulperia de Victoria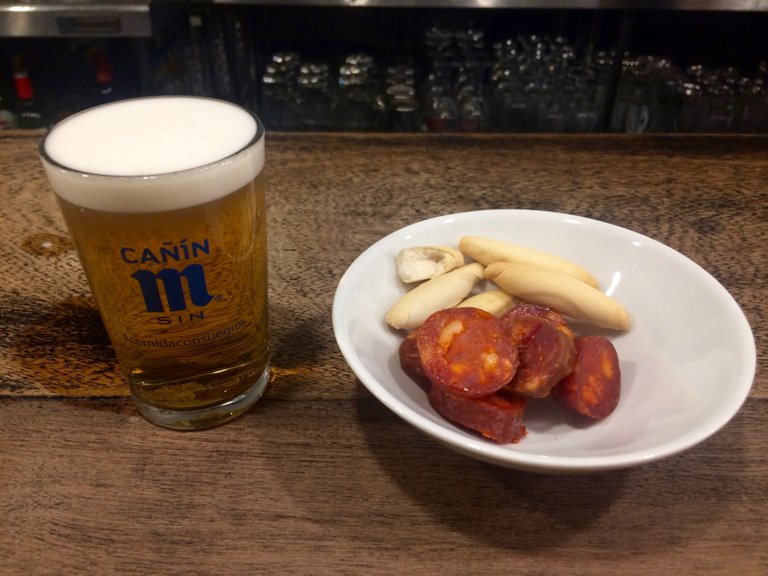 Really good Chorizo
I wandered down into Puerto de Sol where a huge crowd was watching a group of young guys breakdancing and clowning around. They got people up from the crowd and joked around with them. I am full of admiration for great dancers; it is always something I wished I could have done, but I always have had two left feet. From Sol I walked on and came into Plaza de Isabel II Where Taberna Real was still serving. A late night beer was served with a big bowl of crisps. This was a strange sort of a bar really. Very brightly lit and with colourful tiles everywhere, there were hams hanging and about 5 men and a huge incongruous chandelier behind the massive bar. It somehow resembled a cross between Liberace's kitchen and an old English Co-op shop of my youth. I caught it as they were closing so probably got an unfair view of it. My pidgin Spanish failed as well, I hate it when you practice a small phrase and they come back at you with something that you don't understand. Then you have that awkward, "err, sorry I'm English" moment. Still it all adds to the fun.

Beautiful illuminated buildings at night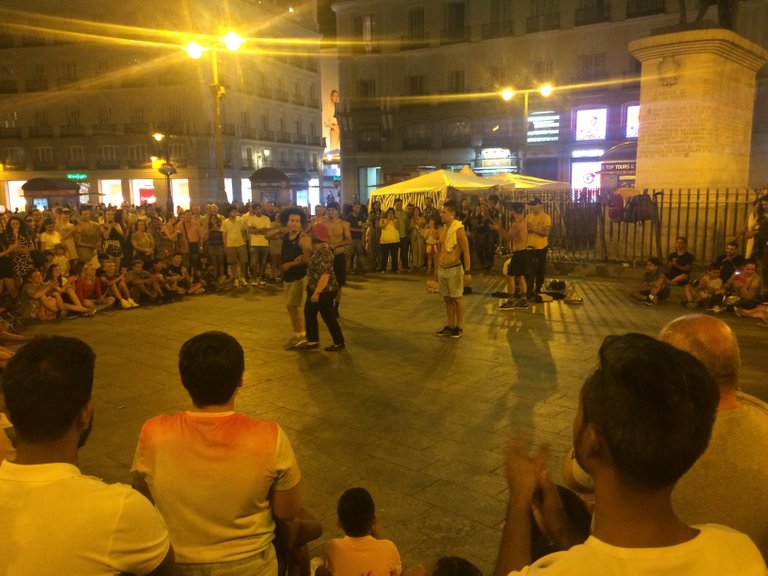 These guys were really entertaining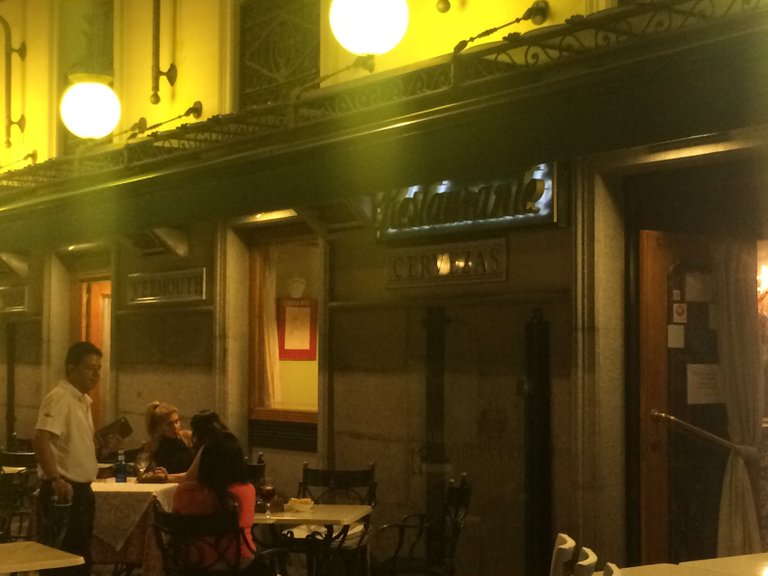 Taberna Real, strange but enjoyable
In the middle of the square a man had set up a huge telescope pointing at Saturn. This was not your usual night out activity but it was interesting to see the rings clearly visible. My final port of call was the tiny Cafe del Real that I caught just before they closed. There were some people outside but they asked me to stay inside. I think I just cheated the local laws. They were removing chairs as soon as someone stood up.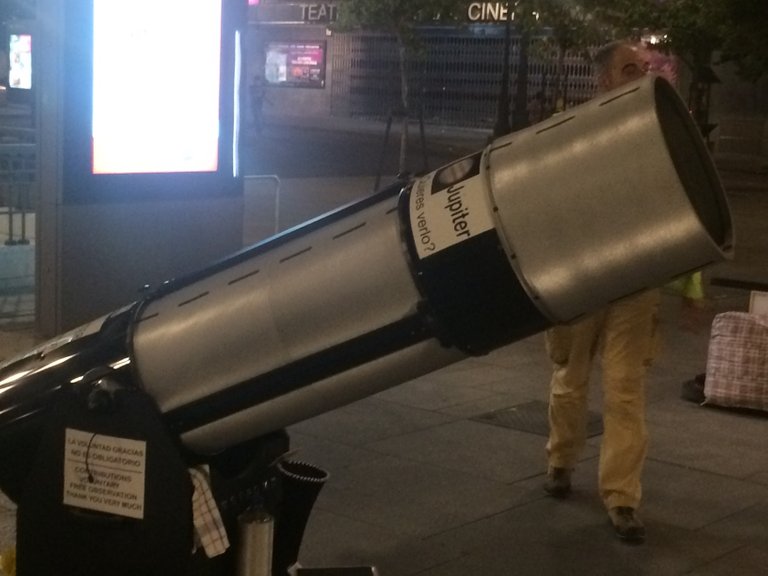 The huge telescope in the middle of Plaza de Isobel II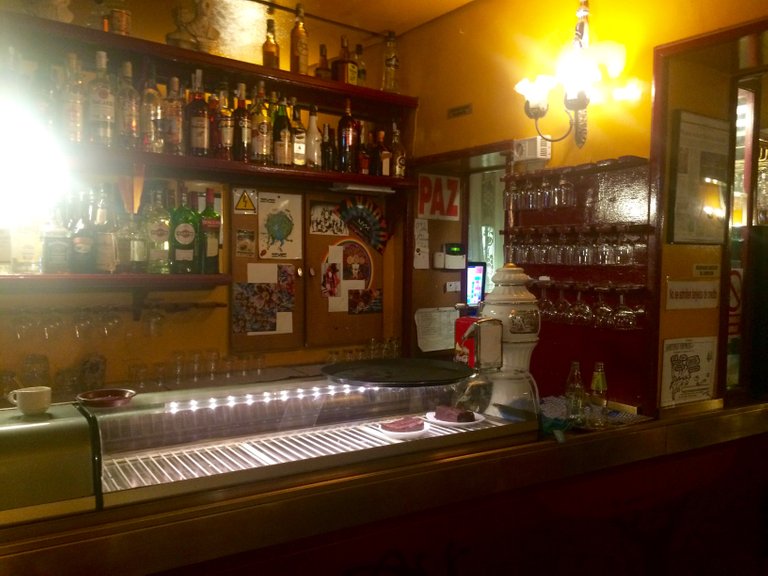 Cafe del Real, I quite liked this place
And so my final full day came to a close. I still have a day tomorrow but will need to leave for the airport on the early evening. This has been an amazing and totally unexpected trip. With each day Madrid surprises and impressed. I realise now that maybe with more money at my disposal, Southeast Asia might not be the only place I would consider living out my days. However, nothing competes at the price. Everything is so much more expensive, once one leaves my current home.