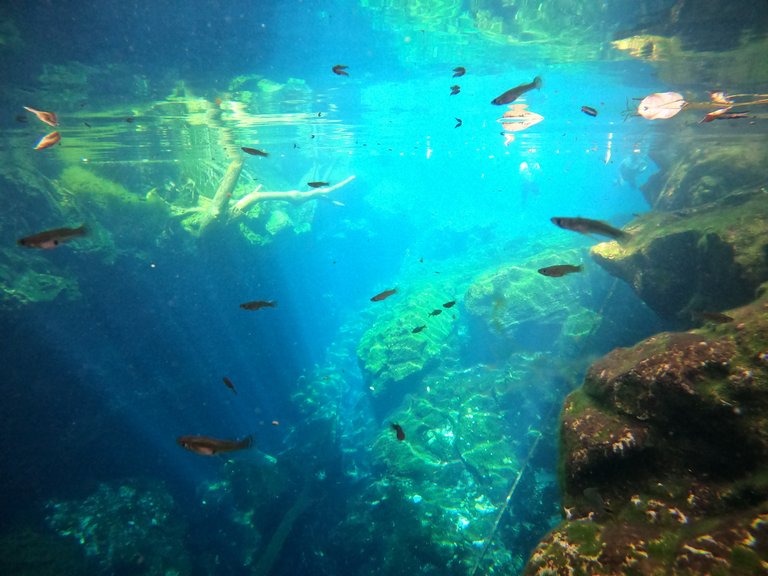 The next day Elena finally already felt way better, so we decided to go have breakfast at one of my favorite restaurants in Playa del Carmen: Chez Celine.
It is a french little restaurant with a huge menu. Everything from bread until marmelade is home made and delicious!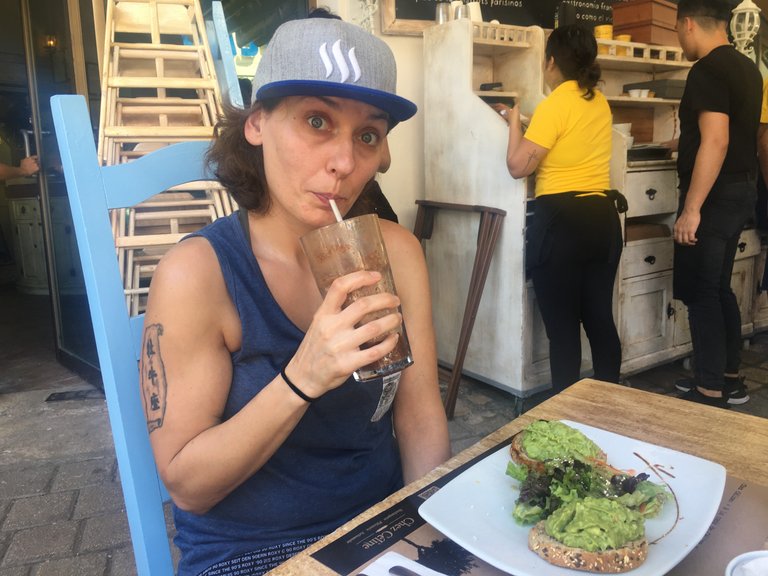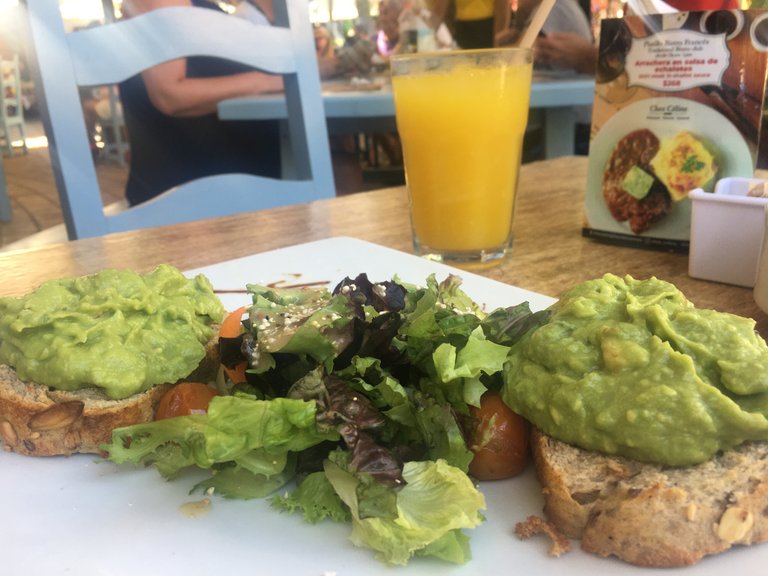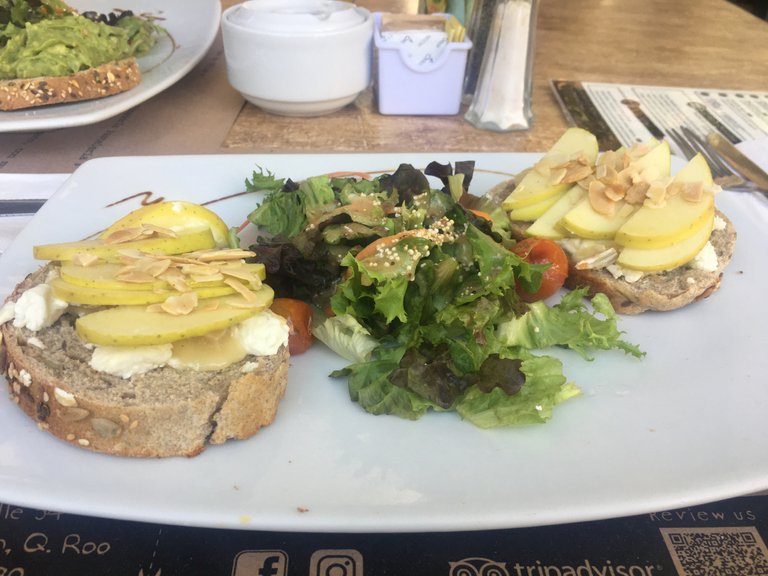 After this nice energy food we bought some electrolyte drinks and got ready for the day.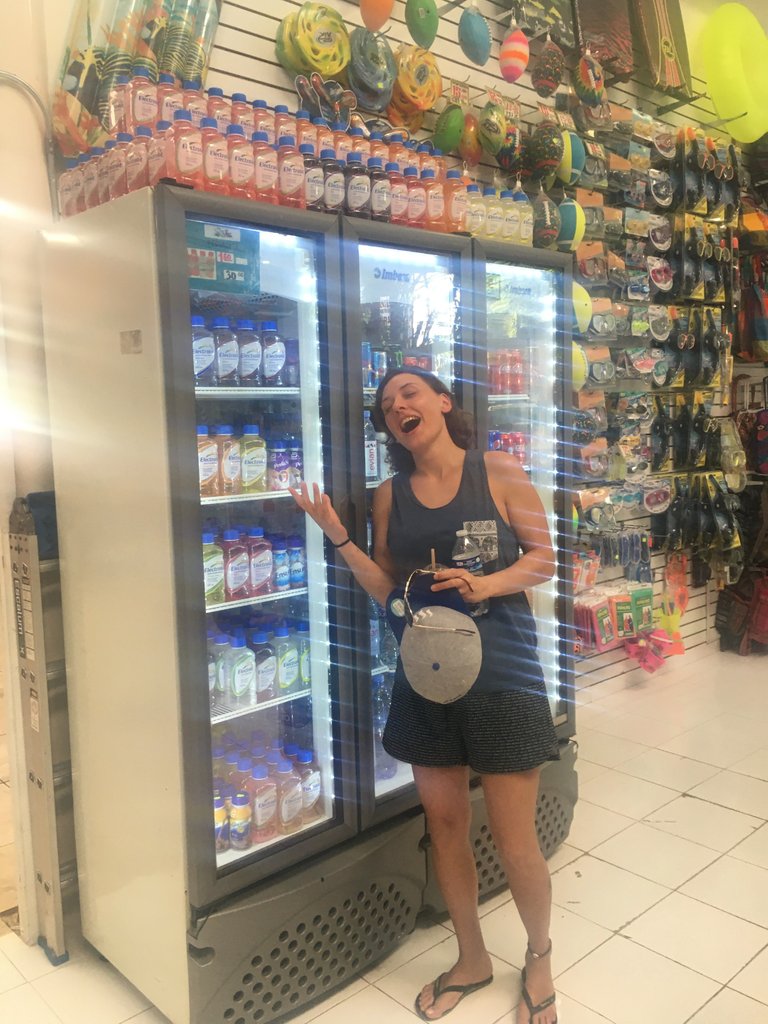 This day it was really hot, so we packed sunscreen, bikinis, enough water and snorkel equipment in the car. The plan was to explore the beauty of the Cenotes.
The Yucatan Peninsula in Mexico is relatively flat and has practically no streams or rivers on the surface of the earth. But still it is the home to two of the largest rivers in the world that flow through the entire Yucatan Peninsula.
These include the Ox Bal Ha, which stretches over an incredible 256.7km, and the Sac Aktun with 230.8km. The Dos Ojos system is also very well known with 88 km.
But even more incredible is the fact that these two large natural underwater systems, more than 10,000 years ago, paved the way for human settlement and expansion across the peninsula! The Yucatan Peninsula has the world's most beautiful cenotes and rivers that flow underground. Every single cenote is worth a trip.
Pronounced as (se-no-te), cenotes are basically sinkholes of mother nature that arise when the ceiling of an underwater cave breaks - a fascinating window into a completely different world.
The word "cenote" comes from the Mayan language - ts'onot and means something like a place for groundwater access. Dzonot refers to an underwater chamber in which there is a permanent flow of water. There are many vertical cenotes - shafts that contain water, while other cenotes are more spacious and consist of different passages and pools.
A cenote is a limestone hole filled with fresh water. There are over 1000 of them on the Riviera Maya in Mexico. These limestone holes are sacred to the Maya because they represent the entrance to the underworld also called "Xibalba" in the Maya language.
The Mayans believed that Xibalba was the place where the spirits of their gods lived and roamed freely. They were often used to make offerings.
Today you can find closed cenotes, half open ones and open ones.
The majority of the underwater caves gradually collapsed when the ice age ended around 18,000 years ago. When this happened there was possibly a climatic temperature rise that caused the glaciers to melt and caves to flood as the sea level rose.
Experts and scientists have different theories and views about how fast sea levels have risen, but almost everyone agrees that the current water level on the Yucatan Peninsula reached its current level over 1,000 years ago.
Archaeologists have discovered extensive finds within cenotes. There were fossils of mammoths and large jaguars, and sloths were found in the corridors of the underwater caves. Even more astonishing are the artifacts found in the cenotes, which suggest that people visited the caves around 9,000 years ago!
This is fascinating right?? I visited so many of the cenotes over the years and am always surprised discovering new ones!
So this day I decided to show Elena two of my favorite Cenotes at the Riviera Maya: Cenote Jardin de Eden and Cenote Azul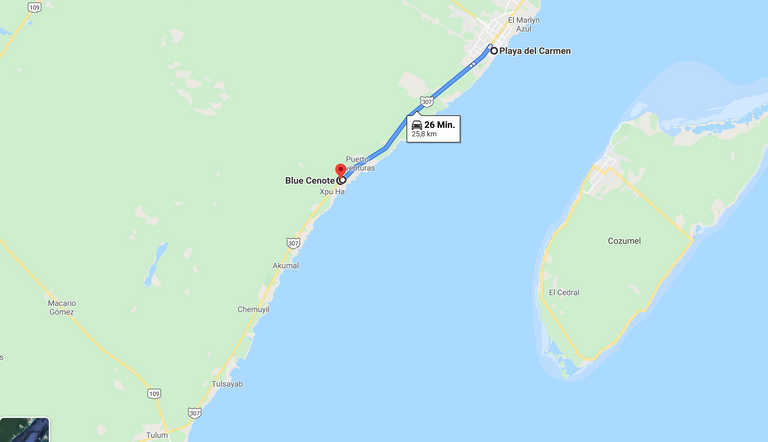 Many of the cenotes are located between Playa del Carmen and Tulum. But also close to the ruins you always can find a lot of them. It is only a half hour drive to Cenote Jardin de Eden from Playa del Carmen.
This cenote is one of my favorites, because it is right in the jungle and a bit further away from the highway, so not that easy to reach and not too touristy.
It is also a popular spot for divers, because many of the cenoted are conected with each other in a tunel system and with enough experience they dive from one to the other. On their way they not only have the unique experience of diving through a tunnel system, but also have a variety of amazing colors and stalactites on their way to look at.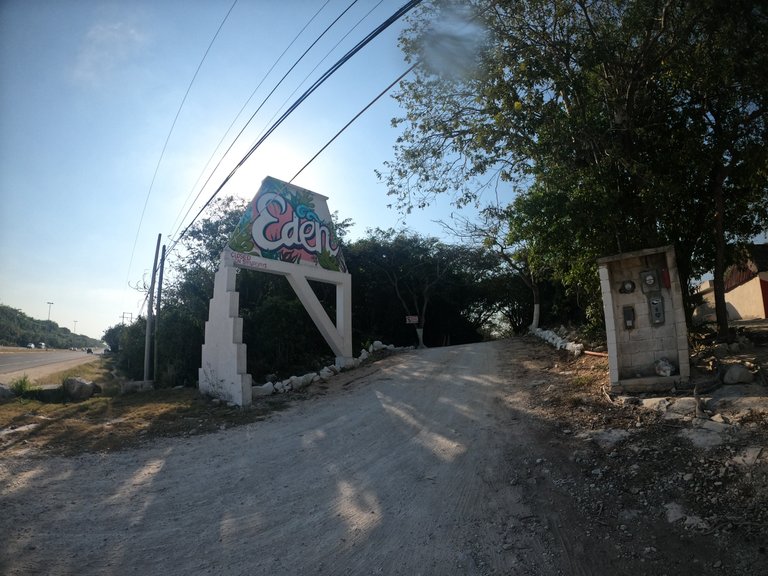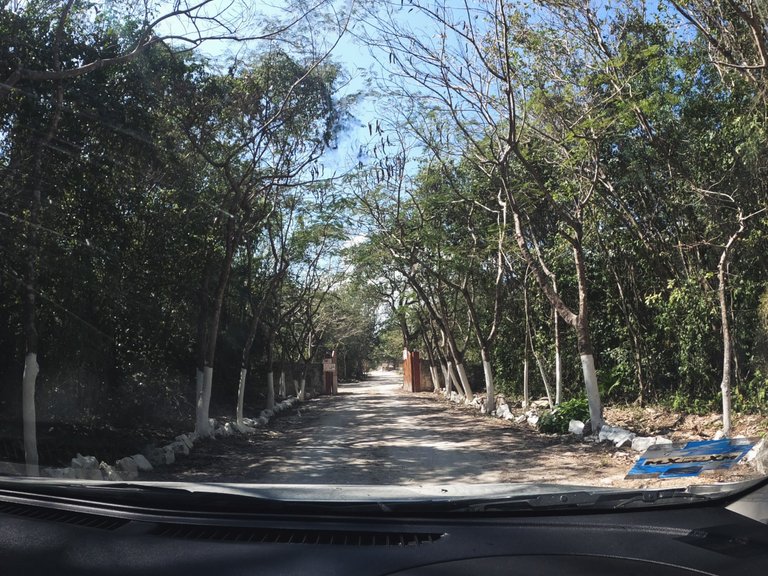 Once a certain number of visitors are inside, there are not more people allowed. Also it is not allowed to bring in drinks and food or smoke! These are rules that are important to respect the meaning of them and keep the place clean!
As many of the cenotes are located at private property you have to pay entrance to get in. At most of them you can even rent snorkels.
Once we parked at the parking lot, we grabbed our stuff and went a little bit around it to safe a nice spot to put our things.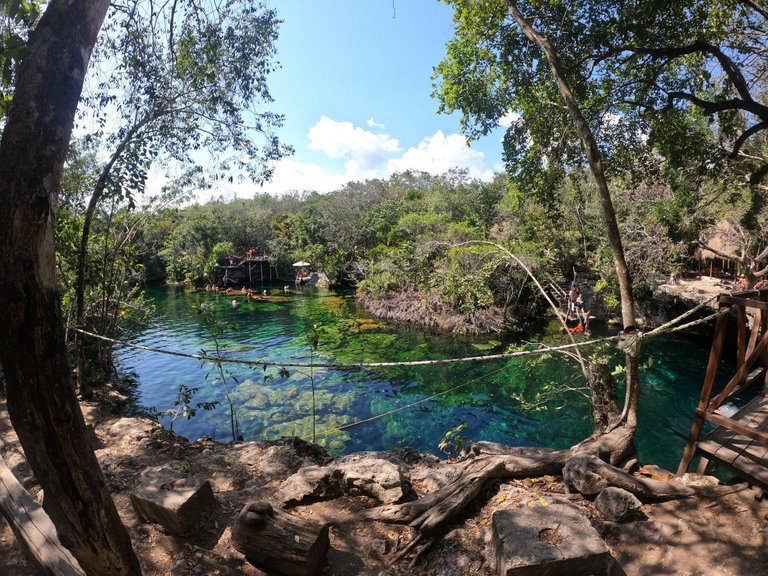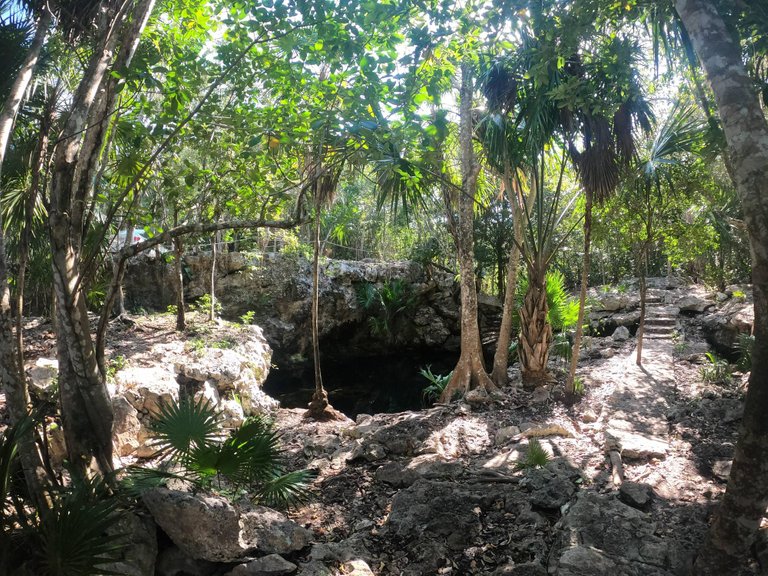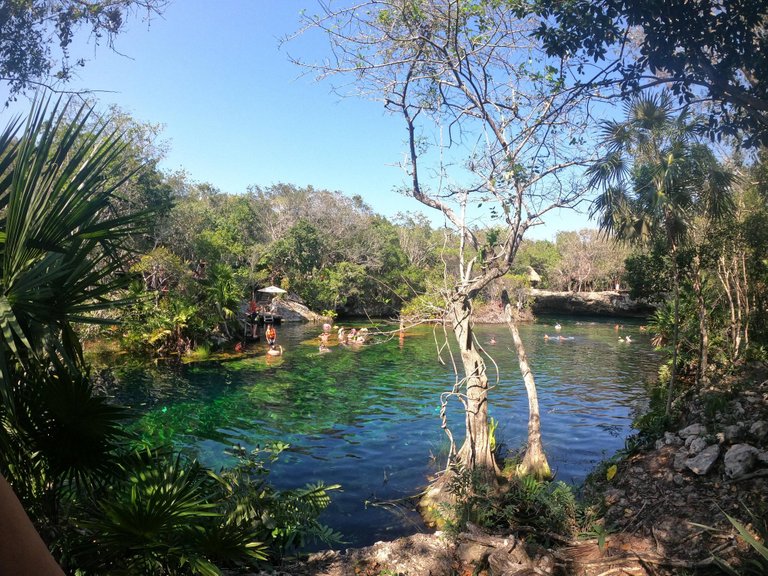 Of course as you are basically in the middle of the jungle you have to watch your step. There are many iguanas, plants, other animals and some smaller water holes around. Of course the really big animals stay away, because there are afraid of people. - I did see a jaguar visiting a secret cenote in the morning drinking water though.
At that moment I was more scared of him than he was of me and as you can imagine that day we didn't stay long haha.
But at touristy places like this cenote you don't even see monkeys coming by.
So once we put our things we got ready to swim and have a little refreshment in the crystal clear refreshing sweet water.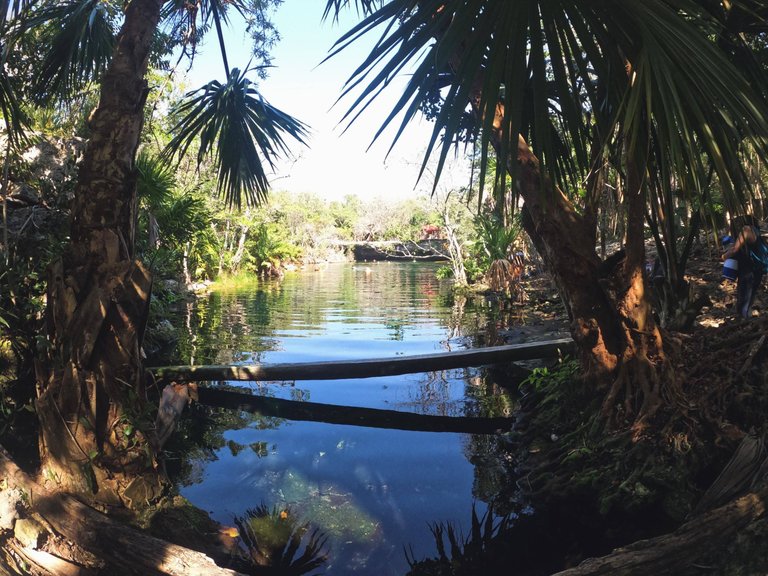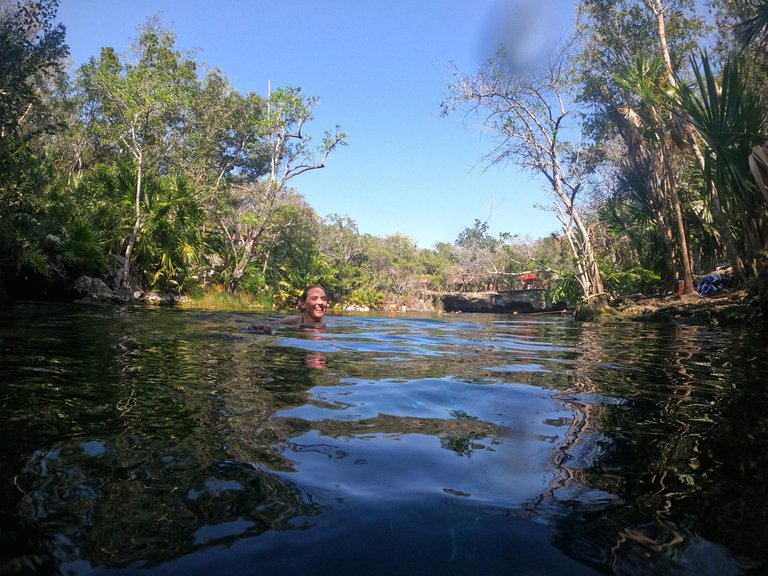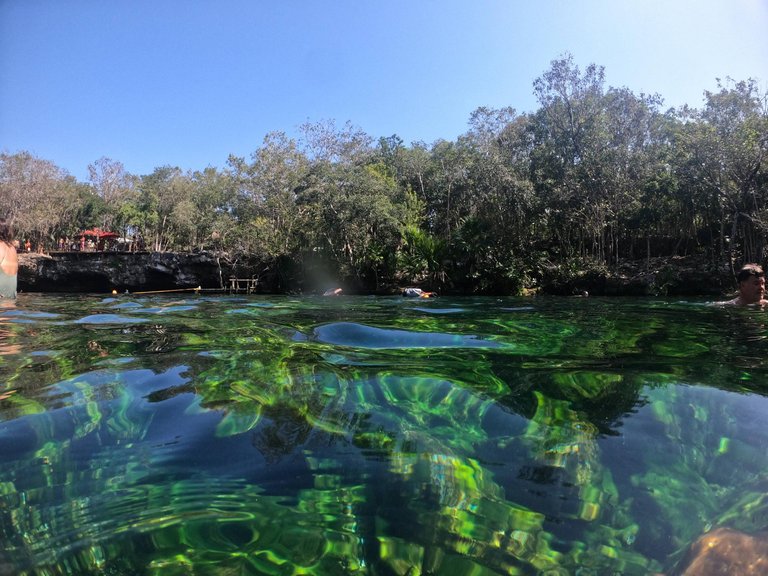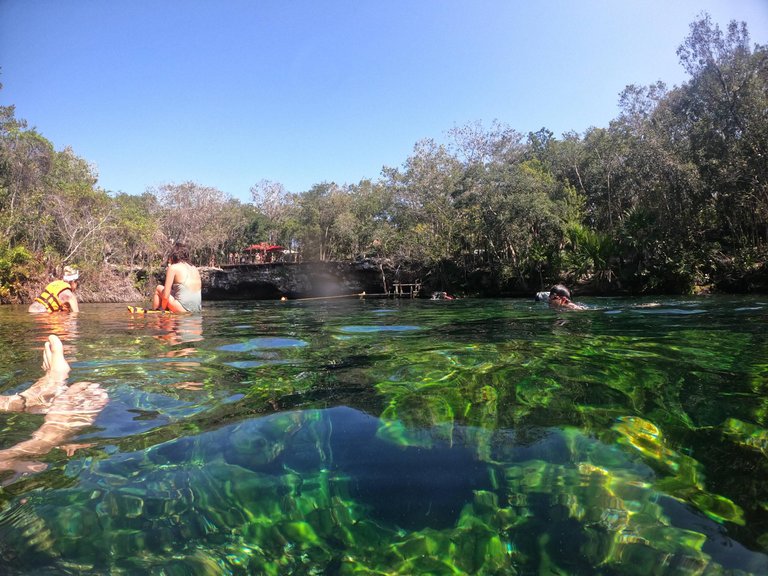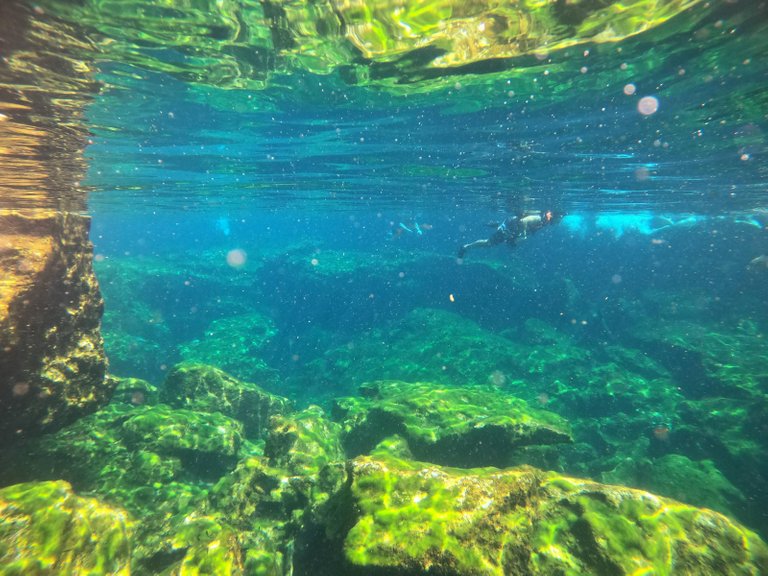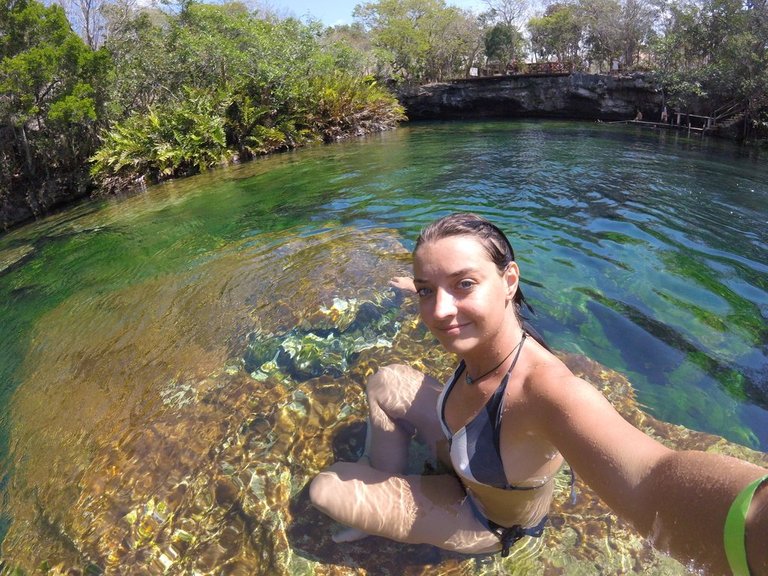 Almost each of these water holes also has at least one spot from which you can jump or swing about 5m into the water. Cenotes are on average 15m deep, sometimes even up to 100m.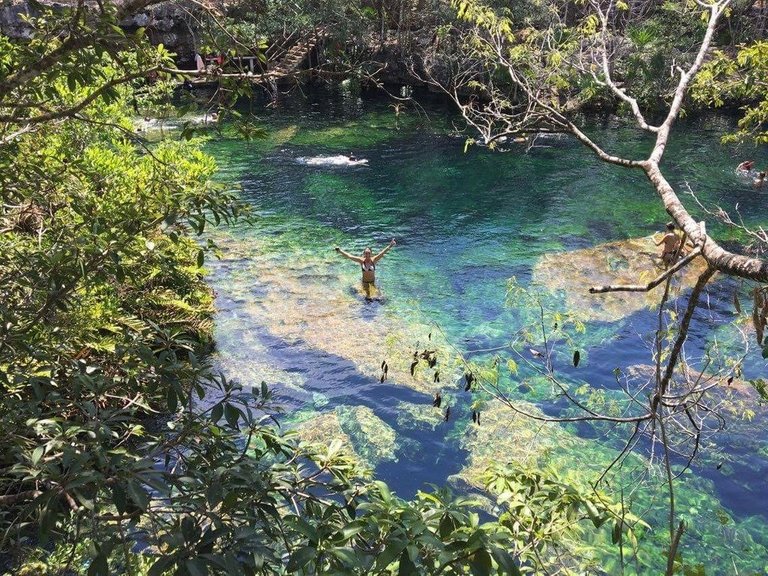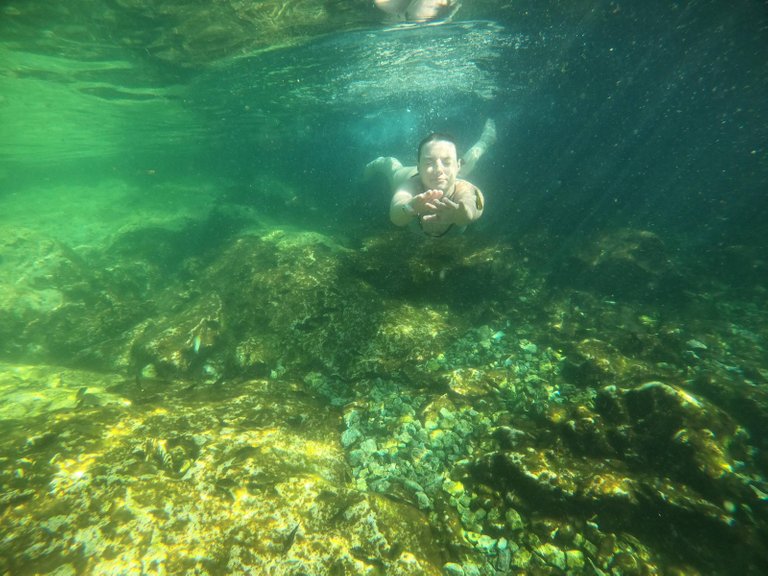 At the video you can see my heroic jump thankfully without tone haha!
So most people, tourists and locals, bring food and drinks, picnic in the palapas on the edge of the cenote and enjoy a nice day with refreshingly cool water.
We decided to stay a little bit longer and snorkel around a bit.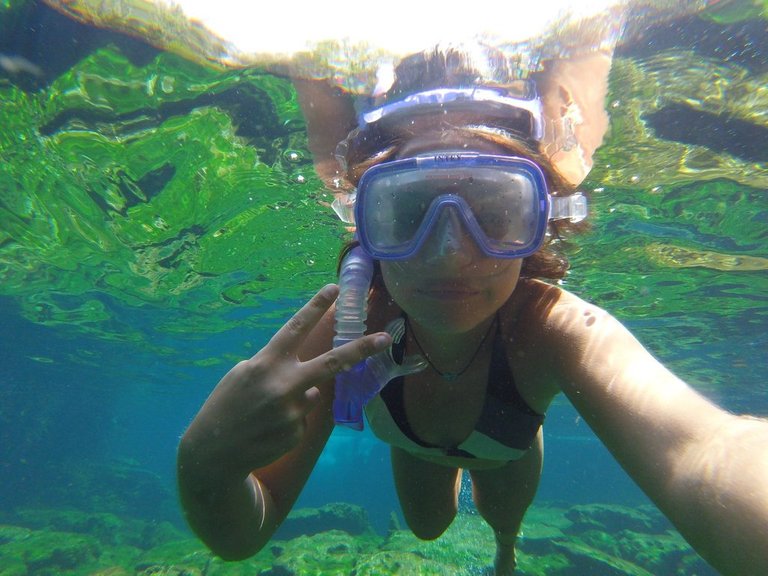 Then we packed our things and went back to the car to drive to the second cenote not far from this one: Cenote Azul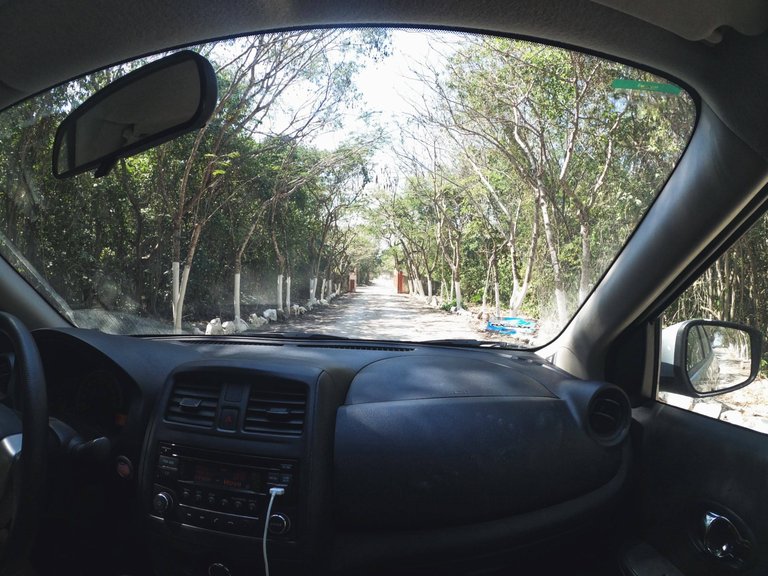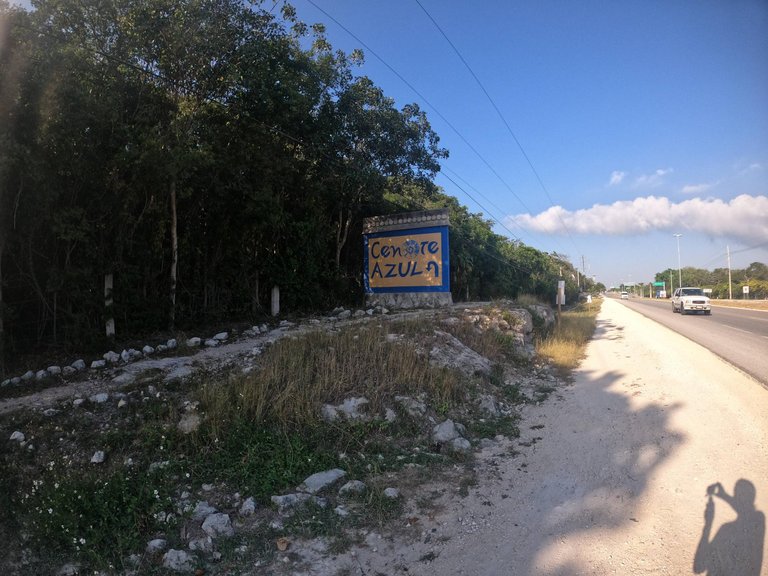 This one is far more touristy as it is located right at the highway and like that, acessable for many tourists and locals without a car. You get there easily with one of the mini vans called collectivos from Playa del Carmen or Tulum for only about 30-40 pesos.
You can tell, not only because it is more crowded, but also because it provides showers, toilets and a little shop of course in maya style.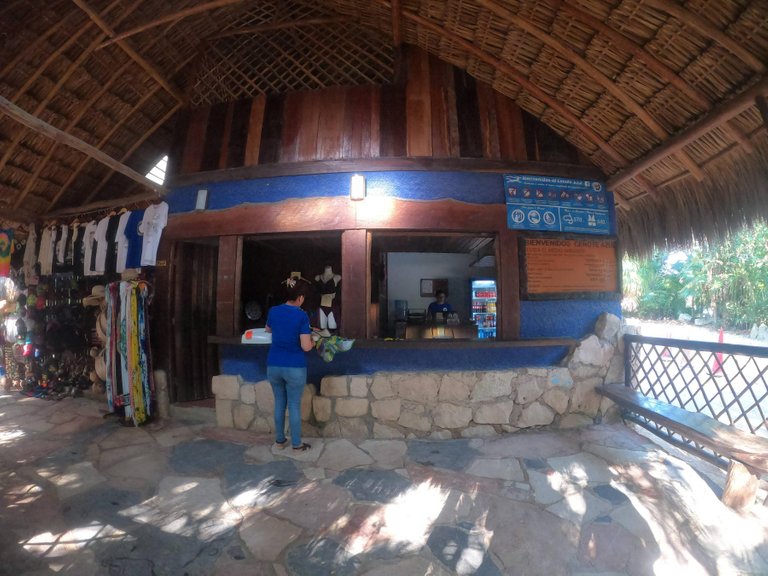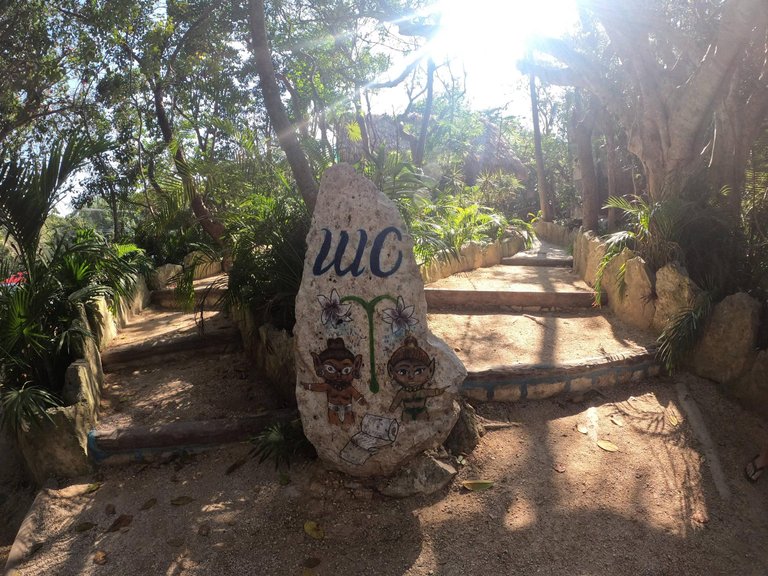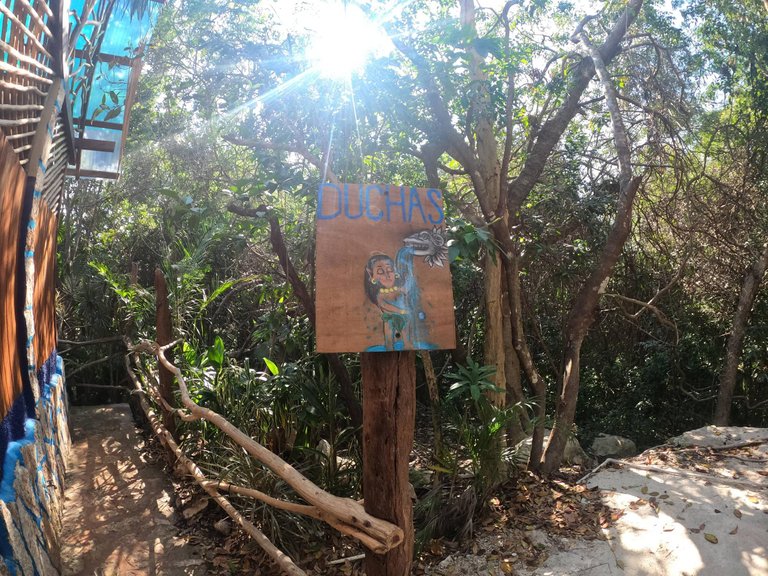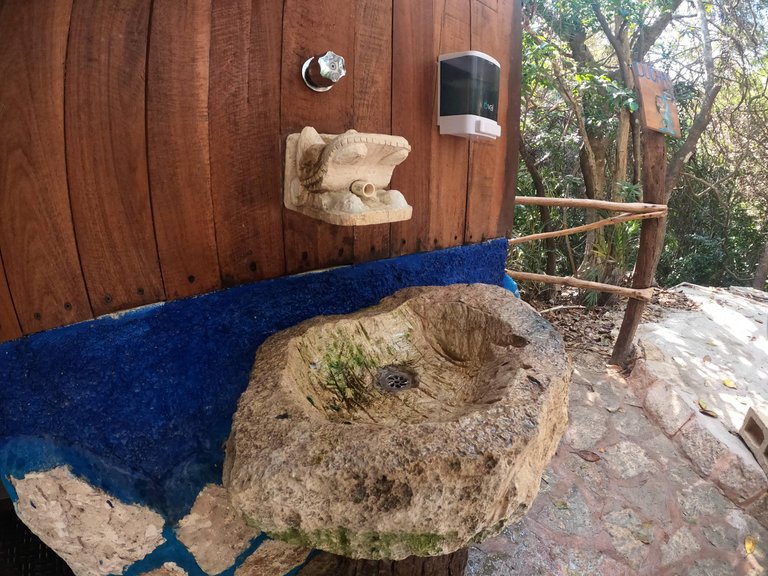 Also here from the entrance we had to walk a little path through the jungle, passing other little water holes and animals, until we finally arrived at the Caribbean blue water.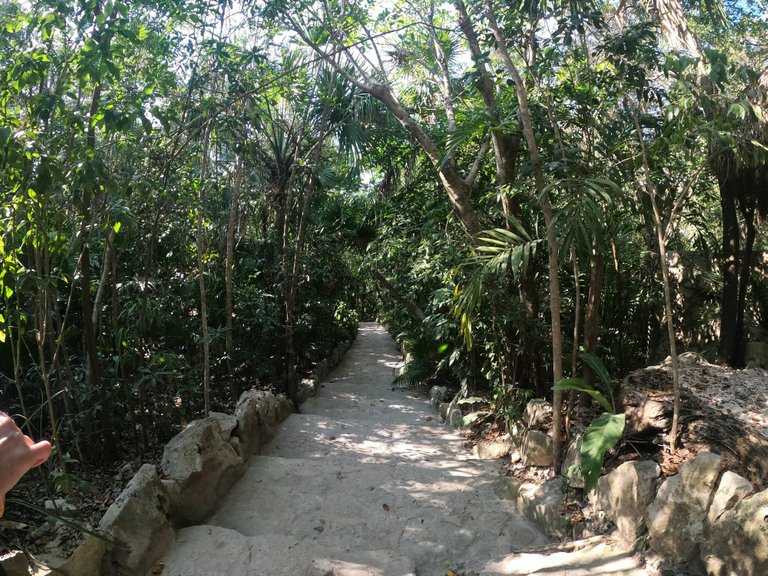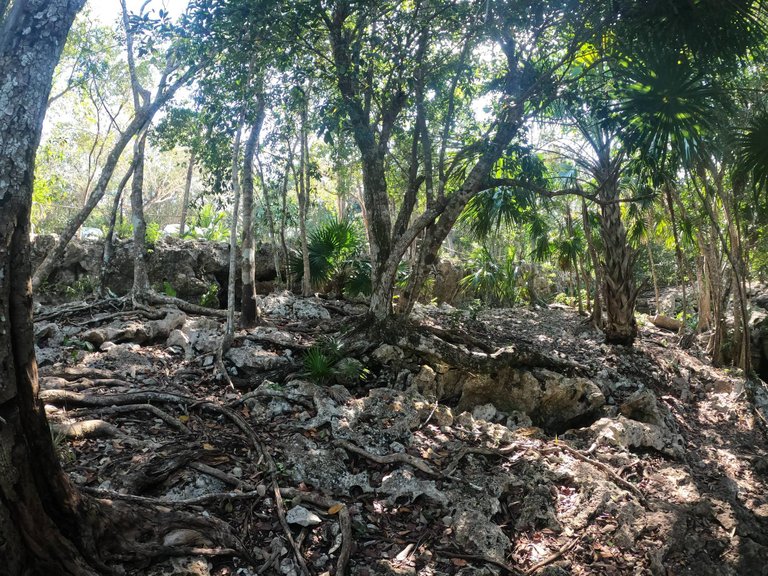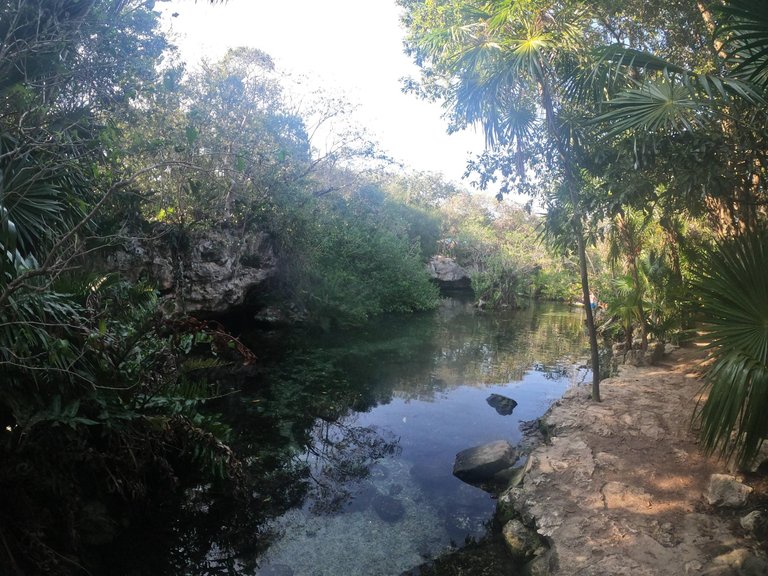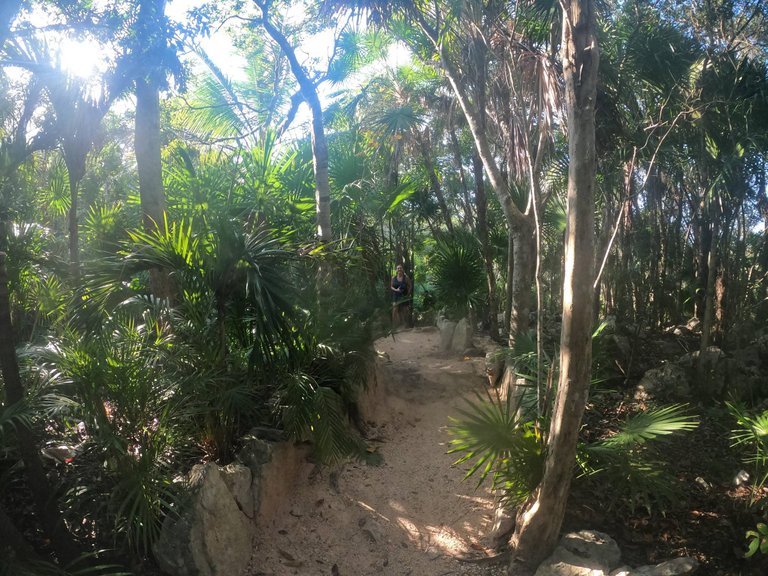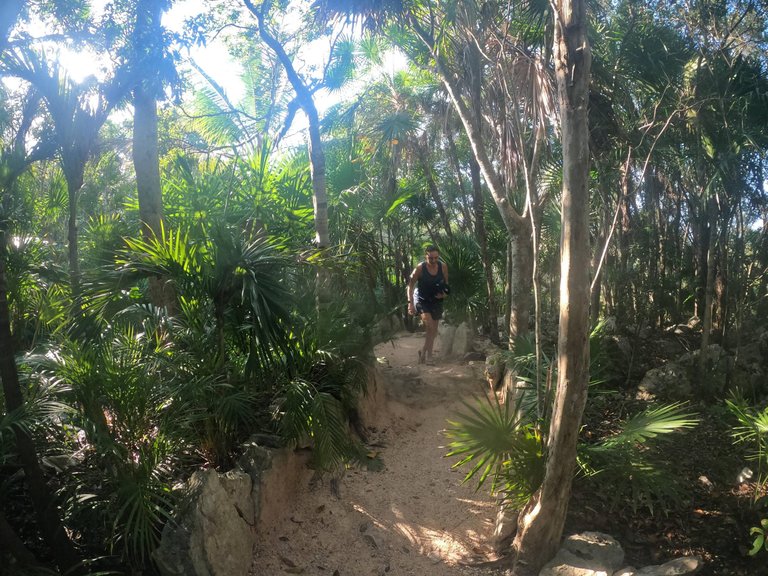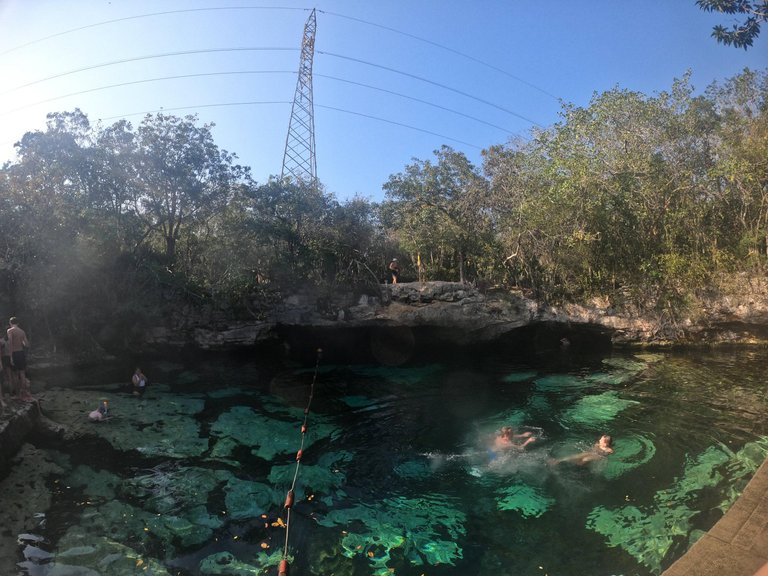 I adore this second cenote not only because of the beautiful blue water and the jumping spot, but also because of the little fish inside of it!!
If you sit there still enough, you have this little cute fish giving you a pedicure for free!! It is exactely the same kind of fish you find in 5th avenue in Playa del Carmen. - Only that there you pay up to 400 pesos to get one of this funny pedicures.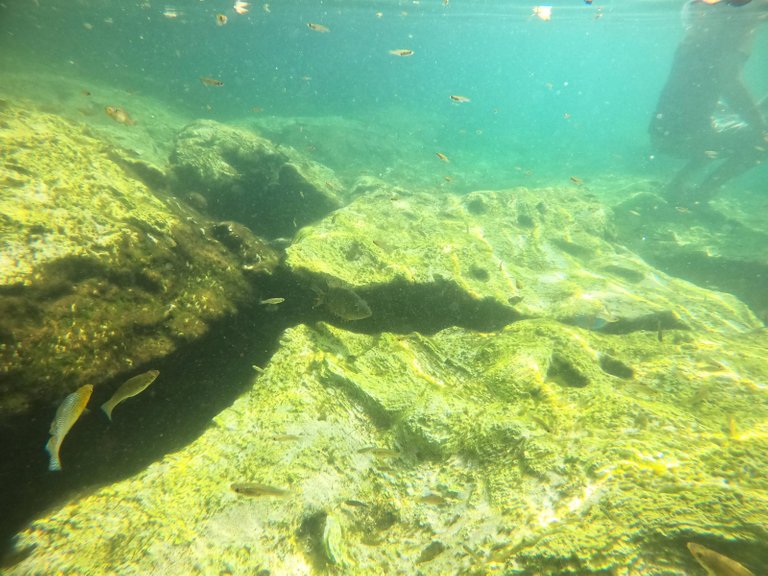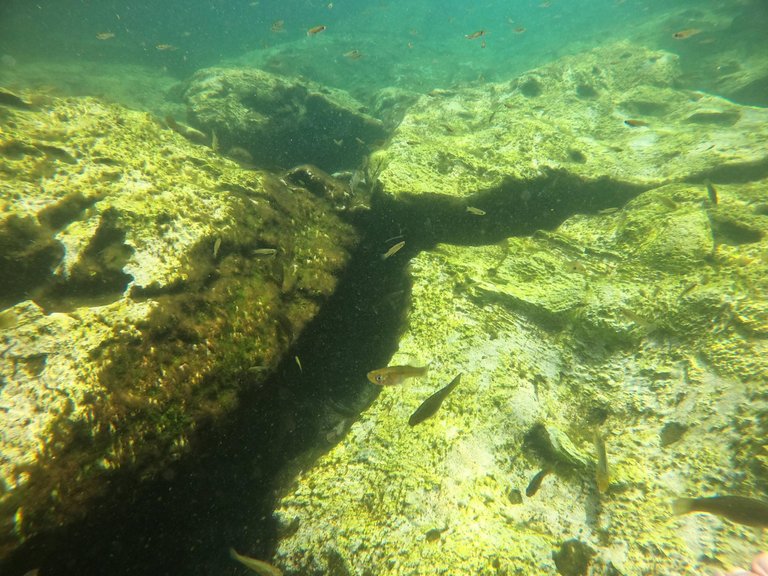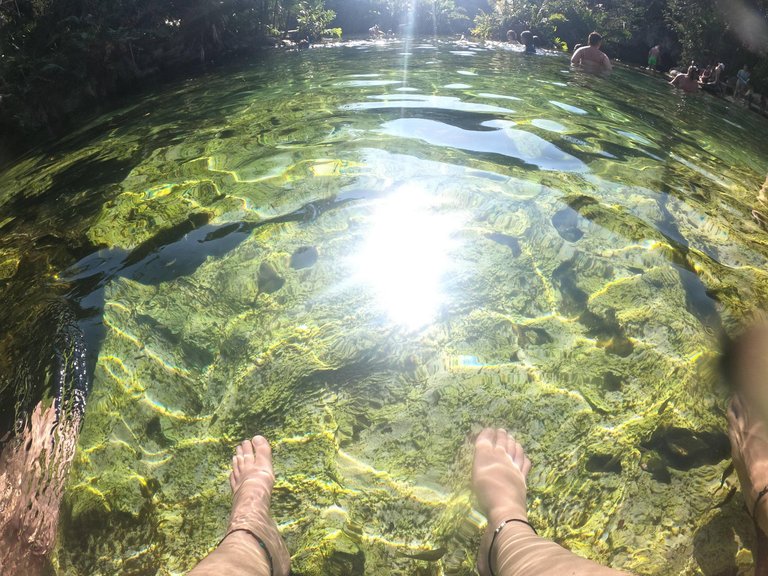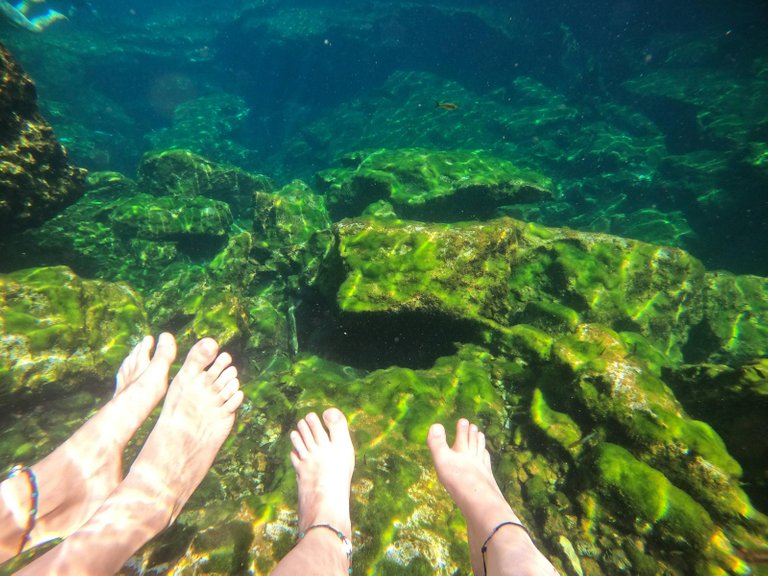 As we were still in the middle of the humid jungle and the sun was burning down we also jumped into the water and stayed there for a bit to refresh ourselves.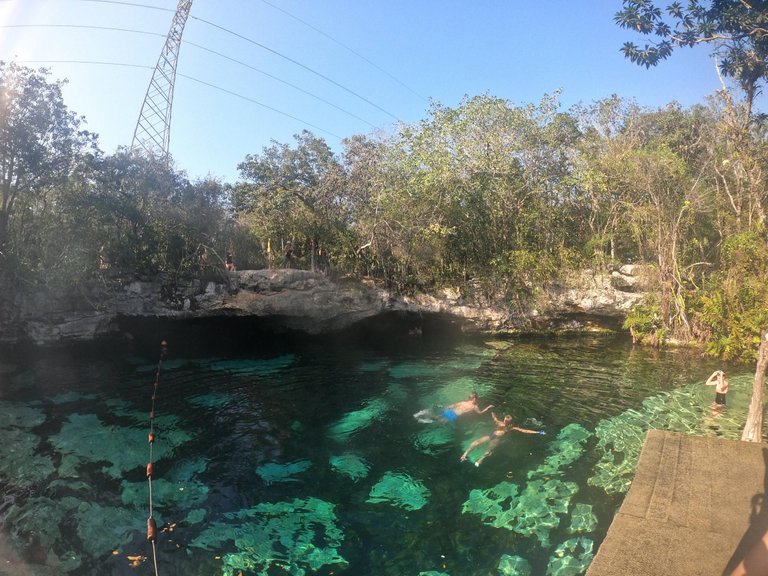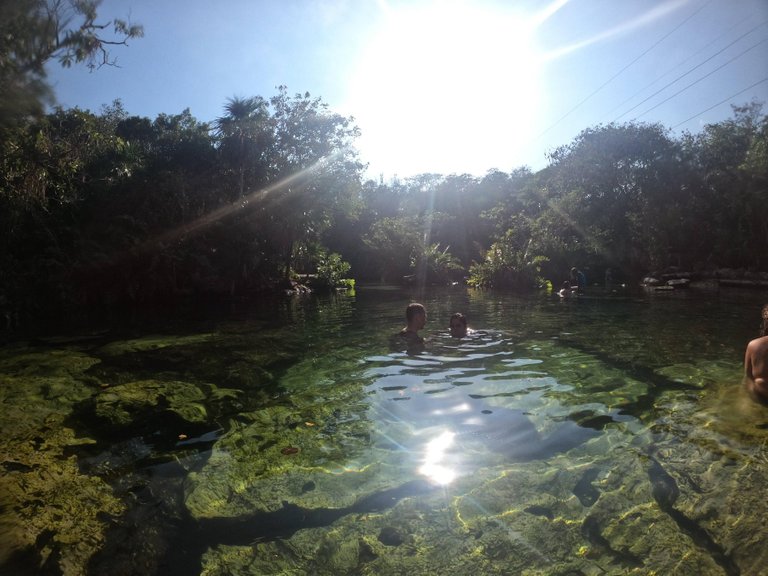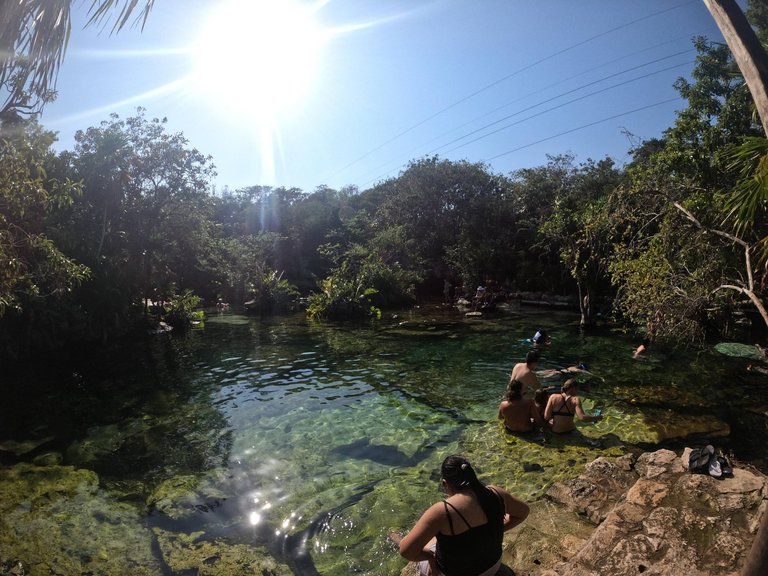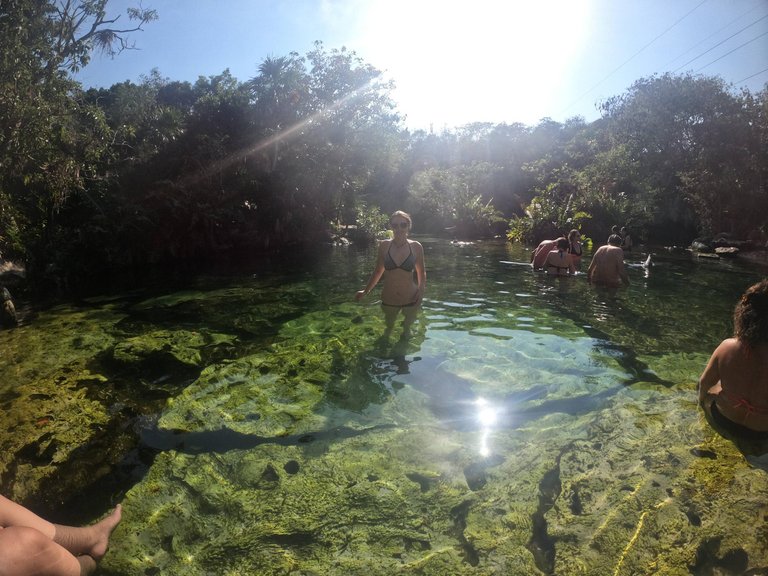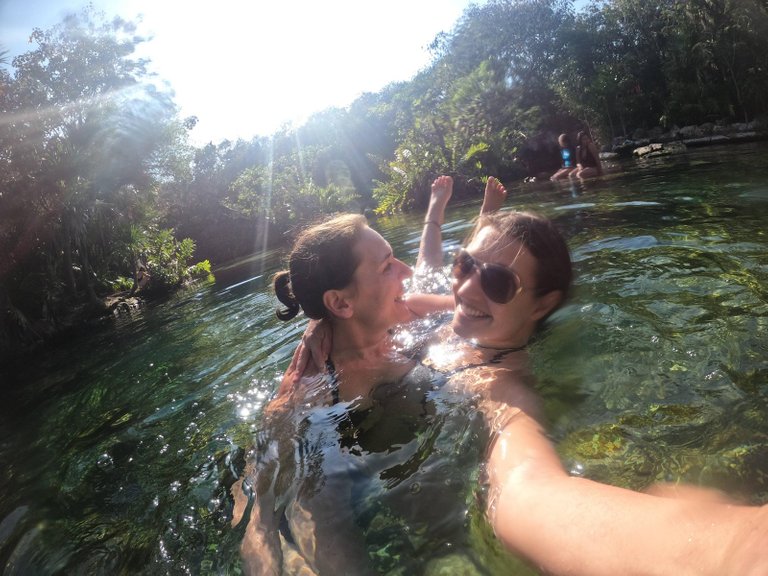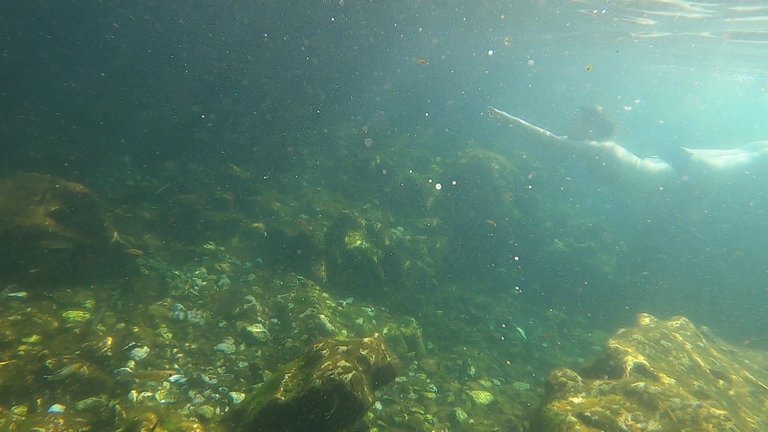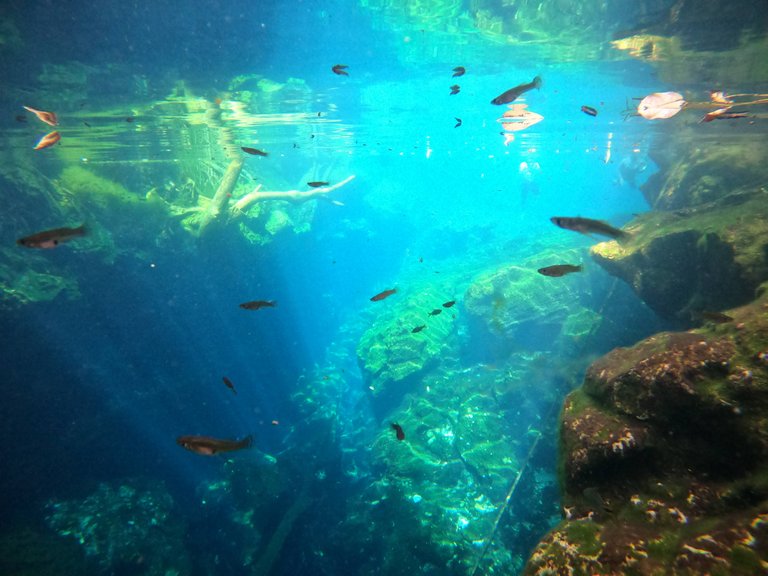 After a while it became too crowdy and we also had to leave as we had promised to meet my dad and his wife at the beach to have dinner. They had organized a little after celebration to thank Elena for organizing their wedding catering.
So we went back to the highway and jumped right into the car.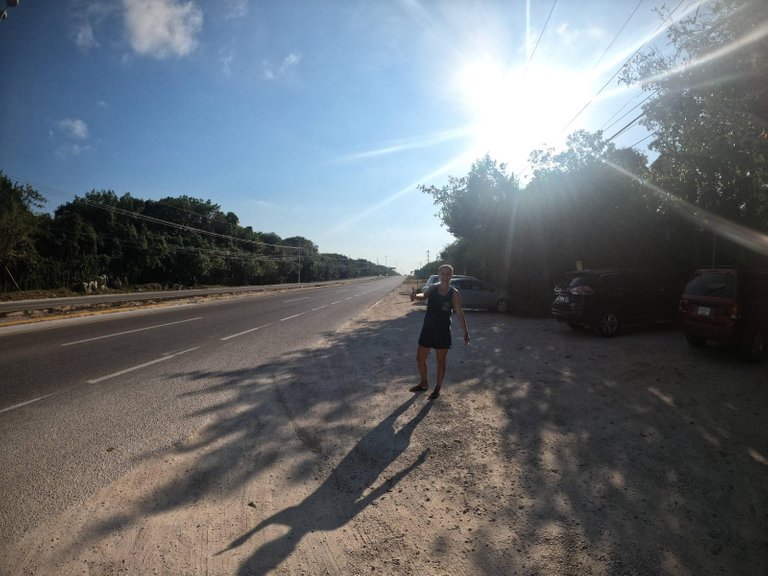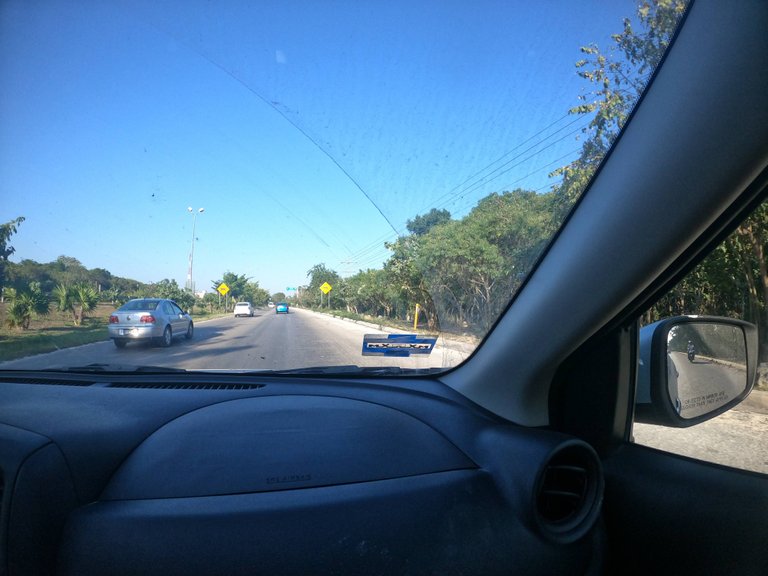 They had organized a candle light dinner right at the beach just for us in Puerto Morelos, which was really cool!
Sadly the Go Pro doesn't do good pictures at night, but I think you get an idea.
So basically that was the perfect finish for a perfect day!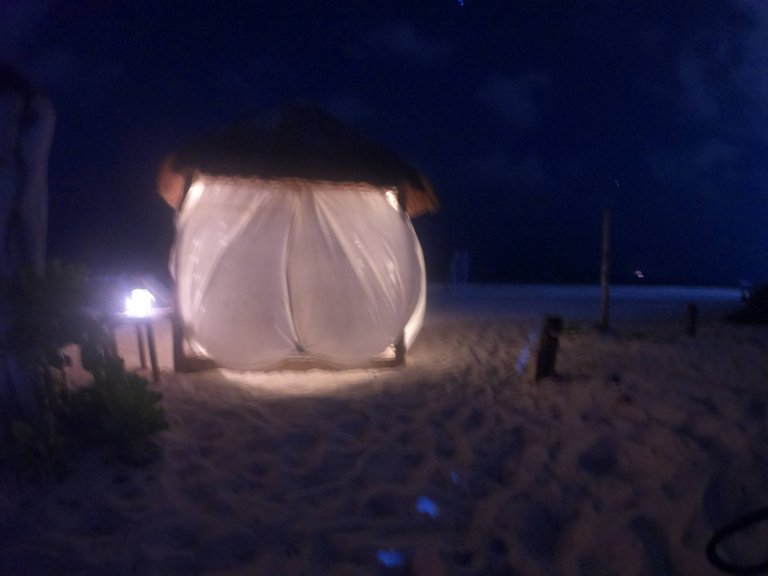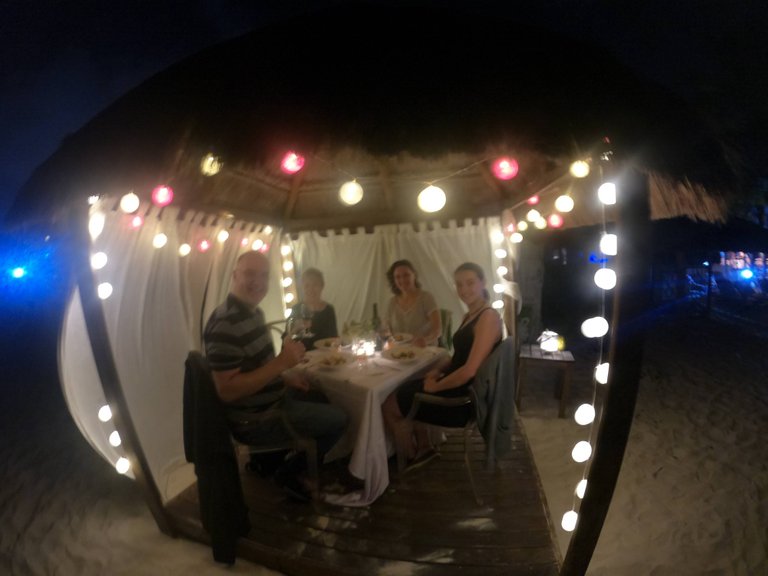 And as I am still trying to improve my video skills, here you have the video the best of the day in video - Enjoy!