What is Steem Telly
Steem Telly is a video/audio consumption app built for the Apple TV (and maybe more platforms in the future) by Steem Witness @quochuy.
Steem Telly beta testing has started
It's getting exciting, Steem Telly app first build has been uploaded to the Apple App Store for beta testing. Donators have received their beta download invites. Now it's time to open up the beta test to all users. So, if you have an Apple TV 4th gen at home you can download this app and help me test it. Alternatively, you could go to an Apple Store and try to get it installed on their demo device.
To receive an invite to download Steem Telly beta, please do the following steps:
On your iPhone or iPad, install the TestFlight app by searching for it in the AppStore or at the following address:

https://itunes.apple.com/au/app/testflight/id899247664?mt=8

Once TestFlight is installed, on your iPhone or iPad browser, go to

: https://testflight.apple.com/join/9pz9VL4o
This will send you an invitation and you will be able to claim Steem Telly beta app
You will then need to install TestFlight app on your Apple TV, login and download Steem Telly beta
After Steem Telly is installed, play around with it and let me know if there are any issues or feedbacks.
If you have any issues with these steps, please contact @quochuy.
What's new with Steem Telly?
I discovered a bug with the app when DSound audio is not found on their server anymore, this is now fixed.
Steem Telly is now using an custom API that decides whether to use @quochuy's IPFS node, Dtube node or IPFS.io node to fetch the video depending on availability of the file on the nodes. This should offer better playability for the videos.

The app is now sending some tracking events to Google Analytics. Those events are such as app launch,  media requested, media played, media completed, media failed etc... On top of this, those tracking will allow me to implement a hot/trending API that will be based on media hits and completion instead of post upvotes.

A QR code to a Steem account creation widget by @roelandp is now shown on all top views of the app and on the About section. 
Screenshots
Here is a screenshot of the QR code on a video grid screen (top right corner)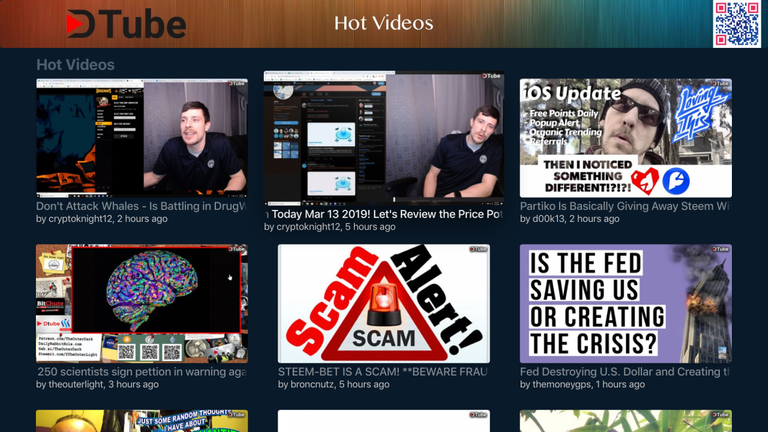 The QR code will appear bigger on the About screen. If you have a recent phone, you should be able to point your camera at the QR code below and see what it does. If your phone's camera cannot detect QR code, then you might have to download a QR code scanner app.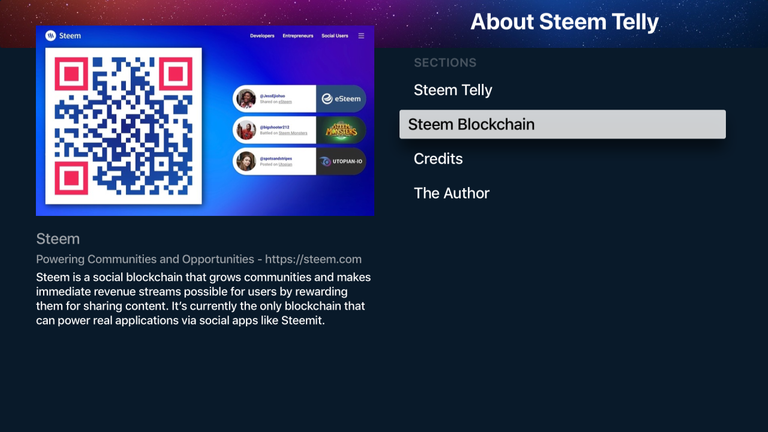 Here is a proof of concept of a @dtube popular videos ordered by play count. I will be playing with video completion count.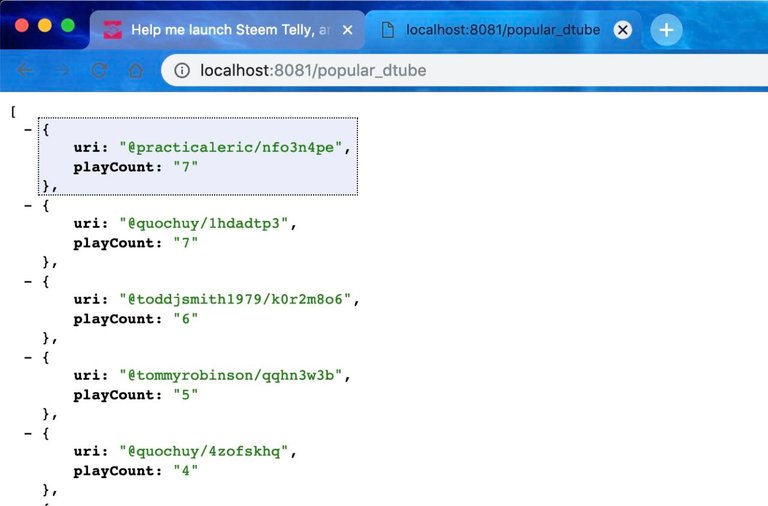 Thank you to my backers and supporters
Big thanks to all those who have supported this project via donations or upvotes. As promised, any support of $1 or above will get a mention in my project updates. So thank you to: @evildido, @waybeyondpadthai, @jeffandhisguitar, @angelinafx, @carlpei
Also thank you to top voters: @fundition, @dtube, @nathanmars, @lukestokes, @imacryptorick, @drakos, @aggroed, @anomadsoul, @thejohalfiles