Since AskSteem has shutdown, I needed a way to replace their API for the search and related content functionality of Steem Telly app. I initially thought of using Tower, a project by @emrebeyler that is interfacing Hivemind but I needed something up and running quickly so meanwhile, my new API will be using @steemsql. I might try to install Hivemind and Tower on a server and see if most of the features could be done there.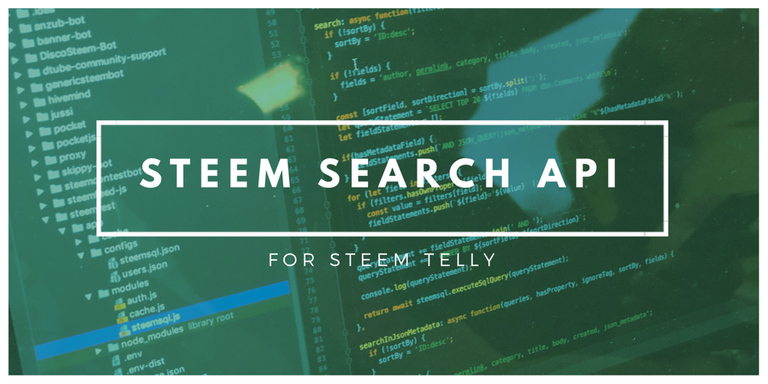 The Steem REST API
The API is currently called `Steem REST` and is hosted on a personal domain and is currently private, I might or not open it to the public or with some form of subscriptions, I'm not sure yet.
Steem REST is written in Javascript using NodeJS using mainly Express.js for the web server and routing, MSSQL for the connection to SteemSQL and JWT for API authentication.
It currently has three endpoints:
/gen_api_key that upon valid username and password will generate a JWT token to be used for every requests on the other endpoints.
/search that currently only allows search on author and applying a filter on the json_metadata object. This allows me to bring up all posts of an authors that contains specific attributes in the json_metadata object. I need this because @dtube and @dsound are adding special attributes when you upload a media via their app. Filtering by #dtube or #dsound tags is not enough.
/search_json_metadata that allows me to search for values matching within the attributes inside the json_metadata object, for example searching for posts where the DSound tags are matching specified values.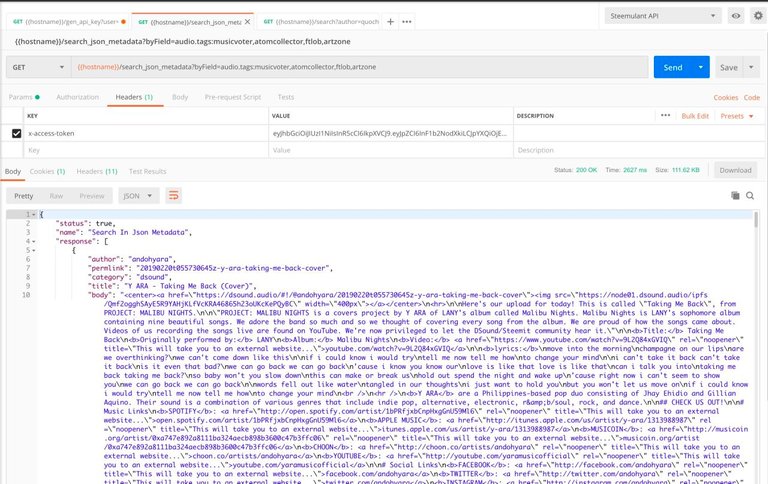 Steem Telly beta
With the donations received so far, I'm quite close to get enough to pay for an Apple Developer subscription and will be able to release a first beta version of Steem Telly. @steemsql having double their monthly subscription fee, I will also have to take few SBD monthly from @steemtelly to partially pay for it.
Thank you to my backers and supporters
Big thanks to all those who have supported this project via donations or upvotes. As promised, any support of $1 or above will get a mention in my project updates. So thank you to: @evildido, @waybeyondpadthai, @jeffandhisguitar, @angelinafx, @carlpei

Also thank you to top voters: @fundition, @dtube, @nathanmars, @lukestokes, @imacryptorick, @drakos, @aggroed, @anomadsoul, @thejohalfiles