Good Day Players today I would like you to:
Get to know your Hive streamers.
While streaming on the chain was frowned upon during the "only long form blogs are allowed" days of the chain that shall not be named.
With the birth of Hive and the goal of reaching new use cases and new audiences. Vimm.tv has taken on the quest to provide live streaming to Hive.
In this series we are going to get to know some of our Hive streaming community.
1st up is @ciderjunkie also known as the "German Oak"
With a perfect soothing voice for streaming it is almost like listening to an ASMR stream.
Ciderjunkie is comfortable in German & English often switching back and forth between the 2 language's during his streams.
While enjoying the survival genre of the gaming world, most days you can find ciderjunkie playing VimmCraft ( a Minecraft server).
He is also super active in the helpie-caster community. Teaching and supporting anyone that wants to stream. If you only stream 1 day every other month or working on a daily or weekly schedule the community is there to help you learn the software, have someone to chat with, or anything else you need.
A strong blockchain advocate and a fun personality you would be doing yourself a dis-service if you didn't stop by and chat with ciderjunkie during a stream.
Also for only 5.5 Euros (you can pay in Hive through Hivelist) ciderjunkie will play for the next 15 minutes wearing your choice of mask from his "wall of many masks"
The picture on today's post is of my choice of Mask from a recent stream "Horror Clown"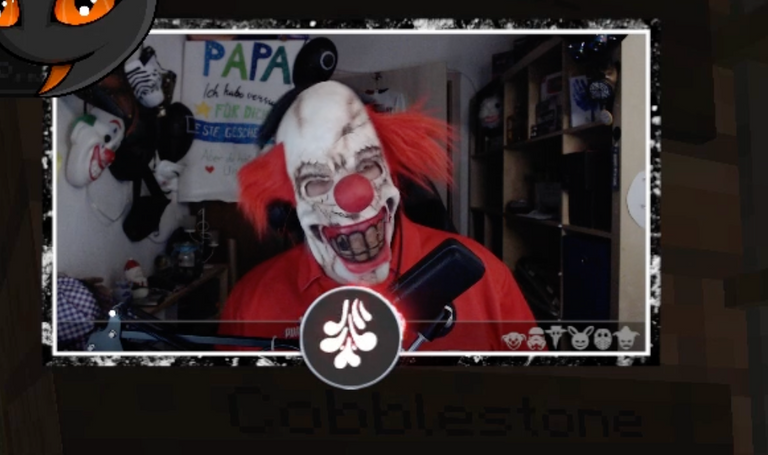 A good natured and fun personality you will learn a life lesson or two in between the laughs.
@ciderjunkie is a pleasure and someone I would call friend