Hey Hivers! Who would have thought that @brokemancode and I would go from this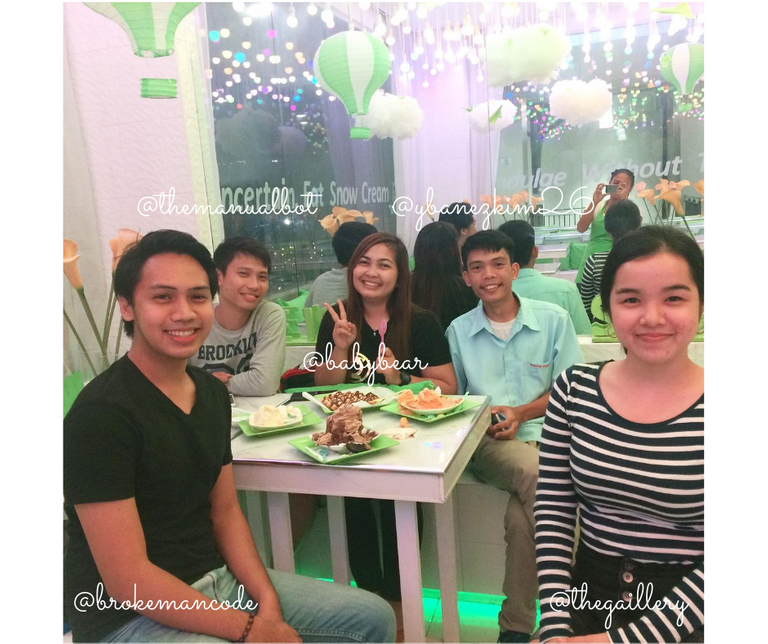 to this 💍?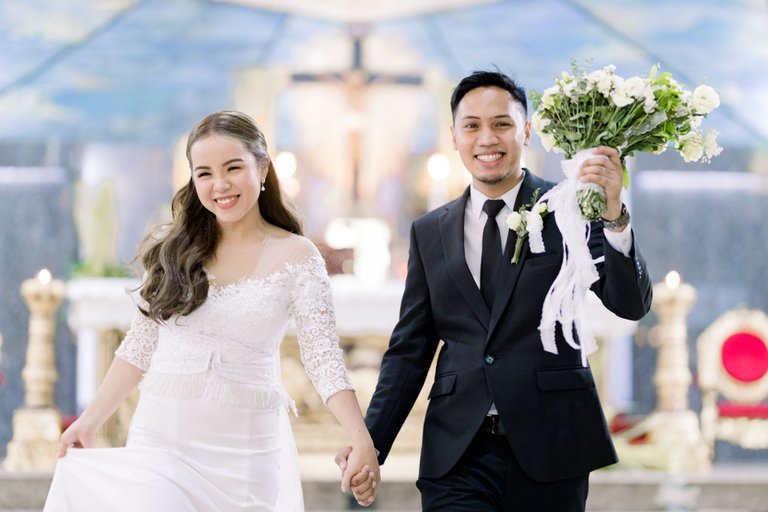 I surely didn't!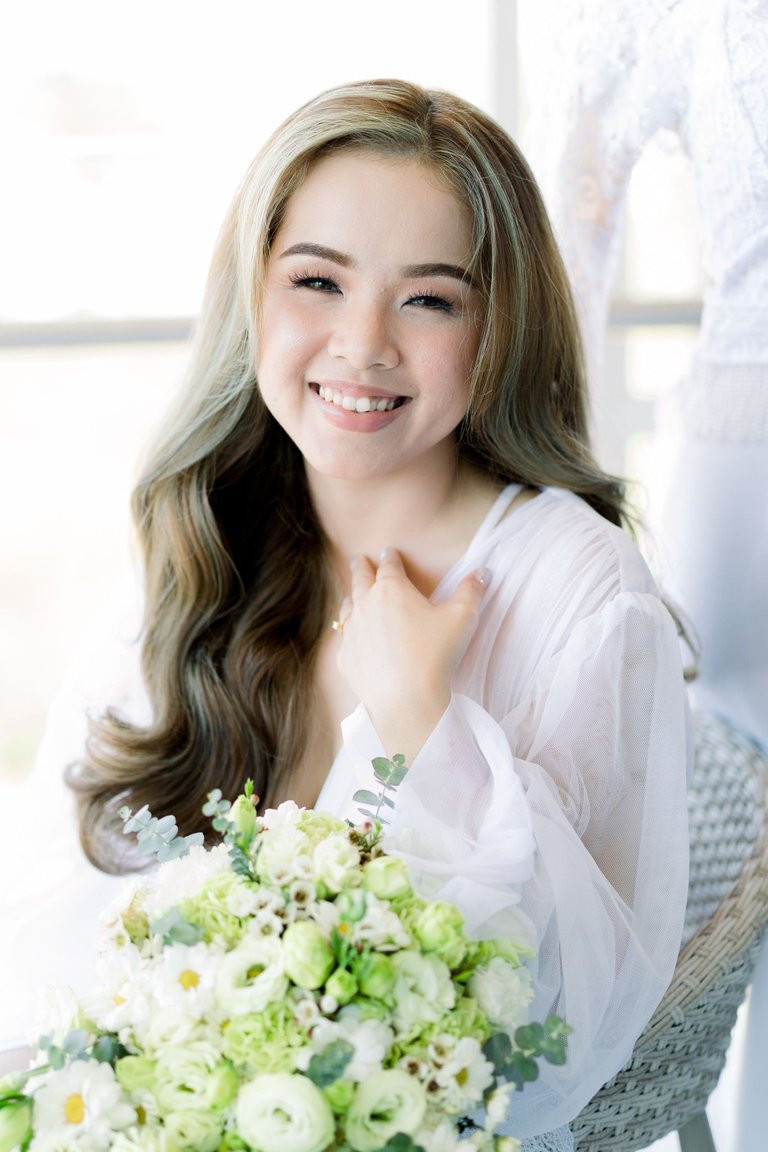 We got married on 3.23.23 and I am still on a wedding high! In this series, I would like to immortalize the details, the stories, and the memories on the Hive blockchain - the reason why we met in the first place. I always want to find poetic justice in things, and our wedding day is no exception.
---
OUR WEDDING SUPPLIERS
---
I got lucky to have witnessed the weddings of two of my very close friends in High School. Even luckier when I got a glimpse of their wedding planning. I admit, their weddings were so beautiful that I felt the pressure to keep the streak going, the people-pleaser in me got triggered. Both of my friends were so beautiful on their wedding day and they both deserved the beautiful weddings that they worked so hard to pull off. It was a mistake to have compared what they had to what we had 😌 Comparison, indeed, is the thief of joy; I have to remind myself this more often.
Wedding Planner: Dream Wedding and Event Planner by Girlie
I met Ms. Girlie Loquete Amaquiton in one of my High School Classmate's Wedding. She did the bridesmaids' make-up and she did a fantastic job on mine. I felt pampered by her as she personally did my look on my friend's special day. My partner and I were working with a budget and we wanted to go for a wedding coordinator who wasn't so premium in price and would go above and beyond to turn our dream wedding into a reality. We got the package that already included the following: coordination, photo and video, church and venue styling, sounds and lights, hair and makeup artist, wedding attire, host and DJ, photobooth, bridal robe, robe for the bridal entourage, money sash, wine, invitation, party poppers, van, low lying fog, and sparkulars. Ms. G, as I would like to call her, would always negotiate with suppliers to have them adjust to our budget. She knows how to pick people and she knows how to read and adjust to your preference.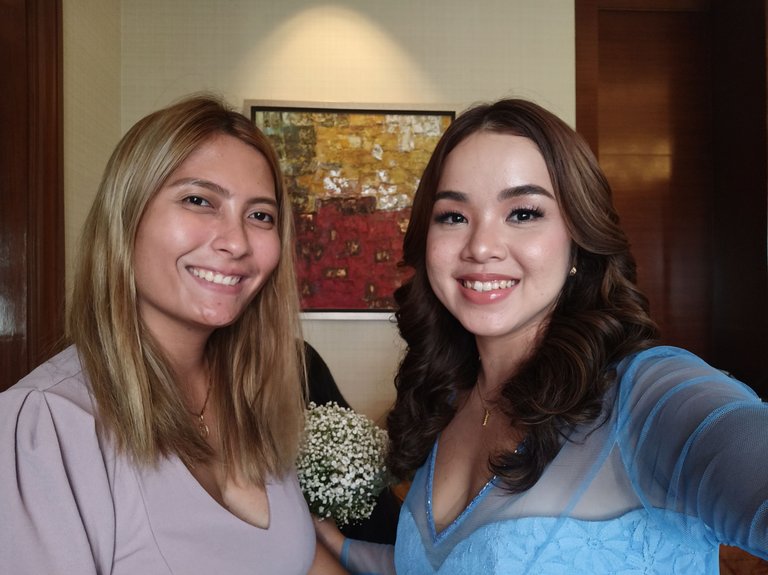 Girlie's Bridesmaid Before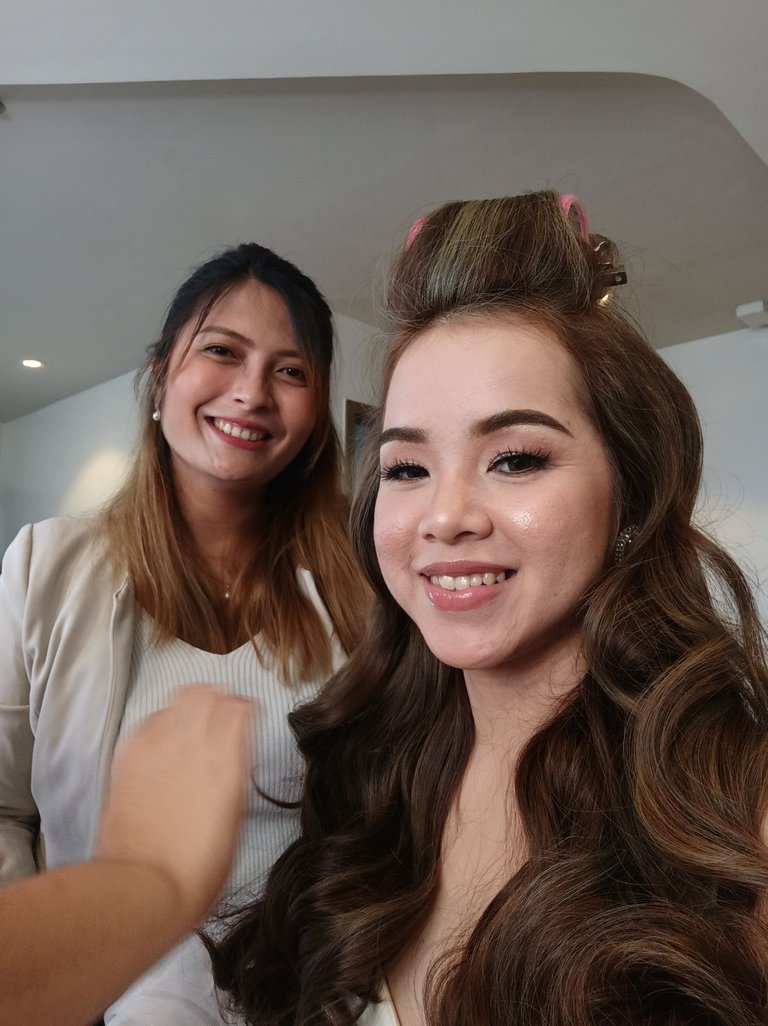 Girlie's Bride Now

Photo and Video: Michael Chan Photography and Sugbo Films by Lloyd Bryle Mejares
I was a bit anxious about how our wedding photos and video would come out. Knowing that most of my friends who got married were so particular about this aspect of the wedding supplier hunting. One of my friends got the Treehouse Story and flew them from Manila to Cebu. One also remarked "I'm going to go get Pidography Studios for my wedding photos or nothing." When I saw Sir Michael Chan's and Sir Bryle Mejares' teams being so dedicated and agile in capturing the moments at our wedding, my anxiety was replaced with joy. Even more so when I saw their output. I was glad that Ms. G knew me and went with both of them as our photo and video team.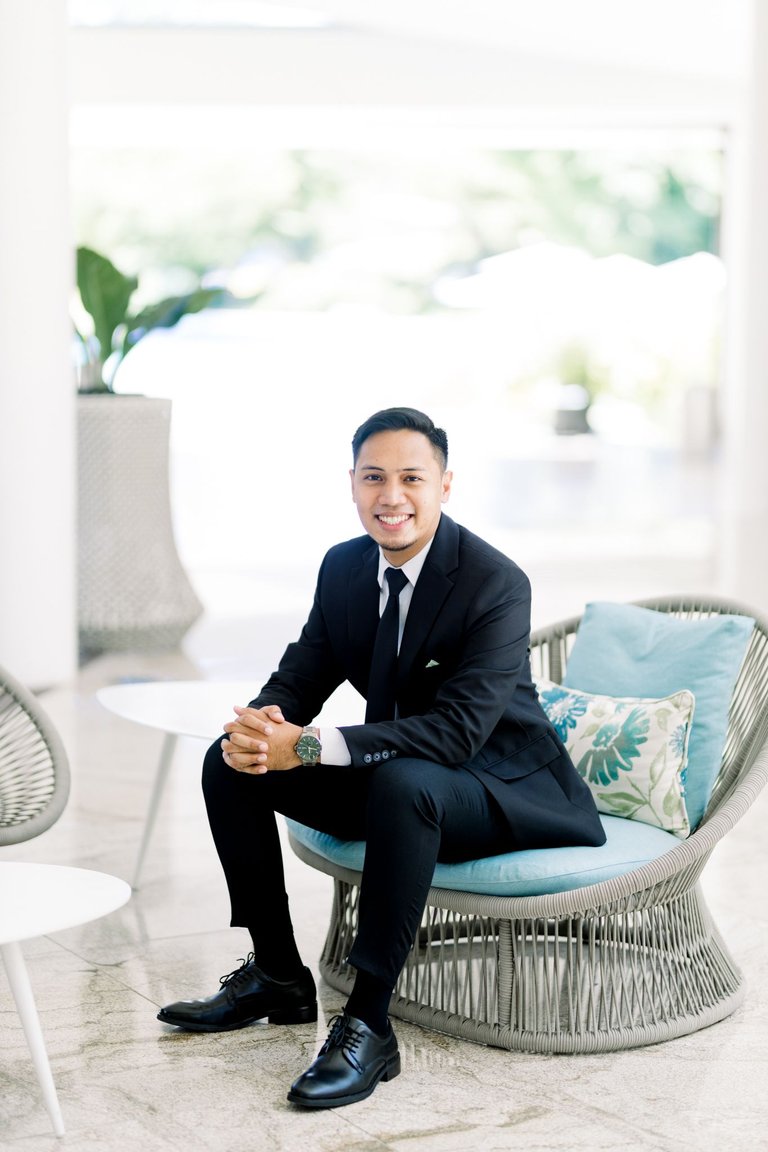 Groom, Groomsmen, and Fathers' Suits, Vests and Suspenders: Vin & Weller
My groom looked so good in his black suit and tie 😍 I think I fell in love with him all over again. Before we settled on this classic look for him, we put on 3 variations of the suits. At first, we wanted to go with a khaki coat and pants paired with a sage green necktie and brown shoes. But this color palette didn't match his skin tone and he wasn't happy wearing it. So, we tried on a black inner polo instead with the same khaki coat and pants and a sage green tie. Still, it did not work. The next day, we tried on an all-black ensemble with a sage green necktie - black inner polo, black suit, and pants. It looked better on him, but we felt that the sage green necktie was giving off bodyguard vibes 😅 With the guidance of my good friend who loved wearing suits, we decided to try on the classic black suit and white inner with black tie and he looked really good. Although not clearly seen in the picture, we opted to have a sage green pocket square, to incorporate the color motif of the wedding.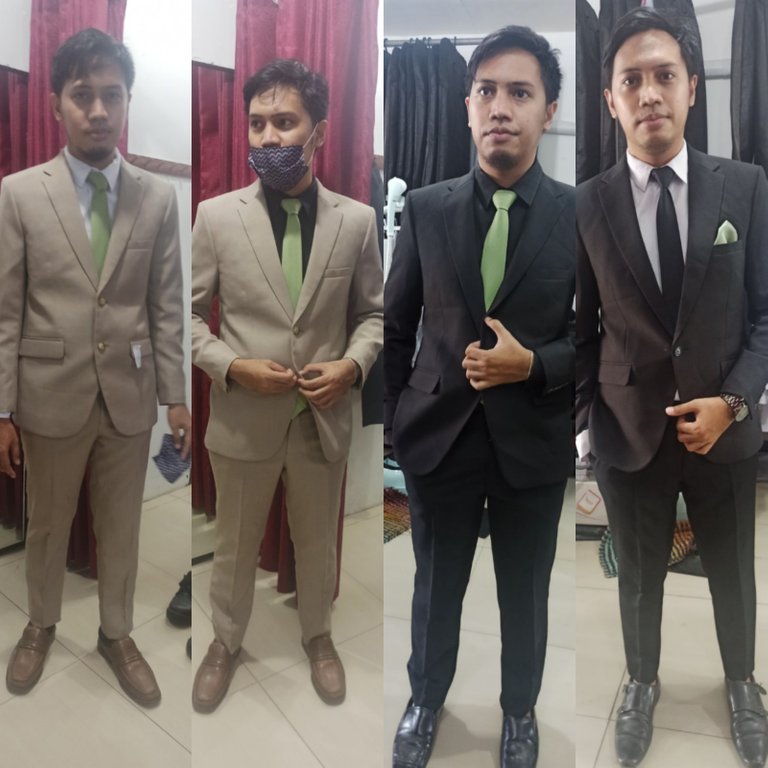 Fred looked so sad in brown 😂
Our groomsmen looked cute in their khaki pants and suspenders. We opted to go for this since it is hot in the Philippines 😂 Do you think they liked their groomsmen's gifts?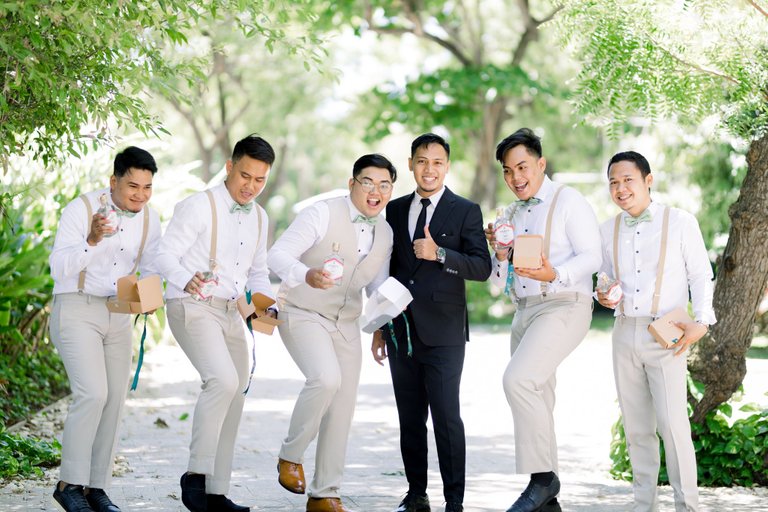 Bridesmaids and Groom's Sister's Gowns:
Angelo Andoloy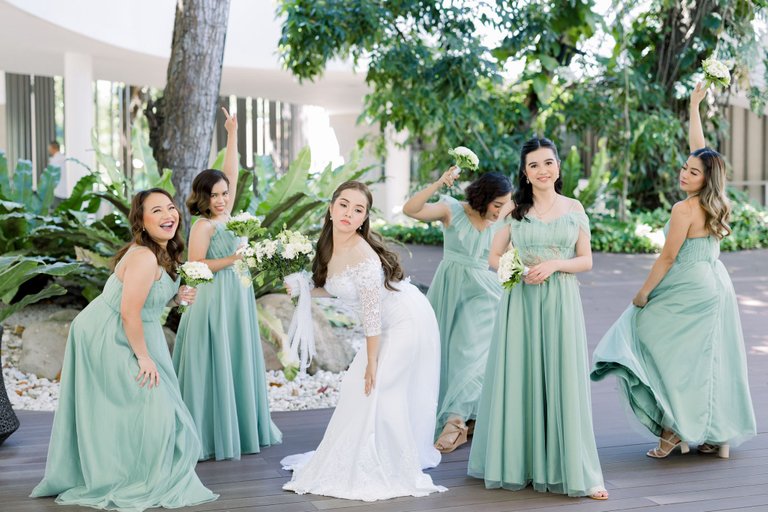 My girls are the best in the world. I was so moved to learn that they all had sacrificed just to make it to our wedding day. They had to fake sick leaves, file unpaid leaves, one had to book a flight from Batangas to Cebu, another had to take a boat from Bohol to Cebu, one had to rebook a flight to Blackpink just so she could make it. They were so busy that they had to order two cups of coffee - one for the am and the other for the pm just to get through the wedding prep and the workload that she took with her on the day of the wedding. I made sure that their wedding attire was to their liking so their gowns were made for their bodies and according to the styles that they chose as well. They looked so pretty in sage green. I got them shades and earrings as bridesmaids' gifts, and handpicked them according to their personalities.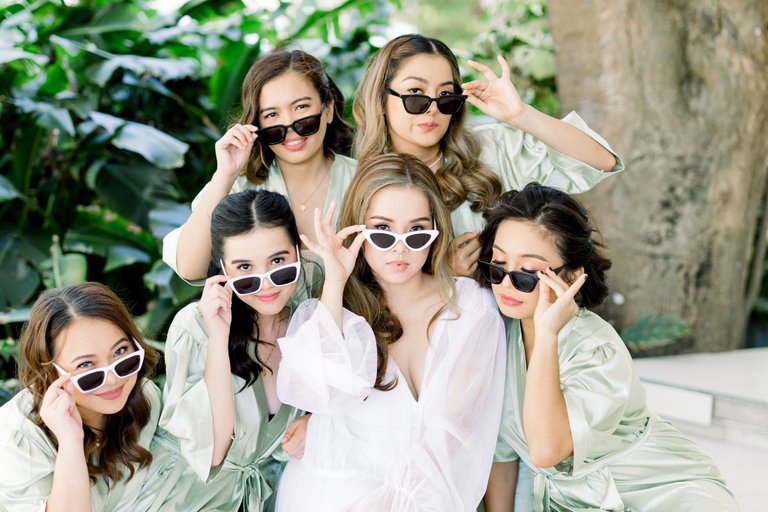 Bridal and Flower Girls' Gowns:
Fit&Fab Closet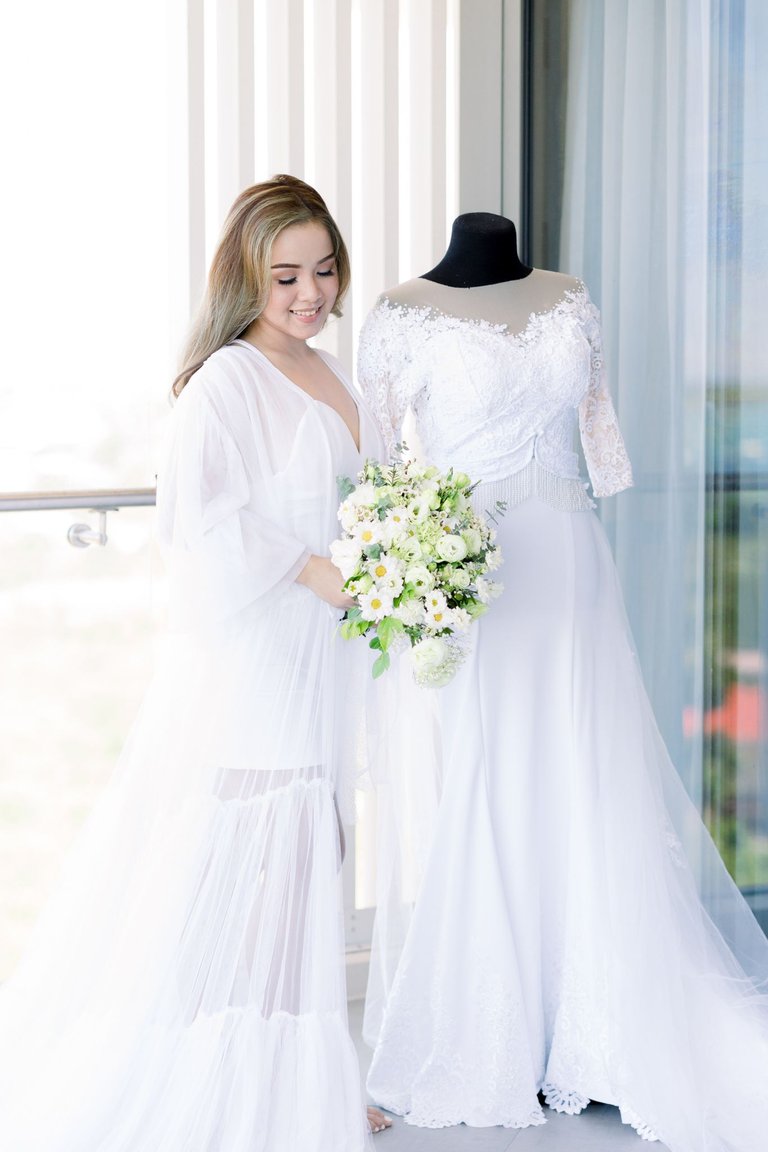 My bridal gown is special. It was made by someone close to my heart - our principal sponsor and dear Nanay Ms. Juli Ponder of Fit&Fab Closet. It was her first ever bridal gown design and it turned out pretty well. It was tailor-made for my body shape and it was made with love. Every day, she would add new embellishments to the gown to make it look more oomph! At first, my dear work Branch Head gave me her 10th wedding anniversary gown as a gift. Unfortunately, the church we would get married to was strict when it came to dresses and the gown had a tube top. We decided to make a new one altogether with an explanation message to my Branch Head. Nanay Juli also made our flower girls' gowns. They looked so cute.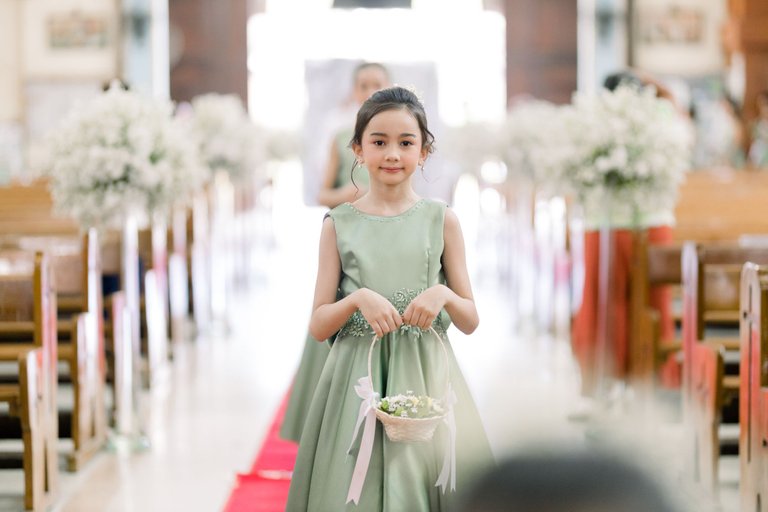 Bridal Details:
Perfume: borrowed from a friend; Shoes, Earrings, Hair Pin: Shein; Invitation:
Z Creations
; Rings: Oro China; Bouquet and Corsage: Ms. Girlie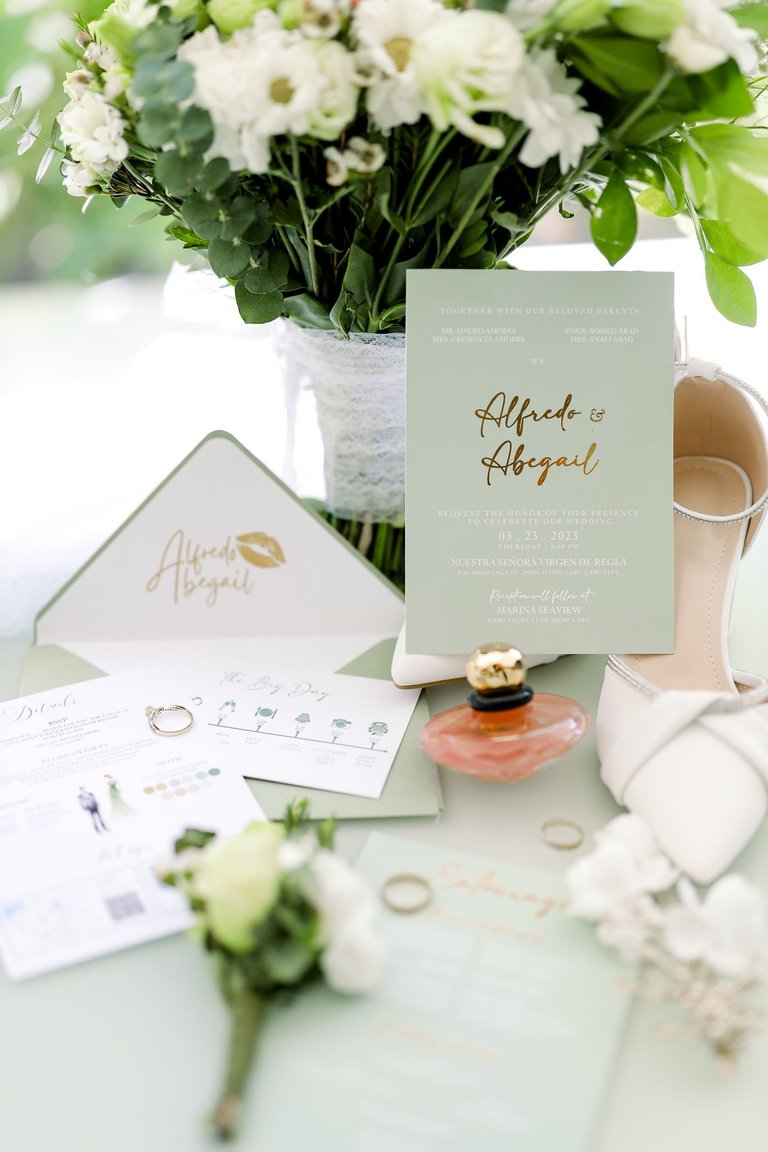 I don't have the patience to buy and put on perfumes for myself these days, that's why I opted to borrow my friend's pretty-looking perfume. All of my accessories and shoes are from Shein (as a Shein girl). Our rings are from Oro China and we opted for gold and diamonds. Fred doesn't like to spend so much but when it comes to gold, he'll take it. Huge thanks to Ms. Girlie for sourcing our flowers.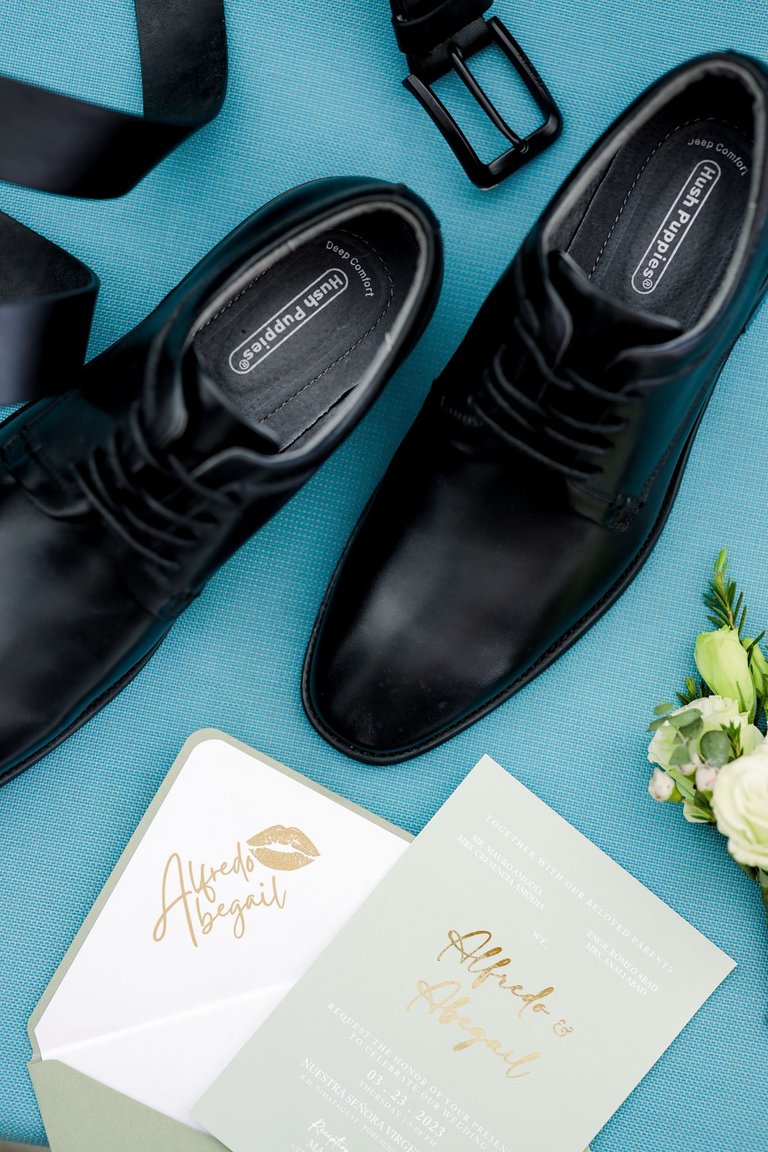 Groom Details: Shoes: Hush Puppies; Belt: Bench, Watch: Timex; Corsage: Ms. Girlie
Fred doesn't like to buy anything fancy for himself so I took the initiative to buy him his shoes and his watch. He loved them so much. Of course, he knew what I liked... but he has yet to buy his wedding gift for me. Fred, if you're reading this, you know what I want 😘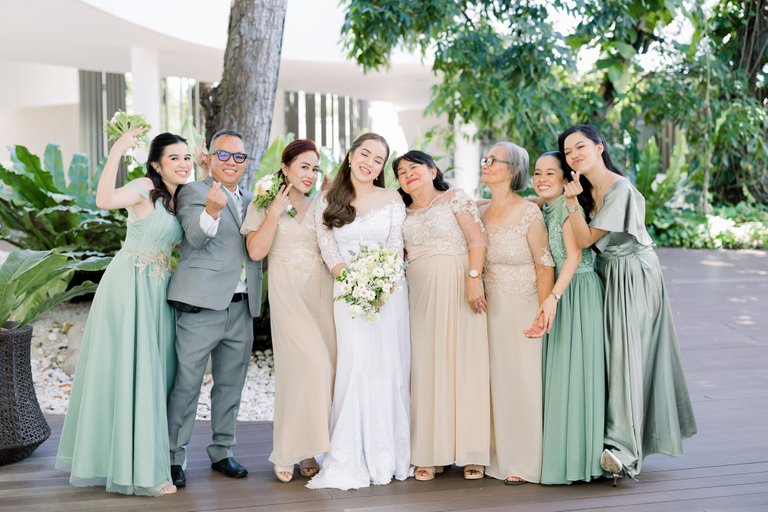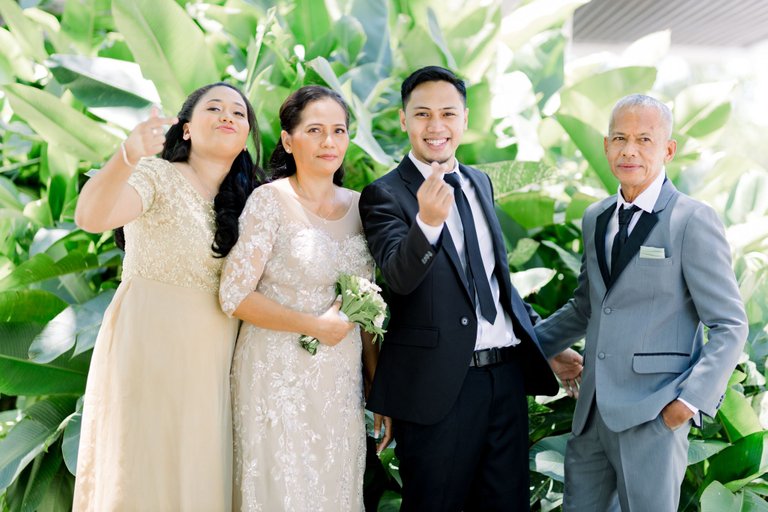 Mothers, Grandmothers, and Family Friend's Gowns: Creations by John Seville, Rene Pette Del Rio
Family life is never without drama. Our wedding day was filled with family tension. There were people who couldn't make it and people we could not invite. Still, I chose to look at the brighter side of things. I am happy that the people nearest and dearest to our hearts could make it, my heart is filled with joy as I see both of my grandmothers still able to walk down the aisle on their first granddaughter's special day. Even if my brother and sister could not make it, they still reached out to me and even made me cry at the reception. People who are not related to us by blood but treated us like family were also there and very much gave their best for our wedding day. I am also happy that I get to share the resort experience with my groom's family.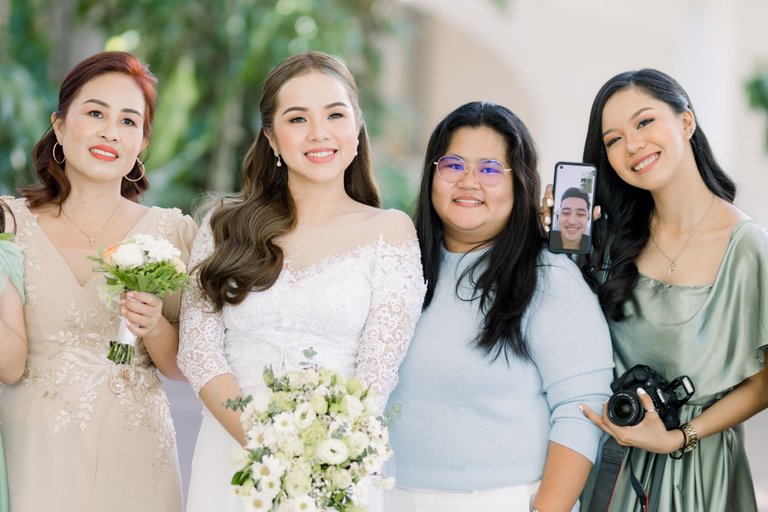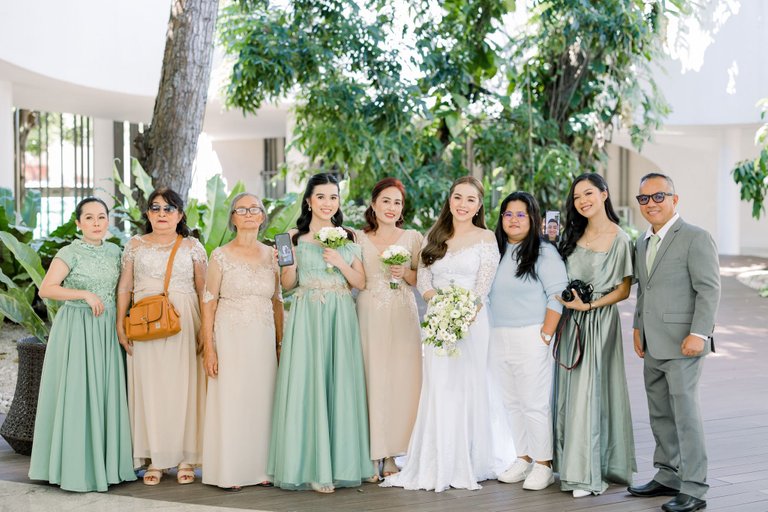 This blog took longer than expected, and thanks for reading all the way through. Hope you can catch the next parts of this series!
---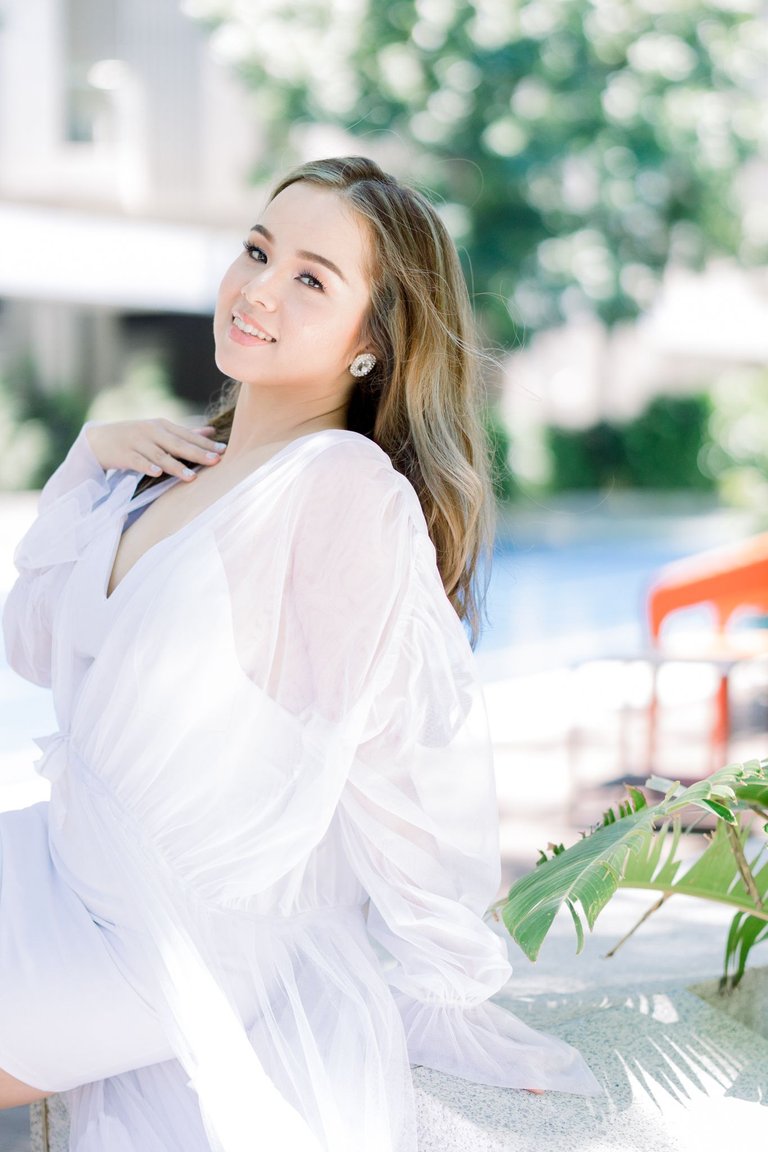 The Gaillery
She is on a mission to become better than who she was yesterday. A candidate for Masters in Business Administration, a Financial Advisor, and now, a wife, she hopes to give value to this space as a motivated individual. She found the perfect marriage between what she wants to do in life and her mission in financial advising. She balances her work and life in the comforts of her home, co-working spaces, and cafes. She loves to meet like-minded people and live her life to the fullest. Watch this space for tales of self-improvement and self-acceptance, per Mark Manson, "the philosophical tightrope."
Being in the crypto blogging space since 2018, she believes that the community is the greatest asset of any crypto-based project. So far, the Hive Community is her favorite.

If you like her content, don't forget to upvote and leave a comment and reblog if you can! She appreciates all forms of love!