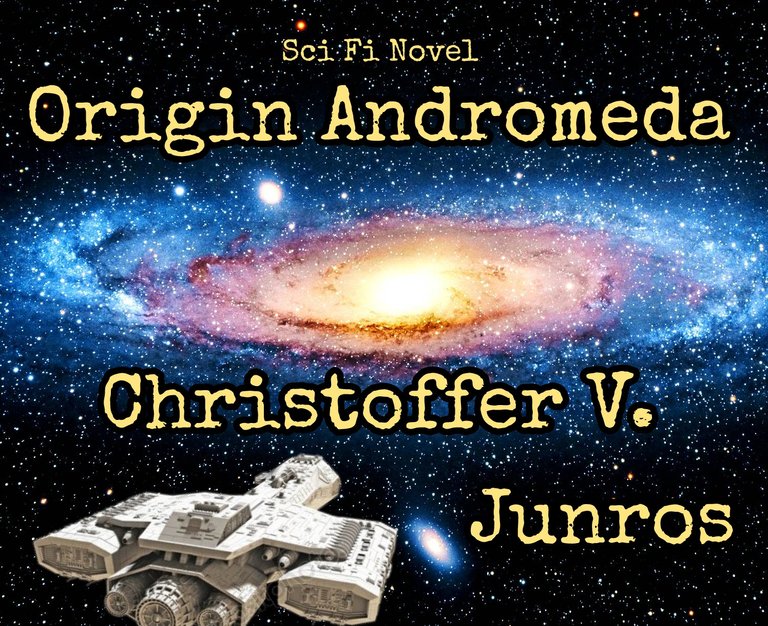 Part 10
No other sounds are heard from Teem's position, a few minutes has already gone by with silence as the only reply, Bjorn is standing ready to go outside, trying to contact Teem over and over again.
"Teem, can you hear us? Report back" Nothing.
"Teem!.."
"what did just happen? Who or what made that noise?" Sofia asks through the radio.
"I'm not sure, but we will check..Rob, do you have any visual?"
Rob who has been watching everything on both the hologram and on a video feed didn't see much, he has put the event on a loop, searching for details that can uncover Teems fate.
"I'm going through the event Bjorn, but I don't have good enough of a visual inside the ship, Teems life signs are still there, but the signal is getting weaker, her heartrate is normal, so I think it's just interference inside the ship"
Bjorn gets down into the airlock and closes the lid above him.
"Assemble a rescue crew and prepare them to be ready to depart with a shuttle on my command, let me know when that is done, meanwhile I will get out and peek inside the airlock that Teem opened, Sofia you stay sharp here in the shuttle in case we need a quick retreat back home"
Bjorn pushes the button that vents the remaining oxygen in the airlock chamber, opens the door and activates the magnetic shoes he is wearing, once he is down on the hull he moves as fast as he can towards Teems position, the hull is dormant, no more oxygen is being pumped out so the short distance to the airlock isn't hard to complete.
Henrik feels that he should be included in the rescue team, to engage and show that he is reliable, he talks with Rob about it, demanding to be included.
"I volunteer to be a part of the resc..." before he is able to finish his sentence Rob answers.
"Good, I have no problem with that, I have prepared a list of other volunteers and skilled persons, I let them know that you'll join them, go down to the armory and get ready, hurry"
Surprised by how easy it was to convince Rob to let him join Henrik rapidly walks down to the armory.
There he meets the team, there are four other crewmembers in the room who volunteered for the rescue mission, he recognizes one of them from the dinner a few days ago, he found out that his name is Moktai and that he is from the south, from a small farm village south of Zouuds equator.
Another familiar person in the room is Loukh, he is a short man with a large mustache, Henrik worked together with him a couple of days ago and he noticed then that he is the kind of person that doesn't talk that much, he utters words only when needed, Loukh believes in action more than in words only, or at least that what was he said very briefly before he handed Henrik a wrench the other day so that he could help with some minor adjustments in one of the engines.
Henrik puts his space suit on, the suit is surprisingly easy to move around in, not more hindering then when wearing skiing gear, the boots are comfortable but quite heavy, they have to be with the large magnetic sole that keeps them fastened to the hull when walking outside.
As its Henrik's first time putting on a space suit he is a bit unsure on how to put the rest of the gear on and is struggling with the helmet, it's too bulky to put on without knowing the trick to what goes first.
"Let me help you with securing the helmet" Moktai said
"Please do, it's hard to see if its fastened correctly or not"
Moktai lifts the helmet and oxygen tank over Henrik's head and fastens it down, the helmet, rebreather and oxygen system is built into one item, with a shielded hose connecting the small tank and the helmet.
He flips the switch for the radio communication before he steps back and asks Henrik to say "HUD on" to activate the Heads-up-display.
On the helmets visor Henrik can now see important data such as who is speaking, how much oxygen he has left, how the rebreather system is operating and other important information such as if the suit is sealed.
"Thank you, are we ready to go to the shuttle now?"
"Almost, take this" Moktai gives a pulse gun to Henrik, who puts it in his holster.
Bjorn who has reached the airlock turns on his helmet flashlights, turns off the safety on his pulse gun and takes a careful look inside the ship, just turning his head slightly so that he can peek inside, the door inside the airlock is opened, so there is no pressure inside the dark corridor of the ship.
"Are they ready to depart anytime soon?" Bjorn asks Rob
"yes sir, they are ready, do you want me to order them to depart?"
"Do it, tell them to land next to my shuttle and come to my position, we are going in"
Rob sends the order and the shuttle is soon on its way, he turns his radio to a private channel between him and Bjorn.
"One thing that I didn't mention Bjorn is that Henrik is onboard the shuttle, he insisted on being included in the rescue team"
Bjorn quietly smiles inside his helmet before he can answer, this is exactly what he wanted to hear.
"Great, I'll let him know that its ok, this could be a very dangerous mission, but if he insisted then I suppose that he got a reason for it"
The rescue team lands and the crew of five quickly walks outside, being the first time that Henrik experiences the vast emptiness of space first hand is making him feel a bit sick, he looks up and there is absolutely nothing but emptiness above him, he only wants to get inside the ships airlock so that he at least has walls surrounding him once again.
He walks next to Moktai who speaks with a rich and powerful voice, even when he only engages in small talk apparently, he sees that Henrik isn't feeling well and says.
"First time out on a spacewalk is a gut wrenching experience, I know, just take one step at a time, look at the ground and you will feel better, now come on we better get to the captain quickly"
Henrik do as he says and begins to feel a bit better, soon they reach Bjorn who stands just beside the airlock.
"Good, It's great to see that you take charge and start thinking like a leader my friend, this pleases me, lets walk carefully inside and find Teem, we have heard no new sounds trough the radio and no attempt to contact has been successful, we have to assume that she is in danger but we will bring her back alive"
They walk inside, Joanna and Rob observes their movements with worrying eyes, Bjorn goes first, the corridor is only lit by a dim emergency lightning, so they have to use the flashlights to move around, they go past the airlock doors and move further into the corridor, everything looks out of order on the inside, Henrik almost stumbles over some loose cabling that is just lying on the floor.
"What could have happened in here?" Henrik asks
"Not sure, we better move carefully further in, we might find the answer in the control room" Bjorn answers.
They continue walking , the corridor looks the same all the way, there is some kind of dark red colored organic material everywhere on the wall and on the floor, they walk past a few broken doors with nothing but more mater inside.
"Try to avoid the substance on the floor, we don't know what is it, no sign of Teem yet so keep your eyes and mind cleared, we are getting closer to the control room now" Bjorns says.
When they reach the end of the corridor they find a half opened slide door, Bjorn peeks inside the opening, it's quite dark inside and the room is only lit by a few blue colored lamps, from what he can see it appears to be a large room filled with control modules build into shelfs in the room, in the middle of the room there is a control panel with blue lights, standing next to it is a droid that starts walking past away from it, past Bjorn's visual and behind one of the shelfs, there is more organic material spread out in the room in chunks.
"This must be it…Moktai open the door carefully, there is a droid inside, we will cover you" Bjorn whispers trough the radio, Moktai turns off the safety on the pulse gun and opens the door with one hand, he walks in, the other follows just behind him.
End of part 10
Next Part
Part 11, Belly of the beast
Prevoius parts:
Synopsis
Part 1, The Cube!
Part 2, Run!
Part 3, E.B.A.A.T!
Part 4, The Awakening
Part 5, Kionidoo
Part 6, The Tour
Part7, The Pick Up
Part 8, Lift off!
Part 9, Sabotage!
---
Thank you for reading this, hope that you find my story interesting and exciting.
Going to release this novel on Steemit, in parts with a few days between each part, need to work on translating the next part before I post it. I have been writing on it for a few years but never getting it out before, originally written in Swedish.
Dedicated to my lovely wife who gives me inspiration to write.
Hope that you like it.