It's Sunday morning... again ! It's always good to get another chance for a Sunday morning.... right ? Time is really flying along. Funny how it seems to go faster and faster, I mean it's already the first day of May and it seems like Christmas was just 6 weeks ago or so..... doesn't it?
I got up a little earlier than I meant too. The room was getting a little light and then nature called and then.... what the heck?... I just stayed up. I felt refreshed and that's what counts I guess.
In the last month or a little more, I have shown you another couple of pieces of art I bought. I went on about a month long art buying spree and here are a couple more pieces.
For some reason, I have never bought a water color piece before. I like water colors and have seen some really beautiful water color art. This time though, the subject and colors dragged me right in. Who doesn't love the remembered sights, sounds and smells of the fair? Whether a local county fair or the state fair, always a fun atmosphere. This was painted by an artist name Barbara Demgen out of Florida. It is a 12 X 16 that was already matted on a 16 X 20 mat.
In the listing, the artist had labeled it "Small Town County Fair Visions". It is done in water colors (of course) and pen and ink.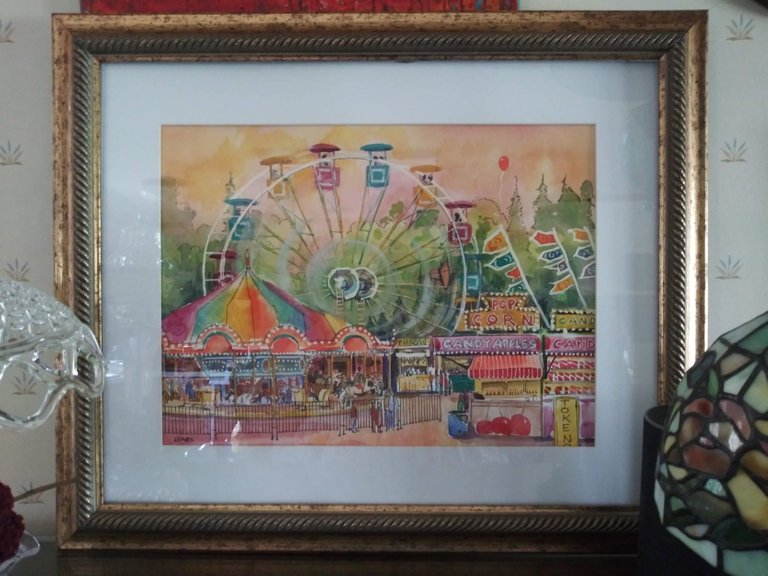 I didn't buy it for this reason, but luckily, it happened that I had a framed print I had purchased a couple of years ago at the local Hospice store that I never fell in love with once I got it home and it's frame was the exact size I needed for this piece. How lucky was that ? Before it got here I thought the frame would at least protect it till I decided on a more suitable frame, but once it got here and I put it in the frame, I found I liked it just fine in this one, so that is that !
There is so much to see in it, ferris wheel, merry-go-round, candy apple stand, game booths and signs with lights all around. Even a red balloon that has escaped some childs grasp and is floating away.....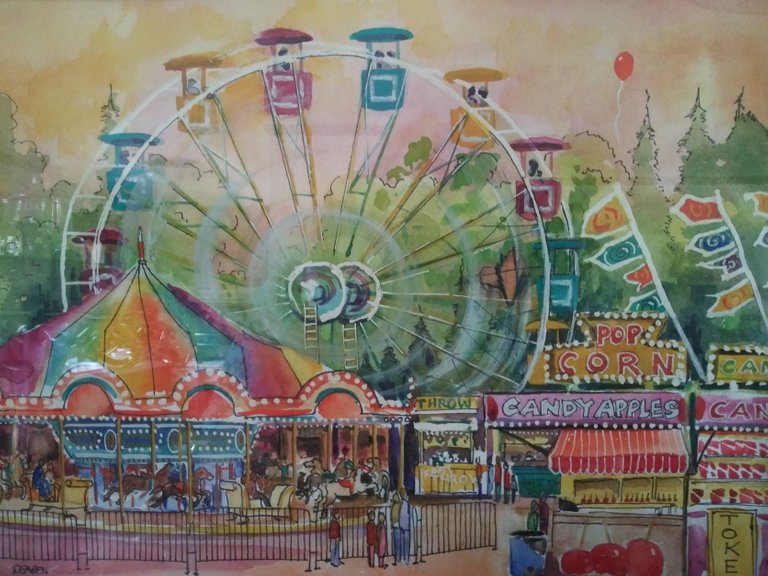 I also intended to hang it in my work room adding to my "other people's art" gallery, not sit it on a surface and lean it against a wall, but the wire hanger on the frame was oriented for the last piece that was in it and the other piece hung in a portrait orientation. I was going to have to rewire it to suit this landscape oriented piece before hanging, but because I wasn't going to do that project right away, I temporarily sat it on this chest in my living area. After walking away and coming back, I found that my eye liked it there among some of my other things and I decided to leave it there. I love when something accidentally falls into place. The piece above it needs to be raised a little..... one day.
The other pieces around it are some of my paintings. My main living space normally just has art I created myself.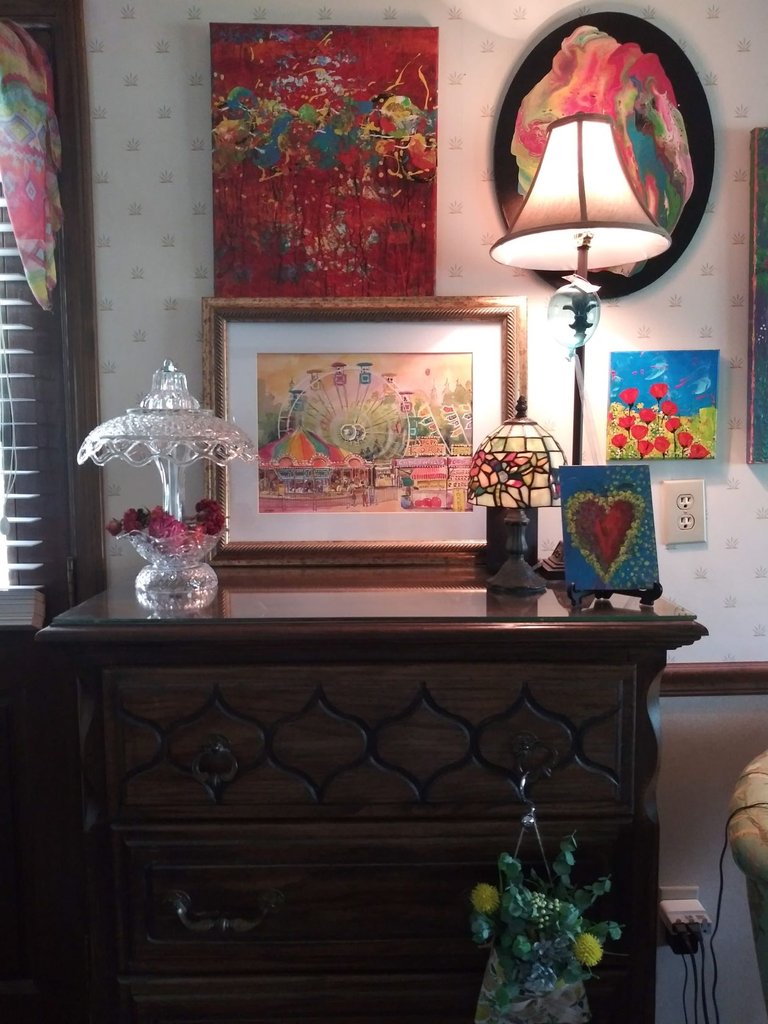 The second piece for today is from artist Rebecca M. Beal. If you have been around here, you may (or may not) remember that I bought a couple of her pieces early last winter that had houses with snow. I never intended to put any of the art away and label it as seasonal, but doing so allowed the mental path to open to buying more from her. I love all the underlying colors and visible brush strokes in her pieces.
She called it "Sleepy Cottage" and you can see that it's early evening and the lights are on and shining through the windows.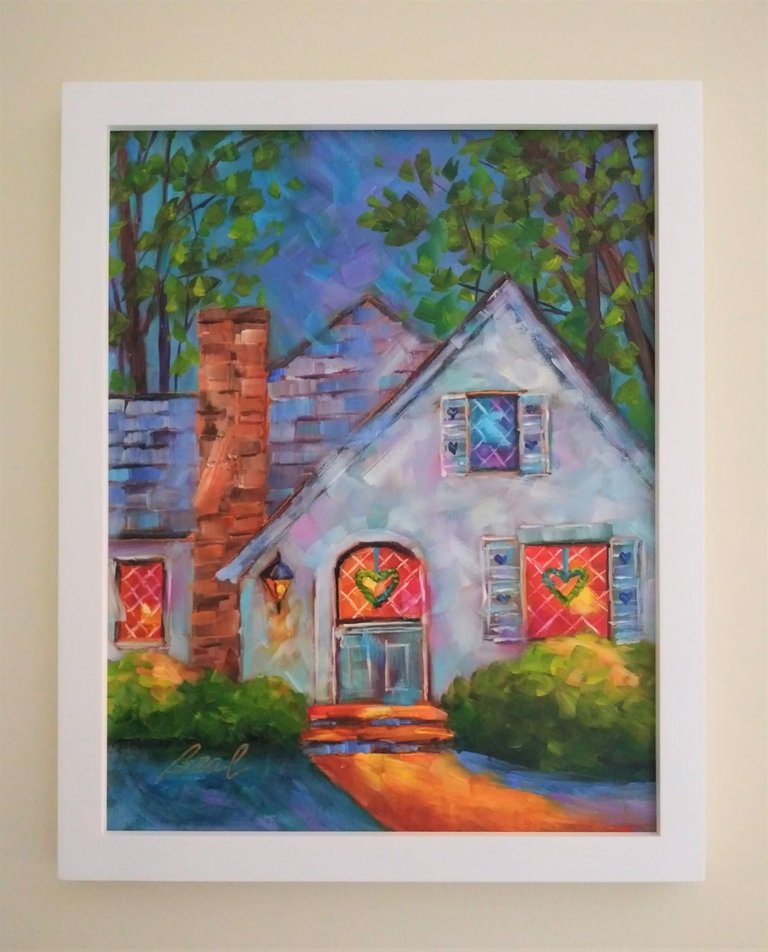 After having it here for a few days, I found something funny about it. When the evening comes and the light in the room gets dimmer, the trees and sky become darker and blend in together somewhat and that makes the bright lights from the windows and door appear to be brighter, like they would be if it got dark in the real world. I tried to take a photo of it, but my camera would not cooperate as it is always trying to add light so that you can actually see what you took a photo of. LOL !!
So I took a photo and darkened it to see if it would show the affect. I realize this is flawed thinking as if one part is darkened it all is, even the bright parts, but you can still kinda-sorta tell what I am taking about.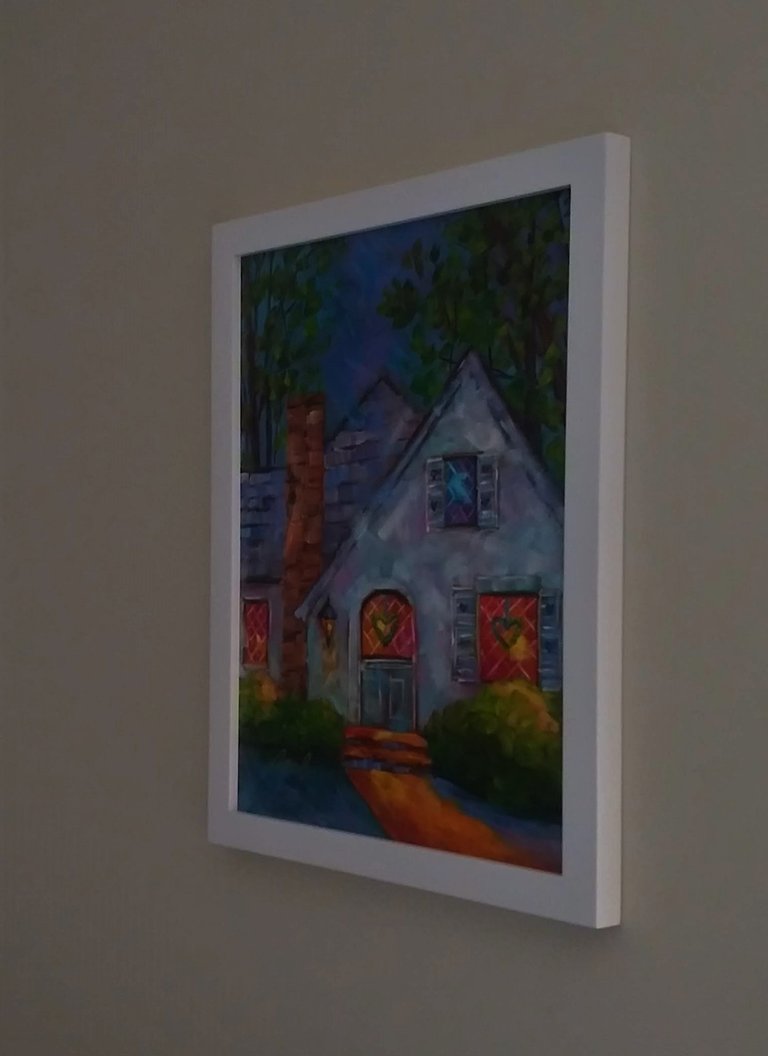 ..... or I think you can.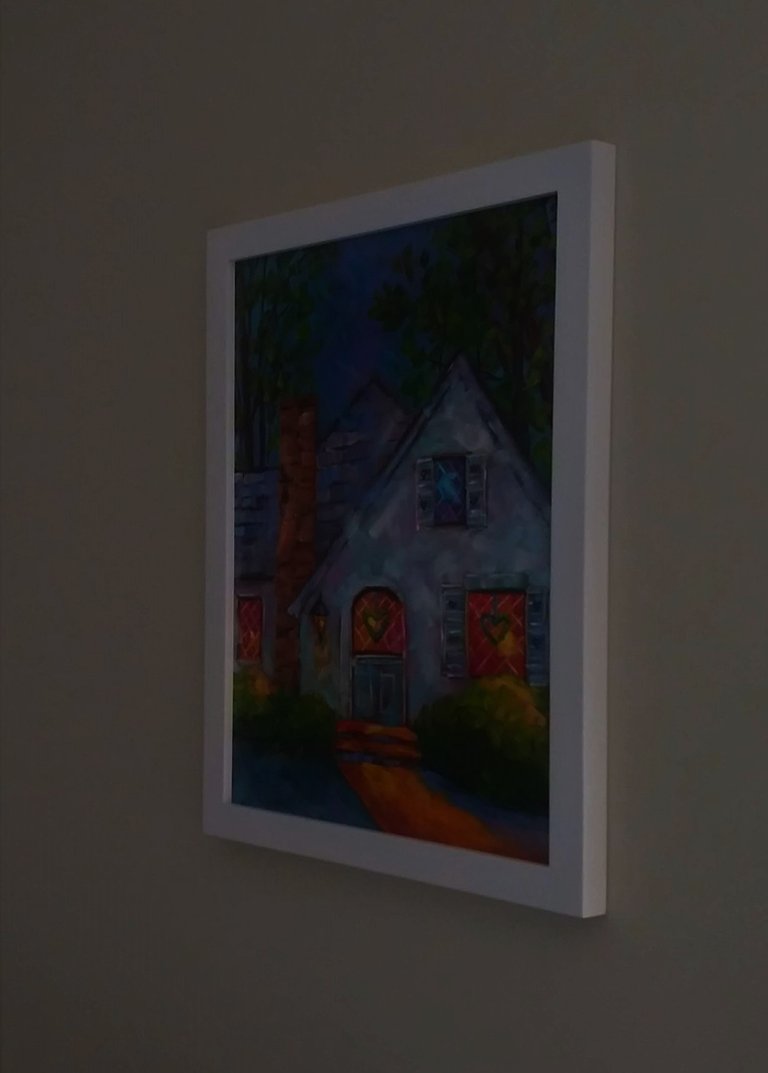 Both of the above artists can be found on Etsy.
Below is a photo of other people's art that hangs above my personal computer. When I bought or was given these pieces, I did not intend to make the whole room a gallery of other people's art. There is really no telling what exactly will cause me to buy a particular piece, but one thing that is common to all, is lots of bright color. Content counts of course, but the color is usually the first draw that then causes me to look closer. I took this photo while I was making this post to add it for the finaly.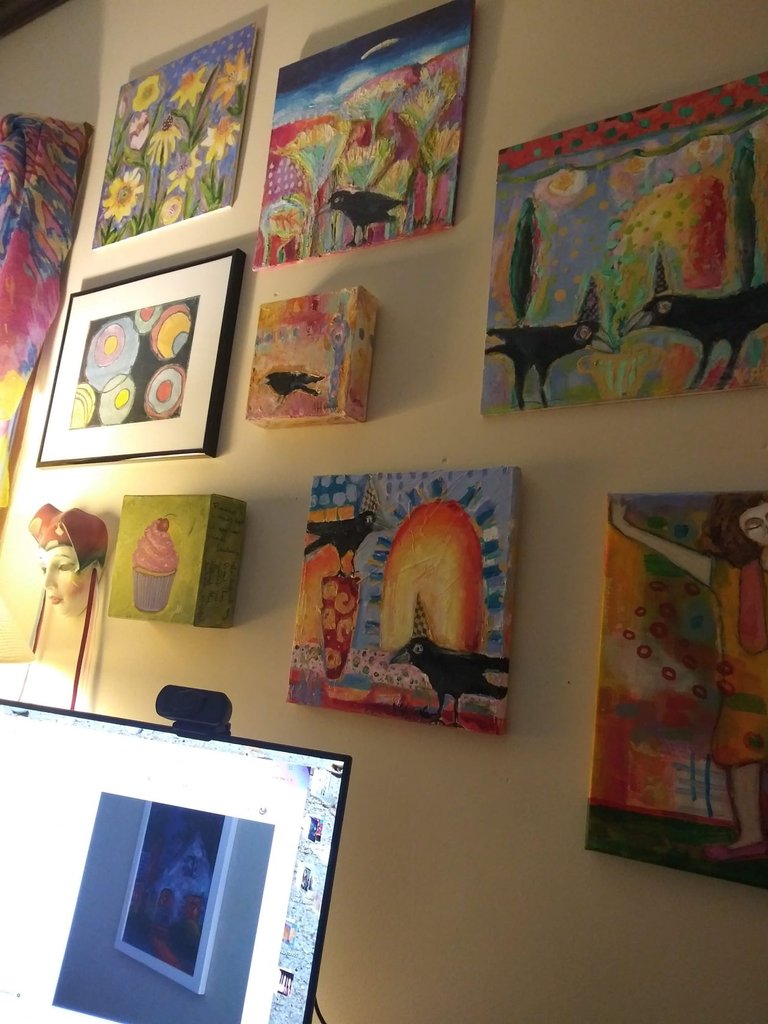 Later today, I believe I will be going to Mom's for a while. Her birthday is next Saturday, the day before Mother's Day. One of my sisters and I went in together for Mother's Day and signed her up for fresh cut flower deliveries from a flower farm not far from her house, where she will receive a bouguet of whatever is growing at the time, every few weeks through September. So she has that already and I also gave her money in advance for her birthday to buy whatever flowers she wanted for her porch and yard. Since my stepdad passed a little over a year ago, her income has changed vastly, so she is very careful about what she spends. She is not at all destitute, but still needs to be more frugal than before. I don't like that idea for her, so I made sure she did not have to choose between having a lot of flowers or not. I mean, when you are in your 80s, you should have all the flowers your heart desires.
The world... according to me. LOL !
Hope you are all doing well and that your hearts are happy.
Love you !
Jacey