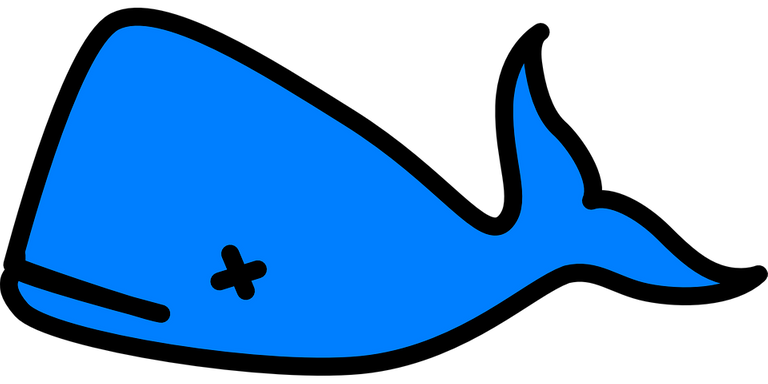 UPDATE: @zeartul confirmed he no longer owns @bellyrub.
UPDATE 2: Now there is a flash sale to bleed every drip from the @freedom 1M+ Steem power delegation before it is pulled as it hasn't been paid for around 5 days.
UPDATE 3: https://steemit.com/bellyrubmassacre/@zeartul/i-do-not-own-bellyrub-any-more
UPDATE 4: I've spent a good part of today investigating this, and I am 99.99% sure this is all @zeartul and @bellyrub was not in fact sold. I have some information I am going through, but there will be more information tomorrow. Regardless, do not send any money to @bellyrub.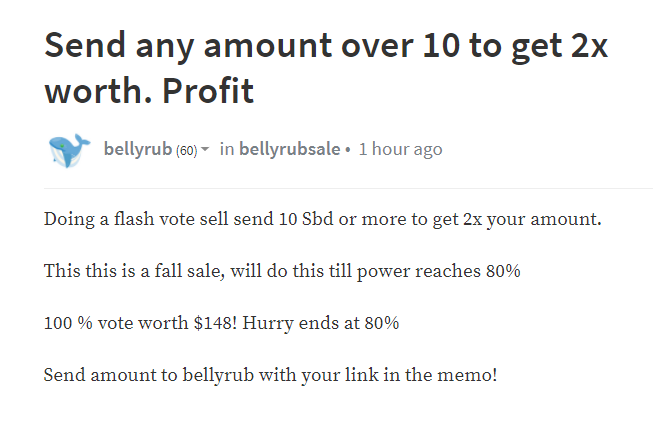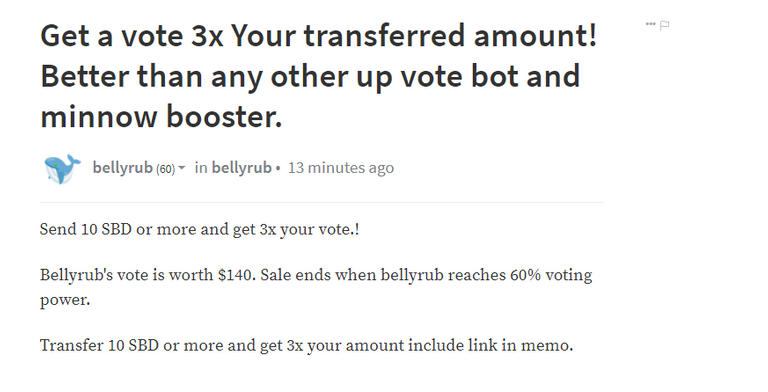 I have long had a problem with @bellyrub (aka @zeartul) selling votes privately, self-voting both @zeartul & @bellyrub accounts. I was happy to see his recent change on his stance related to this, up until recently where it has started back up. That's not where it ends though.



Not only is @bellyrub self-voting while selling the same steem power to uninformed users, they are also selling their vote on the Minnowbooster marketplace at the same time. There has been no disclosure on this or the private selling. When a vote is made with a bidding bot outside of the 2 hour 40 minute windows, it causes the windows to be longer (by hours) and during that time more people bid for what they expect to be a portion of the 100% vote, but the window gains far more bids as it goes on for longer than the set 2 hours 40 minutes and voting power was bought and paid for privately outside of the window. This is a way to double dip, now @bellyrub is selling votes via bidding windows, self-voting, and selling them on Minnowbooster for a triple dip combo.



There is also a recent surge in complaints about @bellyrub not upvoting people who paid. I understand a no refund policy as I have done the same at @buildawhale, but this is for user error. These are all issues related to @bellyrub not voting as per the bids.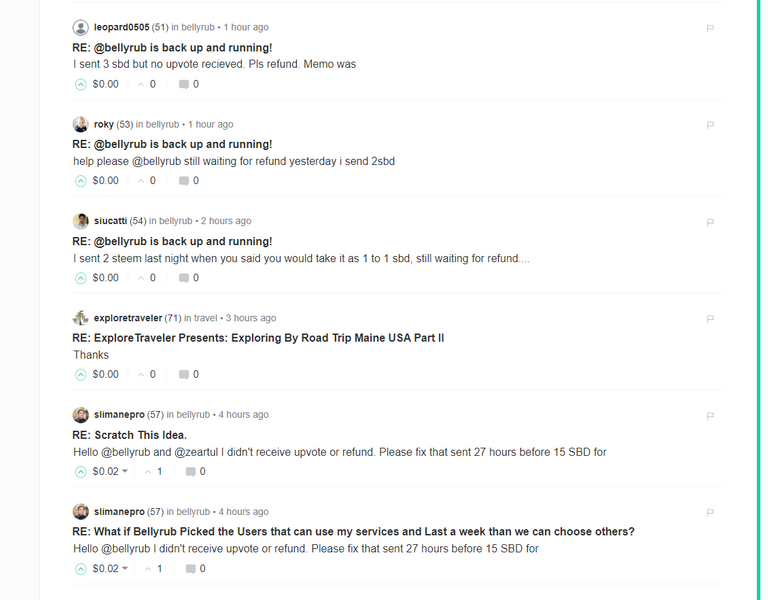 This is where we really jump off the deep end.
Yesterday @zeartul ask for donations of 40,000 Steem to get 8 Million delegation from "outside investor" so he could have an $800 upvote for @bellyrub.
Within an hour or so, the idea was all of a sudden scrapped for some unknown reason.

Recently @bellyrubbank has been having issues paying users what they have been promised and then asking users to trust them with 40,000 Steem so they can fund their business.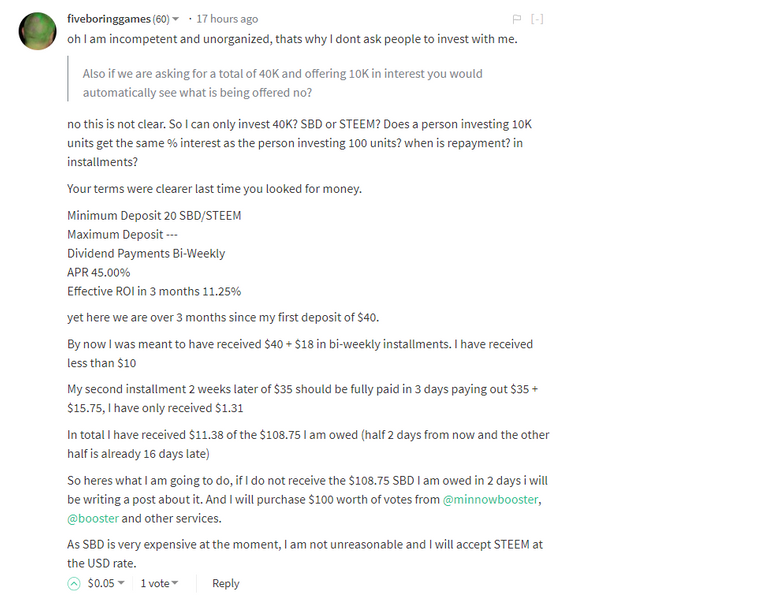 @bellyrub gets a lot its power from @freedom, which he paid 480 Steem on a daily basis to lease. I don't know their arrangement. If it is like most @freedom arrangements, you ask for delegation at a set rate, and he either gives it or he doesn't. In this case, he sent @bellyrub over 1M SP for a daily rate of 480 STEEM. @zeartul stopped paying for this Steem power 5 days ago. I can only guess it is due to the hardship bot owners are facing with the high price of Steem Based Dollars. The bidding windows have been very empty resulting in great loss to bot owners.
@zeartul recently stepped out of witness related to channels around the time a lot of this questionable stuff started to peak. We have talked a lot lately, @zeartul and I, while I don't agree with all his actions, we have had good conversations about 3d printing, minecraft, and just the general state of things.

I know @zeartul was looking for a buyer for @bellyrub and approached me about it.
I have spoke with @zeartul a lot lately, it is only in the last few weeks we have even talked as I don't agree on how he ran @bellyrub in the past. After he got the large delegation from @freedom, he seemed to change the way he ran it for the better.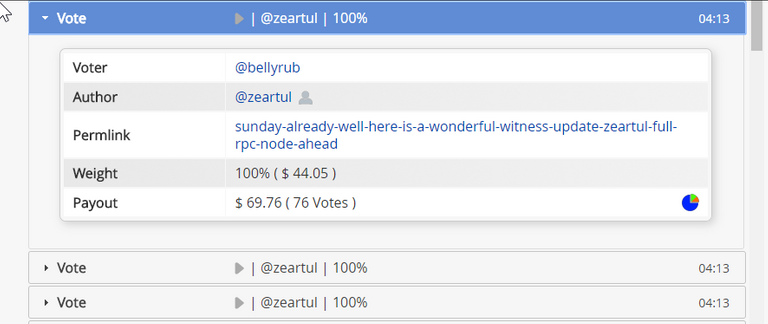 I would very much like to be wrong about this, I do not see @bellyrub as a competitor, but a colleague as there is far more demand than there is supply.
I have never been a fan of @bellyrub though, as I sacrifice a lot to be transparent and honest about how I run @buildawhale. I could make far more money running it differently. I exact some degree of transparency and honesty from others as well. Not all bots are making ridiculous profits, I am struggling just to pay the rent on our Steem Power, yet I still refuse to abuse the power I have behind @buildawhale.
My recent popular posts