Earlier today I was quite surprised to see my bitUSD margin was called. I was hoping we were near the bottom, so I created $2,000 worth of bitUSD using 400,000 BTS as collateral. I had more than 11x in value in my margin and the wallet UI said the price would have to go to $0.008 before I'd get called. I figured I was totally safe. I was surprised to find my margin closed:
luke-stokes changed bitUSD debt 

by

 

2

,

000.0000

 bitUSD 

and

 collateral 

by

 

400

,

000.00000

 BTS
luke-stokes bought 

45

,

959.64665

 BTS at 

0.0532

 bitUSD/BTS 

for

 order  
luke-stokes sold 

39

,

109.91958

 BTS at 

0.0511

 bitUSD/BTS 

for

 order  

Clearly, $0.0511 is not $0.008. I was under the impression everyone with a worse margin would get liquidated long before I would. I jumped into a couple Telegram groups to see if I could figure out what happened and then learned something new: Global Settlements
I've read this post twice, and I'm still trying to wrap me head around it: How Global Settlements work.
I've been around BitShares for a while and I've posted about it multiple times, as you can see here:
I had no idea Global Settlements were a thing.
After discussing it a bit with Alex M - clockwork in Telegram, I've come to understand a Global Settlement is a rather rare black swan type event where the debt represented by the bitUSD asset is so under collateralized that the whole system hits a trigger point and essentially calls everyone at the same price. Those who over collateralized (as I did) get the extra back. Some, I imagine, lost it all.
New bitUSD can't be created until the existing debt is backed by an appropriate value of BitShares as you can see in this message:

It seems this hasn't happed to the bitUSD asset since 2014. As I was digging around to try and learn more, including this idea of an auction that takes place on the remaining debt for the bitUSD still in circulation that is now controlled by the system... I noticed the staging wallet with the new auction feature I was looking at wasn't working anymore.
I started asking around and sure enough, the entire chain has frozen somewhere around block 32,599,932.
I don't have additional details at this time, but I did see this in the BitsharesDEX Telegram:


I don't know what that means, but instead of spreading FUD (Fear, Uncertainty, and Doubt), I wanted to put a quick post out there to say, yes, there was a very unlikely event known as a Global Settlement on the BitShares chain and, at this moment, the BitShares chain does appear to be down. The core developers are working on it, from what I understand.
As always, with stuff like this, I do not recommend making any trade moves. Wait and see what's going on before speculating one way or the other. BitShares is an amazing, pioneering platform way ahead of its time on many levels. Surely there will be growing pains and things will break and get fixed (as happened back in July 2017). I'll keep an eye on things and provide updates as I hear about them.
UPDATE: seems block production is back up, but api nodes are still being patched: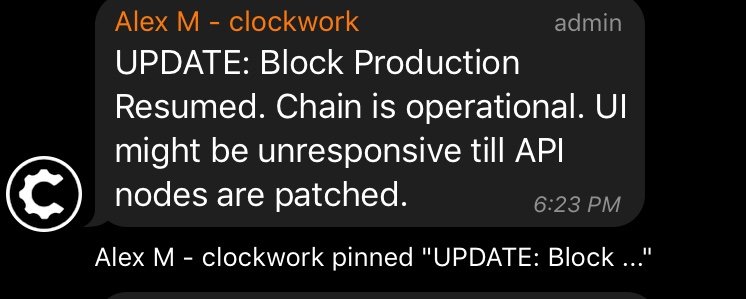 UPDATE 2: I was digging around for more information on how the Global Settlement works and how we can recover from it and found this post from 10 months ago by @haruka: Detailed mechanism of global settlement (black swan) and reviving of bitAssets
---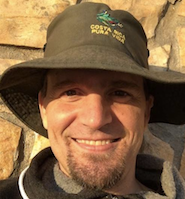 Luke Stokes is a father, husband, programmer, STEEM witness, DAC launcher, and voluntaryist who wants to help create a world we all want to live in. Learn about cryptocurrency at UnderstandingBlockchainFreedom.com




I'm a Witness! Please vote for @lukestokes.mhth