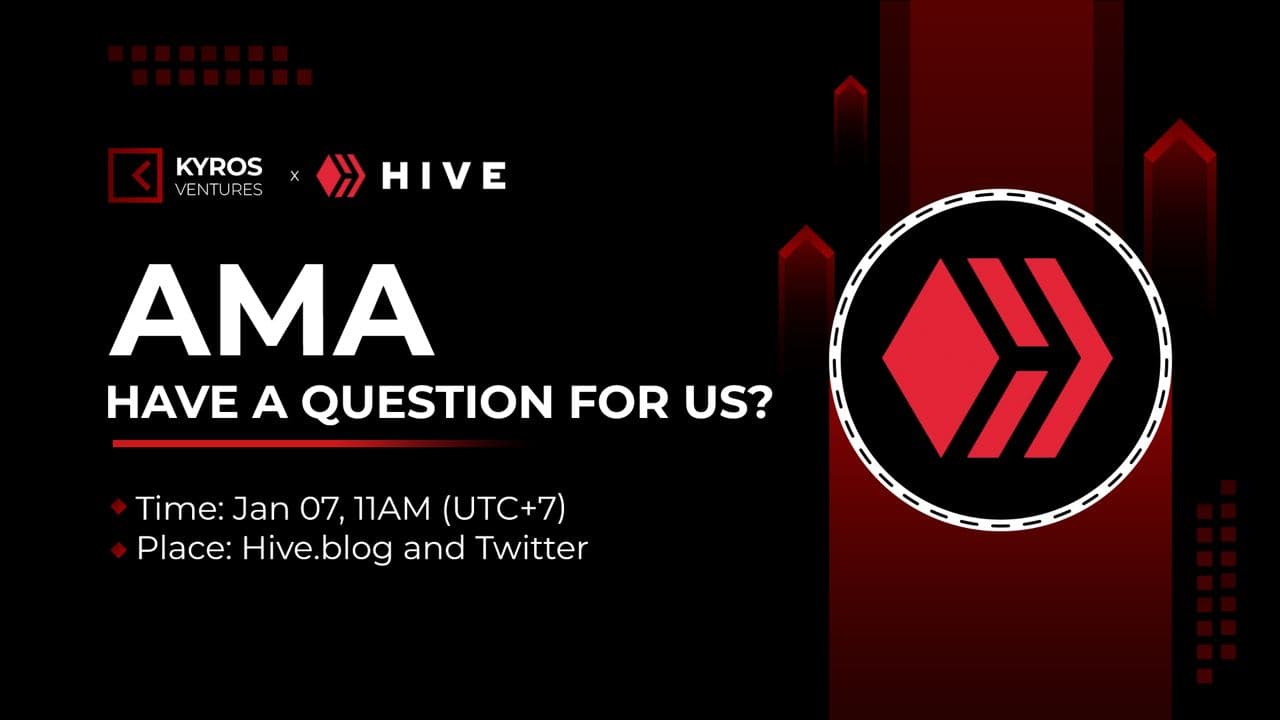 The new year has come and Kyros Ventures is so glad to be able to start this year with a warming-collaboration with Hive and being able to interact with their amazing community members. We've been exchanging questions and are pleased to share the answers to the questions that Hive community has sent us here!
About @hiveio
"Hive is an innovative and forward-looking decentralized blockchain and ecosystem built on the Delegated Proof of Stake (DPoS) protocol. Since its inception, Hive has steadily grown as an ecosystem. Myriad dapps, APIs and front-ends contribute to a general and straightforward accessibility of data, transactions and records, so that this existing diversity and utility ensure that the ecosystem is welcoming to content creators, consumers, investors and builders. Hive is developed to store vast amounts of content and to make it available for time-based monetization. The performance of the blockchain is designed to scale with widespread adoption of the currency and platforms in mind. By combining the lightning fast processing times and fee-less transactions, Hive is positioned to become one of the leading blockchain technologies used by people around the world."
1. You mention being integral in forming 4 large Vietnamese crypto communities. What are those communities like? Are they solely online and based around trading, or are they in the more traditional sense of the word, and have RL (real life) gatherings and social functions? If the latter, do you foresee a time that these communities would utilize Hive in RL use cases (as in, being a form of accepted payment in stores, etc)?
@traciyork
We're a glomorate forming 4 largest crypto communities in Vietnam are Trade Coin Vietnam (also known as Black Mamba Ventures), HC Capital, Coin98 (with Coin98 Wallet product) and Coin68 media channel. They're focused on the Vietnam market especially on trading in crypto space. Because Vietnamese market is formed mostly with retail traders so crypto communities focus on their target users directly. Currently, Vietnam has not acknowledged Crypto as a form of payment, however they do encourage development on blockchain technologies, so we'll see.
2. The term 'investor' suggests and is related to getting something in return. I am most curious where you will be putting your efforts in that aspect. Do you intend to simply invest in Hive itself, or do you have some preemptive ideas and suggestions for dApps you are looking for developers to build? That also begs the question, being a community, do you have devs available to you, or would you be outsourcing and searching for ones that fit your needs?
@enginewitty
Kyros highly evaluates Hive based on its features that support the development of web 3.0 towards blockchain mass adoption. Kyros will be supporting Hive by expanding its reputation to not only global users in general but also to the Vietnamese market specifically. So do we intend to invest in Hive? Yes, we will be investing our time and energy to onboard such a potential project to Vietnam, where blockchain technology is being prioritized.
Kyros is not just simply one community, but rather a whole venture that bridges the gap between blockchain development and Vietnam. Thus, we do have a team of talented individuals to help us shape that bridge in every aspect, including developers. But hey, Kyros's bubble is always open, so if we see anyone that fits our team and needs, we'll find a way to snatch them.
3. Vietnam is a well known country when it comes to FPS games like CrossFire. It is also a solid performer in Dota 2. Both games have their own regular tournaments in Vietnam. How do you see the future of blockchain gaming in Vietnam?
@afterglow
As you know, the Gaming field is a very "hot" field and has received a lot of attention from the player community in Vietnam, for example online games like League of Legend, Dota 2, CSGO, FIFA ,. .. However, the concept of Blockchain gaming is still very new in Vietnam and has a lot of potential and can develop more and more. We have had such an honour working with and helping to promote Blockchain game projects such as Axie Infinity, My Neighbor Alice, Royale Finance, and Mines of Dalarnia in the Vietnamese market. Needless to say they're all very welcomed and have a hype surrounding Defi Gaming.
4. I would like to know how the crypto market has evolved there from the acceptance of people and from the government point of view.
@escuadron201
The Viet has becoming more and more accepting of the crypto market, we rank 4th on Binance, 2th on Houbi and 1st in MXC on countries with the most monthly visits on those exchanges. Regarding the government's point of view, recently the government issued a circulation to encourage the development of different technologies including blockchain.
Generally, the Crypto market in Vietnam is still in its infancy and is not yet accepted as a payment method in some ways. But Crypto assets are a store of value in Vietnam. As you know, Vietnam is an extremely potential crypto market and the users in Vietnam are immense. As evidenced by the data of the trading floors, the volume from Vietnam ranked the top 3 Asian markets, behind China and South Korea. In short, Vietnam is an extremely potential market and has a lot of Crypto users and traders.
5. How high is the language barrier for Vietnamese crypto enthusiasts? Do most of them understand English and are able to navigate an English website well? Or do many rely on Vietnamese language support?
@therealwolf
English has been widely educated in Vietnam for a long time but in fact, its application in work and social interaction is still not really common. Though, the vast majority of crypto investors in Vietnam are Gen - Yers and Gen - Zers; which means they can find it pretty easy to use English for investing purposes, including projects research, community discussion and trading activities on foreign exchanges. However, due to the lack of specialized knowledge as well as terminology in crypto, they still have a tendency to translate documents into Vietnamese or rely on the Vietnamese language support.
6. What are the most popular social media in Vietnam and do you think Hive will be the perfect fit for it? Do you have any marketing strategy to reach the general audience of Vietnam?
@priyanarc
We think it depends on the purpose of the users. Generally speaking, Zalo and Facebook are the most popular ones in Vietnam. For Hive, we believe they can become a forum of crypto traders or for people interested in the field and are looking into it. The general audience of Vietnamese crypto enthusiasts uses Telegram and Facebook the most, as most aren't familiar with Twitter. Our strategy right now is content. Content is king in the digital marketing world and we try to reach our audience through insightful information and graphs.
7. What is Kyros? I mean i read about being a community, but could you guys explain a little bit further what you guys do as a community? Also im part of the Hispanic community any thoughts on working together with other communties or you guys are just focus on your country alone?
@victoriabsb
Kyros Ventures is a newly formed conglomerate of the largest Crypto communities in Vietnam. Our specialty is incubating international projects in the Vietnamese market and catapulting them to mass awareness and adoption.
We're currently supporting the projects with a lot of activities such as Funding, Operational Support and Advisory Networking, Marketing Management, Crypto media coverage.
8. With the recent Bitcoin run-up, how is the sentiment about crypto in Vietnam? Are people more interested in only Bitcoin or are open to other crypto's with novel use cases that provide utility?
@threespeak
In this Bull-run time, not only the Vietnam community but also the whole world is excited. It seems that for both Bull time and Bear time, cryptocurrency has never experienced any bleak moment. It's always a hot-title everyday. People are keeping an eye on Bitcoin as recently, it has appeared on the national News Program on VTV channel. Personally, we've seen people discussing crypto from office to public, from BTC to ETH, BNB, etc.
9. What Vietnamese investors are looking for (want to see) in crypto space?
@ecency
It is easy to understand that people doing investments are here for the profit. A good token metric, good team, vision, token use cases are good to attract long term believers/ holders. However, there are still a number of investors who buy the ones that are mentioned/ shilled by community groups/ media in Vietnam, which is obviously not healthy and traders are likely to leave the market with disbelief of the technologies. We want to educate and encourage investors to study the project and educate themselves before making any decisions regarding investments in the crypto market.
10. With Vietnam and Hive Vietnam communities growing, Do you think adding language support to our website and services will increase crypto adoption in Vietnam?
@ecency
Yes! It could help investors understand Hive easier since most people in Vietnam are not good at English. People usually approach admins for questions. Having a Vietnamese community group would be ideal and Crypto adoption can only benefit from the big array of available information, especially by fellow traders and learners.
It's been such a pleasure to be a part of this AMA and we're looking forward to having even more interactions with the Hive community soon!