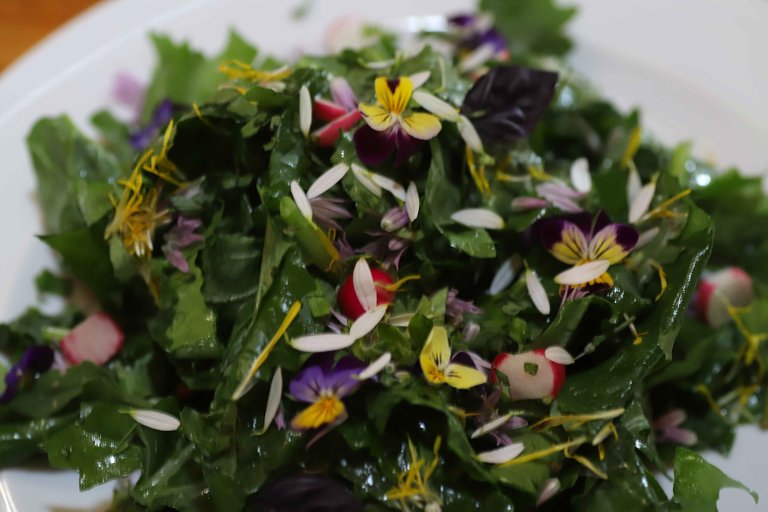 Life feels right again now that we are wandering the gardens gathering ingredients for daily salads. We like our salad a little wild! Today's recipe included: Sheep sorrel, kale, dandelion leaf, and petals, radish, pansies, oxeye daisy petals, chives & chive blossoms plus a homemade vinegarette using wild foraged herbal infused vinegar!
Meanwhile, on the social media circuit, I've been shadow banned by Instagram - can you believe it? I didn't even know this was a thing until talking to share2steem today. Having never really been banned from something before I feel like some sort of underground rebel. Such a slippery slope. First its misuse of hashtags and next it will be ... sugar in my tea.
Shadowbanned? What? So, basically, if you break any rule (I confess: I never read the rules - do you read the rules?) it can get you shadowbanned for an undetermined period of time. When you become shadowbanned everything seems normal but your engagement will go way down and if you search for your post under one of the tags you used, it won't show up. They don't send you a courtesy email or really communicate about it. The answer is to sit tight and eventually it should go back to normal. From what I can tell it's been two weeks so far that my account has been impacted. I would have never noticed but I was having trouble using the share2steem service and they let me know that this was the problem.
Anyhow, if you use Instagram, it's probably worth reading up on. I'd love to know exactly why I got selected for this honor. Secret censorship = not cool.