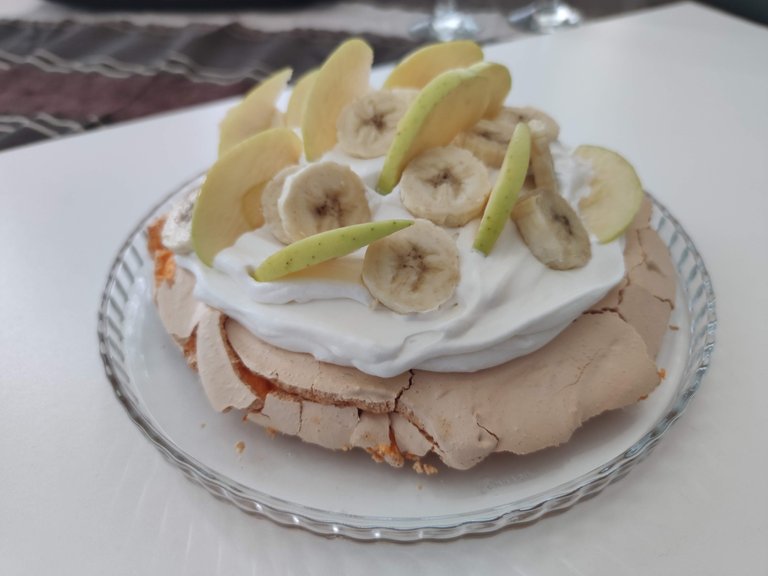 Ето и моят първи опит за десертът торта Павлова. 😍😍Просто уникален десерт мога да го ям денонощно.
Сега ще ви споделя и рецептата. Продуктите от който се нуждаете са:
Яйцата трябва да са на стайна температура!
6 бр белтъка
1 ванилия
1 чаена лъжица оцет
1 чаена лъжица нишесте
1 1/3 чаена чаша захар
А за крема са ви нужни:
500 мл. сладкарска сметана
5 супени лъжици захар
И плодове по избор за украса
Here is my first attempt at the Pavlova cake dessert. 😍😍I can just eat this unique dessert all around the clock. Now I will share the recipe with you.
The products you need are:
Eggs should be at room temperature!
6 egg whites
1 vanilla
1 teaspoon vinegar
1 teaspoon starch
1 1/3 tea cup sugar
And for the cream you need:
500 ml. Pastry cream
5 tablespoons sugar
And fruits of your choice for decoration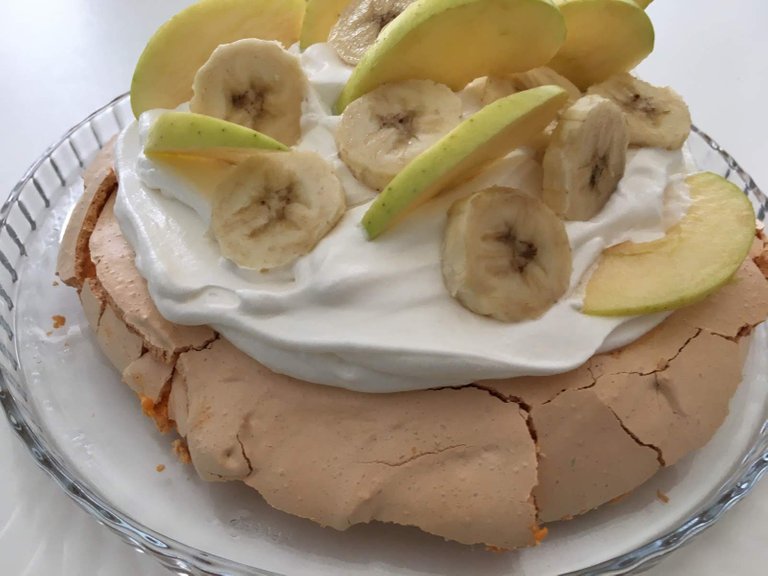 Приготвяме я:
Разделете 6те белтъка.
С помощта на миксер разбивам белтъците като малко по малко добавям и ⅔ от захарта. Разбърквам оцета с нишестето и ванилията и при непрекъснато разбиване ги добавям към разбитите белтъци. Накрая добавям и останалата захар и разбърквам с шпатула.
В тава поставям хартия за печене и от сместа (подобна на тази целувките) оформям желаната форма. Пека блатовете в предварително загрята на 120 градуса фурна за 90 минути. След като блата е готови веднага го слагам на страна за да изстине напълно. През това време разбивам сметаната със захарта с миксер, след което слагам крема върху напълно изстиналия блат, а отгоре добавям и различни плодове за украса.
И воала Бон Апетит! 🍌🍎🍏🍓🫐🥝🥥🍰🍰🍰🥧🥧
We prepare it:
Divide the 6 proteins. Using a mixer, I break down the egg whites and gradually add some sugar. I mix the vinegar with the starch and the vanilla and, stirring constantly, add them to the beaten egg whites. Finally, add the remaining sugar and mix with a spatula. I put baking paper in a tray and form the desired shape from the mixture (similar to this kissing deserts). Bake the countertops in a preheated 120 degree oven for 90 minutes. Once the marsh is ready, I immediately set it aside to cool completely. During this time, whip the cream with the sugar with a mixer, then put the cream on the completely cooled loaf, and on top add various fruits for decoration.
And voala, Bon Appetit! 🍌🍎🍏🍓 🥝🥥🍰🍰🍰🥧🥧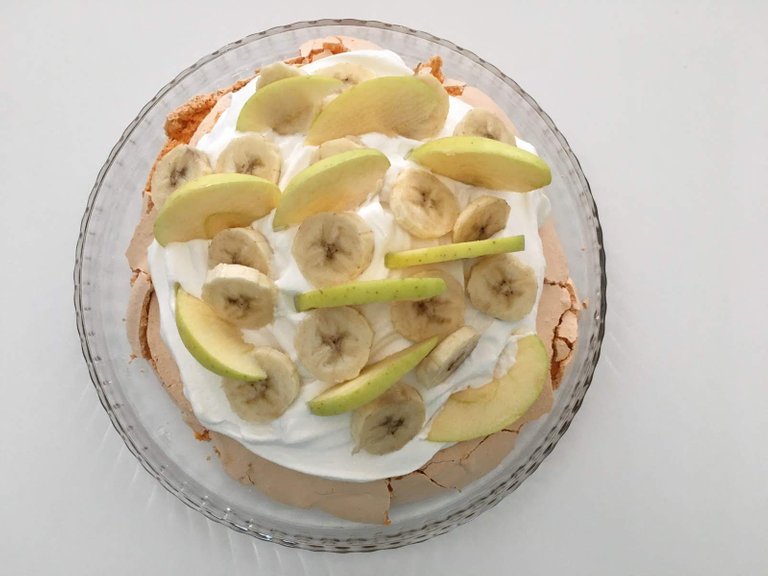 Всички снимки са заснети с телефон xiaomi mi cc9 pro
All photos were taken with my Smartphone xiaomi mi cc9 pro