Only two weeks left before our Public Beta release!
---
The Busy Team wish you a happy new year!
---
Since our previous December news, the Alpha has been through numerous updates and the last two weeks before the Beta will mostly be dedicated to polish/finish current features before our next milestone which includes:
New features
Post-Beta graphic redesign
User interface and experience redesign/rework
Global experience and navigation improvements
Sign-up, with New playful Onboarding process
Bootstrap the first steps of our marketing strategy to popularize Steem via Busy.org and reach mainstream adoption
---
To appeal to an early adopter audience, a platform needs to differentiate itself from every other failed "competitor." Steem (and Steemit) is the only blockchain based social media/network bootstrapping a cryptocurrency that has successfully launched a working product with proof-of-concept and growing community. Subsequently, as more early adopters join, the activity increases and a positive feedback effect is built.
Despite their >4M$ fundraising, Synereo is sinking with a broken team, a completely nonexistent product and their CEO/CTO fights, Decent and Yours showing nothing serious for more than a year. Even Lisk with more than 6M$ funds couldn't have a popular/working decentralized app running on their chain in 2016. Steem is starting 2017 with 6 month Beta, some important hard forks to improve our Blockchain and more than 100.000 accounts created. Steem and Steemit did a tremendous job getting a working product and early adopters to signup.
2017 is the Steem Year!
Appealing to an early adopter crowd is different from appealing to a mainstream audience. The early adopters tend to be more comfortable embracing risk while the mainstream audience tends to be more pragmatic. To reach a mainstream population, a platform needs to achieve both efficiency and effectiveness.
While early adopters may enjoy tinkering with a new technology, a mainstream audience needs a reliable mechanism for consuming interesting content. Imagine YouTube with a poor search algorithm or without a voting mechanism to separate the good from the bad, or a poor user interface/experience and low overall design experience. Well, the Steem team is working every day with the community to improve the existing model on the blockchain side, but Steemit.com and Busy.org goals are now more focus on User interface and experience and helping to make it more attractive for a mainstream audience as the blockchain grows.
After the Beta release, with all basics features working without issue, with Busy.org we will mainly focus on having the most attractive and friendly platform by drawing conclusions from the last 6 month of Steemit.com Beta and our 2 month Alpha. We are hiring very talented and creative minds to work on UI/UX and marketing strategy, reaching and on-boarding new users. After that, our important milestone is the Marketplace for goods and services.
Alpha Release updates
Monday 5th December we started our closed Alpha version (invitation-only).
150 steemians were invited to test our under-construction platform. We're getting a lot of valuable feedbacks and many words of encouragement and support. Thank you so much! It gives the Busy team force and motivation to achieve our goals.
We are adding new users on a weekly basis. If you want to join the Alpha and the Beta test release, please register with your email on https://busy.org, join #busy on steemit.chat and PM @ekitcho. The platform will open for everyone to test from 1st February 2017. Tomorrow, 150 other steemians from the list will be invited to the last 2 weeks of the private Alpha.
We decided to deploy several fixes and new features directly on the Alpha so selected testers could directly try these enhancements.
https://github.com/adcpm/busy/commits/master
Recent updates
New Layout (List)
Adding different layout to display the content is definitely important. It gives the users the ability to choose among Feed (Facebook Style), List (More like Reddit/Steemit style), Grid (Pinterest style). We are also discussing for re-creating a specific and custom Busy layout.
The Card view (Feed) allow better navigation in filtered content with good embed (featured image/content) like Photography, Videos, etc. But it requires more scrolling to browse the content.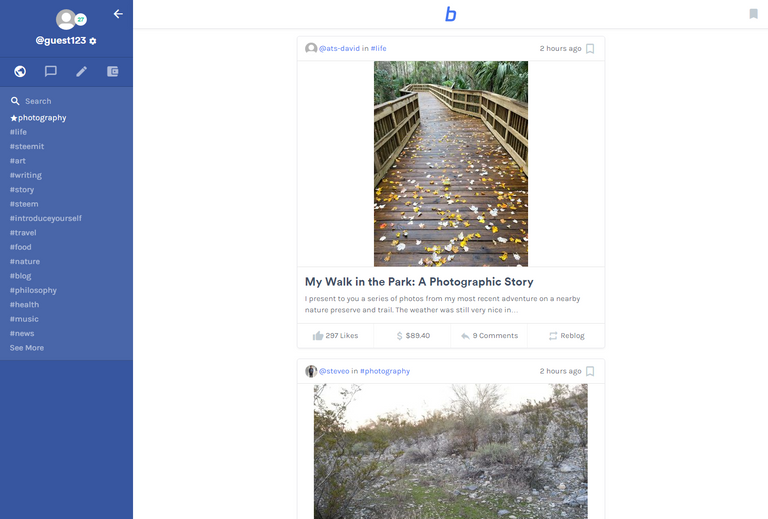 We implemented the List view which is more convenient to rapidly browse the content. This is a first test and highly abbreviated version. It will be improved after the Beta and our UI/UX redesign.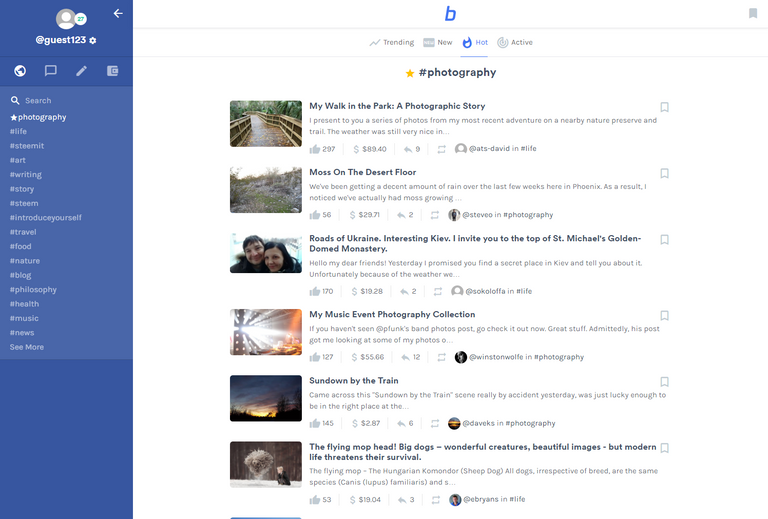 ---
New improved Editor
The New editor is available to test in our Alpha.
Menu/Editor on text selection (Bold/Italic/H1/H2/Quote/Code)
Keyboard Shortcut (CTRL+b / CTRL+i)

Instant markdown conversion (v1)
In-post Direct image upload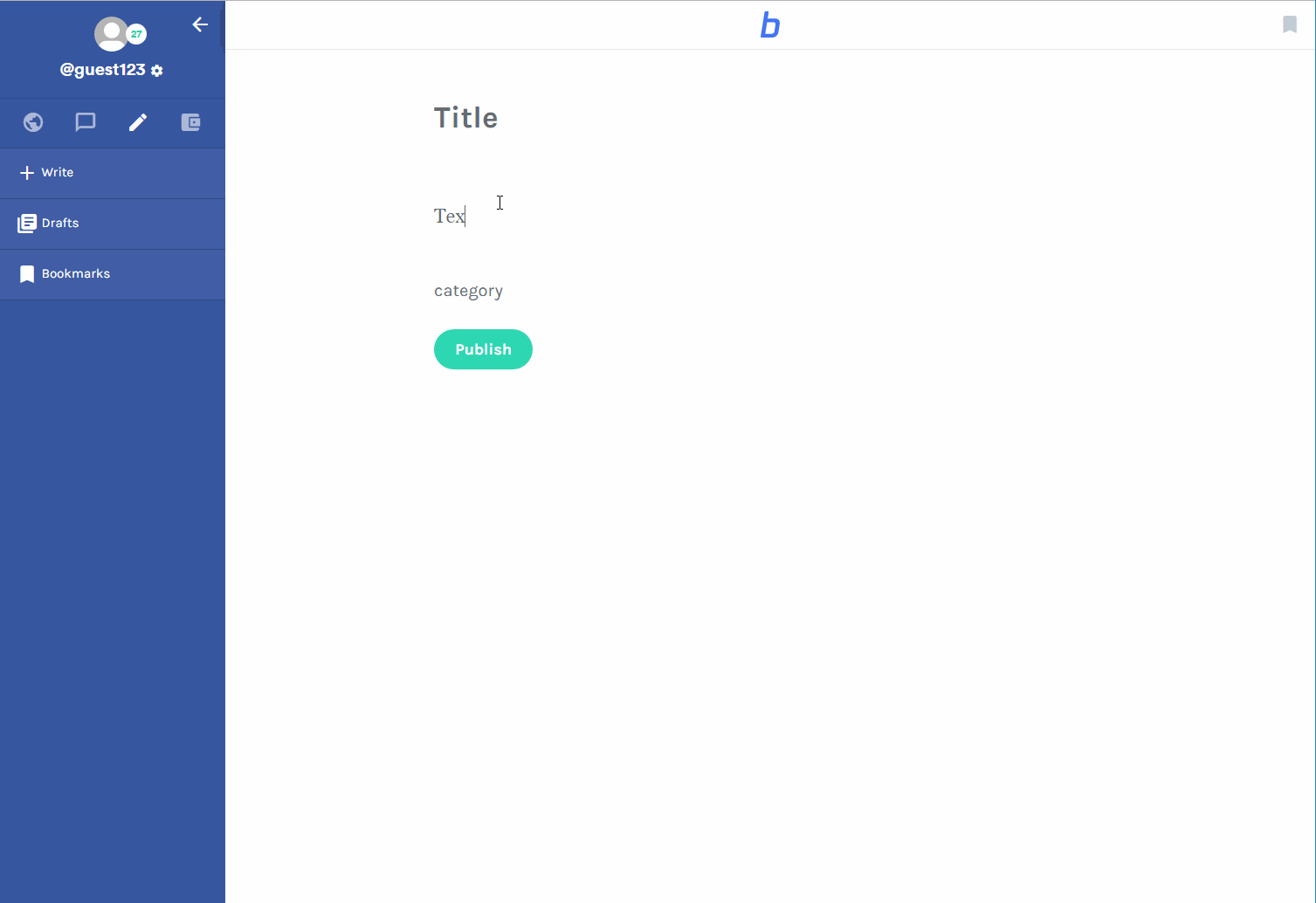 ---
Draft Manager
The New editor is available to test in our Alpha.
Auto-save of any started post in the Draft Manager
Quick access/edit/delete to your saved Draft

---
Improved Navigation (Next Story)
For a better user experience we added a Next Story button.
In a specific post you can directly access to the next post with this quick-access button. For example if you are on trending/photography and open the first post, you'll be able to browse all post from this category directly from the first one. Same for user Profile/ Blog page: in this demo, we're navigating though @busy.org blog posts by clicking the Next Story button.

---
Transfer (via SteemJs)
We are testing a new Transfer feature implemented on Busy with SteemJs.
Public Beta Release
Wednesday, February 1 we will publish the official Public Beta release URL on @busy.org.
Everyone will have access to our Beta to test the platform.
You are free to post any feedback by using the #busy tag. Most consistent and complete feedbacks will be rewarded by Busy.
Donation updates
On December 2016 we announced an introduction to our Donation Terms and had a nice response from the community. We decided to implement the Busy Donor badge on Profile, and Busy Donor list.
The team is still deeply discussing the idea of having greater benefits for our Donors and is working towards this end. As we mostly rely on Donations, for now, it's important for Busy to find the best way to incentivize it.
Donation to Busy Development from September to today January 16
| Level | Donation Range | Donor(s) (SBD) |
| --- | --- | --- |
| Bronze | 20-500 SBD | @liondani (258), @delegate.lafona (200), @donkeypong (124), @furion (85), @theprophet0 (80), @steemship (85), @pfunk (30), @twinner (30), @deanliu (25), @craig-grant (20), @teamsteem, @fulltimegeek, @shortcut, @hql2016, @hanshotfirst, @exyle, @sweetsssj, @bears |
| Silver | 500-5K SBD | @cass (1.5K), @bhuz (800) |
| Gold | 5K-25K SBD | @smooth (17K), @jamesc (15K) |
| Platinum | 25K-50K SBD | @steemit (25K) |
| Diamond | >50K SBD | / |
Busy support the "Multiple Arbitrary Beneficiaries to Reward Payouts" of Steem 0.17 change proposal introduction
https://steemit.com/steem/@steemitblog/steem-0-17-change-proposal-introduction
For any given post there can be a half-dozen different people who have a financial interest in the reward. The include: voters, author, referrers, hosting providers, blogs that embedded blockchain comments, and tool developers. Whatever website or tool that is used to construct a post or comment will have the power to set how rewards from that comment are divided among various parties.
This means that if you post via Busy.org that your post will share some of its rewards with Busy. If you post through the various phone and/or desktop apps then the app developer will be able to claim some of the rewards.
@steemitblog
The funds received from this blockchain enhancement will be redirected into a our development fund that can help bootstrap new features and services and cover Busy expenses and development. It will allow Busy to reduce our reliance on Donations, and become viable and autonomous.
We are looking forward to implementing it, but our top priority is to build a good platform that can appeal to a mainstream audience.
---
What's next?
The Beta release is only the first step of the Busy project.
Our goal is to prove that we have the appropriate, qualified resources and vision to bring new value-adding, with the strength and responsiveness that our ecosystem needs to succeed.
Busy is still discussing different possibilities to get the required funding. It will allow us to work on our 2017 Roadmap and complete platform. (need at least 200K SBD)
Steemit Inc decides to support us a few more month with some Donations until we can define our viable model. Thanks to @ned & @dantheman, we are very grateful for this support.
After the Beta release (assuming that adequate funding will be available at next stage), our plan is to work on
Busy Marketplace for product and services as a platform
Design enhancements UI/UX rework-redesign
Playful Onboarding process of new users / Improved Sign up
Busy marketing strategy to bring new users on the Steem blockchain (make Steem more user-friendly, easy to understand and adopt via Busy, aim mainstream adoption, friend invitation, work on user retention, etc.)
Make SteemJS and SteemConnect official with the help of the community and Steemit inc, Steem core team
---
All rewards from the @busy.org account and donations will be used to fund our projects
---
Links
Thanks to : Geoffrey Moore, James Calfee, smooth, Ned, Dan, liondani, lafona, snowflake, teamsteem, krnel, and all people who are helping us everyday with good advice, support or donation. We love you.