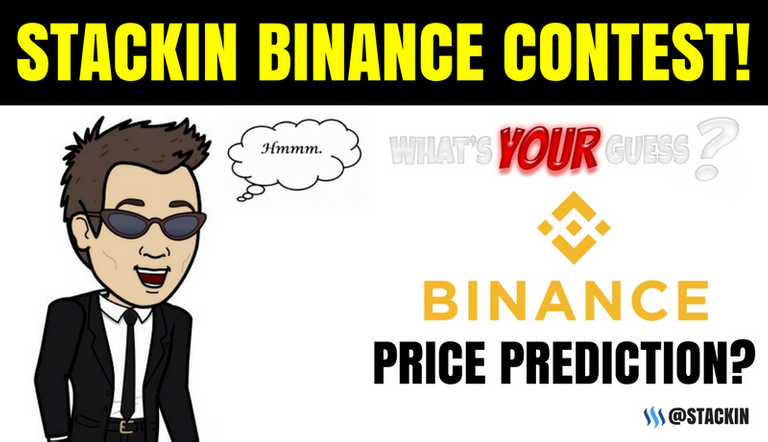 Opportunity are everywhere, you just have to be prepared for it when it arrives ~ Charles Fuchs.
What's Up STACKERS!
Another day and another awesome "STACKIN Contest". Congrats to all the Steemians who have won in the last few weeks. 🎉
One winner will be chosen tomorrow to win a $10 UPVOTE FROM ME. All you have to do is predict the price of a particular "Cryptocurrency" and Win. 📅
The "Crypto" pick of the day is BINANCE!
Why did I choose Binance? As you guys know exchanges are very important in the Cryptocurrency Game. The number one thing in an exchange is the reliability of the platform and especially the customer support. 💁🏼‍♂️
Since I started to use Binance, all the frustration with "Exchanges" have gone away. I never had a problem with Binance and see it as being the #1 place to buy Cryptocurrencies, especially STEEM! 😎
P.S. If you don't have a Binance Account, you can set one up here. It just takes a few minutes and I highly recommend you eveyone using them ASAP. 👨🏼‍💻

Here Are The "STACKIN" Contest Rules: 
Follow 👉🏼 @STACKIN on Steemit. 😎
Must *Comment and *Resteem this post.  💯
Guess the correct "Price of Binance" will be exactly at 12:00 PM PST.
The Last Guess Stops at 9:00 A.M. PST. FEB 14th!
One (1) WINNER without going over will win, No Edited Posts!
The Winner will and get a $10 UPVOTE! 💥 

The current price of BINANCE is $9.05. 💰💸
There you have it... another contest by yours truly! Be sure to "Comment" your prediction and "Resteem" just once to qualify. You have til' 9:00 A.M. PST Feb 14th to lock in your "Binance Prediction". ⏰
Please do not edit your prediction before the deadline... you will automatically lose, and get flagged. Cheaters never get my respect because I believe in honesty and integrity 😎
Good Luck Everyone and "Keep on STACKIN"! 💞

---


---