A quick sneak peak at an early working prototype version of the upcoming Hive.Loans service.
While not anywhere close to being ready for public alpha testing quite pleased to announce that the project at this point in time is a working prototype. Lots of functionality and polishing has yet to be poured into the remainder of the pre-launch development cycle of this project.
CLICK HERE TO VIEW AND VOTE THE PROPOSAL
Securing & Empowering P2P Lending on HIVE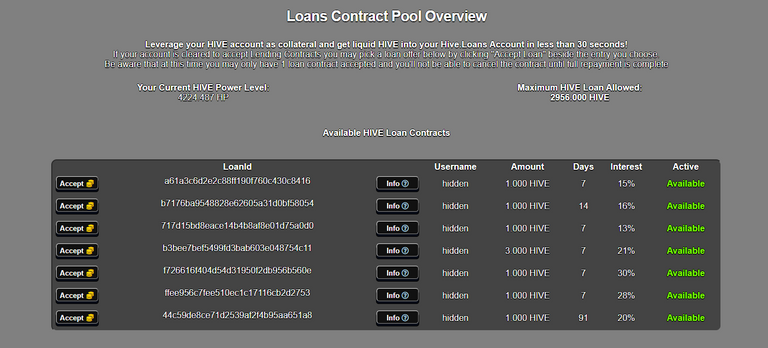 Users will be able to use their account and the Hive Power contained within it as collateral to gain access to loans of liquid HIVE. During a loan borrowers will relinquish their accounts keys over to the Hive.Loans site which will then proceed to change the keys to secure ownership and thus mitigate any potential for defaulting on the loan contract. The borrower will be provided with the new Active and Posting private keys so they can continue to post and transact on their account as normal. All borrowers account keys will be returned at the end of the loan period after all outstanding amounts have been paid off in full. This method ensures Lenders get repaid and that Borrowers can't default.
Lenders can specify the amount they wish to lend as well as the interest rate and duration in number of days they'd allow for borrowers to repay, then from there if a borrower finds a lenders loan contract acceptable they can accept it and be locked in to the contract repaying the outstanding debt out of their weekly powerdowns automatically via the service scheduling payments.
Durations from 7 to 91 days can be selected with the current acceptable range of interest charged falls between 10% to 30%. The amount to be loaned out is uncapped although the minimum loan amount will likely end up set at somewhere around 10 HIVE as it'd be trivial to loan any amount less.
Tamper Proof Automated Loan Repayments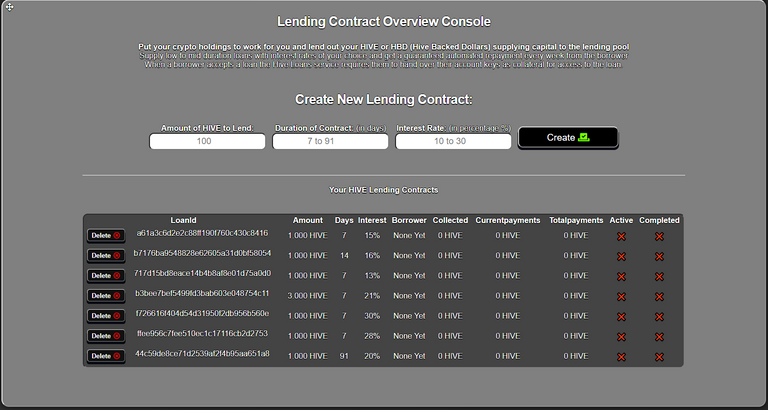 Hive.Loans monitors every block on the HIVE blockchain watching to ensure that borrowers aren't trying to pull tricks to get out of their repayment scheduling. Any attempts to change keys, edit powerdown schedule or transfer out HIVE bookmarked to be used as that weeks repayment will result in the borrowers keys being revoked, a contract tampering fee being charged and their account being rendered inaccessible for the remainder of the loan duration.
Upon loan contract repayment and all additional fees the borrower will have their account keys returned and thus ownership of their account. The loan contract will then be marked complete.
A Truly Unique HIVE Exclusive App
From the brief research into this type of lending pool resulting in very little in regards to information alluding to this sort of thing even existing anywhere else I'm quite confident to say that this project and service model is the first of it's kind in the entire crypto ecosystem. The unique toolset and on-chain functionality that HIVE offers culminate into an orchestra of HIVE blockchain exclusive operations being meticulously engineered in a such a way to facilitate a zero-risk lending environment for both borrower and lender.. Only on the HIVE blockchain is such a feat possible.
This isn't just a cool new lending app coming to HIVE in the upcoming month.. No.. This is a completely brand new paradigm in lending models and an innovative step forwards for decentralized borderless banking. With further development and fine tuning this new Account as Collateral lending model could serve to perhaps in the near future pay for down payments on property or help raise seed capital to develop the next killer app.
Want to Support Development?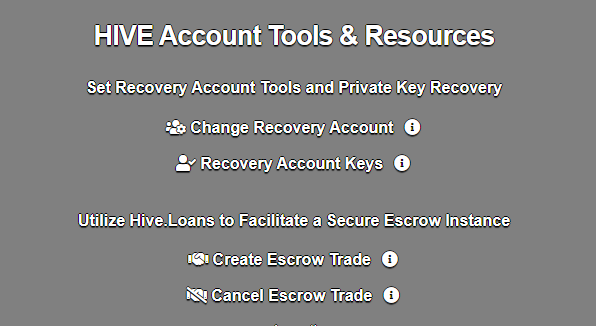 Help support the development of this and many other projects that I work on by upvoting this post, reblogging, commenting, donating and spreading the word about these upcoming potential game changers coming to the HIVE ecosystem. If you'd like to support development directly feel free to send over HIVE or HBD to the @hive.loans account, or alternatively you can delegate some HP to either myself or the @hive.loans account. Part of me is debating open sourcing this application after creating a development proposal for the project with a sane daily pay rate of $50 a day or something for the next 2 months to fund the finishing of the working prototype and get it ready for launch.
If this project is the sort of thing you'd support in a proposal and you'd like to see this software open sourced leave your thoughts in the comments below. Thank you for reading and voting. <3
CLICK HERE TO VIEW AND VOTE THE PROPOSAL
---



Looking for an Affordable, Secure & Reliable Server Host for Your Witness Server or Other Web Related Projects? Check out Privex.io!