Happy Sunday !
My Mom was invited to (another) birthday party for my sister with my sister's grown children and their families today. We Sibs already celebrated her birthday last Saturday on her real birthday, so it's not like we're being left out. :)
That left my Sunday free to do.... nothing whatever I want. Part of what I wanted too to do was make a Hive Post, so here I am ! When I started, this was not at all what what I came to do, but sometimes some other subject takes over and that is just what happened here.
Recently I put in a grocery order from a store I had not shopped with for a while. I noticed they had these fine Pumpkin Rolls again and my memory from a couple of years ago was that they were scrumptious, so I added one to my order justifying that I could have a couple of slices and would carry the most of it to my sister's birthday party as an alternate dessert.

It got here with the rest of the order and they had fancied it up a little with some Autumn candies. It was quite pretty.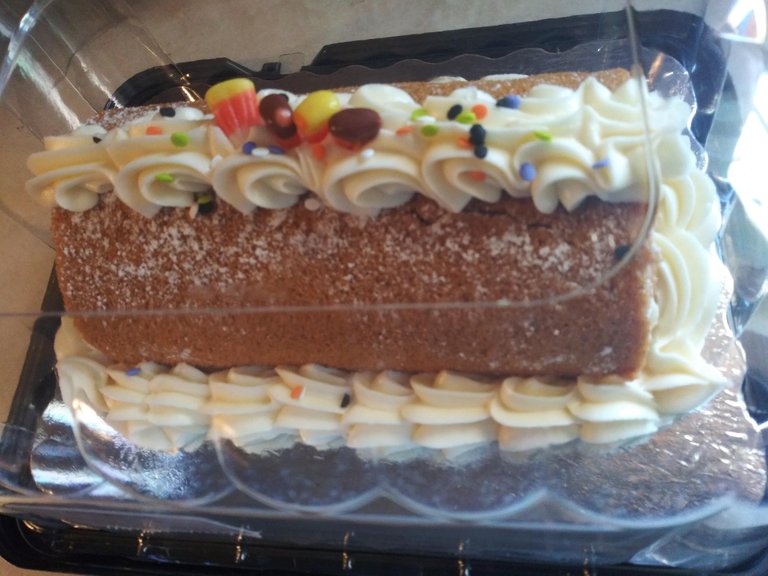 It made for a very happy photo shoot I thought.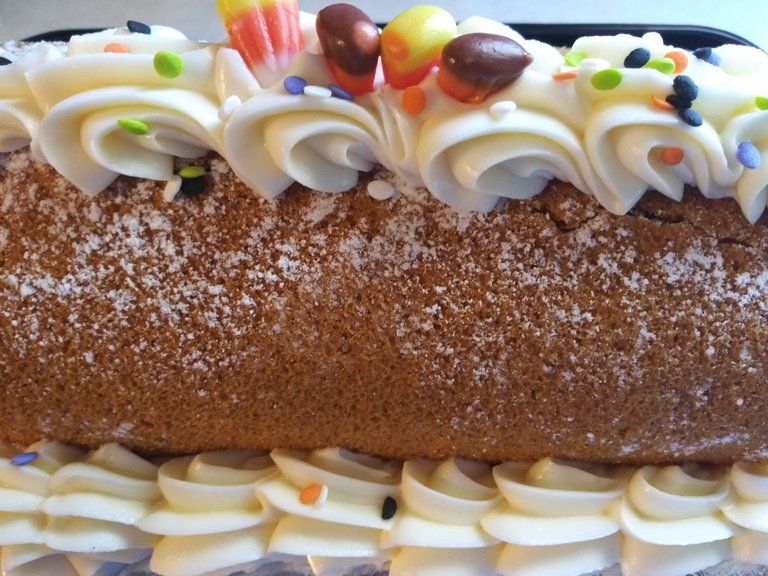 It was the perfect model of a happy fall treat.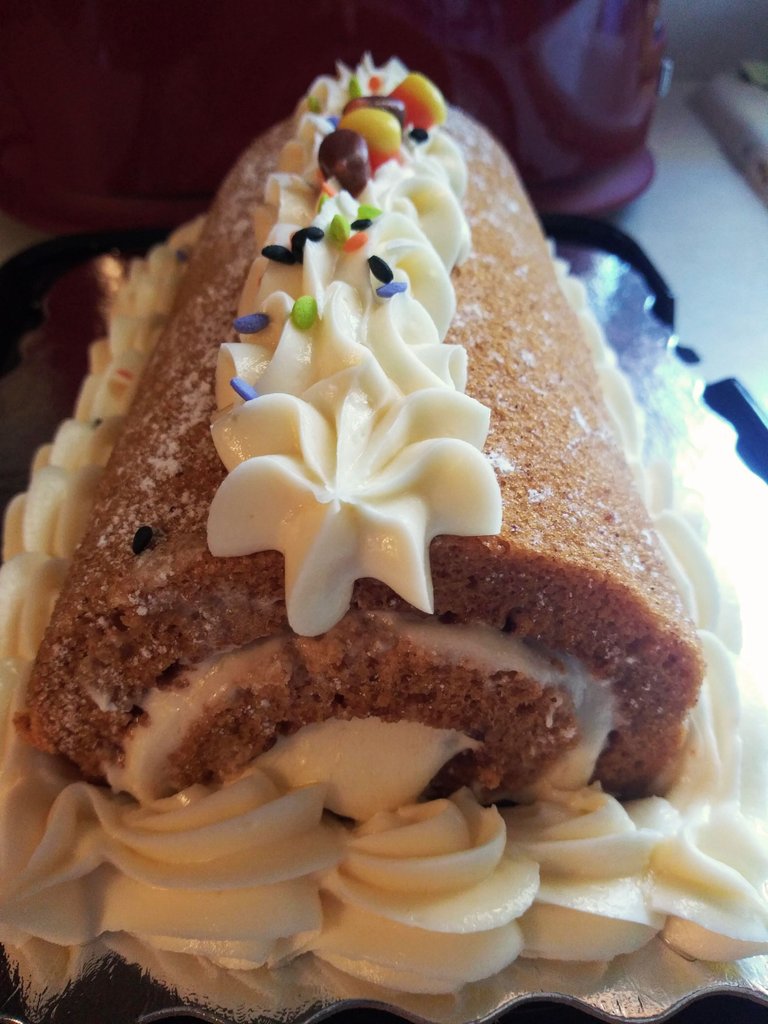 Such a fun swirly twirly design.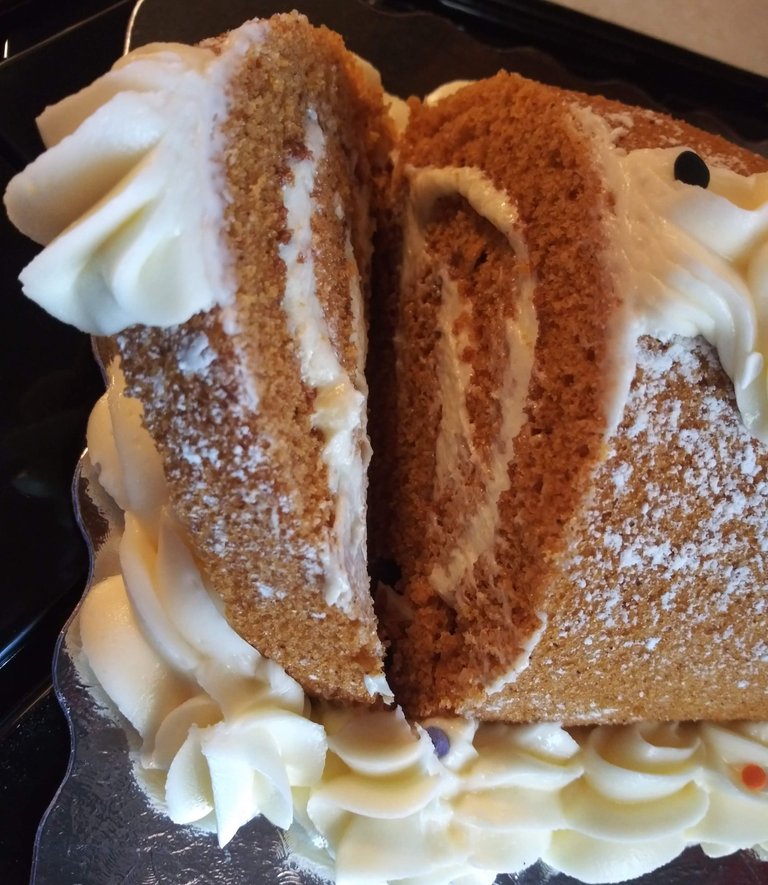 YUM !... right ?... um... no.... wrong ! Although the filling was delectable as it had been in the past, very creamy with a nice hint of cloves, the cake was amazingly dry ! There is pretty much nothing worse when it comes to cake, than for it to be dry. Ugh ! Ewww ! Yuck!!!! So those couple of bites I took when first cut were all that were ever consumed of this cake. I let it sit in the frig a week before I threw the rest of this sawdust log out.
The expiration date listed as 5 or 6 days after I received it, but for all her pretty looks, this girl was not how she presented herself to be on the outside. On the inside she was a dried up old witch !
Such is life.... right? Looks can be deceiving and you just can't win every time.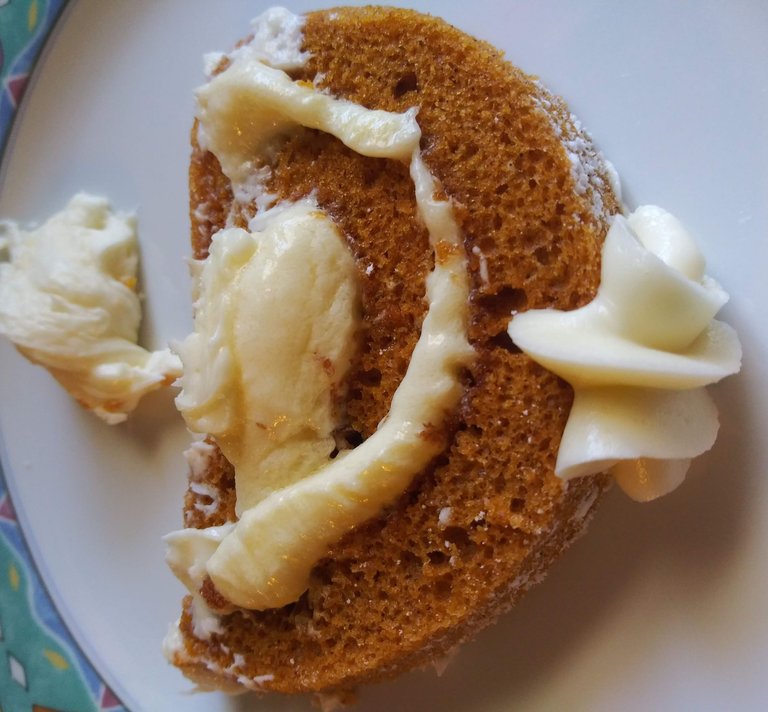 It's pretty disappointing when you have something that is wonderful and then later you buy what appears to be the same thing and it is not fit to eat.
It didn't ruin my life though....LOL..... or send me spiraling into depression. I didn't need it anyway.
Hakuna matata.... right ?
I hope you are all having a good day... or evening, whatever time it is, wherever you are.
Love you !
Jacey