Hello, We are very excited to introduce Proposals, Giphy, Comment media uploads and several other features in this update. We have been working very hard and putting every minute in building Dapplr. We believe these features should be the core part of a social media application. We are very happy to announce that the application update is out and all of these features are included in the update and a lot of improvements in terms of performance. We don't want to leave any stone unturned as we go forward. Details of the features are given below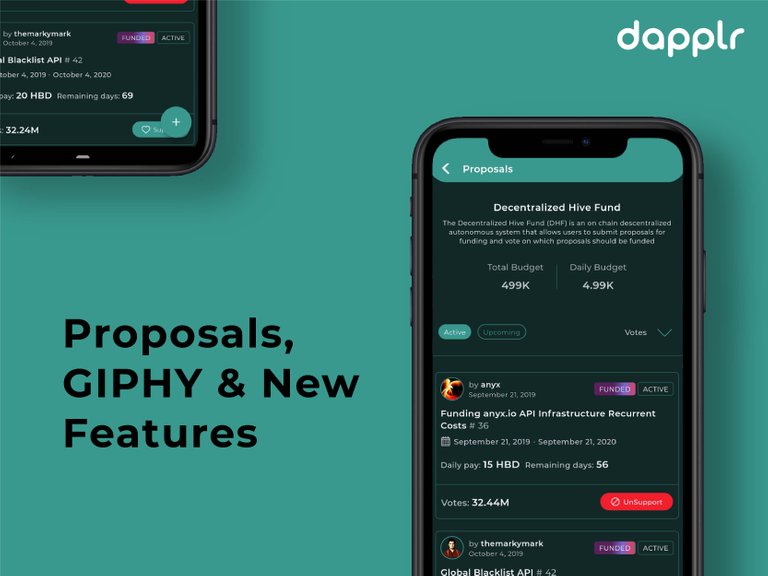 New Features
1. Proposals
Proposals are an integral part of HIVE blockchain and we believe, everyone should actively participate in this and support their favourite proposals. This will not only make the HIVE ecosystem better but also encourage new developers like us to work even harder and deliver a great application. We have integrated the Proposals and it is blazing fast in terms of loading and checking out the status of the proposals.
In addition, we have also introduced filters for proposals e.g Filter by Active, Upcoming, Votes, Start date and end date. In future, we will also introduce the search based filter so that a user can search the proposals created by an account. This will really help in the discovery of the meaningful proposals.
2. GIPHY and Gifs Renderer
We have introduced GIPHY as a part of this update and this is going to make the interactions and discussions much more fun. We believe visual elements in discussions plays a very crucial role to build the whole ecosystem better. We have introduced this in Comments and Content Editor. With this, you will now be able to add fun gifs to your favourite posts.
It took us some time to build us a custom interface with caching and efficient, but it will all be worth if HIVE community likes it. In addition, we have also added the search filter so that a user can search gifs as he needs. This is also included as a part of this update and we are going to see a ton of fun and memeful reactions on the posts and discussions.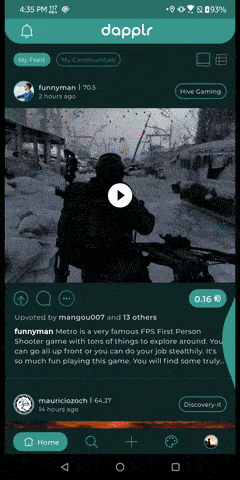 3. Media Uploads in Comments
A lot of people have suggested us to include image uploads in comments and we are always open to the community suggestions. So we have included not only Image uploads from the devices but also GIPHY picker. Now people will be able to choose these media seamlessly. We are very excited about its uses and this is included as a part of this update.
4. Persistent View Types
There are three view types in Dapplr - Normal view (Instagram), List view and Grid view. With this update, we have added the functionality to remember your choice of view and what do you like to use. There are 4 screens - Home page, Explore page, Community page and Profile page. Each of these pages have their individual persistent storage to remember the last view used by the user and show the same view when you come back. This feature was requested by the people using the app and we are very happy to bring this in this update itself.
5. View Original post and Parent comments
Before this update, there was no option for users to check out the original post and parent comments if user opens up the comment from the notifications or some direct discussion url. With this update, a user will be able to go back to the parent comment and to the original post. We have made this efficient, performant and smooth. It was a very needed feature for the app.
Bug Fixes
1 Rendering Tables
There were some issues with rendering of table from the other formatters and the parser was not able to understand it. So, we wrote our own parser for tables and now tables are perfectly rendered in the app.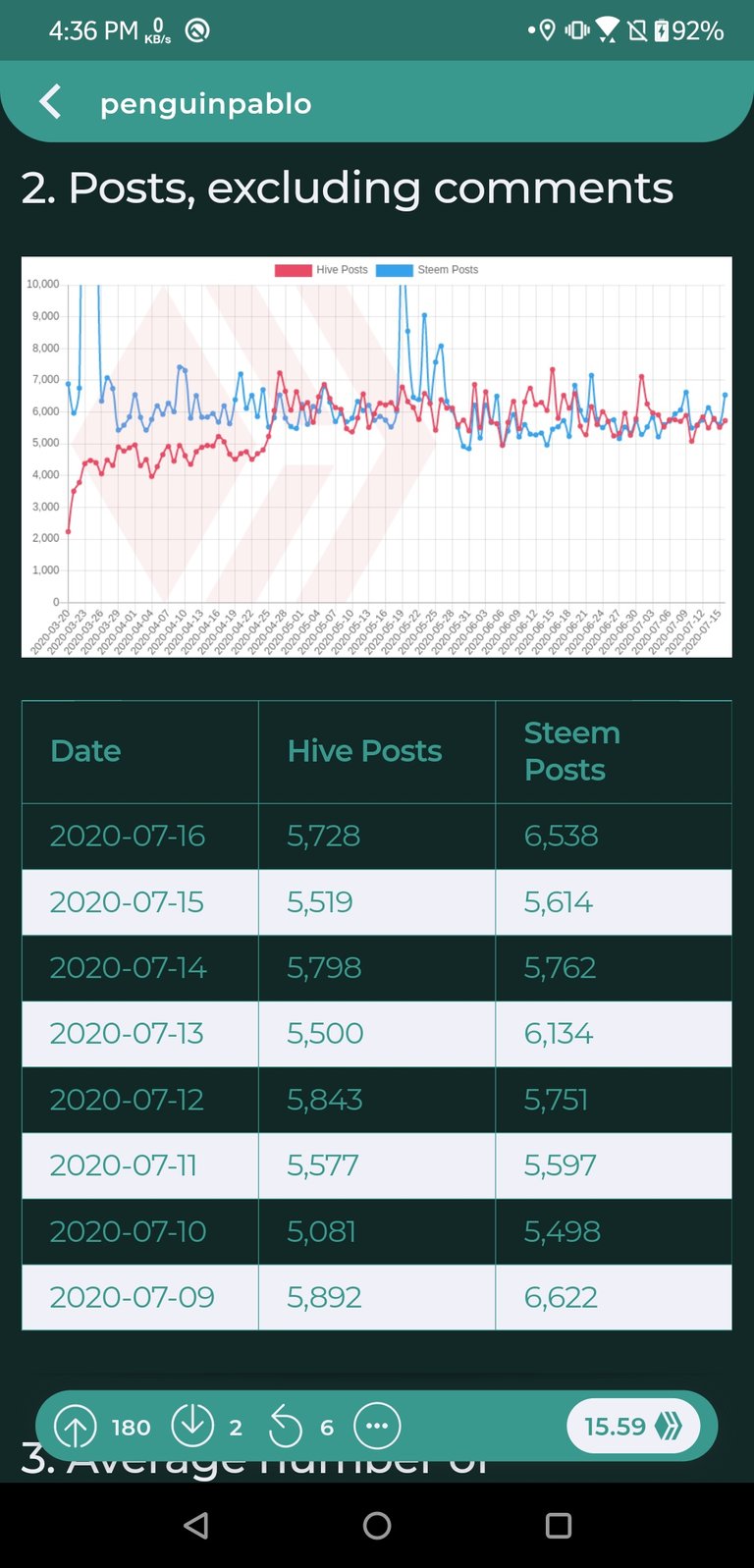 2 Themes UI Fix On Small Screen Devices
There was an issue related to the UI and the themes were going below the bottom tab bar for small screen devices and low DPI devices. We have made the fix and it should be fixed with this update.
3 Youtube Video Enhancements
We were seeing some lags with the Youtube videos because there is no native player for this. So we have made some optimisations at the application level and now all the operations are very fluid.
4 Efficient Scrolling
There are some optimisations that we have done to keep the memory usage as low as possible so you will see a good amount of improvement in terms of memory consumptions.


There are several other minor improvements that we have done and Dapplr is becoming more and more stable everyday. The time is very near when we will release Dapplr to the public. Thanks to the Dapplr Alpha team for suggestions and meaningful ideas.
Dapplr Photo Contest (Sunset Photography)-
There is a Dapplr Photo Contest going on and we are very happy to see beautiful entries by the people sharing their stories and moments of their life. We are seeing very happy interactions of people in the HIVE community. The winner of the contest will receive -
100 HIVE Tokens
500 Dapplr Tokens
We will give a huge shoutout to the winner of the contest. The last date of submission is 31st JULY. Get your phones ready and be a part of the contest. Make sure you read the details of the contest here - DAPPLR PHOTO CONTEST


Open Access
After these fixes, Dapplr is more robust, reliable and efficient. So we are taking another step by giving the access to many more people of the community but we have set the restriction of 1000 people and we will see how it goes. Referral system is up and running so don't forget to refer your friends with your referral link.
https://play.google.com/store/apps/details?id=com.dapplr.dapplr
Check Out our Site
Dapplr Site URL - https://www.dapplr.in
Support Us
The team is working very hard in making Dapplr app a successful application for the HIVE community to offer the best user experience. Support us with your upvotes on our 30HBD / day proposal to cover some of our server costs.
Future Plans
https://peakd.com/dapplr/@dapplr/dapplr-team-introductions-and-dapplr-alpha-launch-android
To know more about the team and their work
Total funds requested - - - > 4830 HBD (30 HBD daily)
Runs from - - - > Apr 17, 2020 - Sep 25, 2020 (161 days)
If funded, these funds will be used to cover our server costs.
Hivesigner - - - > https://hivesigner.com/sign/update_proposal_votes?proposal_ids=%5B%2295%22%5D&approve=true
HiveDao - - - > https://hivedao.com/proposal/95
Peakd.com - - - > https://peakd.com/proposals/95


Follow us on Instagram - https://www.instagram.com/dapplr_app
Follow us on Twitter - https://www.twitter.com/@Dapplr_app


Join us on Discord and help us with your inputs - https://discord.gg/gZzqvwQ