Hello, We are excited to announce that Dapplr Android Alpha is now live. We want to thank the people who registered for this and they will play a very important role in making Dapplr application robust and reliable for the HIVE community. Without talking more, we will let you want the preview video of Dapplr.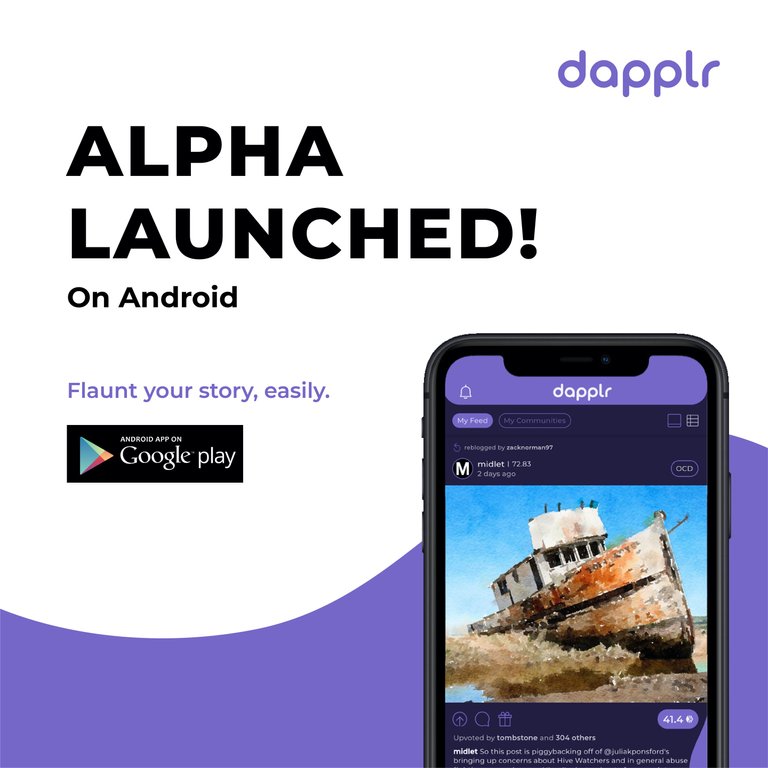 Features Included In The Release
1. Login using HiveSigner
We are making use of HiveSigner to login the user into the application.
2. Storage
All of the private information e.g authToken (for API authentications), is stored in KeyChain in IOS and with AES encryption in Android. Else, other public information that are open will be stored in JSON format and normal encryption.
3. Themes
Dapplr would be one of a kind app to offer a number of app themes and customizations. We believe, its a great enhancement to the overall experience. A few names of the themes are Toasted Almond (our favourite), Sweet Tangerine, Byzantium and many more…
4. Account Management
A user will be able to do normal account operations e.g Transfer, Delegations, Power Up / Power Down , Subscriptions, Profile Update, Referrals management and more.
5. Explore
A very crucial integration of Dapplr is the way how a user explores other authors, communities and tags. This has to be wonderful to make the application a successful one. We have integrated all of this in a very elegant way and it's going to be amazing for new as well as existing users.
6. Media mode and Content mode
A user will be able to choose the type of the post and what kind of information that he/she wants to share on the blockchain. e.g If the information is media heavy then the user can go for Media mode to create a post. We believe media mode is very crucial for artists, photographers and status updates. We have made the content mode a bit advanced than Media mode in which a user can format his/her content along with the ability to save it as a draft.
7. View Types
We are offering three modes to view the content on the blockchain. They are Media view, List view and Grid view. We really believe this will help users to be more comfortable in consuming content.
8. Send Gift
A user will be able to send gifts and tips to any author in a very simple way. We believe this is a huge addition in terms of appreciating a content and giving it additional tangible values.
We will keep a record of the people referring other people to our platform and when SMTs(Smart Media Tokens) will be launched, the referral rewards will be airdropped on those accounts.
Until Dapplr token is launched, only authors will be able to earn Dapplr token and its amount will be the same as earned by the post/content.
11. Push Notifications
Push notifications is an integral part of Dapplr and we believe this can really make a huge difference for the hive community because this will always keep users updated about the author's content, community content and blockchain updates.
12. Communities
We have put the integration of communities where a user can explore communities and be a part of it. Along with this, we have put the user's communities feed on the homepage, so a user can easily explore the content of the communities that he/she has been following. The whole experience is just seamless.
We will be delegating some Hive Power to a new user for 21 days so that the user has the chance to share his/her content actively and become independent. We believe this is our first step towards mass onboarding and there is still a lot of things yet to be done to make this an easy process.
Incremental Developments and Future Plans
Now the core features are in place, we will now be doing incremental developments to bring out new features. The following is the list that we have decided that we will be developing and pushing out the PlayStore and AppStore updates with each feature.
1. Proposals Integration
We want the whole experience of using and consuming the blockchain updates seamlessly and proposals are an integral part of it. We have already started working on it and will soon be available in the application.
2. Communities Management
We want to give users the ability to create and manage the communities. Creation of a community is going to be a bit complex, so for this we will keep the integration of https://hive.blog for community creation and for management, we will integrate it natively.
3. Witness Screen
We will be integrating witnesses so that a user can easily support his/her favourite and deserving witnesses.
4. Dapplr Chat
We have moved this to a bit later stage because this is a crucial and complex part of implementation. This requires quite a lot of testing and stability to offer a beautiful experience to the HIVE community. We want to compete with other social media platforms and that's why this has to work really nicely for every user. We don't want to leave any stone unturned.
5. Social Sign On
This is another enhancement that is going to be crucial for mass onboarding. Users want to have a quick and performant login experience and that's why we will be adding this feature. We believe this is crucial for the whole HIVE blockchain ecosystem and this can really ease the job for a new user to join HIVE.
6. Dapplr Token Launch
We will launch our token once the SMTs are launched and this is going to make a huge difference in terms of content rewards for the users. We are still exploring many use cases of our token and there is a ton of work that would be needed to make it a valuable asset.
Test Our Alpha Launch and Help us find the Bugs
We have started taking people's username and emails for the Alpha access. All you need to do is join us on Discord and fill up the Google form - https://forms.gle/G5435wUUa29CoSA26 . We will be giving Android Alpha access to the first 100 people. The application is not battle tested yet so we need you help in finding the bugs and we will resolve them on daily basis. We are trying to Alpha launch the application by this weekend.
Stay Tuned For the Updates.
Check Out our Site
Dapplr Site URL - https://www.dapplr.in
Once you will have the access, you will be able to see the app here
PlayStore - https://play.google.com/store/apps/details?id=com.dapplr.dapplr
Introduction To The Dapplr Team
Taniya Pramanik (Designer)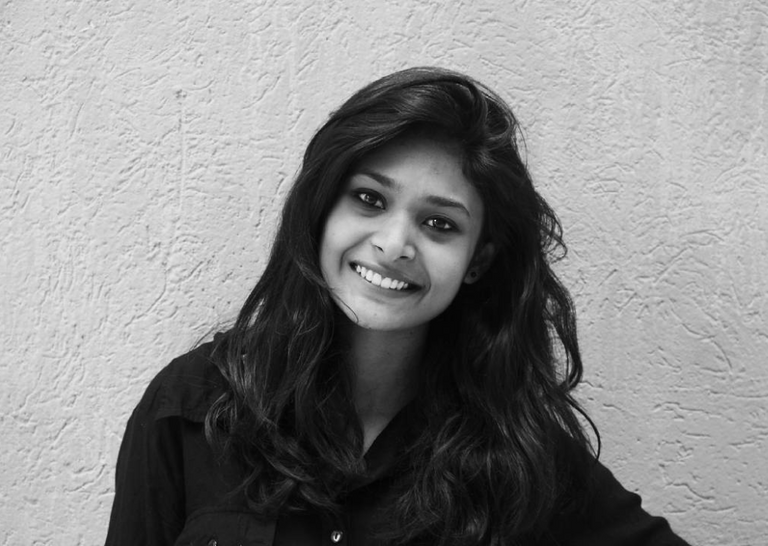 Taniya Pramanik is a Freelance illustrator and graphic designer based in India. She has done her Bachelor's in Fashion Communication from a renowned design institute - NIFT (National Institute of Fashion Technology, Bangalore). She has worked as a storybook artist and also as a Visual designer for more than 2 years before quitting her job and shifting to full-time freelancing. To her, design is an important part of life. It's like a five-star spa. It's something she does before going to bed and can't wait to start the day again with it. Without design, the world would be black and white.
When she's not freelancing, she's either painting or learning a musical instrument. She wants to explore the world while holding a sketchbook and a pencil.
You can find her work on-
HIVE (@happily-ever-art)
Vishal Chandna (Front-End Engineer)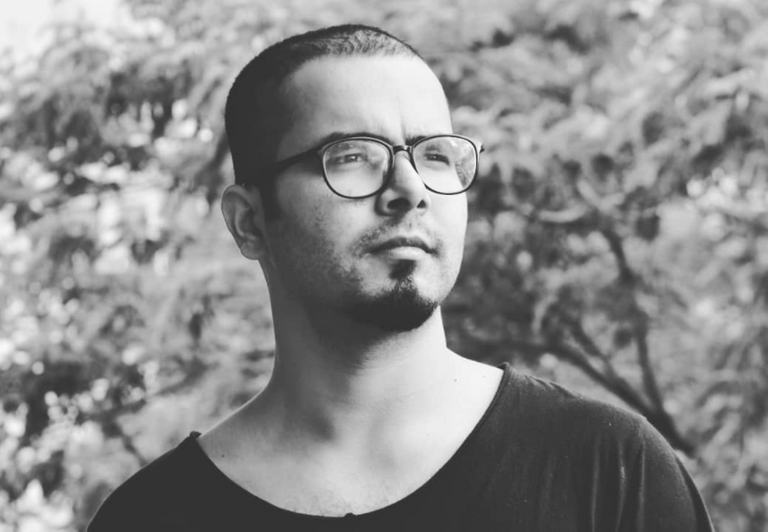 Vishal Chandna is a Front-End engineer from Delhi NCR, India. He has been a part of STEEM / HIVE blockchain since 2016. He is currently working at an organisation and along side, he has put all of his free time to Dapplr. According to him "Developments on the STEEM / HIVE blockchain may have been slow but they are always stable and usable like no other blockchain". It was him who inspired the designer Taniya and Back-end engineer Dinesh to work on this. He has spent many sleepless nights to make Dapplr happen.
In terms of his work, he has worked on several project as Team lead, Front-End Engineer and Front-End Architect. To learn more about his life and work, Follow him on -
HIVE (@funnyman)
Dinesh Yadav (Back-End Engineer)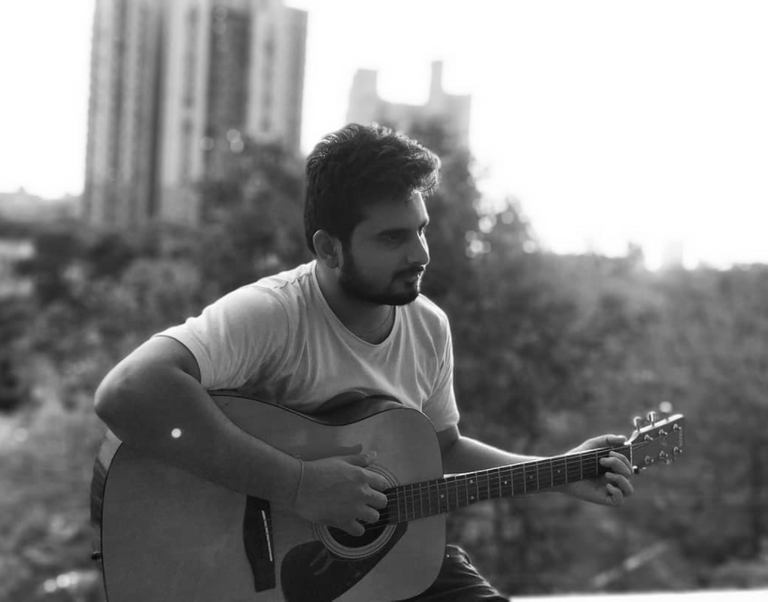 Dinesh is a Back-End engineer from Delhi NCR, India. He has been a part of STEEM / HIVE blockchain for the past few years. Along side his current job, he has been utilising his free time to make Dapplr a futuristic application. He has put a lot of efforts to make Dapplr secure, robust and scalable.
In terms of his work, he has worked for several products on the role of Back-End Engineer, Devops Engineer, and Solution Architect. He has an experience of developing very large products, managing giant infrastructures. You can follow him on -
HIVE (@crazyman)
Support us by voting for our proposal
Total funds requested - - - > 4830 HBD (30 HBD daily)
Runs from - - - > Apr 17, 2020 - Sep 25, 2020 (161 days)
If funded, these funds will be used to cover 3rd party costs: our server and the junior dev/design team.
Hivesigner - - - > https://hivesigner.com/sign/update_proposal_votes?proposal_ids=%5B%2295%22%5D&approve=true
HiveDao - - - > https://hivedao.com/proposal/95
Peakd.com - - - > https://peakd.com/proposals/95
Follow us on Instagram - https://www.instagram.com/dapplr_app
Follow us on Twitter - https://www.twitter.com/@Dapplr_app


Join us on Discord and Be a part of the Alpha testing team - https://discord.gg/gZzqvwQ