I have been on this earth now for 41 years and even as a child I never cared for the fall holiday season. I don't include Halloween in that because it's usually warm here and we all know it's my favorite holiday and I mark that as the end to my summer.
I can't really explain why I don't like the end of the year holiday festivities because I don't really know why I feel this way. All I know is that when I hear Christmas music my stomach starts to get queasy and I throw up in my mouth a little bit.
I am even referred to sometimes as The Grinch this time of year.
My mother in law is always asking me … 'so when are you gonna decorate?' I used to decorate, when the boy was little… I felt obligated to give him the 'magical' Christmas lights on the house. His eyes always lit up which made it worth it.
I'm looking for an inflatable Grinch holiday decoration to put at the corner of my house with him holding one strand of lights attached to my house as if he is stealing my decorations or is almost done stealing my declarations. Bam… house decorated!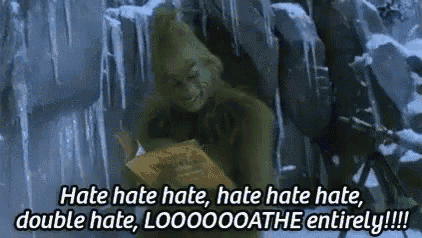 I became a pro at hiding my disgust for the season.
I'm still a pro at it. At least there's only two days that I have to paint a smile on my face… Thanksgiving and Christmas.
I don't mind Thanksgiving so much because I freaking love me some fried turkey!! If you haven't had a cajun fried turkey… you really have no idea what you are missing out on. Yes, my favorite thing about Thanksgiving is the food!!
The same could be said about Christmas I guess, I love cooking and baking and any time I get to make my homemade pumpkin or pecan pies is good because it's only this time of year I bake that kinda stuff.
I hate shopping. Maybe that's it. I hate all of the Oh you come by my house and we will exchange gifts... it bugs me. I don't mind family coming over I guess. It's like Hey let me watch you cook and clean while I sit on my ass and stuff my face and by the time they've gotten their fill and leave, I'm exhausted and ready for a granny nap.
Don't get me wrong, I don't walk around during the holiday season mumbling Bah Humbug all day. I do tend to stay in more, I tend to try to avoid talking to people. I do things because I feel like I have to. If I could take a trip somewhere else, that would be ideal.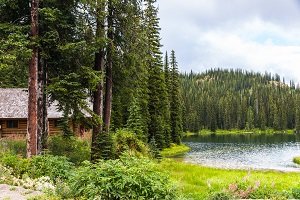 A nice warm place … more woods-y instead of beach-ish because I don't like sand getting in uncomfortable places. A log cabin in the woods somewhere. A comfy chair sitting in front of a fireplace with a glass of wine or an Irish coffee and a good book.
I wouldn't need much. I'm pretty sure I could live off the land. I've hunted and fished before. Well I tried to hunt. But it was cold. And I was impatient because it was so cold. Sitting in a stand in the freezing cold waiting hours for something to walk out was torture.
That's okay, I still think I would survive. I can live off of nuts and berries!
Time is flying. It seems like it was just yesterday I was so excited that the halloween season was finally upon us and now we are in November. Where has the time gone? Does this happen to everyone when we reach a certain age?
I digress.

---
---

This has been my Drop in the Ocean post about the topic of Digression for the awesome BuddyUP community.