Those of us who have been pouring ETH into the year-long EOS ICO ..
.. are screwing ourselves!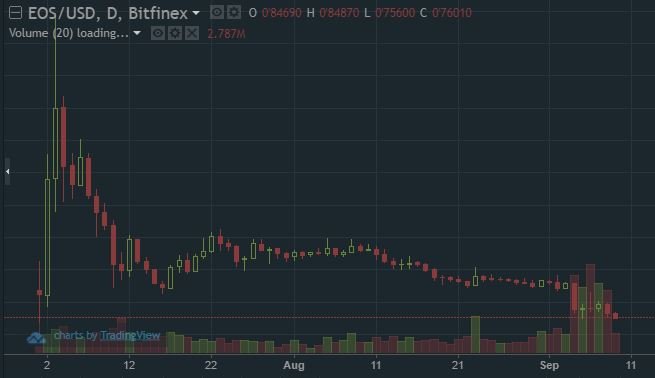 The chart above is the reverse of the traditional ICO pattern .. followed by another crash and a bottoming out of course. :-) Well, if you have been buying as much EOS as you possibly can, you should know that only made sense on the very first day, Period # 0 .. every subsequent day has been a loss loss loss .. and now, not even 1/3rd of the way through the ICO period, we are facing a rapidly declining token, with less and less interest in the platform.
Now, this might change, and we (kinda) still hope it does .. but that will be months from now, and the cost of the ICO token will continue to fall, so put your Ethereum to better use in the interim. Also, keep in mind, there 'is' competition out there .. much more approachable, much simpler, much closer to 'the people's' needs .. there is no guarantee that EOS will succeed, so ... I'm just saying .. do not miss the many other opportunities that here or soon to arrive.
EtherParty (this is going to be a massive mass success!)
Equitrader (this thing is going to kick ass)
PieCoin (or any other explosive masternode shitcoins)
NEO (it will recover)
.. so on and so on ..
If you are all about the technology, or if you are a Bitshares over-investor, or just a Larimer fanboi .. then go ahead and throw yourself into it, but for those concerned primarily about their own, personal bottom-line ..