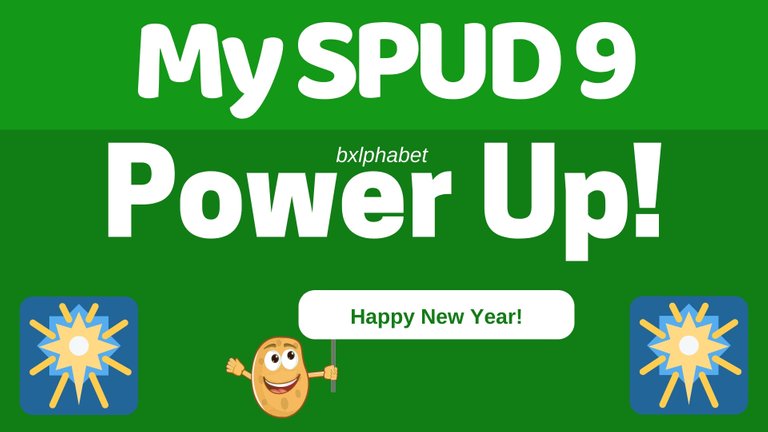 We celebrate STEEM Power Up Day each first of the month and today we are on SPUD 9!
I am very happy to participate this month and and grow my presence here. December was not the best month for me, and and I do not have a big power up, but I am still pretty happy with my results.
This ninth SPUD challenge and contest is initiated by @streetstyle and I am so grateful for it. I am a believer in STEEM and this monthly commitment helps me keep my focus.
Here is my power up proof:
My SP Before Power Up was 313:
My SP After a 60 STEEM Power Up is 373:

Last month I powered up 40 STEEM, and I wanted to beat that number this month. I have increased each month so far, so my goal for Jan 1 will be to power up more than 60 STEEM.
In past months, I sponsored @streetstyle for one unit of SBI as part of my SPUD activities. Unfortunately, we have the evil mmkk dude from Poland who is trying to destroy sbi now.
If I send any sbi to anyone, this horrific character will downvote all my posts as much as he feels like it. I live off STEEM money and I am not strong enough to be able to fight this fight. I hope this guy will quit his evil ways soon, and then I will go back to sponsoring sbi.
In January, like in the last few months, I will add a bit of STEEM to savings each time I claim rewards in December. If I did not keep the STEEM in savings, I would have nothing to power up each first of the month. This method is working for me.
My Goal for SPUD 10
I hope to grow my power up for next month by doing better blogging on STEEM. I plan to post more often and will try to get better post rewards. This month I have been really sick and I still am, but I will do my best. I had less posts, but got better upvotes in December, so that helped.
Thank you to the SPUD 9 sponsors who make this event possible:
@davedickeyyall
@xpilar
@sultan-aceh
@reflektor
@hingsten
@mcoinz79
@bippe
@streetstyle
@improv
@traciyork
@livinguktaiwian
See you next month!