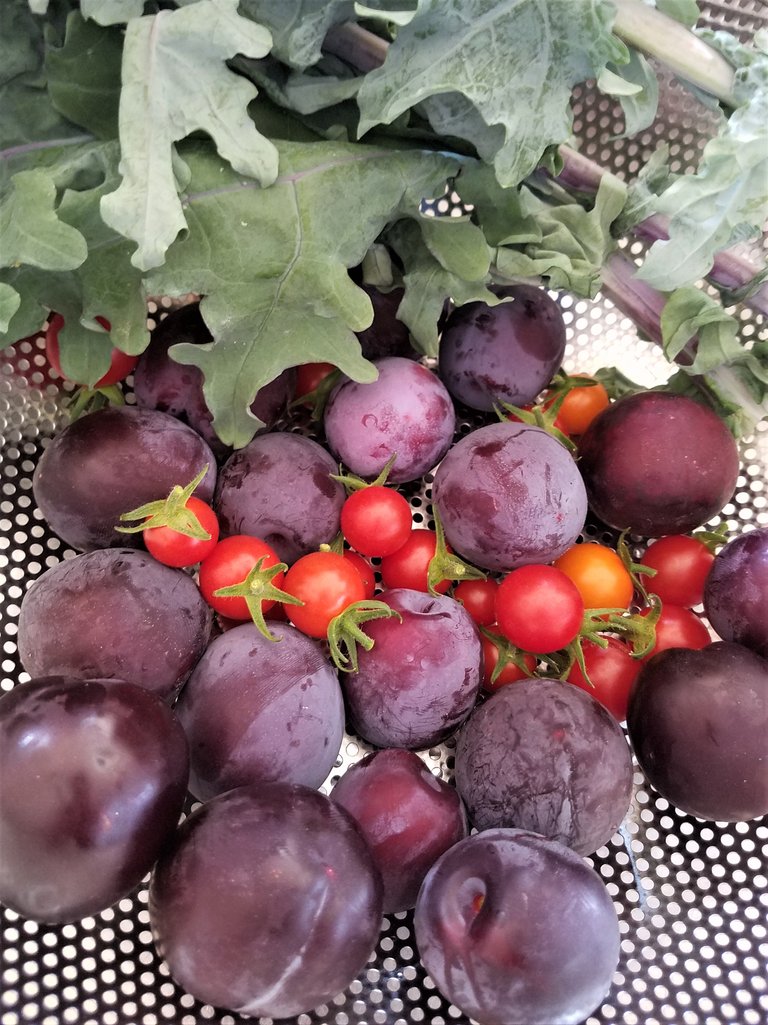 What do these foods have in common? I picked some of each in the garden on the same day. Besides being very tasty, these particular foods happen to be quite full of nutrition. Should I label them fruits or vegetables? Kale, most definitely, is a vegetable, while plums are fruits.
The real question is about the tomatoes. Tomatoes generally are eaten as vegetables and often served together with other vegetables. They are used in sauces, for example, along with onions, garlic, peppers, and herbs. They also are commonly used in salad and other raw preparations, where they might find themselves in the same bowl as lettuce, cucumbers, and other vegetables. But botanically, a tomato is a fruit. The plants flower and produce a fruiting vegetable that contains seeds, a hallmark of a fruit.
Let us take a closer look at each of these three foods.
Tomatoes
Round, red, juicy, and sweet are words that describe the typical tomato. However, the fruits can be other shapes, colors, textures, and flavors as well. I have tasted yellow, orange, purple, ripe green tomatoes also. Some are sweet and others are tangy. Many have elements of both. Rich in vitamin C and containing a beneficial antioxidant called lycopene, tomatoes are healthy additions to the diet.
In the end, it does not really matter if a tomato is a fruit or vegetable, either – just eat and enjoy it. And with these tiny cherry tomatoes, ripening in the summer heat, that status matters even less. That is because they are so tasty that few of them even make it to the kitchen. They are popped in the mouth and eaten long before then.
Plums
Like tomatoes, plums can come in many colors: red, purple, yellow/orange, and green. These plums I picked are purple on the outside and mostly yellow with streaks of red inside. Many temperate climates enjoy European plums, but the ones in my climate are mostly descendants of Japanese plums. These fruits are high in vitamins A and C and they contain healthful antioxidants. Studies show that eating plums also helps iron absorption in the body, possibly as a result of the vitamin C they contain.
The great plant breeder Luther Burbank did a lot of work with plums, leaving an ongoing legacy in my home region of California (and beyond). Burbank was the first to import and develop plums from Satsuma and other regions of Japan and East Asia. Those he further bred and developed into some unique varieties. Other plant breeders like Floyd Zaiger have continued his tradition and taken those varieties to new heights. Together, pioneers like them have created fruits that ripen earlier and later and are sweeter and more flavorful than anything our ancestors could have imagined.
Kale
What can I saw about kale that hasn't already been said? These last few years, it has been quite the darling of the health food industry. Cauliflower may have taken over some of that buzz, but kale remains at the top of food charts. When it comes to nutrition, nothing packs a stronger punch. Kale has numerous vitamins, minerals, and antioxidants.
This is one of these vegetables you would consider if nutrition alone decides the answer to the question "If you were stranded on a desert island and could choose one vegetable, what would it be?" But would you really want to EAT kale every day? Yes, if you do not mind eating it along with other things (rice, pasta, stew dishes, etc.), because you might get tired of eating only kale, but when the other flavors change, it's OK if kale is among them. I chop and add it to a lot of other dishes, even when it is not a main ingredient. Even a little kale goes a long way with nutrition.
Try it and you may even get to like the flavor! My kids will not eat the kale stems, so I cut them off while chopping the kale…and then I eat the stems myself.
Honestly, with these three foods – tomatoes, plums, and kale – all of them can make for good raw eating. No cooking needed!