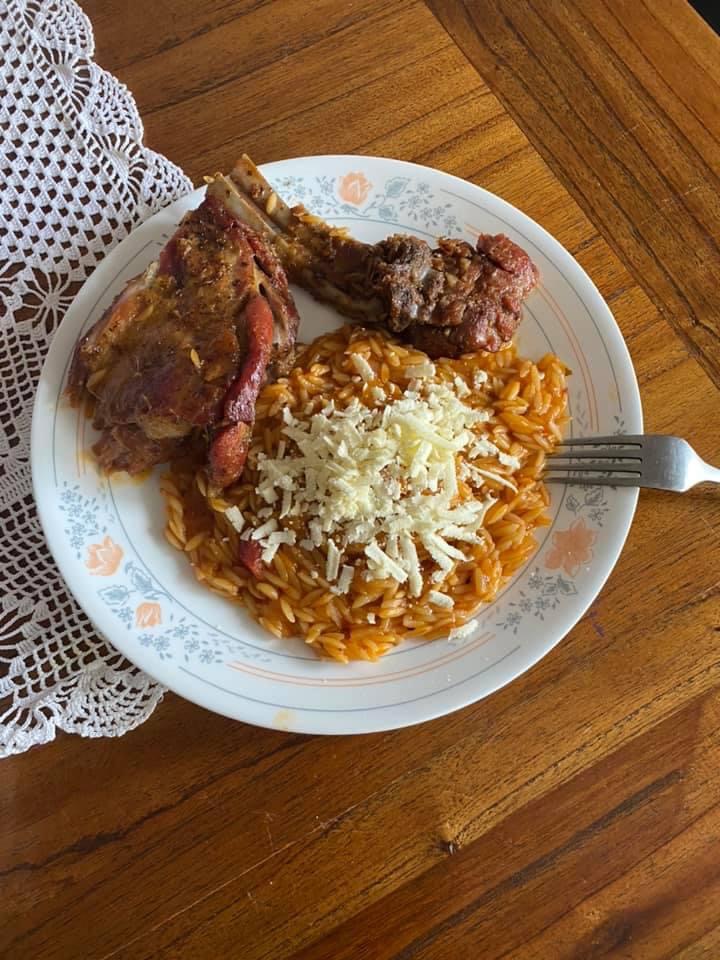 Good morning my friends, today I will show you a different way to cook many different meats as you prefer. Give this a try with lamp pork or beef .
Ingredients
1 kg of boneless beef, in portions
500gr. barley medium or thick
1 large onion, finely chopped
1-2 cloves chopped garlic
400gr. crushed tomatoes or concentrated tomato juice
½ cup of red wine Or a cup of olive oil
1 cinnamon stick
5-6 grains of allspice
1½ cup (approximately) grated kefalotyri or mizithra
Salt
Pepper
Preparation
Saute the meat in oil until lightly browned and add the onion and garlic. Saute them all together until the onion withers and quench with the wine.
Add the tomato, cinnamon, allspice, salt and pepper. When it boils, add two cups of water. Let the food simmer for about an hour and a half, until the meat is cooked.
Remove the meat to a plate with a slotted spoon. Measure the broth in the pot and add enough water to make 1½ liter of the broth.
Bring the broth to a boil and add the barley. Boil for 5-6 minutes until it starts to soften, adding a little extra water if needed. It should be left with enough broth at the end. Remove the cinnamon from the pot and empty the barley in a pan (preferably in a clay pan).
Place the meat in the barley without covering it and bake the juvette in a preheated oven at 200 degrees for about 30 minutes, until golden brown. Sprinkle the juvette with the grated cheese as soon as you take it out of the oven and serve
Hope you like it and try this many times with many different meats
Stay safe and healthy my friends and take care of your people
My best wishes from Greece