Have you ever noticed that Italian food is somehow sexy?
Most of my dates were accompanied by pizza, spaghetti, lasagna, ravioli, Panna Cotta, tiramisu... Italians seem to understand that love and food go hand-in-hand.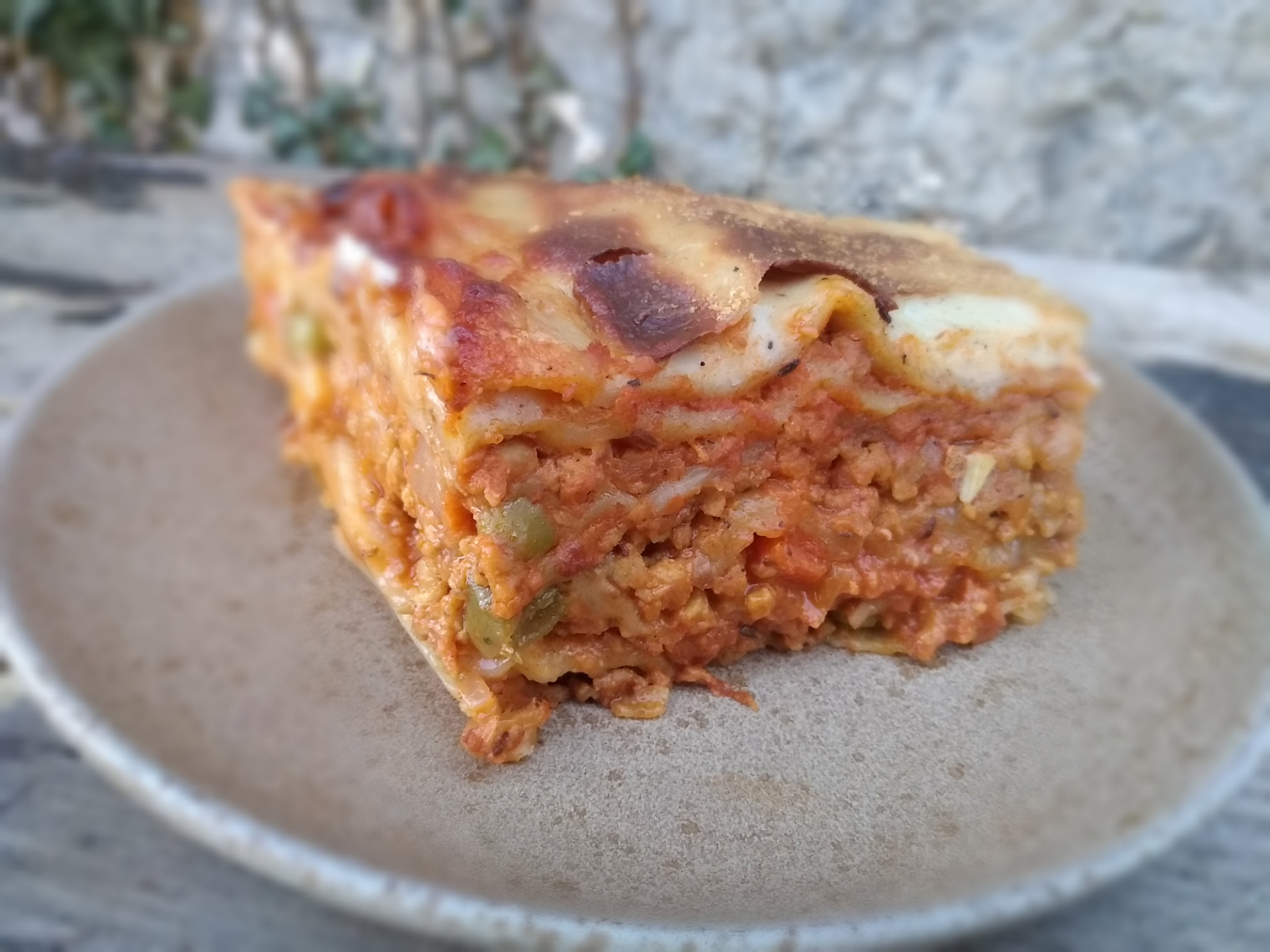 I made two lasagnas. For the one in the big baking tray, I used the double amount of ingredients and I added 300 g of mixed spring vegetables to the filling. It was richer to taste and the layers looked fuller, but to my surprise, I like the one with soya chunks better. It really reminded me of traditional meat lasagna.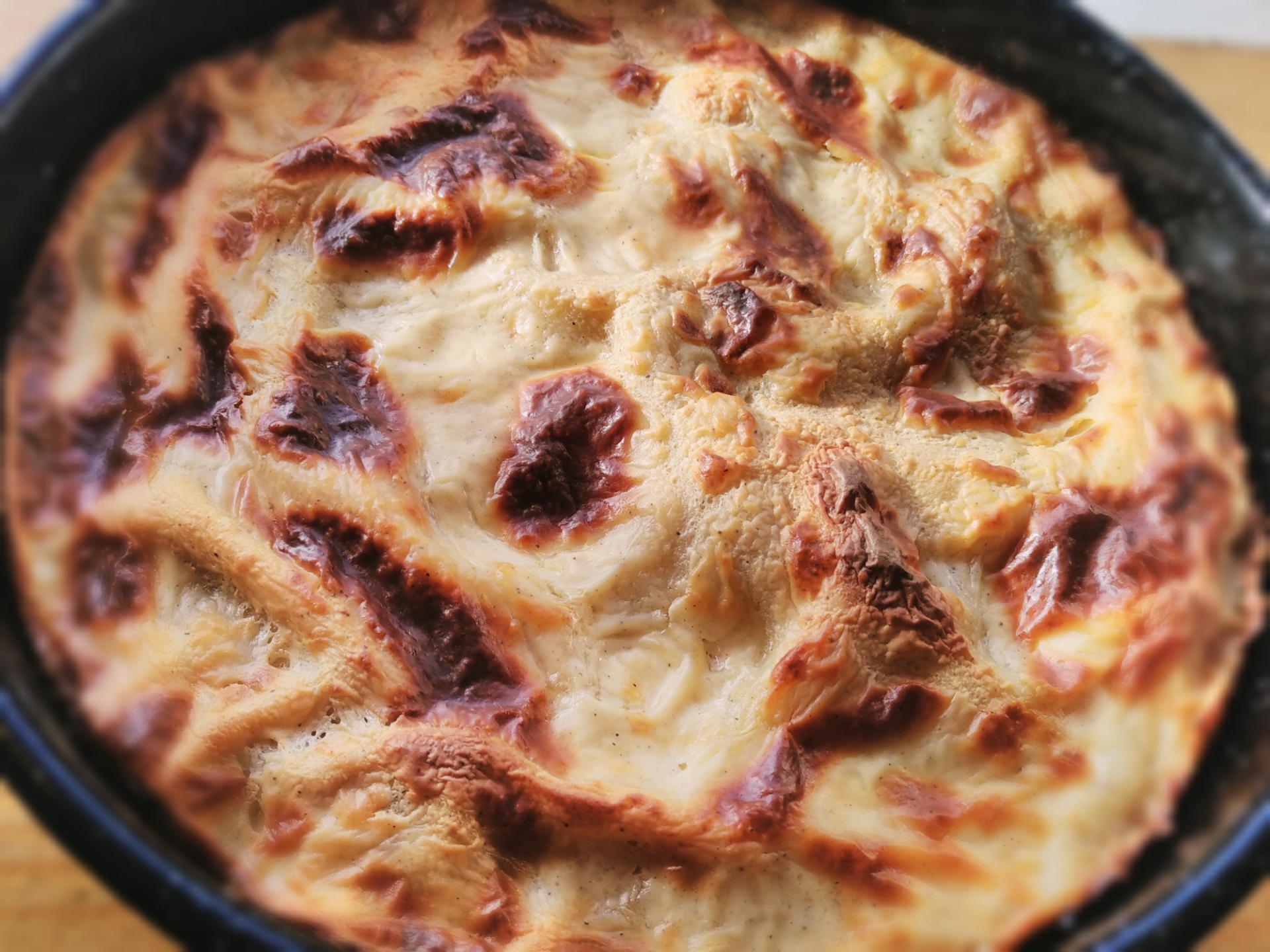 Why did I make so much lasagna at the same time? Because it takes a lot of preparation time and since I really love it, I don't have the time to prepare it every month or so. And food prepared in big amounts always tastes better.
I will cut it into smaller portions, put it in containers and freeze it. Whenever I wish to eat lasagna, I just take it out of the freezer and heat it up in the oven.
I like to prepare the filling an evening before making lasagna, as it tastes better the next day.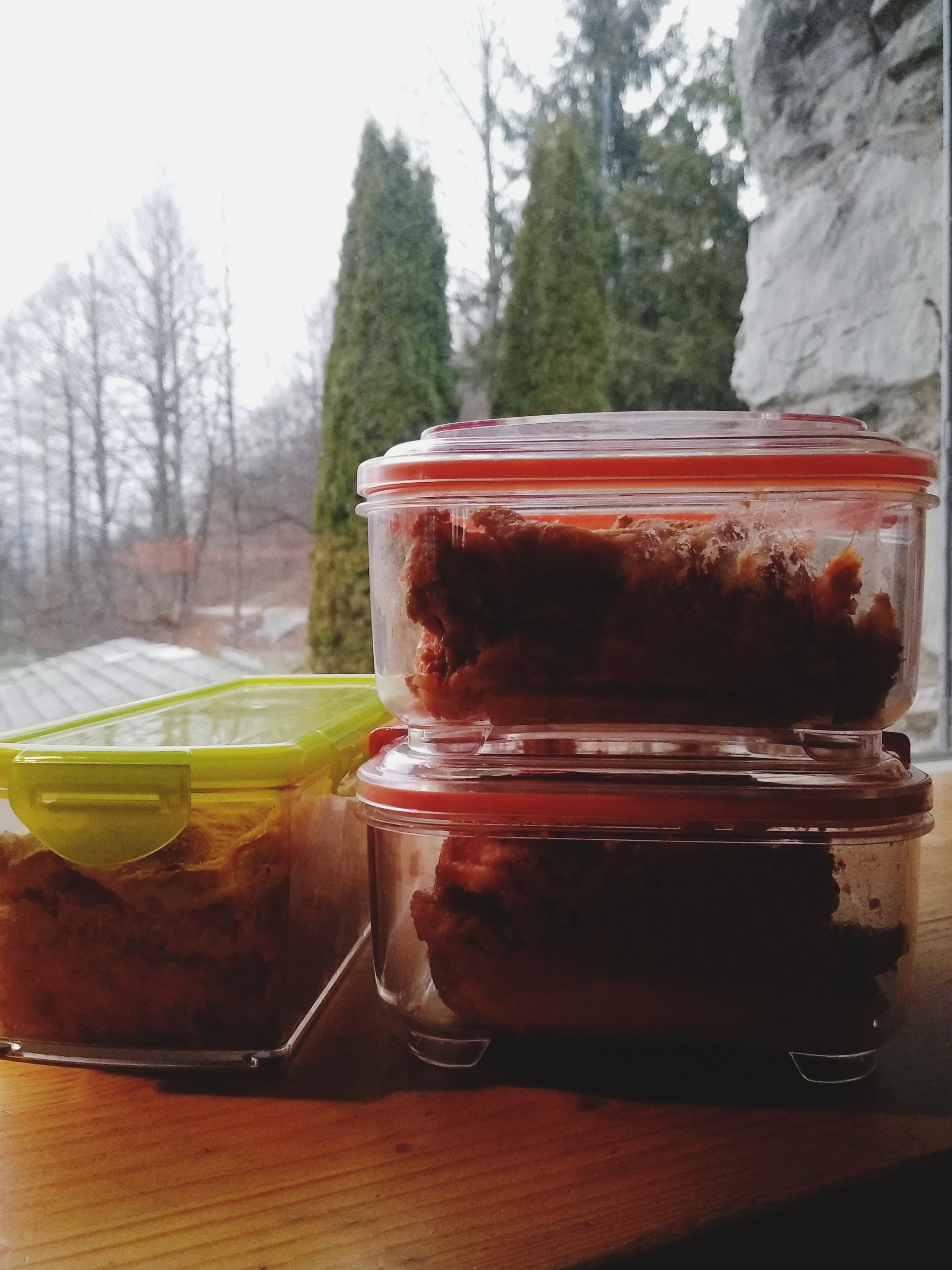 Ingredients for the dough:
400 g of flour
2 dl of water
0.5 teaspoon of salt
Preparation:
Sip flour trough sieve into a bowl, mix it with salt and make a hole in the flour in the middle. Start adding water, little by little, while mixing it with a fork. When it gets too thick to mix with a fork, start kneading with hands.
When the dough feels kneaded and soft, put it in a zip bag, or a container with a lid. Let it sit in a fridge for at least 3 hours, or even better overnight.
Divide the dough into a few equal parts, depending on how many layers of lasagna you wish to have.
Lightly flour the working surface, and start rolling it, as thin as you can make it. I like to cut the dough into a shape of my baking tray, but it's also possible to cut smaller pieces and assemble them into the whole layers.
You can also use pasta machine if you have it. It can be rolled, dried and saved for up to a month.

Ingredients for the filling:
200 g of soya chunks
0.5 l of vegetable stock
salt
pepper
sweet paprika powder
bay leaf
thyme
rosemary
oregano
marjoram
onion
two garlic cloves
2 tablespoons of olive oil
3 tablespoons of tomato paste
0.5 dl of vegetable stock
a teaspoon of yellow mustard
a jar of whole tomatos (pelati)
4 tablespoons of nutritional yeast
Preparation:
Boil vegetable stock. Add soya chunks, and a fear amount of spices and herbs. Simmer for 5 minutes, with a lid on. Take it off the stove and let it sit for 10 minutes. Drain it and squeeze out all the liquid.
Finely chop an onion and fry it in olive oil, over low heat. Add soya chunks and fry for a few minutes. Add chopped garlic, sweet paprika powder, salt and rosemary and fry for another minute. Add tomato paste, vegetable stock, yellow mustard, salt, pepper, marjoram and oregano. Cover with a lid and cook for about 25 minutes, stirring occasionally.
Blend whole tomatoes and put it aside.

Ingredients for Bechamel sauce:
50 g of vegan butter
35 g of flour
1/2 l of warm rice milk (or any other)
a pinch of salt
1/4 teaspoon of nutmeg powder 1/4 teaspoon of black pepper
3 tablespoons of nutritional yeast
Preparation:
Melt butter and add flour. Whisk until all clumps separates.
Slowly start adding warm milk, while whisking. When all clumps separates, add salt, nutmeg, pepper and nutritional yeast and cook it for another 5 minutes over low heat while whisking.

Assembling lasagna layers:
Grease baking tray. Place a piece of dough on the bottom of the tray, add some filling on top and equally spread it around with a spatula. Pour a few drops of tomato sauce over it and sprinkle with nutritional yeast. Place another piece of dough on top and continue with the same process until you run out of filling. Place the last piece of dough on the top of the lasagna and pour Bechamel sauce over it.
Place in the a preheated oven to 200 ⁰C, for about 40 minutes, or until slightly brown on the top crust.

Leave it sit for at least 30 minutes before cutting. Lasagna will soak in all the juices and flavors and it will be easier to cut. Serve it with a salad.