My old Honda Odyssey were deemed not road worthy anymore due to some heavy rust on the inside. After several months using only one car, I decided it's time for me to buy a motorcycle so I can still go around when my wife is using the car to go to work. I decided to buy a scooter instead of a real motorcycle because I'd be mainly doing city trips so I bought a used 2008 Kymco People S 200: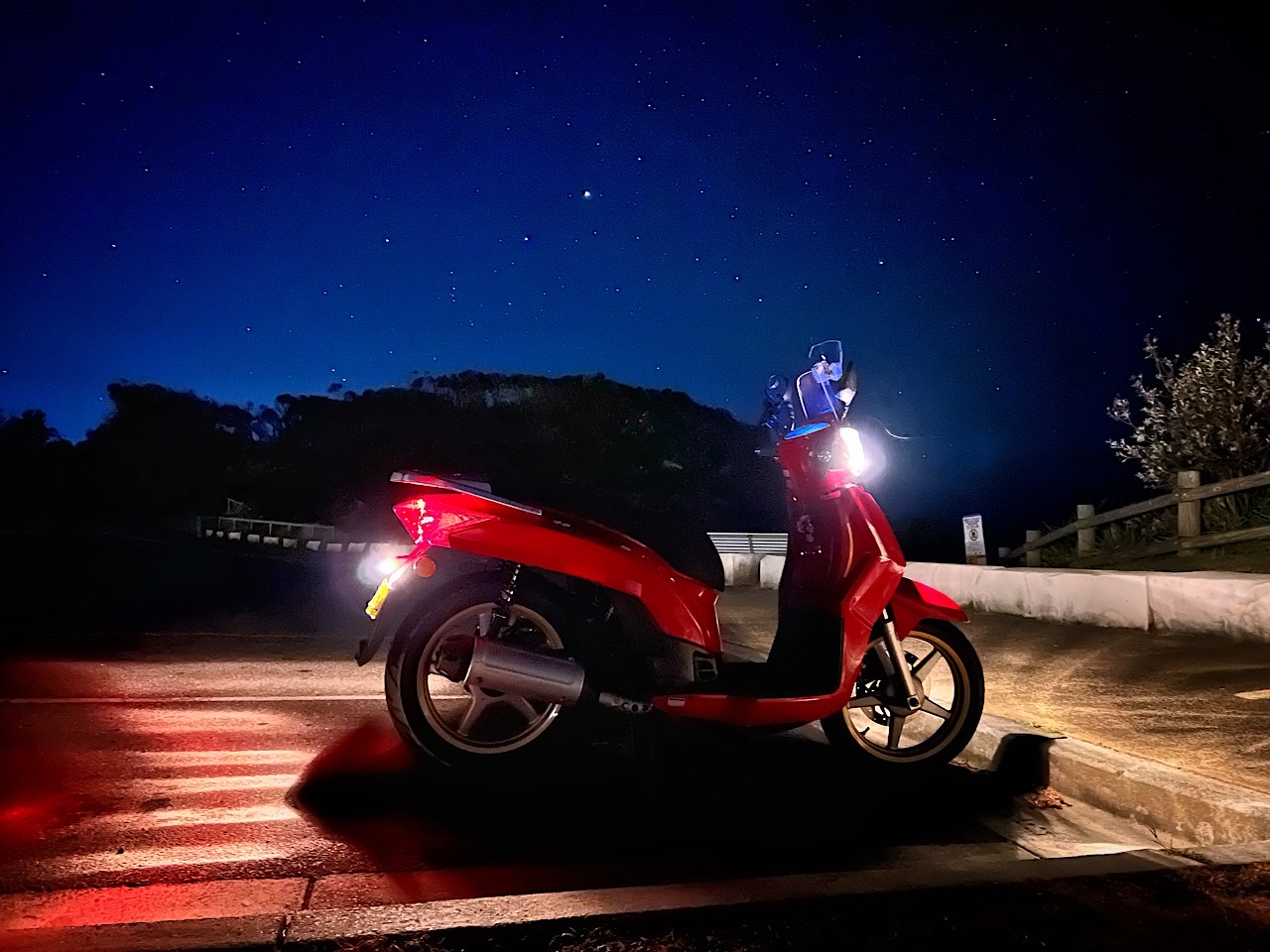 After a couple of weeks getting used to it, I started to do longer rides (about 45 minutes each way) and noticed my lower back was hurting quite a bit the following day. So I started searching the Internet for some times and tried all tips I could:
adjust the rear shocks preload
adjusting my seating position
buying a seat cushion
etc...
Nothing really helped. I then noticed that the rear suspensions were not very smooth, pushing down the scooter's tail would not move the suspensions that much. So I took the scooter to get it serviced but the mechanic told me he could not find any fault with the rear suspensions, they are safe it's just a bit uncomfortable... But I'm decided to get them changed, however I could not find any replacement parts in Australia so I bought a pair of suitable YSS rear shocks from Italy and received them in a couple of weeks. That was my first step into learning how to service my bike.
Replacing the rear suspensions
I suspected it would be a little bit of a challenge and I was not deceived, it took me 3 hours to figure out how to reach the bolts that hold the suspensions in place. Removing the fairings on the Kymco was the main issue and lacking the correct tool was the other.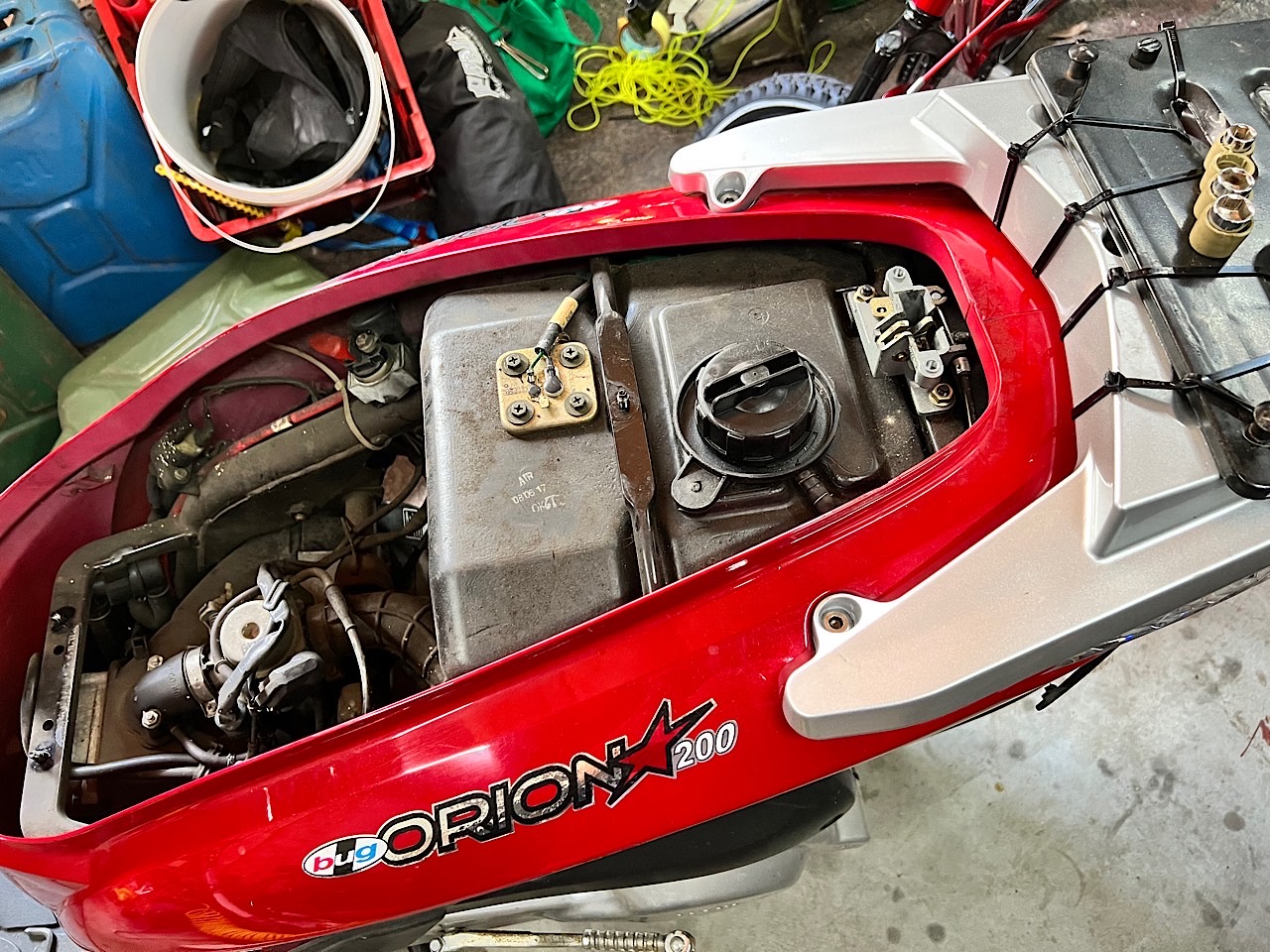 But with patience and persistence, I managed to remove the stock suspensions. Being from 2008, they were really sticky and hard to press down. No wonder my lower back received all the vibrations from the road I was riding on.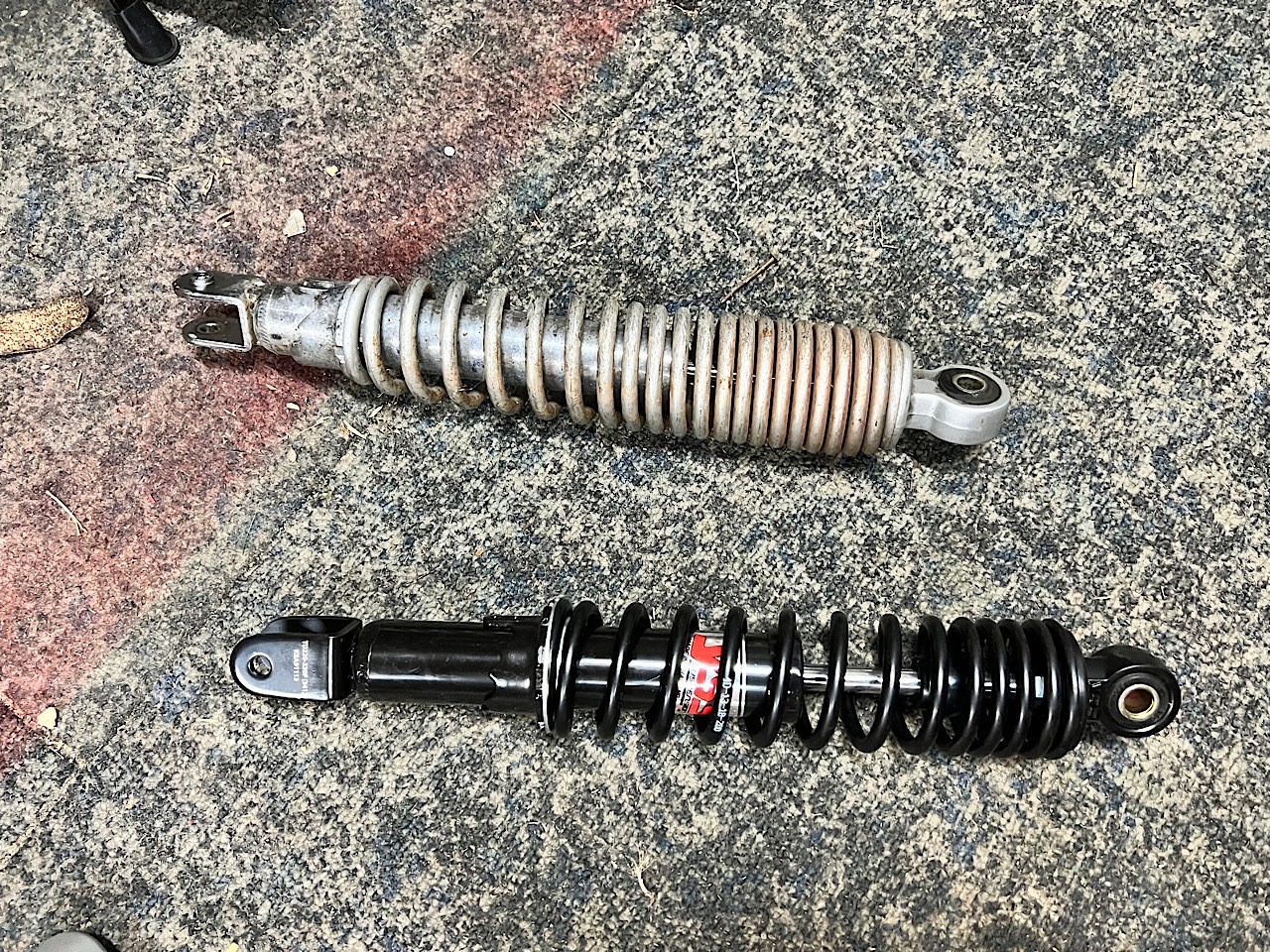 Putting everything back together was an easy process and soon enough, I had two YSS rear suspensions installed: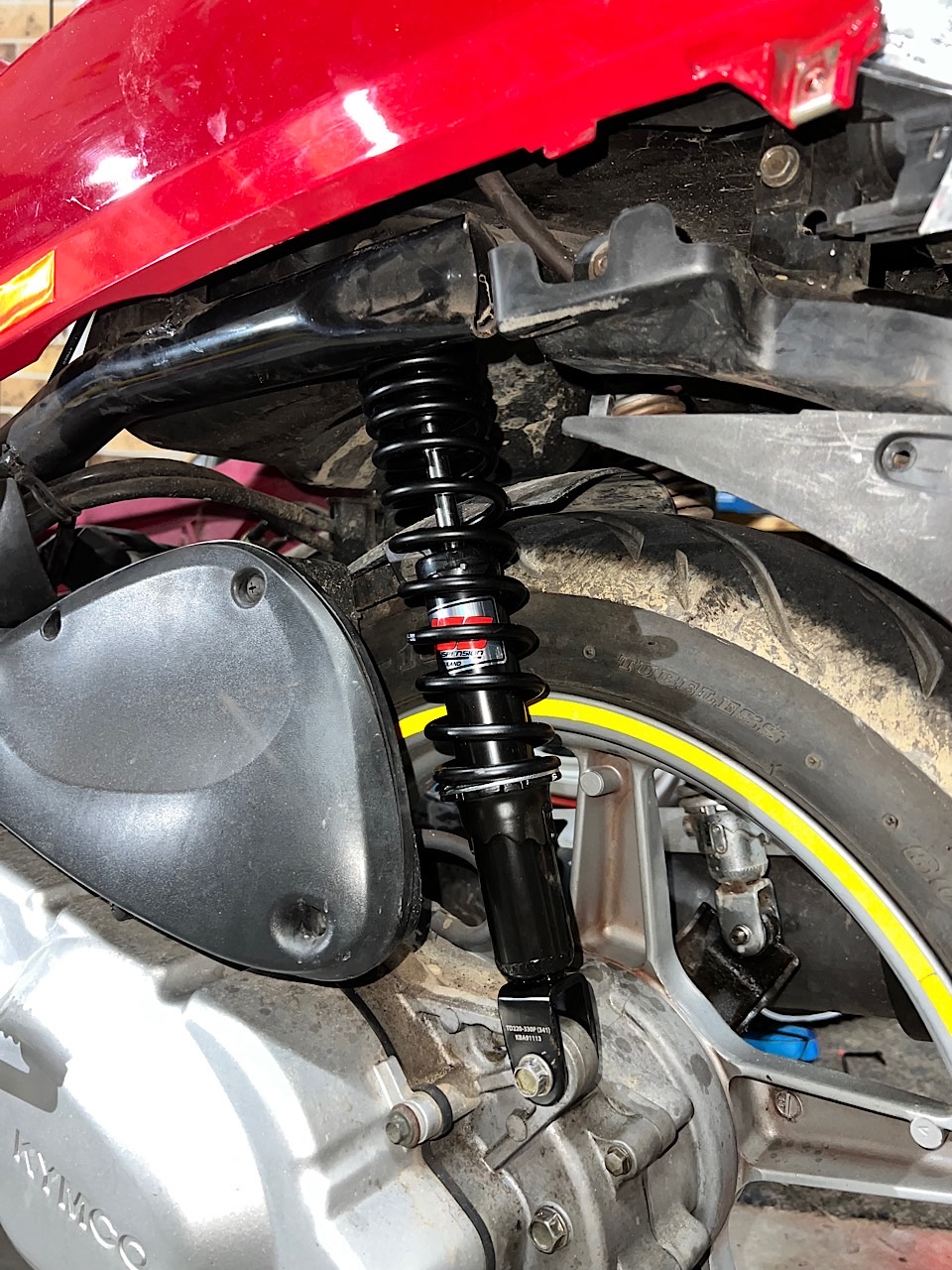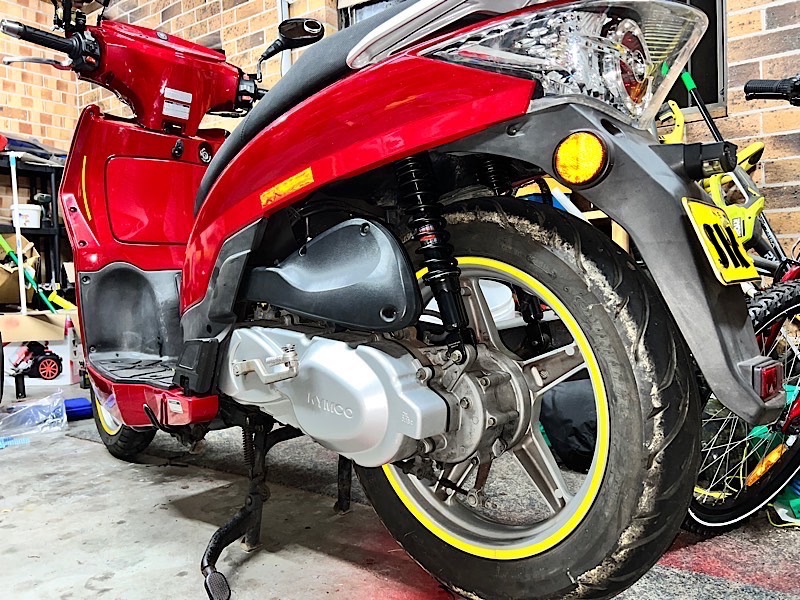 Changing the front fork oil
I was thinking of also changing the front suspensions but then read that unlike the rear one, I can change the oil of the front one and that might be enough. Having picked up a bit of confidence thanks to the previous work, I took my courage and started disassembling the front parts.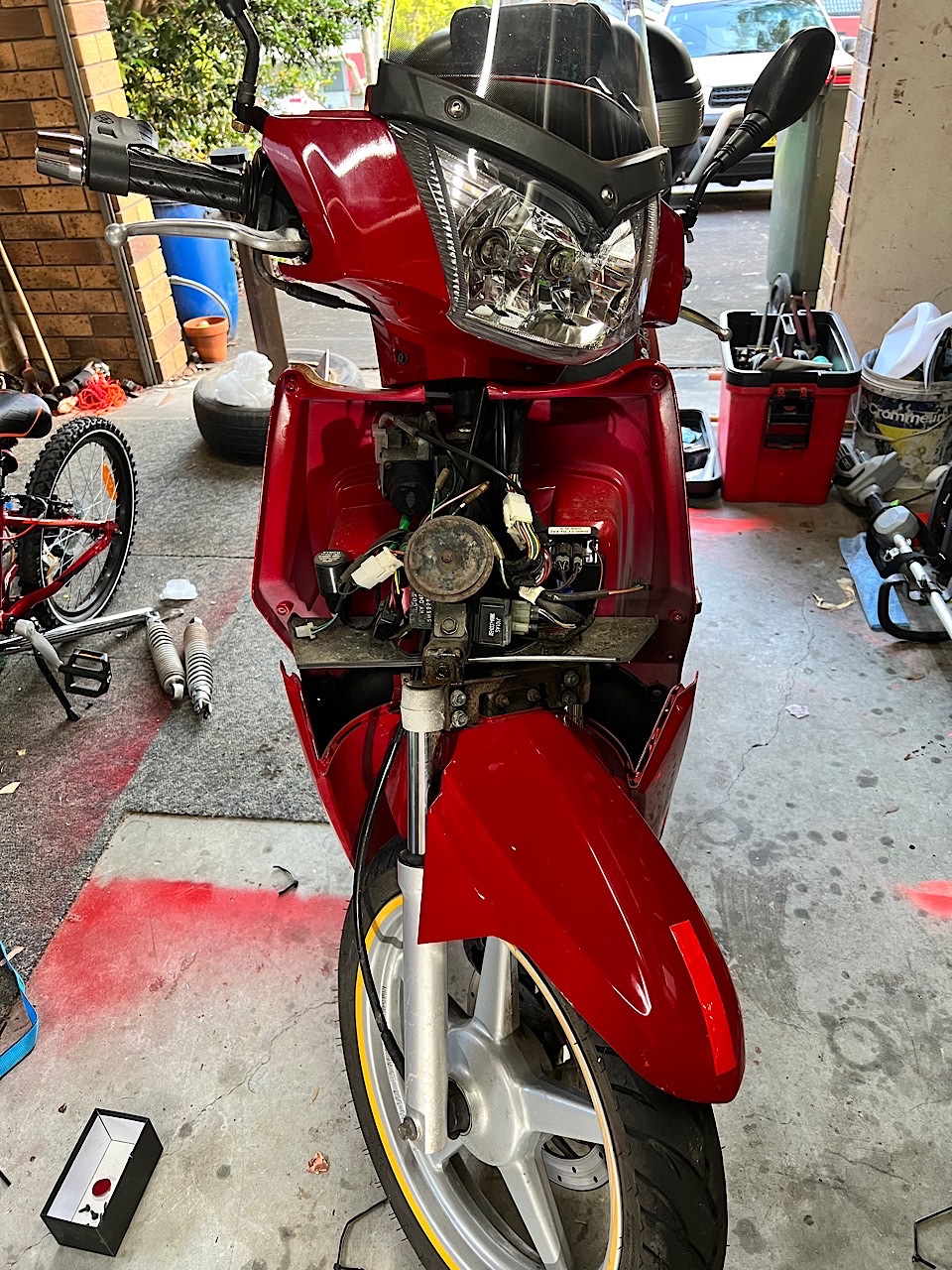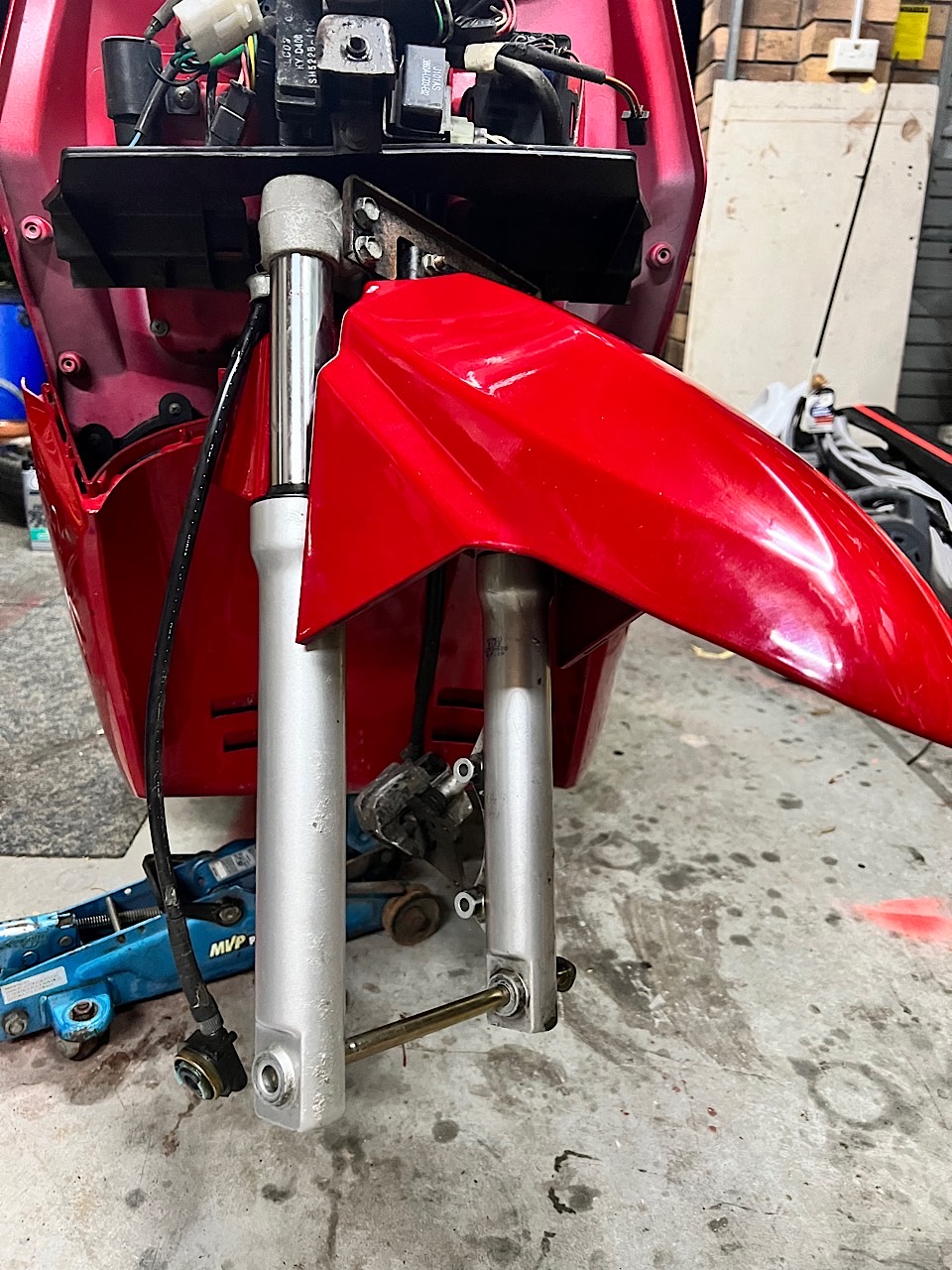 With the previous gained experience, removing the front suspensions was not too bad. All parts were looking pretty good, the fork oil was just quite dirty, not surprising for their age. So I went ahead and replaced the oil with new 10WT oil and started putting all back together. That's when my front brake stopped working... 😱 the brake first won't let go of the disc then they won't brake at all. Panic started...
After checking few forums and chatting with my rider friend, I started investigating the front braking system. That bit was quite challenging. I could not remove the plastic cover completely but enough to reach the master cylinder (box that holds the brake fluid) and to my horror this is what I saw: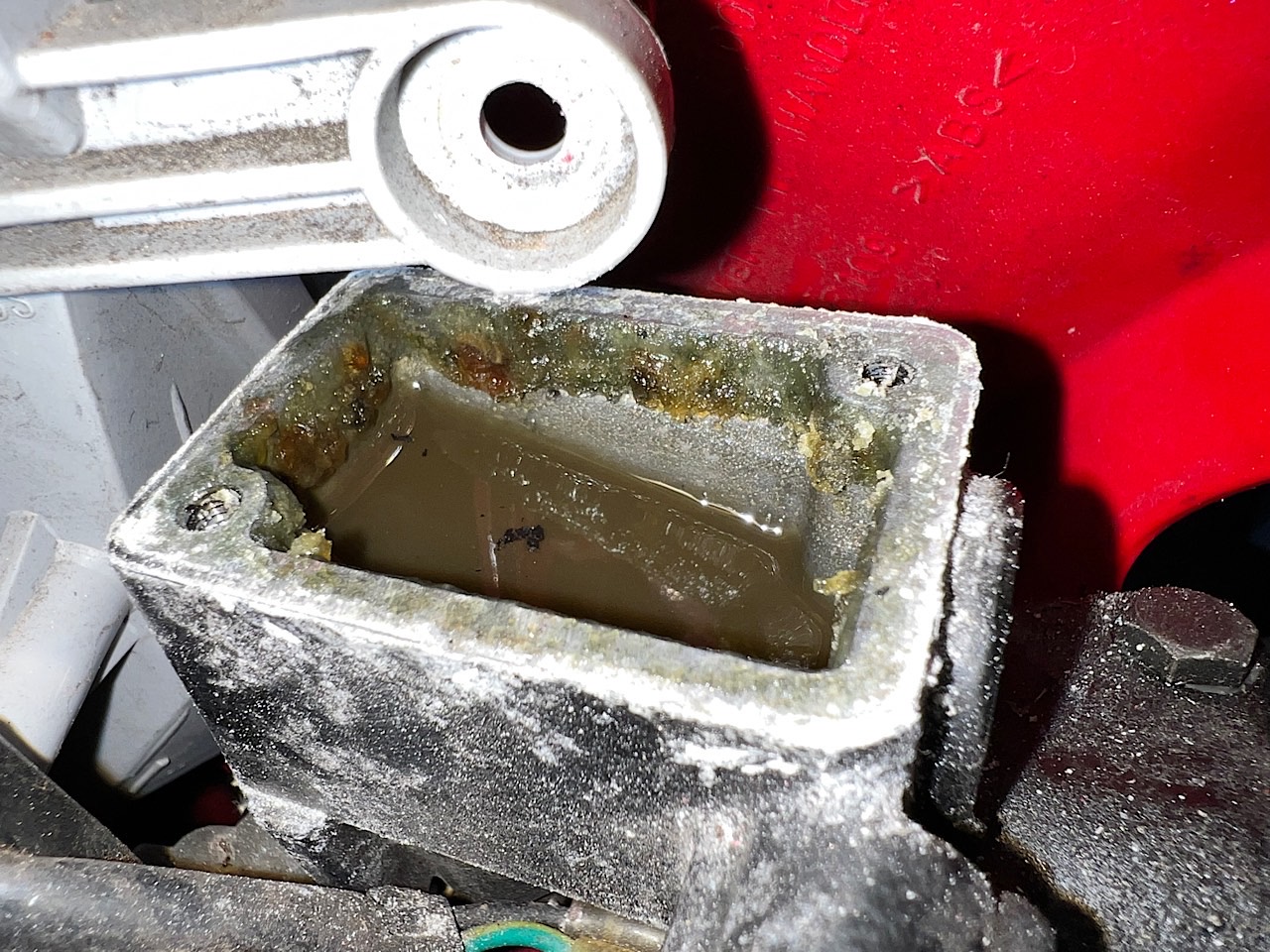 The previous owners must have never done any service to this area of the scooter. Lucky my brakes didn't ceased working while I was riding. At this point, I was a bit depressed, not sure what I should do next. My friend gave me some tips and I started cleaning up the master cylinder and make sure all the dirt and grime was completely removed. I used most of the new DOT 4 brake fluid I bought to bleed / purge the system with some DIY equipment.
See how dirty the fluid was, that's appalling.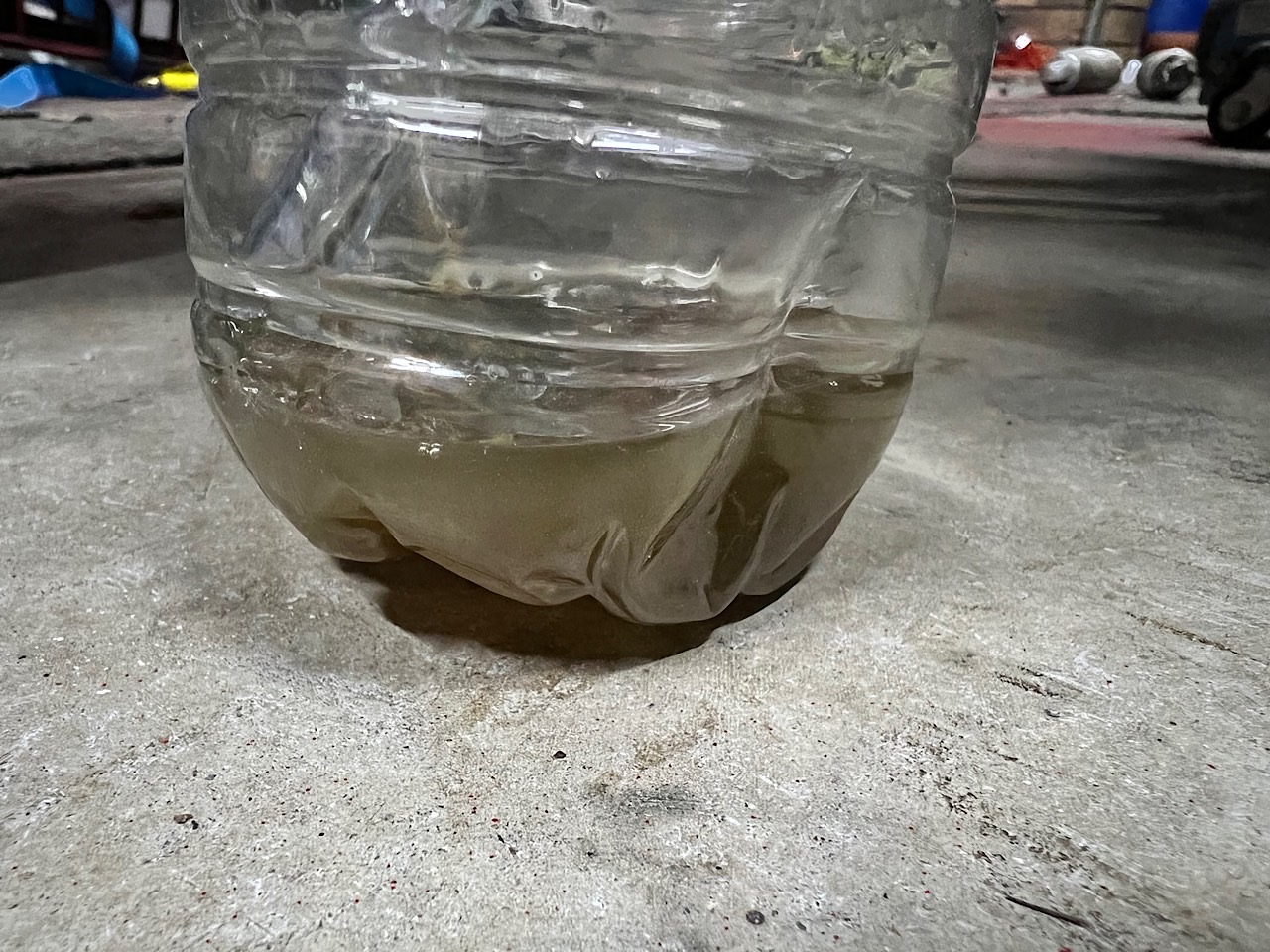 When the fluid came out clean, I continued purging for about 5 full master cylinder.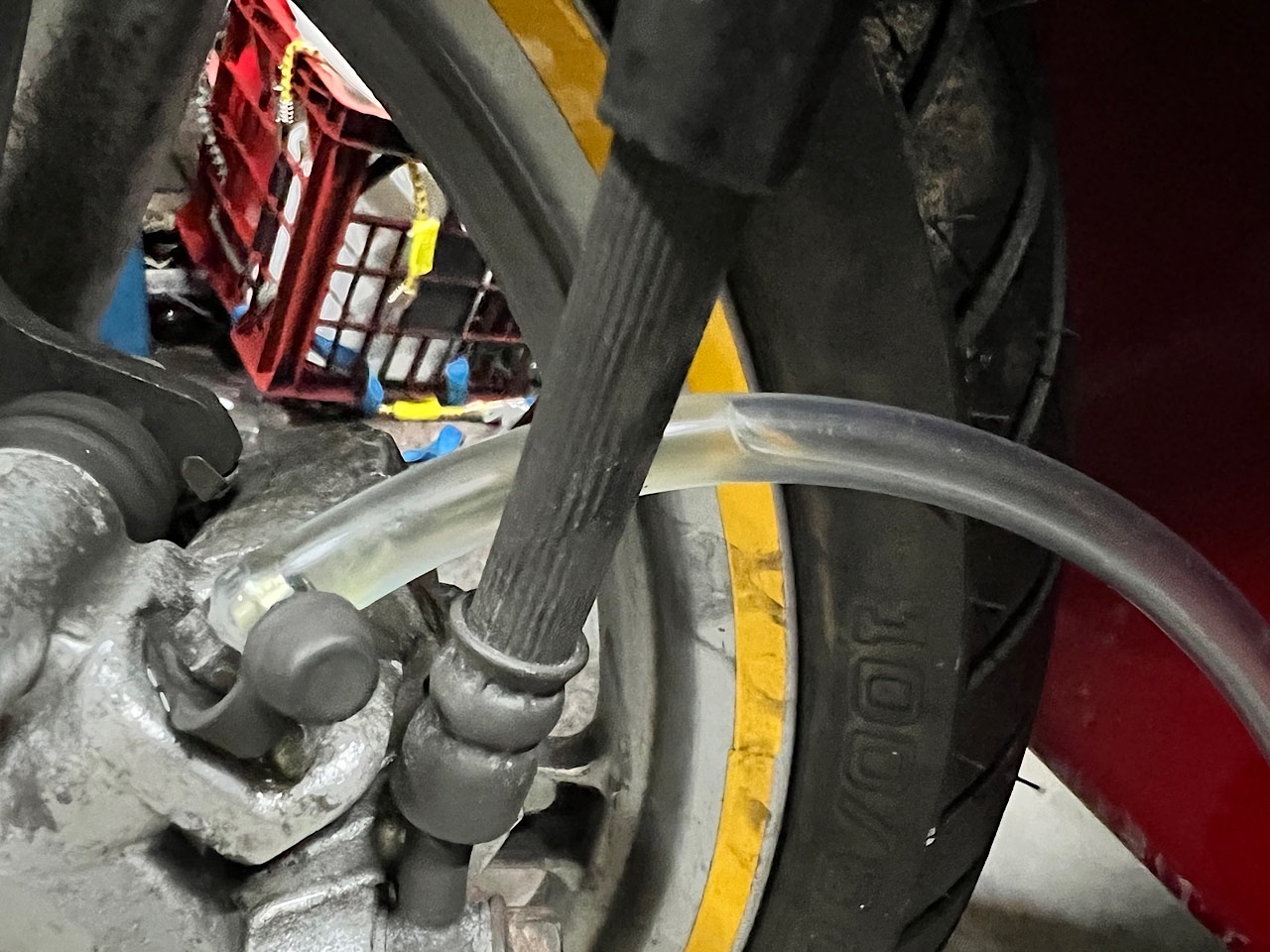 Yoohooo! The front brakes are now working again! I was really glad I took this challenge, I would not have discovered the issue with the brakes otherwise. The rear brakes are drum brakes so they don't use brake fluid, I don't need to do anything.
My next task would be to change the rear gear oil and the scooter would be in good shape again.
Rider back support
For extra comfort, I took the idea from the Scooter Adventures group on Facebook and bought this seat bag and converted it to a back rest. I made a wooden frame as a reinforcement so I can put my weight on the bag without crushing it.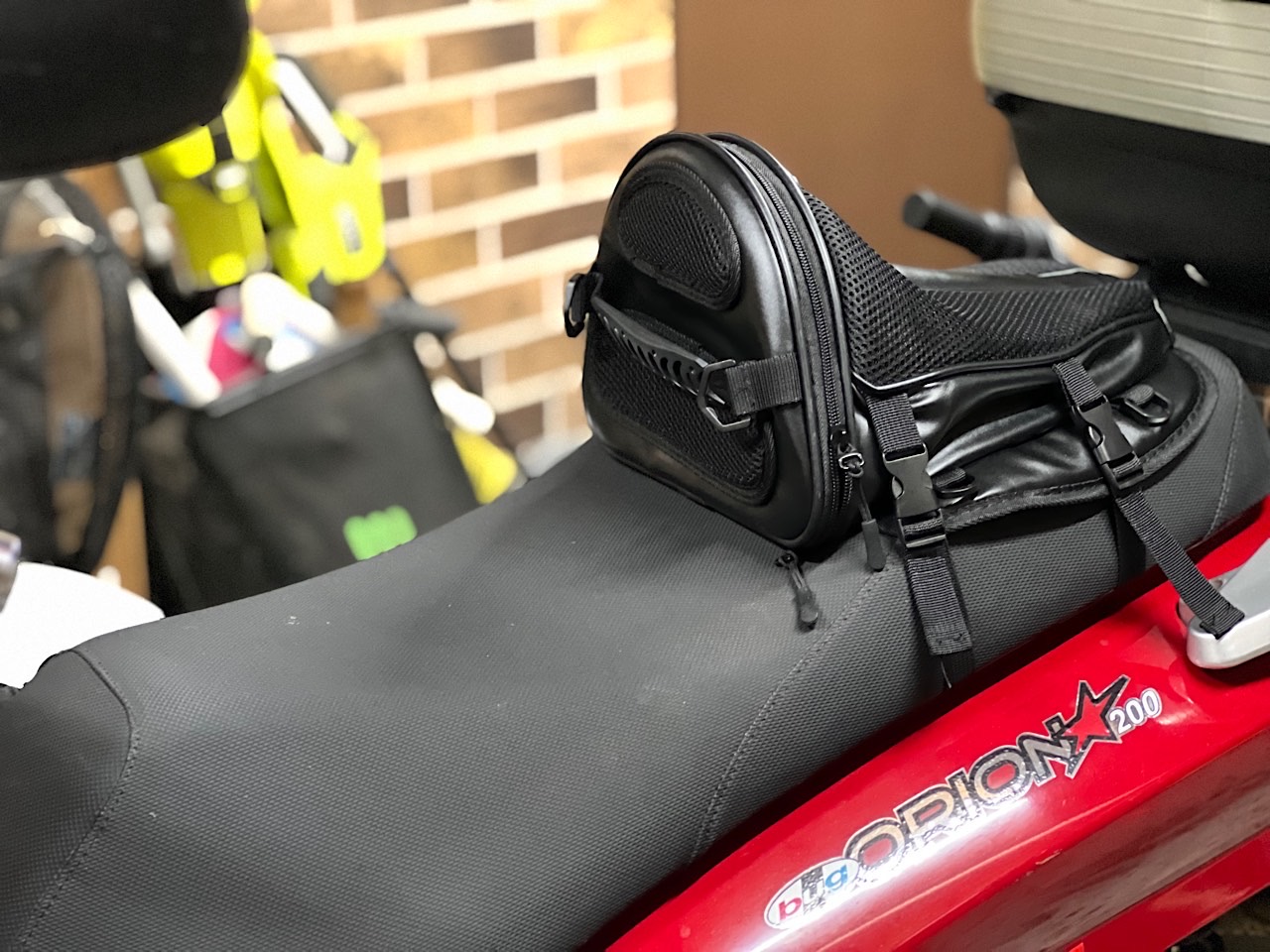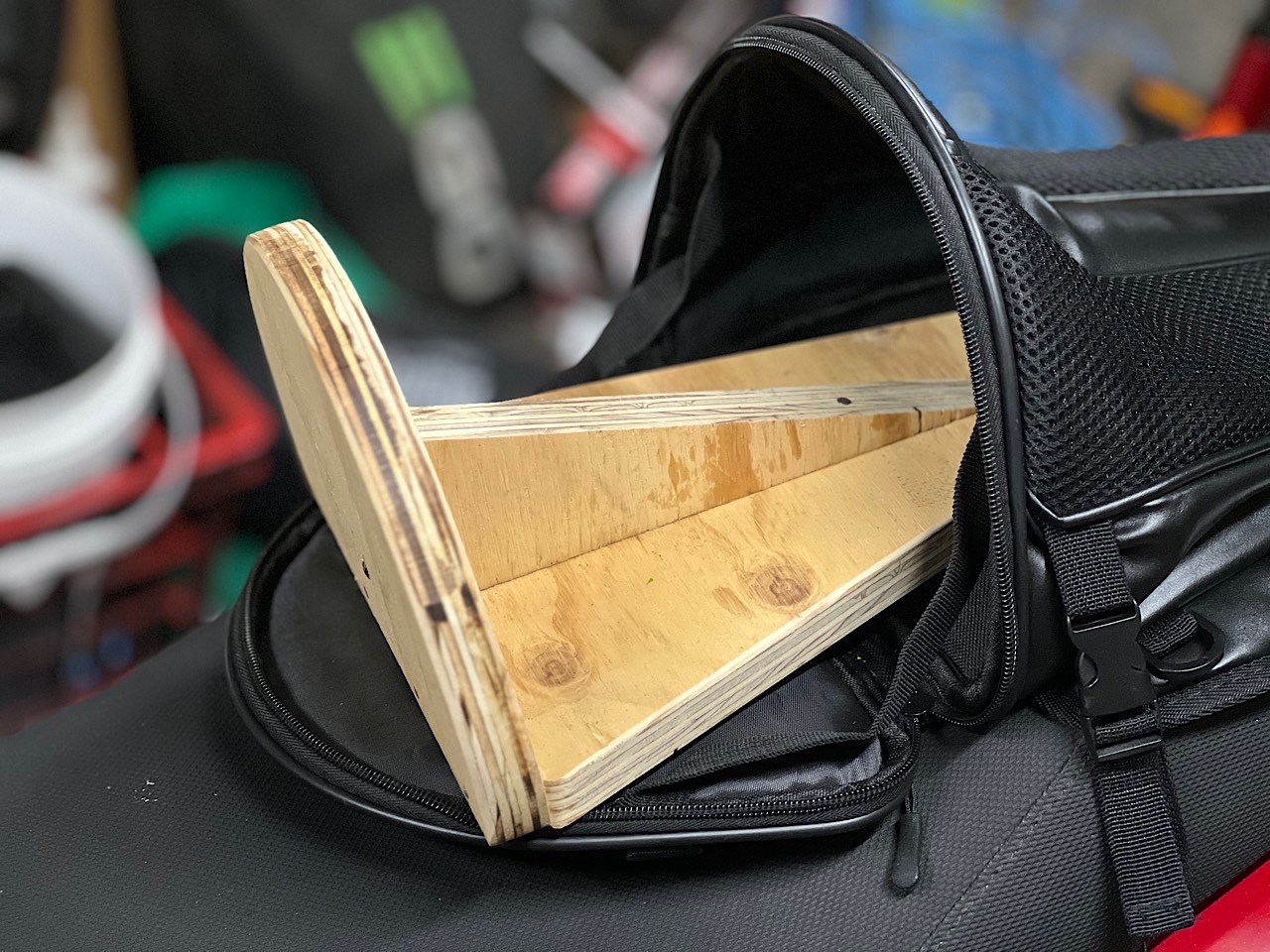 Results
So far so good, everything combined made my rides now much more comfortable than before. The work on the suspensions made a big difference in the ride quality. I'm really glad I did all this work.