Marketing Hive
The purpose of this post is to suggest both an advertising campaign schedule along with a marketing campaign strategy that can have an effective international outreach within a reasonable budget. Many noticed that the team at FullALT proposed an advertising schedule, with up to date pricing along with a price list from the relevant sources.
It looks like this: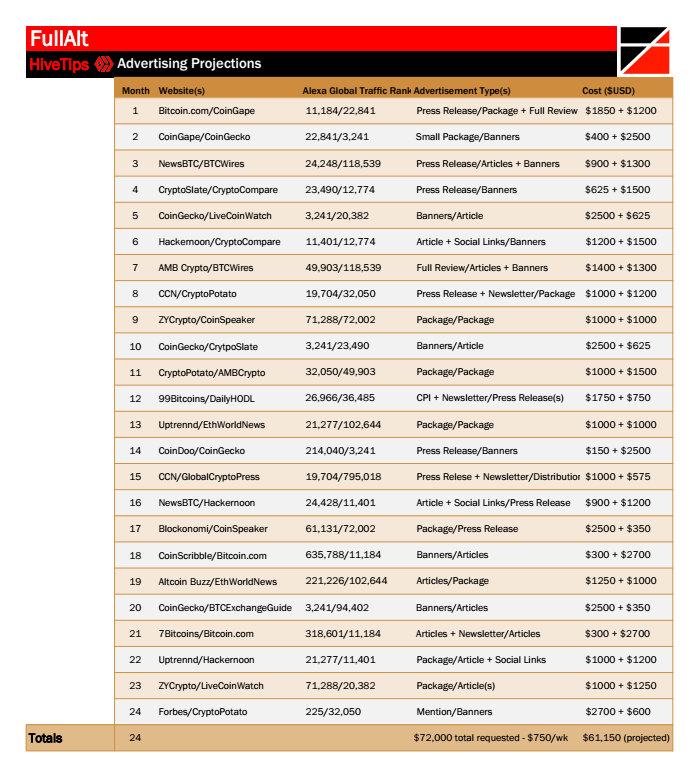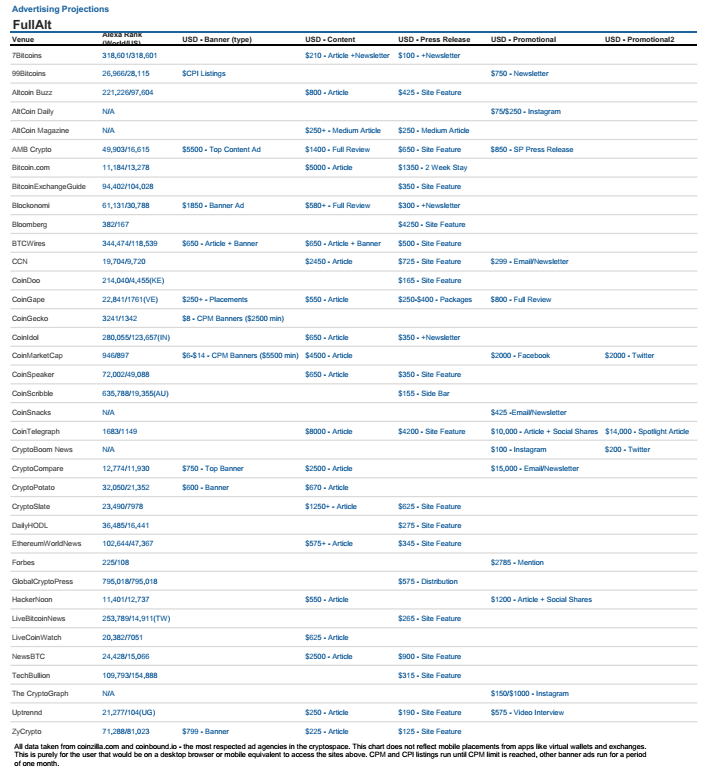 As you can see, it is clearly targeting the crypto and blockchain sector of the internet. Likewise, when you do your price analysis of the above 24-month ad schedule, which results in a two-year monthly ad campaign, you will notice that the figure is actually at the low end in comparison to what most successful ad campaigns really cost.
However, don't let this discourage you; there are no cutting corners in the overall outreach. FullALT worked tirelessly to put this advertising campaign together. Its goal is to have an effective worldwide digital footprint that people can easily follow to Hive.
All the rankings and stats of every site were checked, compared, and taken carefully into consideration during the process. When auditing the list, hours of researching where and how many backlinks are associated with each site from forums to other sites that included linking the articles in their pieces.
---
It is a far cry from the biggest and most effective ad campaign that can be put together, but then again, the goal also included financial rationality. The selection process compared overall outreach, target markets by hits geographically, and the most cost-effectiveness.
We highly recommend that the people who shall be handling the marketing campaigns for Hive take a close look into the above advertising schedule and do their due diligence. The hard part is doing the most within a reasonable budget.
There were many emails sent to and from in the process. Likewise, once funds are allocated, there is a probability that further negotiations can be held, especially for advance payments on ad space.
---
Graphics & Design work.
Free to use materials on the net is limited and used everywhere by everyone who tries to avoid the costs for professional graphics and music. Free to use materials are out of the question in any serious campaign. Originality is a prized possession in this arena.
Most sites use contractors, and those contractors often use sub contractors for the design work needed. The customer pays the price for all of this at the end of the day. They all use the paid-for materials available on the market.
Unfortunately, this presents a potential issue, as the licenses are issued to individual entities and sometimes even limited to one PC. This means that the team in charge of the marketing could face some logistic issues when it comes to this. The other option is to pay the astronomical costs for the agencies hired by the sites to do it, and that then kills any need for rational spending.
---
Here is a list of sources that are recommended by @Inthenow, a person with some 20 years of professional more so than freelancing experience in the field (before retiring):
Marketing Materials & Stock Footage:
Videvo: $240.00 per year x 3 years = $720.00
https://www.videvo.net/premium-plans/
Storyblocks: $350.00 per year x 3 years = $1050.00
https://www.storyblocks.com/pricing?site=storyblocks
iStock: $1440.00 per year x 3 years = $4320.00
https://www.istockphoto.com/plans-and-pricing
Additional Footage Costs (credits) = $300.00 x 3 years = $900.00
https://stock.adobe.com/plans
Total: $7000.00 for 3 years
These sources guarantee the right to utilize all materials offered. We won't have to worry about any accusations from anyone about the legality. Marketing is too important to be taken lightly and people often forget the time and effort that goes into the visual aspect of it.
---
As for Hive's marketing campaigns, this is TBD by those who shall be doing that part of the job.
Ref: https://gitlab.syncad.com/hive/marketing
@guiltyparties has recently released a post asking for suggestions on how to approach a marketing effort:
link: https://hive.blog/hive-102930/@guiltyparties/marketing-hive
Marketing is, by no means, an easy task for any team out there, as Hive has so much to cover already. Hive's sheer nature, with its social aspects, its humanly readable data capabilities, its DPoS economy, its fast and feeless transactions, its soft contract capabilities, and its - the list just goes on.
Let's not forget all the front ends and other services already utilizing Hive. Then add to that our native currencies, HIVE and HBD, with an emphasis on HBD when talking real market needs, because let's face it, The USD is the world's most used currency on the internet and in actual-world business transactions.
The marketing campaign shall need a lot of work, similar to all the work not seen in putting together a cost effective 24 monthly ad campaign takes. Even more so, as our target markets for Hive, HIVE, HBD, and all the current portals and services utilizing Hive are so diverse that it is practically impossible to professionally and effectively cover everything in one campaign.
We sincerely hope that all the above time, effort, and real work are utilized, which can help save the future marketing team for Hive many headaches in getting the same job done. Put it to fair use, we can all work together to make Hive a household name this year.