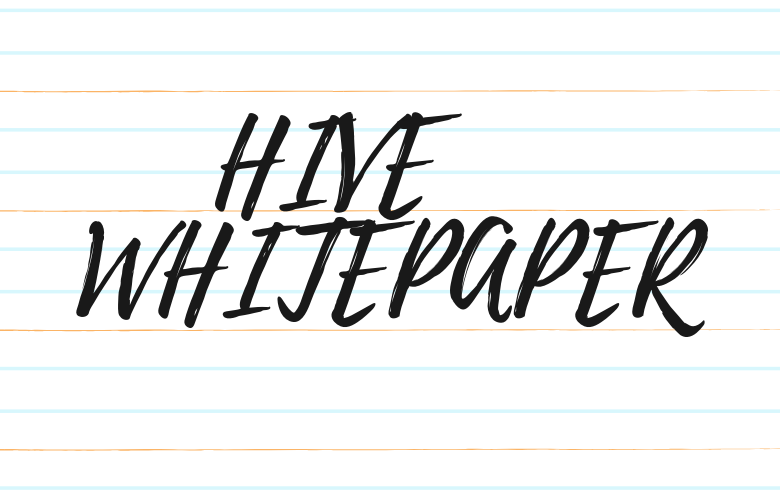 The draft of the Hive Whitepaper is ready for community feedback.
Read
See the LaTeX code here:
https://gitlab.syncad.com/hive/hive-whitepaper
You can see the compiled draft in Overleaf at the following link:
https://www.overleaf.com/read/crsmprsmtmxj
Both versions of the whitepaper draft will be updated as changes are made.
Provide Feedback
Every section of the whitepaper has a section and subsection number assigned to it.
Write down the section and subsection number your feedback relates to.
Write down your feedback the best you can in comments.
Alternatively, follow the instructions in the Gitlab repository.
Please take the time to read the draft in its entirety before providing feedback.
Process
I will process your feedback after 7 days to allow feedback to build up in comments and in Issues. The reason you can't edit the draft yourself is because we'll end up with a lot of wasted effort, a giant mess of confusing statements and general disarray if multiple people are editing over each other.
Comments
Please refrain from posting off-topic comments and if you want to post off-topic, keep them all in one chain. All comments will ideally be feedback related.
Omissions
The Hive Roadmap, the Hive Technical Vision, and other similar "future development" type of topics are not part of the Whitepaper and are not intended for it.
Anything to do with abuse through posting, voting or on-chain interaction within the appropriate limits of the chain is not part of the Whitepaper.
Both of the above will have their own documentation that will be presented in the future for general input.
Sections
I. Introduction
II. Hive Assets
III. Block Production, Signing and Consensus
IV. Development and Integration with Hive
V. Ecosystem Growth and Distribution
VI. Conclusion
Abstract
Unwritten at this point. Please ignore that section.
Semantics
We are just 'Hive' or 'the Hive ecosystem'. The blockchain itself is called 'the Hive blockchain'. The currency is called 'HIVE'. We are not called 'Hive Blockchain', 'HIVE Blockchain', or anything of the sort. Please keep this in mind when proposing quotes or paragraphs.
Formulation
The whitepaper was written largely from scratch. Originally, it was started by examining if the Steem whitepaper can be reused to some extent. The answer to that is no, it cannot. It is completely useless and irrelevant to Hive. You can read my thoughts on the Steem whitepaper here if you're interested: https://guiltyparties.com/thoughts-on-the-steem-whitepaper/ but this is as far as it shall be mentioned.
Credits
We will do a round of credits in the repository after completion.
Translations
Provisions in either the Gitlab repository or in another Github repository will be put in place for translations after completion.
Update: 28 Sept 2020
https://gitlab.syncad.com/hive/hive-whitepaper/-/tree/master/whitepaper
The whitepaper is out and awaiting public release.