Hola, Hivers!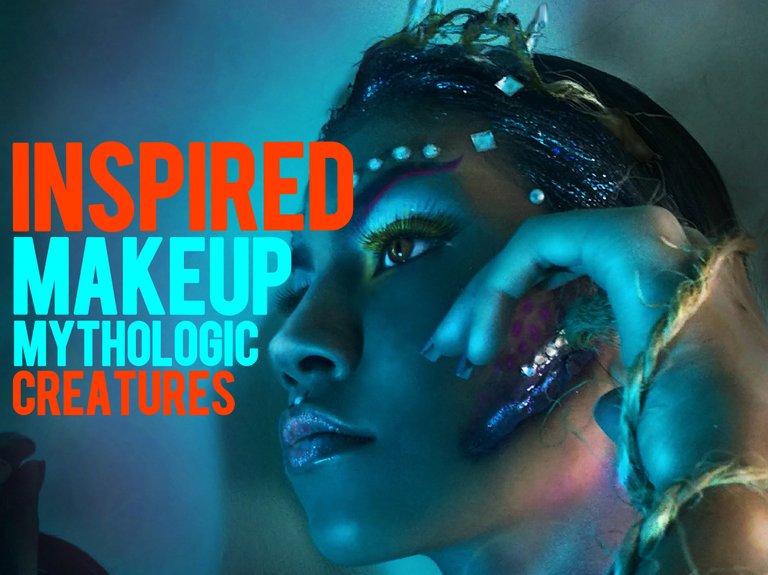 Yo soy un gran fanático de las criaturas mitológicas. Y por supuesto que fue muy complicado para mi decidirme por cuál criatura hacer. Entre las deliberaciones me lié mucho, y decidí empezar por escoger la modelo, y que sabiendo a quién maquillaría, después sabría qué criatura me dictaba su aspecto. Tomé mi decisión basada en la modelo especial de esta semana: Mi prima Arianna. Ella ama las sirenas, y sabiendo esto, vi que DE HECHO, ELLA PARECE UNA SIRENA, y quise aprovechar todos esos atributos: Tiene un rostro increíblemente dulce, y tiene una melena larguísima, digna de cualquier sirena.
I am a huge fan of mythological creatures. And of course it was very difficult for me to decide which creature to make. Between the deliberations I got a little stressed, and I decided to start by choosing the model, and knowing who I would make up, later I would know what creature would dictate her appearance. I made my decision based on this week's special model: My cousin Arianna. She loves mermaids, and knowing this, I saw that IN FACT, SHE LOOKS LIKE A MERMAID, and I wanted to take advantage of all those attributes: She has an incredibly sweet face, and she has a very long hair, worthy of any mermaid!
---
Lo primero que hice fue crear una corona con cosas que tenía en casa, porque obviamente #StayHome ;) ¡Jajaja! Pensé que podría crear una
corona usando silicon caliente
(mi nueva mejor aliada), un cintillo que no se usaba.
The first thing I did was create a wreath with things I had at home, because obviously #StayHome;) Hahaha! I thought I could create a
crown using hot silicone
(my new best friend), a headband that was not used.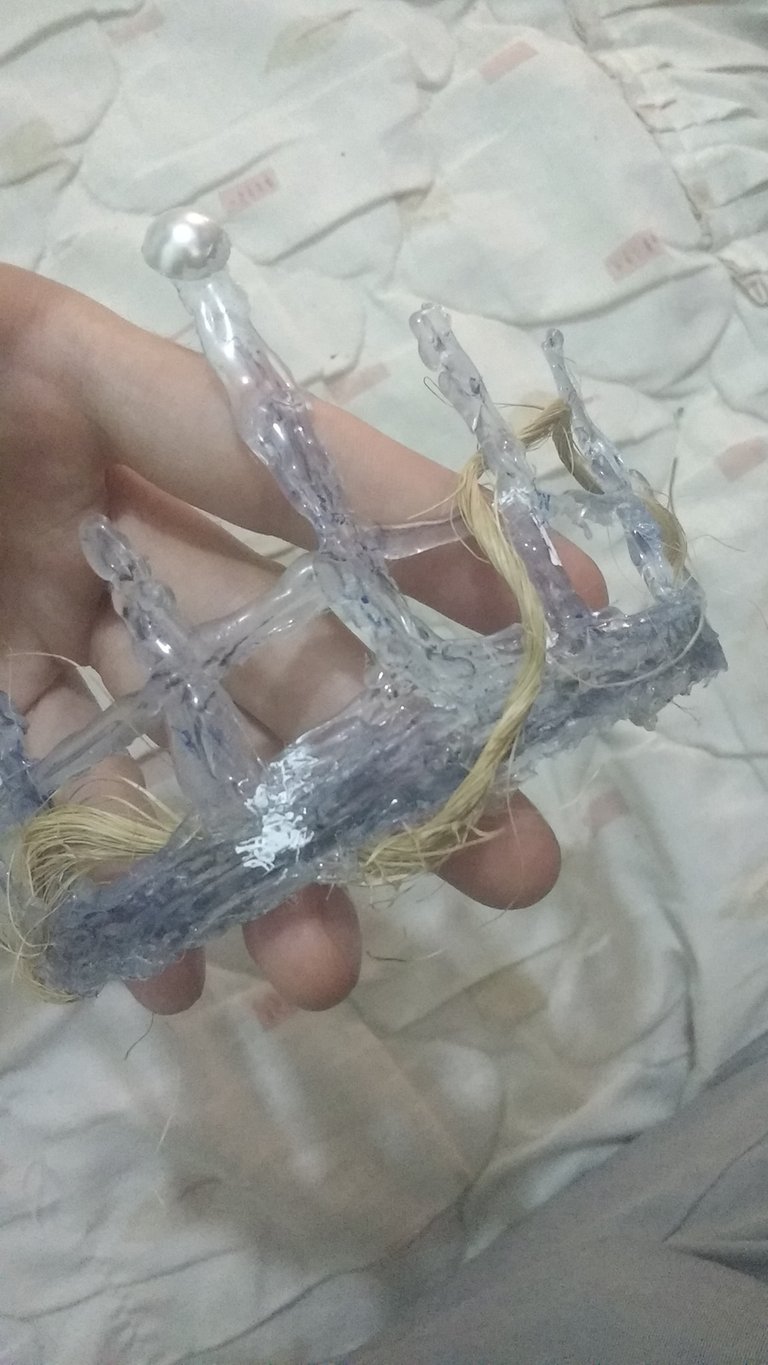 Luego le puse mecate, pinturas varias y algunas piedritas que tenía por allí en el olvido.
Then I added a rope, various paints and some shiny rocks that I had forgotten there.
---
¡Ok, ahora vamos con su cara!
Now, lets go with her face!
Lo primero que hice antes de comenzar a maquillar la piel, como siempre fue hidratar la cara con primer. Esta vez decidí empezar a hacer el maquillaje desde los ojos. Para ello, con un tono azul cielo comencé a colorear la cuenca del ojo, difuminando bien las orillas. Luego con una sombra azul claro satinada le di unos toques brillantes al centro de la cuenca, agregando por último en el párpado unas cejas que previamente había pintado de dorado. Posterior a esto, procedí con pegamento de barrita a cubrir la parte final de la ceja, después para terminar de ocultarla, coloqué base y polvo suelto.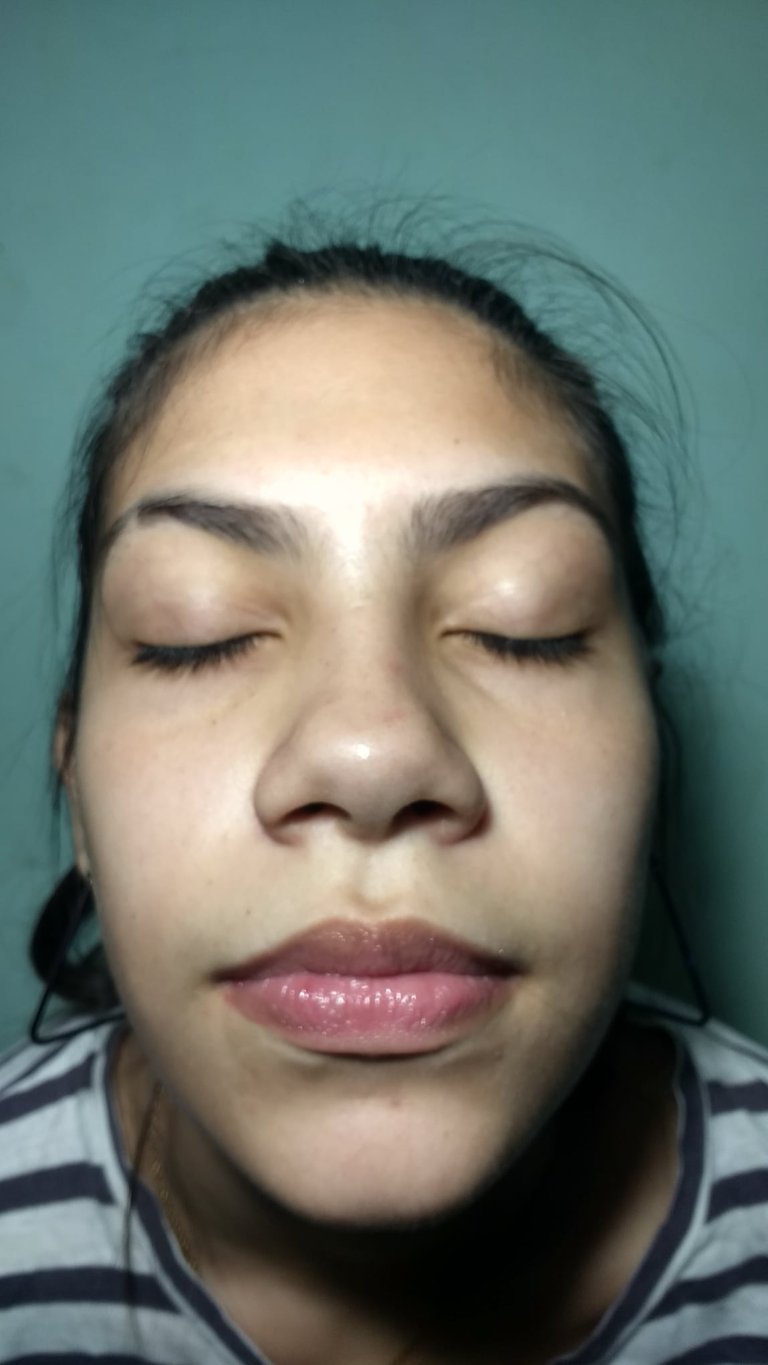 The first thing I did before starting to make up the skin, as always was to hydrate the face with primer. This time I decided to start with the eyes. To do this, with a sky blue tone I began to color the eye socket, blurring the edges well. Then with a satin light blue shadow I gave some bright touches to the center of the basin, finally adding some eyebrows that I had previously painted in gold on the eyelid. After this, I proceeded with stick glue to cover the final part of the eyebrow, then to finish hiding it, I placed foundation and loose powder.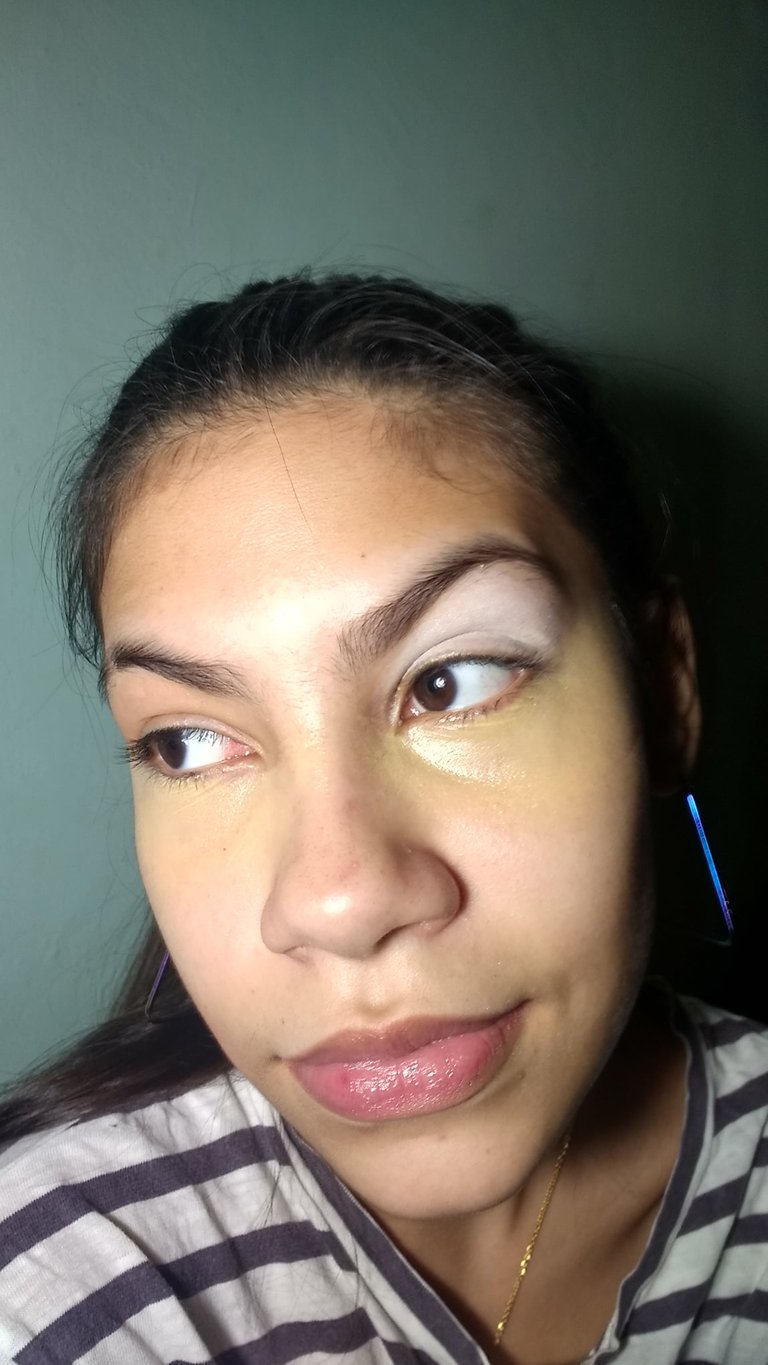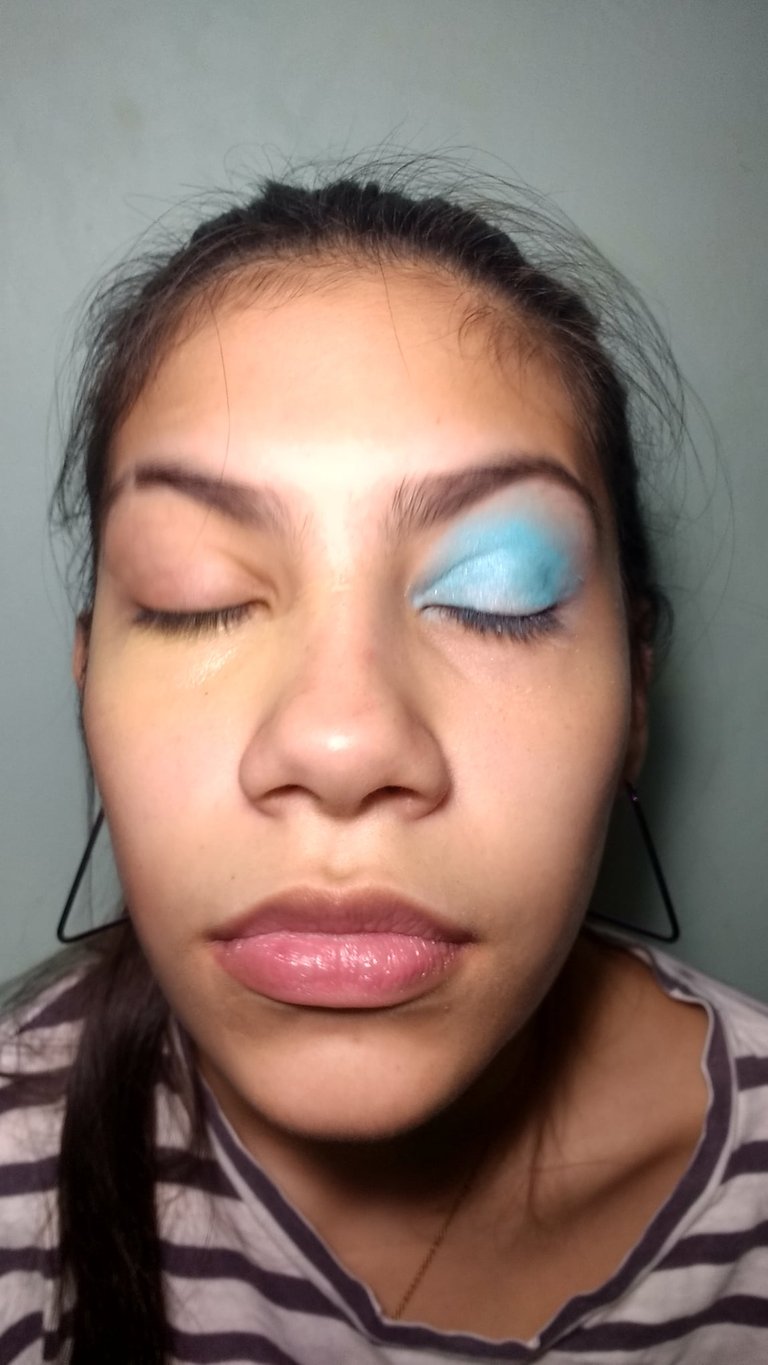 ---
Una vez terminado esto, comencé a hacer la ceja, pero esta vez dibujándola hacia arriba, con un tono púrpura oscuro, dando alusión a un
tentáculo de pulpo
. Luego de ello, procedí a realizar la piel, utilizando un concealer para tapar las ojeras y algunas imperfecciones. Agregué también en la punta de la nariz, luego procedí a contornearla.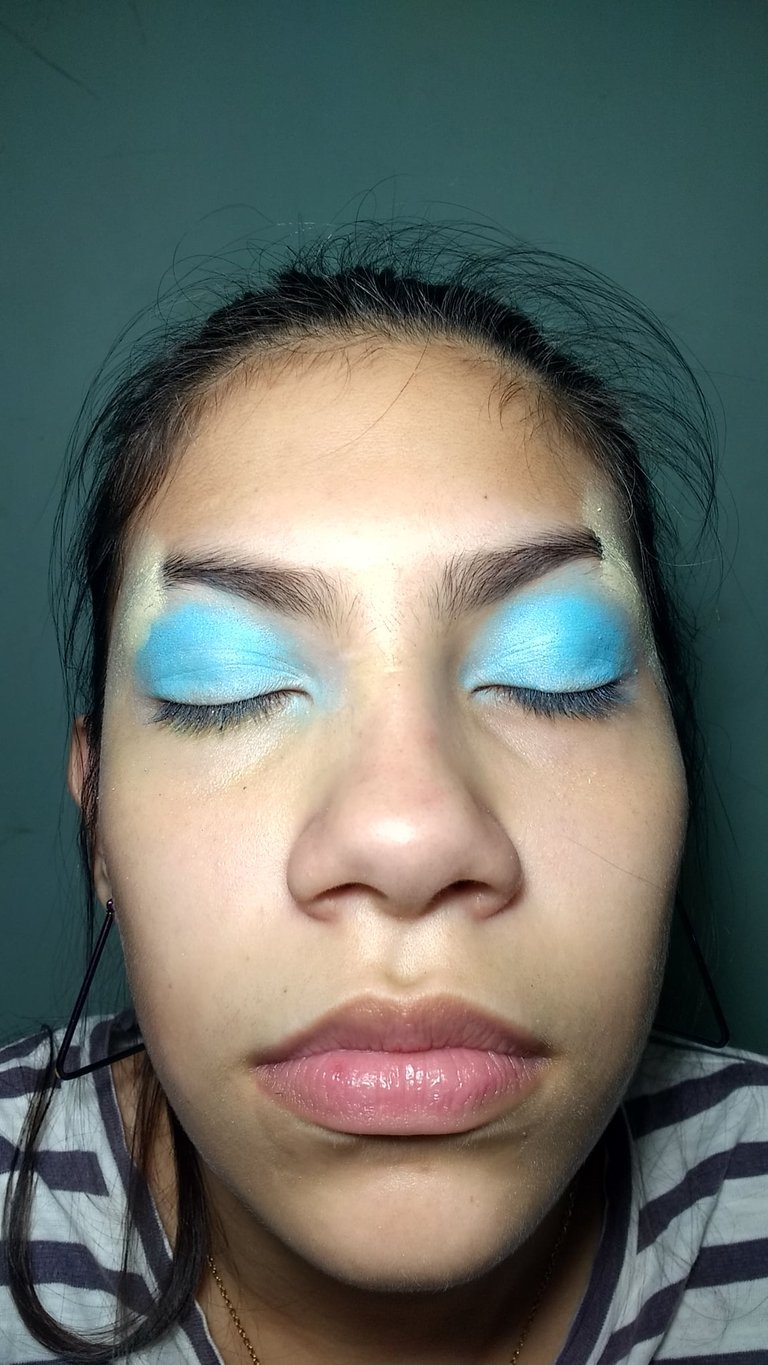 Once this was done, I started to make the eyebrow, but this time drawing it upwards, with a dark purple hue, hinting at an
octopus tentacle
. After that, I proceeded to make the skin, using a concealer to cover the dark circles and some imperfections. I also added on the tip of the nose, then proceeded to contour it.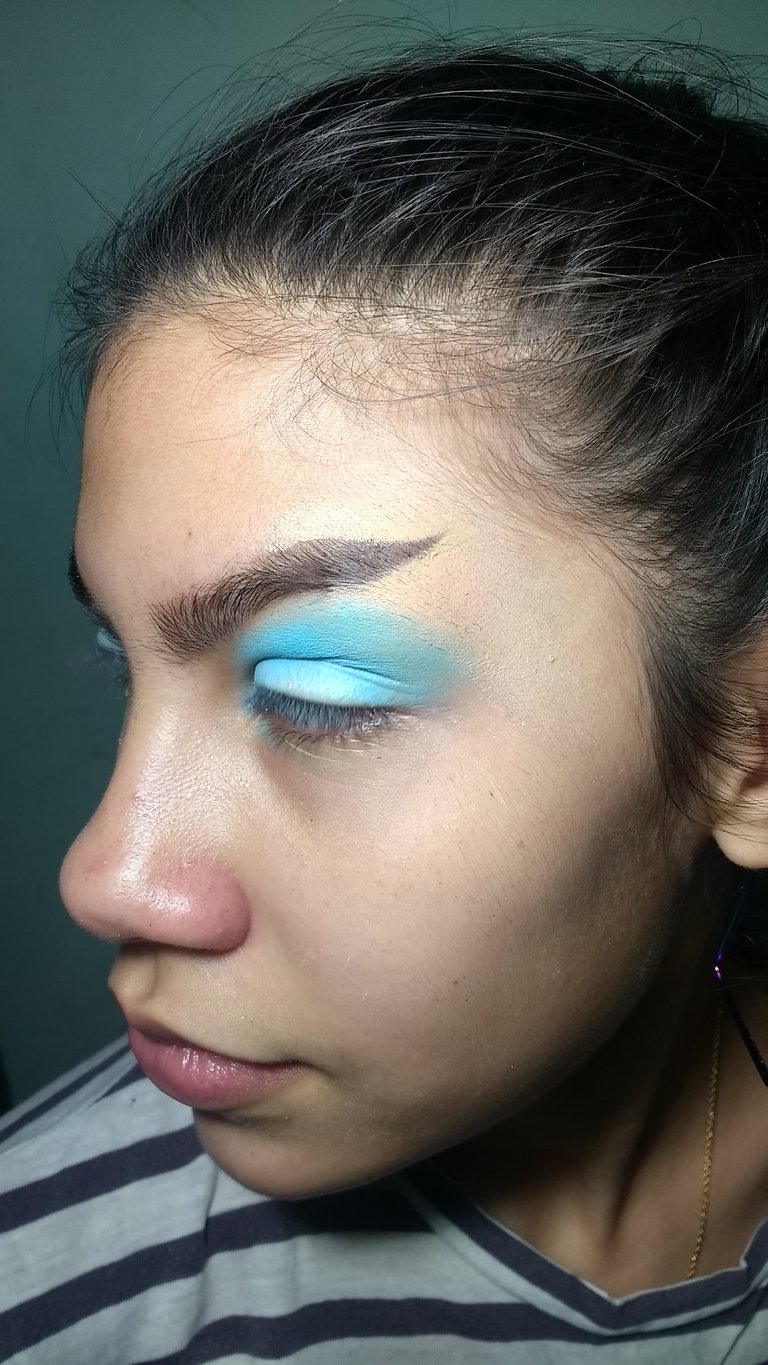 Para comenzar a darle un aspecto de sirena, con un trozo de cinta adhesiva realicé unas pequeñas branqueas, que luego con pega de pestañas adherí a su piel. A continuación con base cubrí estas branqueas, y las sellé con polvo compacto para asemejarlo al tono de su piel. Las texturicé utilizando una malla y sombra púrpura oscura un poco más clara que la que utilicé en las cejas. Después en estas branqueas coloqué un poco de esmalte plateado. Utilicé algunas perlas y diamantes creadas con silicón que había hecho previamente, bordeando la parte superior de las cejas, y otra en el hueco que hay sobre el labio superior; para dar unos últimos toques coloqué iluminador para acentuar el brillo de la piel y terminé de definir la nariz con sombras oscuras y claras.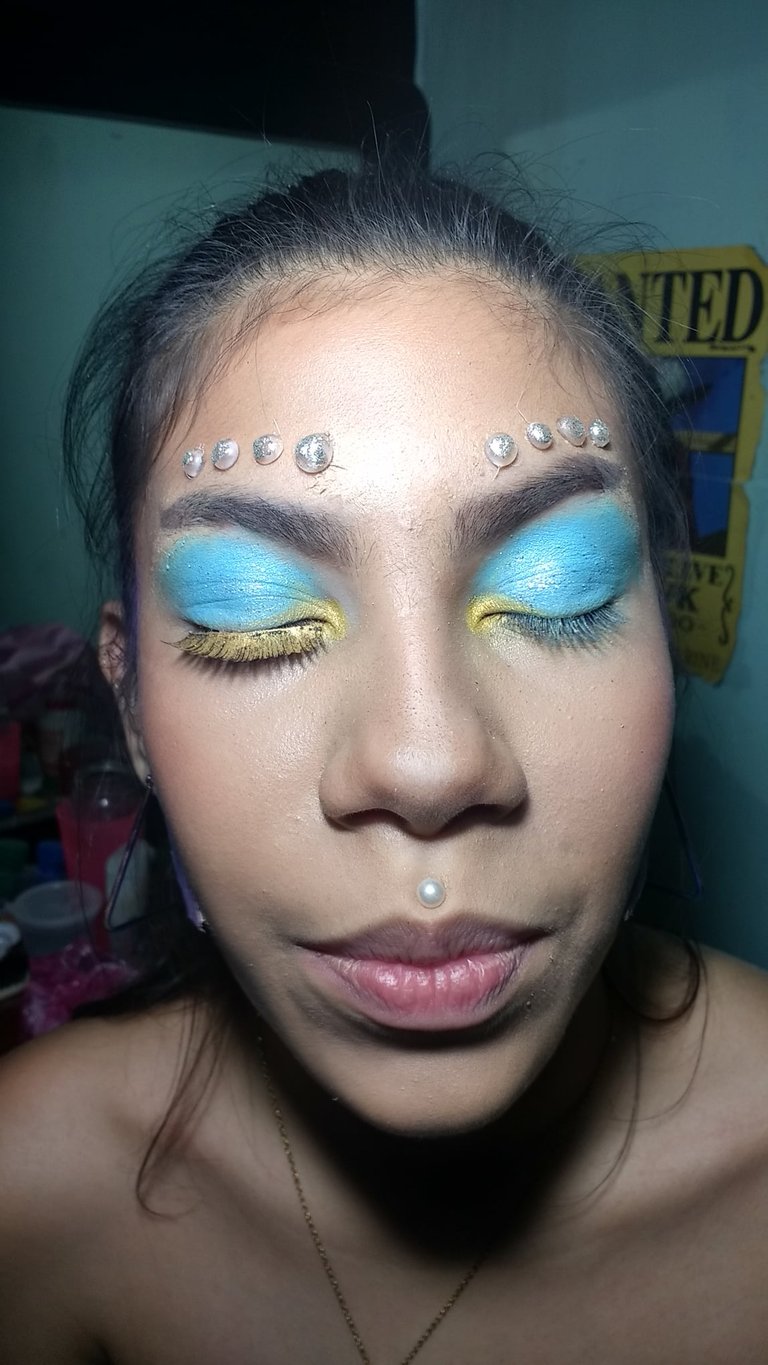 En el cabello, utilicé un poco de cera para cabello combinada con escarcha para dar un efecto mojado y brillante, peinándolo hacia atrás, y luego recogiendo el cabello en una cola combinada con extensiones y trenzada con un mecate. Agregué una corona, y como últimos toques coloqué algunos apliques sobre el cabello, el resto de la cara y las branqueas. Como último paso, coloqué un gloss sobre los labios y un poco de labial nude.
To start giving her a mermaid look, with a piece of duct tape I made some small gills, which I then adhered to her skin with eyelash glue. Then with a base I covered these gills, and sealed them with compact powder to resemble their skin tone. I textured them using a dark purple mesh and shadow a bit lighter than the one I used on the brows. Later on these gills I put a little silver enamel. I used some pearls and diamonds created with silicone that I had previously made, bordering the upper part of the eyebrows, and another in the hollow that is on the upper lip; To give some final touches, I applied an illuminator to accentuate the glow of the skin and I finished defining the nose with dark and light shadows.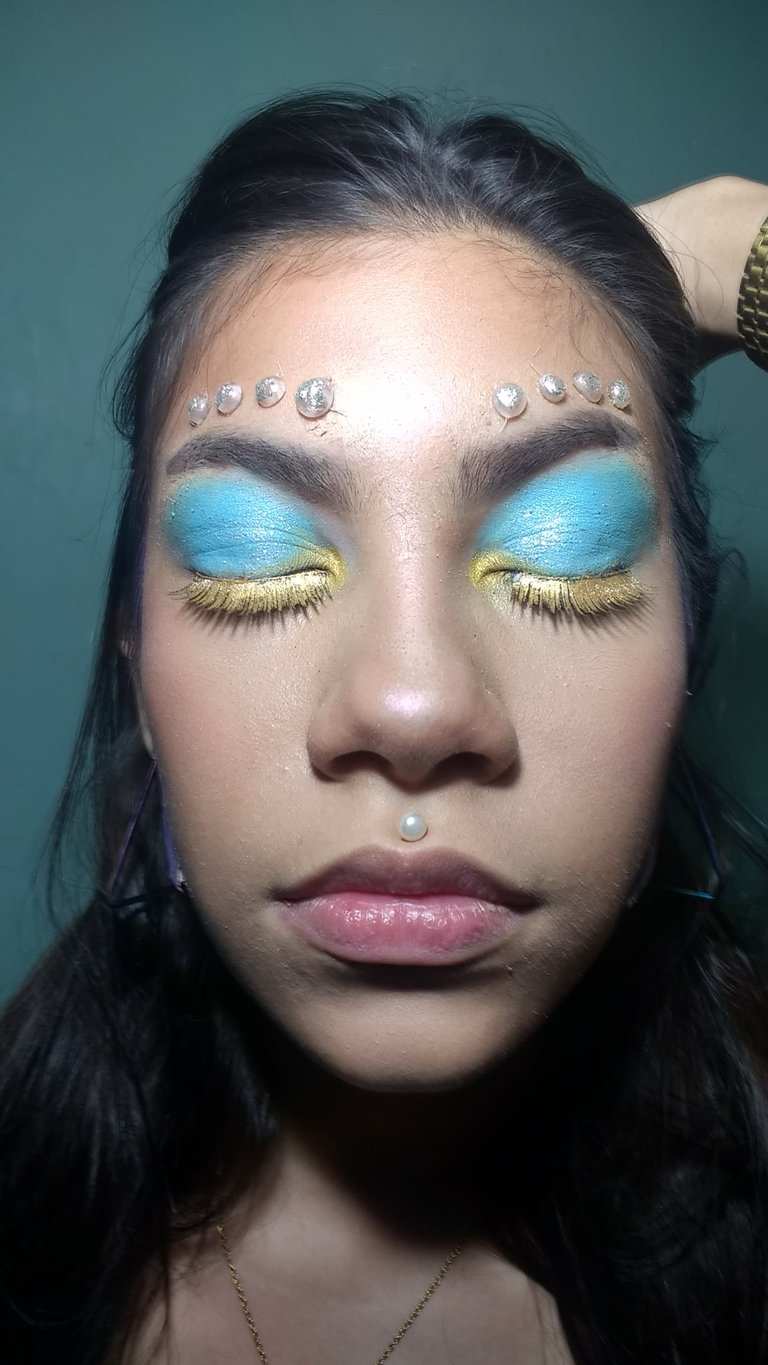 On the hair, I used some hair wax combined with glitter to give a wet and shiny effect, combing it back, and then gathering the hair in a ponytail combined with extensions and braided with a rope. I added a crown, and as final touches I placed some appliques on the hair, the rest of the face and the gills. As a last step, I put a gloss on the lips and some nude lipstick.
---
nc_ohc=W1wakl6TxmIAX9-zsj&_nc_oc=AQmpW9Xt4Yn0xuAzX5gIGumBw-I_XgVzysd9PyWplTuq9Tm9L3MVfUS19vwjq5PpYk8&_nc_ht=scontent-mia3-1.xx&oh=2a7fd014c2040c32a17ec0641bd844d3&oe=5F902FC1
And... Voilá!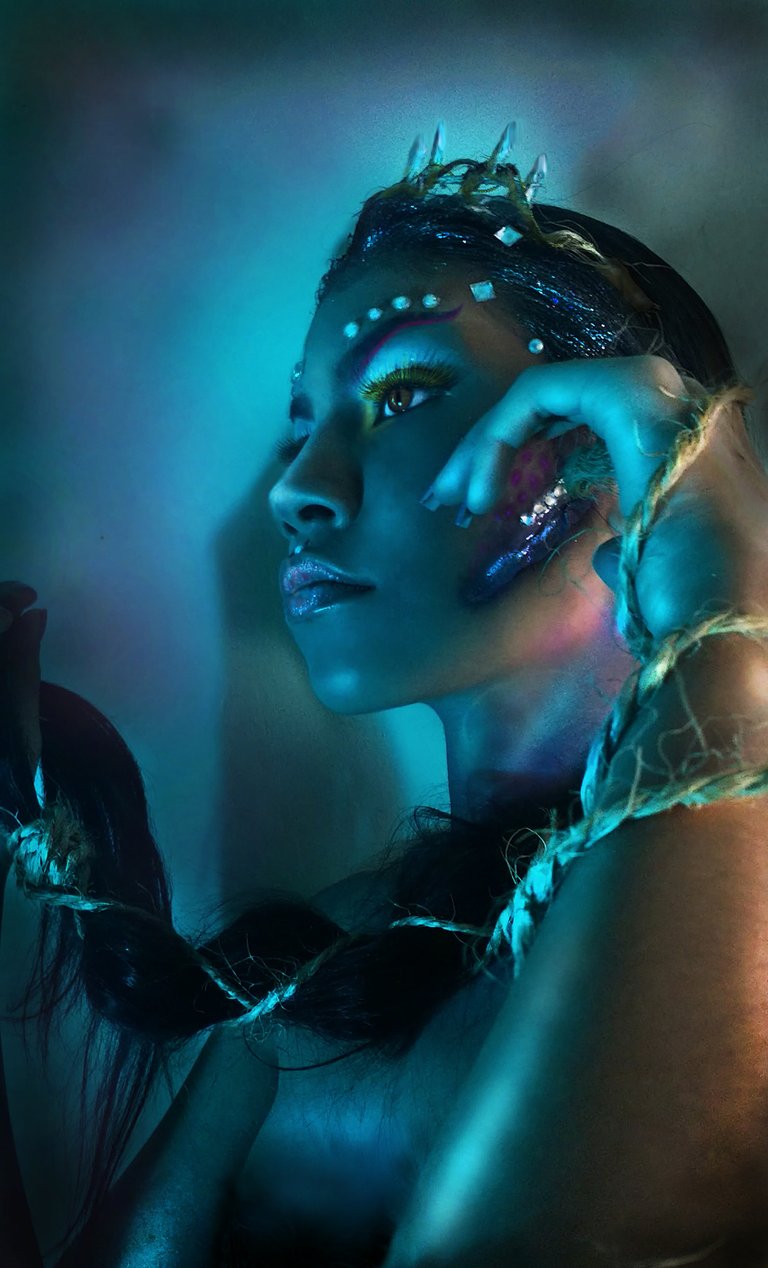 ¡Espero que les haya gustado tanto como nos gustó a mi prima y a mi hacer esto!
I hope you liked this as much as my counsin and me loved doing this!