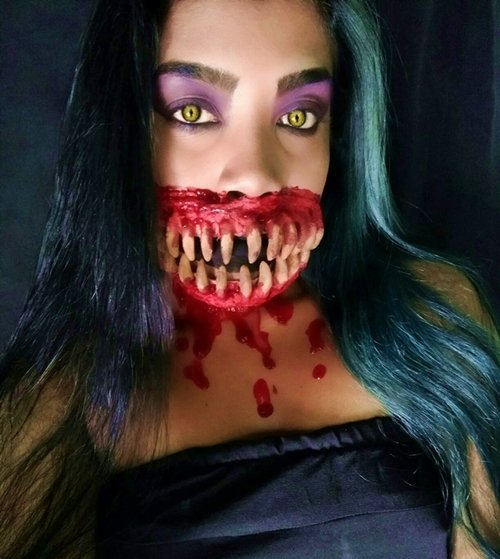 ---
Terrorífico viernes queridos hivers, un nuevo maquillaje con temática oscura se une a mi blog, la inspiración de este personaje, Mileena quien es una asesina despiadada en el juego mortal kombat, crear esta caracterización fue un arduo trabajo, admiro inmensamente a aquellos artistas que hacen que maquillarse parezca sencillo, aunque no usé materiales profesionales siento que el resultado es aceptable, pero mi meta es subir la apuesta en cada nuevo maquillaje, de modo que mis habilidades mejoren gradualmente.
Terrifying Friday dear hivers, a new dark themed makeup joins my blog, the inspiration for this character, Mileena who is a ruthless killer in the game mortal kombat, creating this characterization was hard work, I admire immensely those artists who make makeup look easy, although I didn't use professional materials I feel the result is acceptable, but my goal is to up the ante on each new makeup, so that my skills gradually improve.
---
Si desean saber como creé el efecto especial de los dientes, a continuación les dejaré el link de la publicación que hice explicando mi experiencia al respecto.
If you want to know how I created the special teeth effect, here is the link to the post I made explaining my experience with it.
---

Mileena.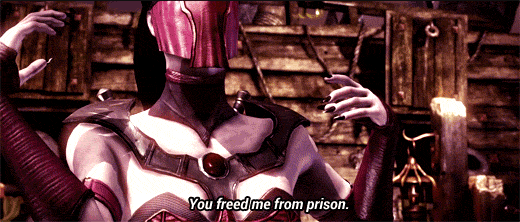 Search
Es una asesina en el juego mortal kombat (videojuego de lucha) que domina la tele-transportación y lleva un par de sais (armas de origen asiático) como armas, poseen la fuerza para atravesar los huesos con sus dientes, y no le molesta en lo más mínimo comerse a su oponente si es necesario.
She is an assassin in the game mortal kombat (fighting video game) who masters teleportation and carries a pair of sais (weapons of Asian origin) as weapons, possesses the strength to pierce bones with her teeth, and does not mind in the least to eat her opponent if necessary.

Paso a paso: || Step by step:

▪️Inicié lavando mi rostro y aplicando una crema hidratante, además apliqué primer de maquillaje.
▪️I started by washing my face and applying a moisturizer, then I applied makeup primer.
---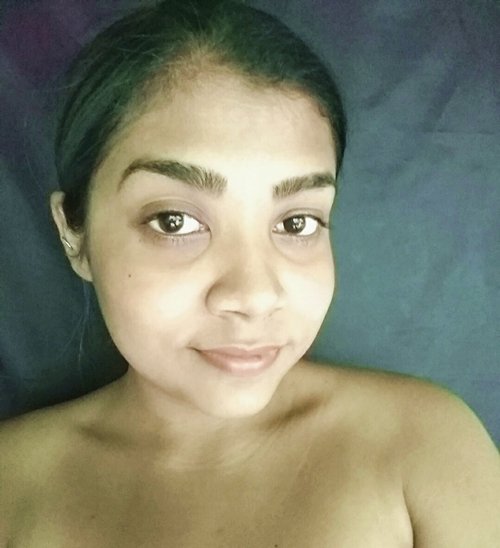 ---
▪️Hice mis cejas como de costumbre, rellenando usando sombra para cejas, me gusta aplicar un tono café oscuro desde el centro hasta el final, al inicio de la ceja solo doy ligeros toques con la brocha, luego apliqué corrector en ambos parpados.
▪️I did my brows as usual, filling in using eyebrow shadow, I like to apply a dark brown shade from the center to the end, at the beginning of the brow I just dab lightly with the brush, then I applied concealer on both eyelids.
---
---
▪️El maquillaje de ojos simplemente fue aplicar sombra morada concentrando en la parte superior del parpado, en la parte inferior apliqué sombra negra y difuminé con la morada, seguí con el maquillaje del rostro (base, contorno y sellado con polvo), para luego terminar los ojos y pintar en negro usando un delineador líquido toda el área donde iría situada la dentadura.
▪️The eye makeup was simply to apply purple shadow concentrating on the upper part of the eyelid, on the lower part I applied black shadow and blended with the purple, followed with the face makeup (base, contour and sealing with powder), then finish the eyes and paint in black using a liquid eyeliner all the area where the teeth would be located.
---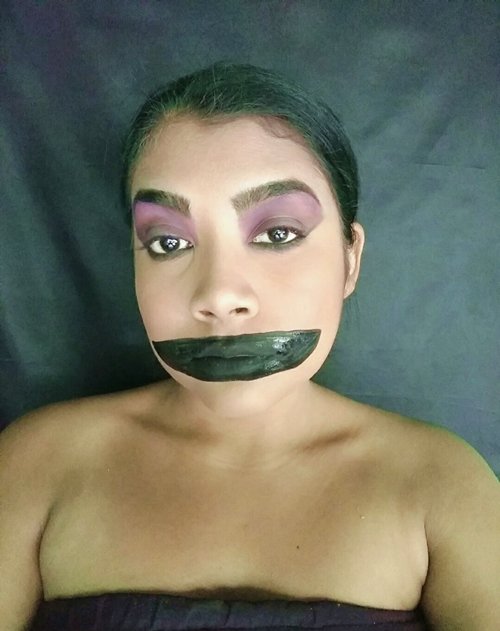 ---
▪️Usando pegamento escolar blanco (no toxico) pegué la dentadura asegurando que cada diente encajara.
▪️Using white school glue (non-toxic) I glued the denture making sure that each tooth fit.
---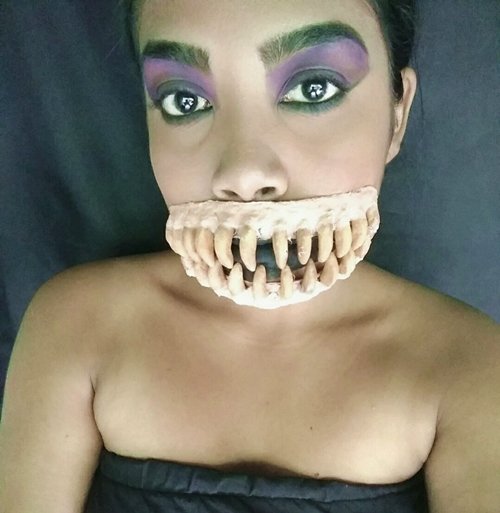 ---
▪️Con ayuda de látex casero pegué en todo el contorno de la dentadura un poco de algodón y apliqué una capa de látex.
▪️With the help of homemade latex I glued some absorbent cotton all around the denture and applied a layer of latex.
---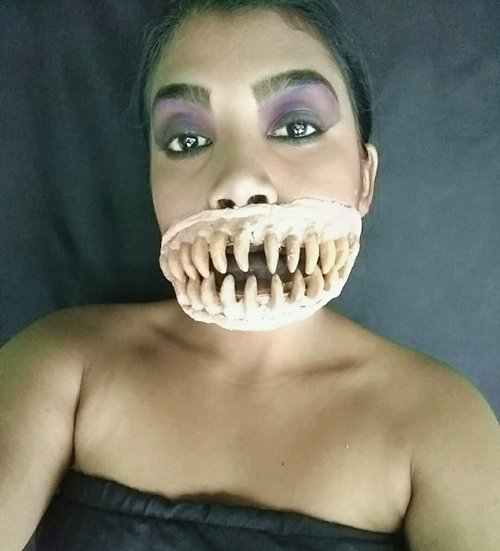 ---
▪️Al secar pinté en rojo las encías usando un labial cremoso en tono rojo, también di toque de negro usando sombra.
▪️After drying I painted the gums in red using a creamy red lipstick, I also added a touch of black using shadow.
---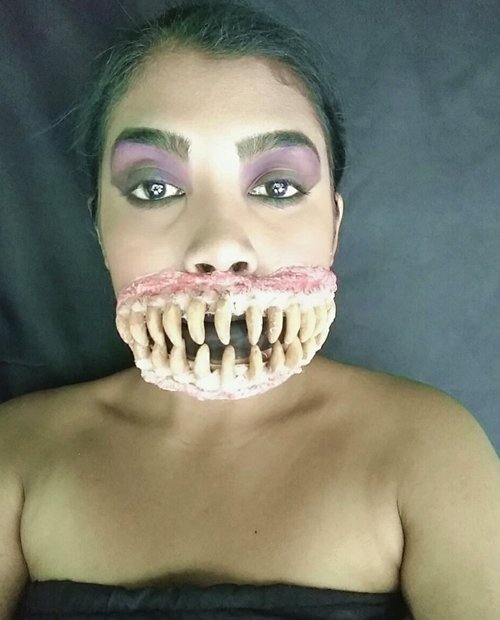 ---
▪️Apliqué sangre falsa en las encías.
▪️I applied fake blood to the gums.
---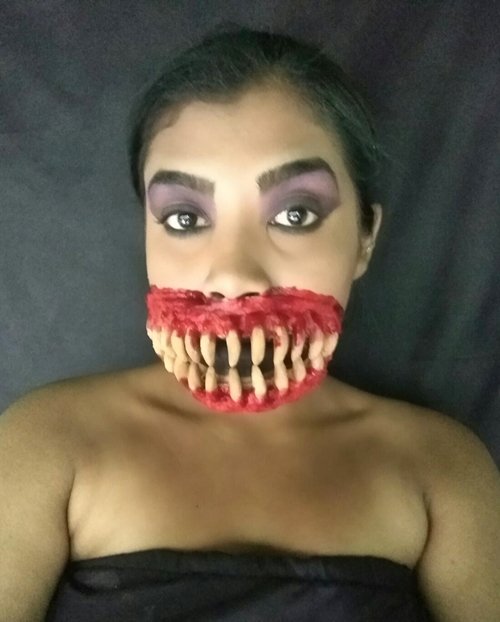 ---
▪️Finalicé aplicando sombra negra en todos los dientes, además usé una sangre más líquida para esparcirla por el cuello.
▪️I finished by applying black shadow on all the teeth, plus I used a more liquid blood to spread it on the neck.
---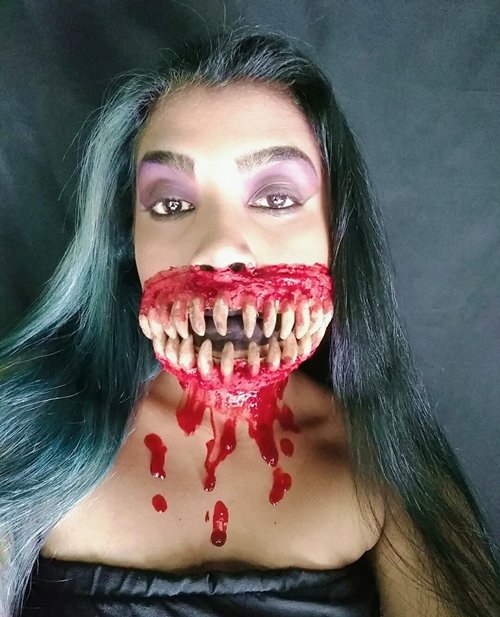 Mortal Kombat (Mileena).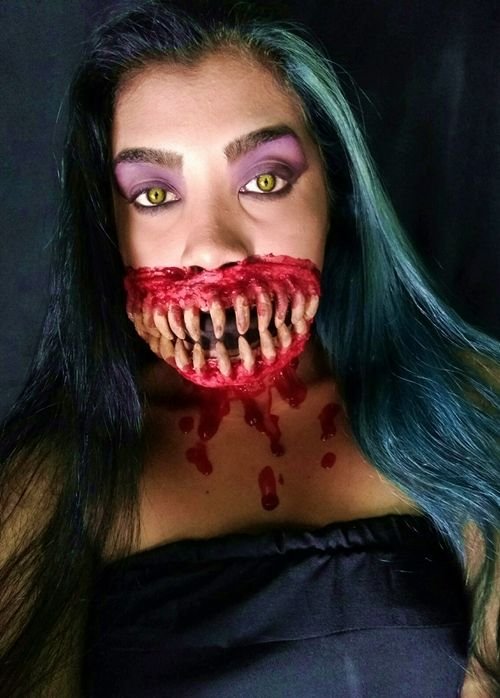 ---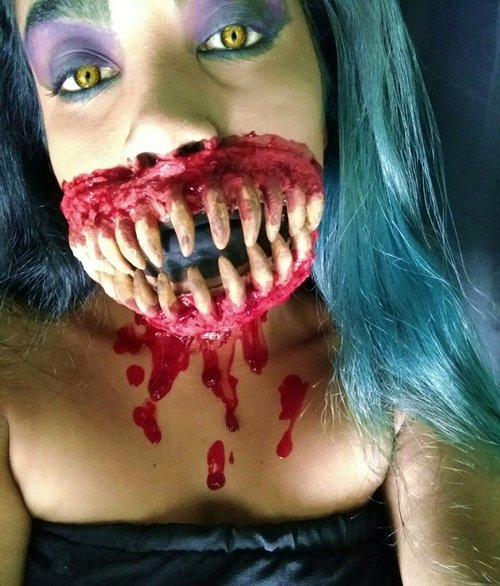 ---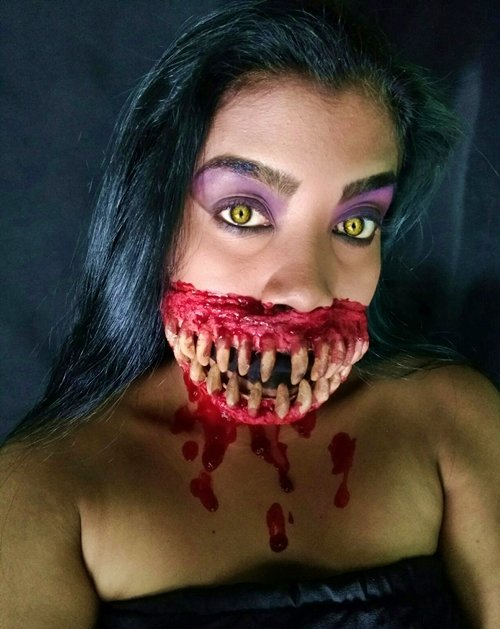 ---

Thank you for reading this publication!

Imágenes tomadas desde mi Alcatel One Touch Idol 4. || Images taken from my Alcatel One Touch Idol 4.
Separadores hechos en PhotoScape. || Dividers made in PhotoScape.
Ediciones hechas en Photoscape. || Editions made in Photoscape.
Translator Deepl.