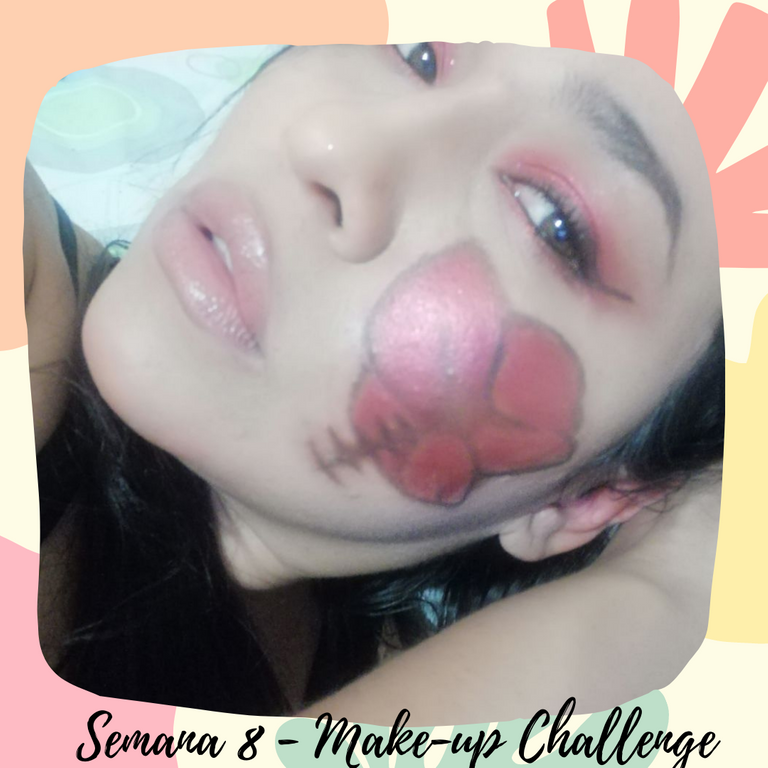 I was particularly interested in this challenge related to flowers because I have always felt a special connection with cayenne. When I was in high school, I drew them all over my notebooks. I feel very identified with its spiritual meaning that represents good vibes and health.
Este reto particularmente me interesó mucho porque siempre he sentido una conexión especial con la cayena. Cuando estaba en el liceo, las dibujaba por todos mis cuadernos. Me siento muy identificada con su significado espiritual que representa la buena vibra y la salud.

I have a particular story with cayennes. A neighbor from my childhood had that plant in the garden of her house and the flowers were close to the street. As naughty boys we always played, we teared them off, we put them in our hair and we were always playing with that bush and the neighbor was always upset. Besides that, cayenne is Carabobo representative flower, the state that saw me born in Venezuela. Enjoy this step by step of my cayenne make-up.
Tengo una historia particular con la cayena y es que una vecina de la infancia tenía una mata en el jardín de su casa y las flores daban a la calle. Nosotros como muchachos traviesos siempre jugábamos, las arrancamos, no las colocábamos en el cabello y siempre estamos jugando con esa mata y la vecina siempre se molestaba. Además de eso la cayena es la flor del Estado Carabobo, estado que me vio nacer en Venezuela. Disfruten de este paso a paso de mi cayena.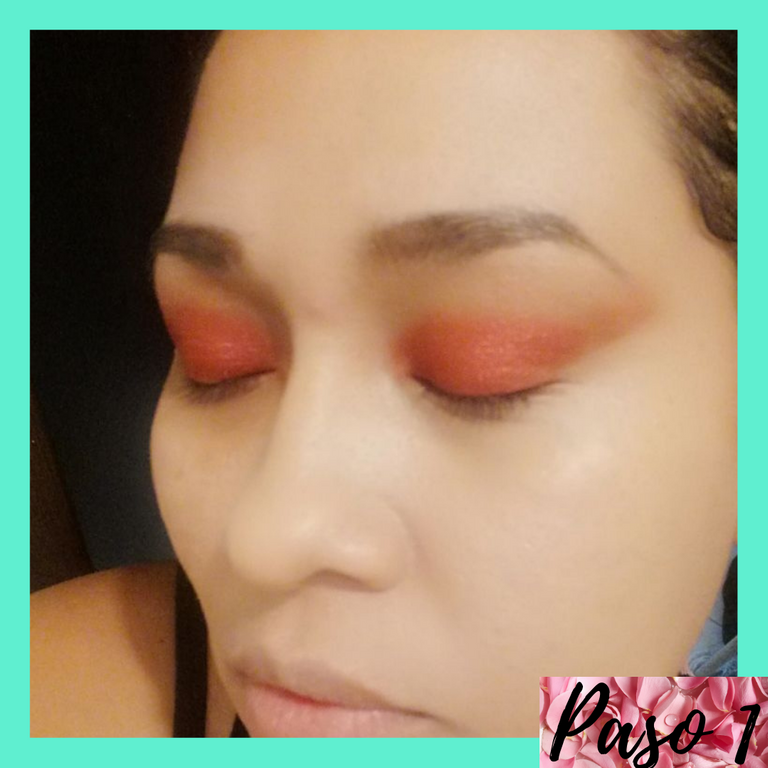 First I did the eyebrows. To do this, I used eyebrow pomade; Then, I defined the shape with a special brush for eyebrows and I applied a concealer to clean the edges. I also brought it to the eyelid and sealed it with a translucent powder. On top of it, I applied the red shadow with glitter, applying several times until I got the desired intensity.
Primero realicé las cejas. Para ello, utilice una pomada; luego, definir la forma con un cepillito y pasé a colocarme corrector en barra para limpiar las orillas. También lo llevé al parpado y sellé el mismo con un polvo traslúcido. Encima de ello, apliqué la sombra roja con escarcha, dándole varias pasadas hasta obtener la intensidad deseada.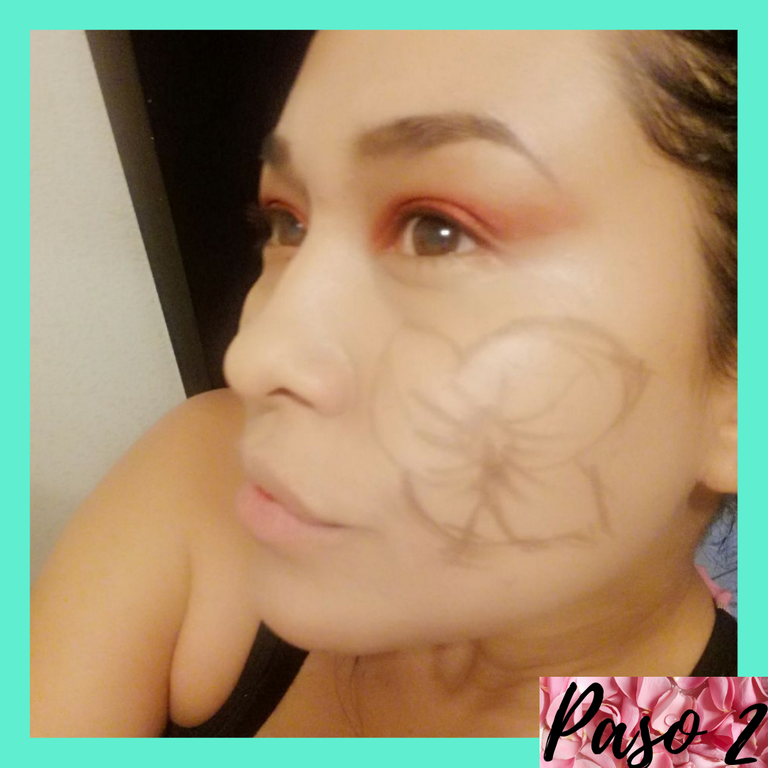 Once the eyes were done, I applied foundation to the face and sealed it with translucent powder. Then I took a brown pencil that I use for eyebrows and made the cayenne shape.
Una vez hechos los ojos, apliqué base por el rostro y la sellé con polvo traslúcido. Luego tomé un lápiz que uso para cejas color café e hice la forma de la cayena.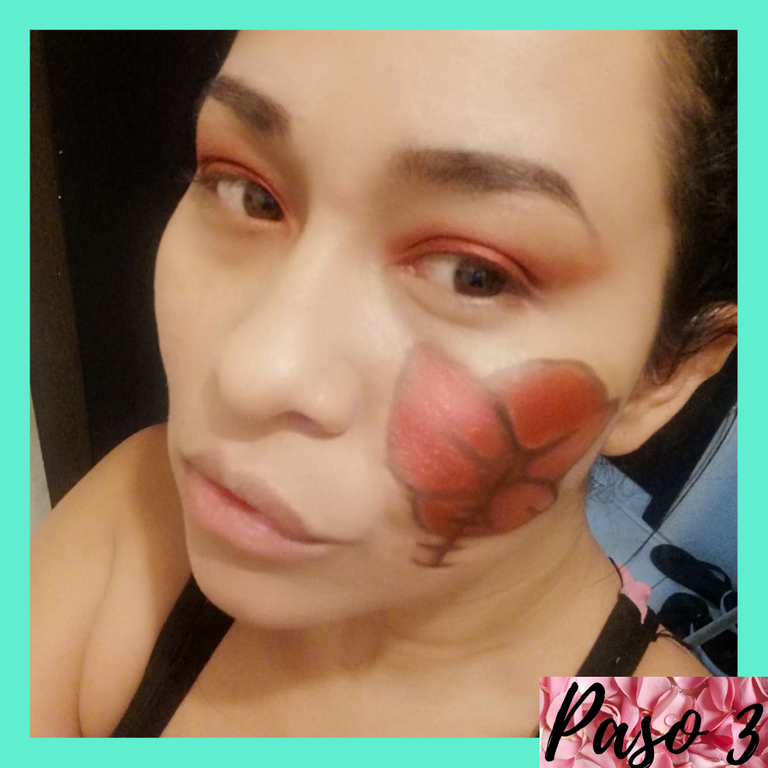 I proceeded to use the same red shadow on my eyelid to fill in the cayenne. Once all was covered, I used the same brown pencil to further frame the pistil of the flower and detail the petals.
Procedí a utilizar la misma sombra roja que lleve en el párpado para rellenar la cayena. Una vez que la cubrí toda, use el mismo lápiz color café para enmarcar aún más el pistilo de la flor y detallar los pétalos.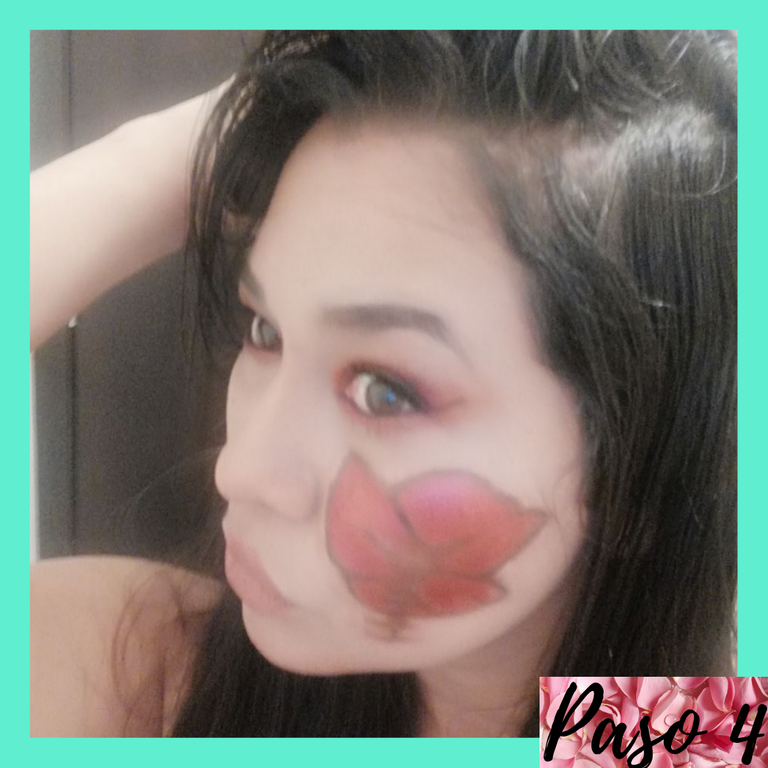 Once I have detailed the flower as I wanted, I used a black pencil to mark the water line, curler and mascara for the eyelashes. On the lips, first I applied a lip balm to moisturize it, then apply a pink lipstick and top it with a gloss. And voila, that's how my cayenne make-up was done.
Una vez detallada la flor como la quería dejar, utilice lápiz negro para marcar la línea de agua, rizador y máscara para las pestañas. En los labios aplique primero un bálsamo labial para humectar, luego apliqué un labial color rosa y encima coloque un gloss. Y listo, así quedó mi maquillaje de cayena.