Hello everyone. On account of multiple incredible people telling me I need to talk more about, well, myself on Hive. Here comes a little look into @martibis his hive story, from an insider developer point of view. I hope I can convey my moments of intense happiness but also include my moments of near-desparation. Get ready for an emotional rollercoaster. I will cover how I got to Hive, what the impact has been on my personal life and how I grew along with the platform. I will also touch on a few projects I've worked on most notably Pinmapple, Haveyoubeenhere and my latest Buymeberries which has just launched, more on that soon!
The start
It's 2017 and I am feeling on top of the world. I've just decided to quit my IT studies to pursue a business idea. It is promising, fits my lifestyle and most of all it sounds like a lot fun. What is the plan you might ask? I want to rent out inflatable boats from inside of a tuktuk along the river in my, at times magical, hometown of Ghent (Belgium). I set out to start my business, with nearly all permits in order and positive initial feedback, I decide to make my investments. The cost to start was relatively low, so I only took on 5000 Euros in debt, which I knew I would be able to earn back fast enough.
Out of the blue, I receive a message stating I would not receive one of the necessary permits to start my business. After two months of going back and forth with government instances, I threw in the towel, quite frankly, my money had run out and I am at that point still 5000 Euros in debt.
To say I feel defeated is an understatement. I slump into a depression for a few months, not seeing a way out. The one thing I have though is time. This desperation and the time I have, make me look into other avenues to have enough income to sustain myself. I start a job in sales, it pays the bills. As I always enjoyed writing and am curious about blockchain tech, Hive (Steem at the time) seems like the perfect fit.
I learn quickly that making a quick buck is not going to work, so I start to connect with the community and get to meet some incredible people. I realize spending my days in Discord chats is a distraction, but at the same time I am learning a lot. There is a strong longing from within myself to do something for this community. In an eureka moment I have it. Combine my passion for travel with my skills from IT and build something for the travel community! Enter Pinmapple (Steemitworldmap at the time). I am however still very much a blogger first and a dev second.
Suddenly it all falls into place, like in an odd way it always does. I win a ticket to Hivefest (Steemfest), win the hackathon with Pinmapple, Steem price shoots through the roof. I pay of my debt and manage a few budget travels.
But just as quick as the up came, the down did too.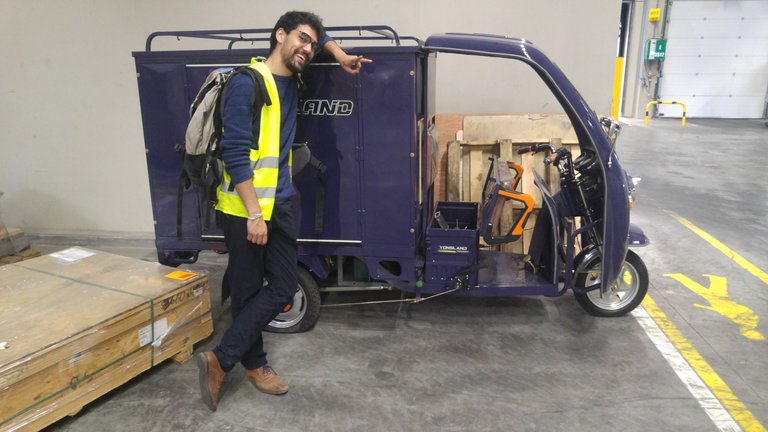 After hitchhiking to the port of Antwerp to pick up my tuktuk
Plowing on against all odds
For the most part 2018 is a blur. I work a few months here and there to afterwards, quite literally, run away from any responsibility by jumping on any plane out of the country. I continuously struggle with where I want to take my life and childhood issues from my past keep popping up. Before 2018 I had started a lot of projects, but never really stuck with one. In general, when things were getting too real, I didn't want to handle the responsibility that came along with that. A lot of times during 2018 and early 2019, I was barely available to the Pinmapple team as I am sure @livinguktaiwan and @choogirl can confirm (big thanks for stepping up when I couldn't and sticking around until now, wouldn't have been where I am without the two of you).
I keep myself busy jumping from one short-term project into the next, some work out better than others, but I do want to mention one I am definitely proud to have been a part of and that is the random party. The concept is that you come to a party where you don't know anyone, where all drinks and foods are sponsored and the entrance fee goes entirely to an NGO you choose.
But to say I feel lost during these years would be an understatement. However there is one thing I had already learned by than, if you keep at it, you can make it work. Just don't expect the road to be anywhere near as smooth as you expected it to be. So I kept at it, with a lot of stumbling, falling and getting back up. But I kept at it.
Often people who meet me, see me as this somewhat carefree, always happy and energetic person. But very often I feel quite different, with a thousand things running through my mind at break neck speed and no more energy to actually do anything with those thoughts. It is just as much a part of me as the carefree, happy and energetic person is.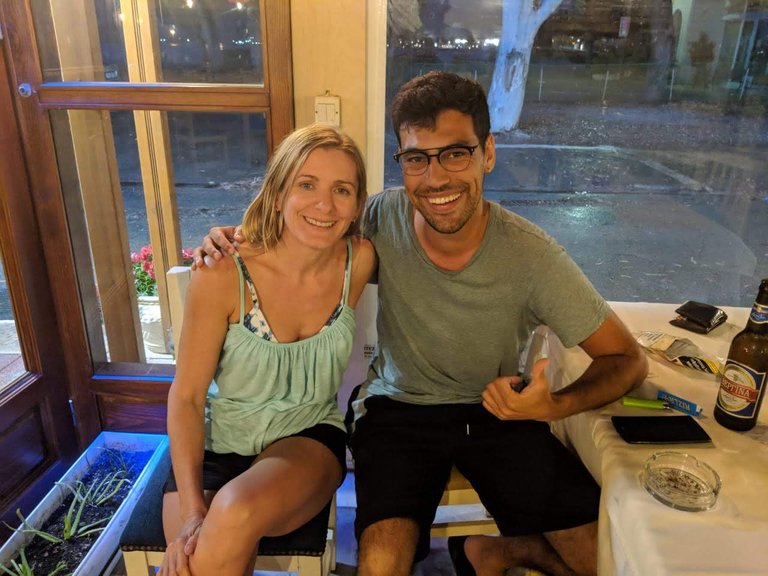 In 2018 I met @choogirl for the first time in real life
How tumultuous two years can be
It's the end of 2018 and Hivefest is going on in Krakow. I am honestly not in the best place mentally when I arrive and most of Hivefest a part of me just wants to zone out, sort of sideline myself. Nonetheless I do a presentation for Pinmapple and announce the idea of wanting to create a mobile app for all travelers (with or without a Hive account). Later on this would become Haveyoubeenhere.
I must have made a good impression at Hivefest as it leads to an incubator showing interest in Haveyoubeenhere a few months later. I would gain some limited financial support to keep working on a beta version for the app. Deadline: Hivefest in Bangkok. Afterwards, if it seemed the beta was promising, they would find investment for the project. The investment quoted was up to 4 million Euros. After me successfully reaching my Bangkok deadline (and having a great Hivefest in the process) the incubator decides to continue working with me! I couldn't be more excited. Is this is it? The moment I can start working permanently on my dream project without feeling the sword of Damocles hanging over my head. Sorry, to disappoint, but the answer is no.
After working with the incubator for a few months, we have several strong disagreements and I (in discussion with others of course) decide that the incubator is not a good fit for Haveyoubeenhere and we go our separate ways. Of course it stings to walk away from the promise of a 4 million Euros investment, but I believe in doing what is right for the long run and for the long run, this is better.
So it's back to the drawing board and back to just me working on the project and just when I figure out a new game plan. You can already guess it, Covid-19 hits me in the face, with a chair, hard. The online travel sector is down 70%, there is no investor interest in new travel related businesses at the moment.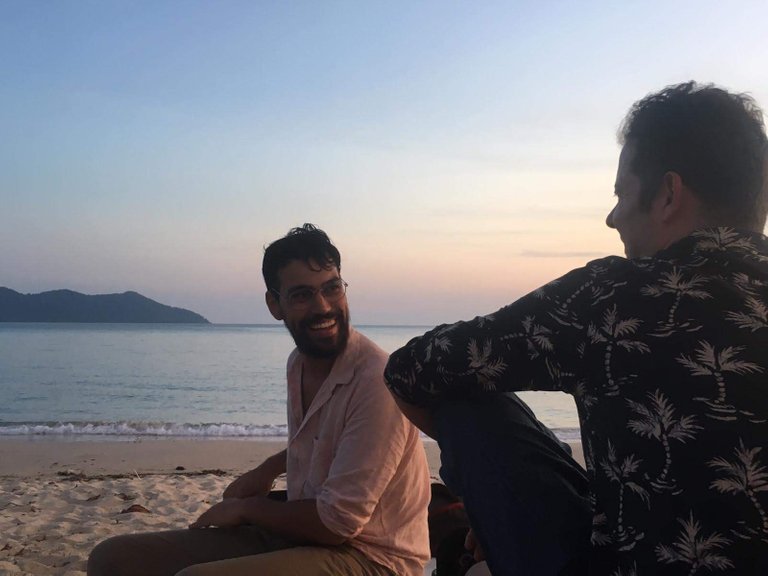 Enjoying the Hivefest after party at Koh Chang
What comes next?
The last few months I have been living on about 300 Euros per month (which in Belgium is not easy). This 300 Euros has come from my savings and a small revenue stream I have with one of my other projects. I chose to do this, so I could keep working on the projects I love and so I can keep creating awesome things for all of you to use. Unfortunately this month my savings have entirely ran out, so I started looking for a full-time job as I need to pay the bills.
In the way that life tends to be, I have received an amazing job offer but at the same time all of a sudden the pinmapple & haveyoubeenhere proposal is also about to be funded. So it seems I have to choose yet again whether I want to continue along this "crazy" path, or just take it easy and get a stable job for a while. I will likely combine the two as it seems the best way forward.
For this new job they preferred to find someone with ReactJS knowledge (a library I had never used before). So I decided to learn ReactJS and figured if I am learning a new library, might as well launch a new project for Hiveians to go along with it. Enter my latest and an, even if I say so myself, honestly awesome project: Buymeberries. It lets you fund your work and goals by accepting Hive donations, so if you have a Hive account, you already have your own page there too. You can automatically generate buttons for inside your posts or websites that link to your buymeberries page, like the one below! Consider this a little sneak peak before I do the official launch post! 😁

I hope some of you got something out of me telling this story, be it a smile, some encouragement or a better understanding of me as a Hive dapp dev. I know at times for anyone it can be tough and seem like there is no way out. But always keep in mind, out of the blue events will happen to you, both amazing and horrible. Prepare for a good wave, don't be afraid to ride it when it comes along and maximize the returns from it (and I do mean returns in a way broader sense than just financially here).
Kind regards and massive shoutout to everyone who has supported me on Hive throughout the years. ❤️