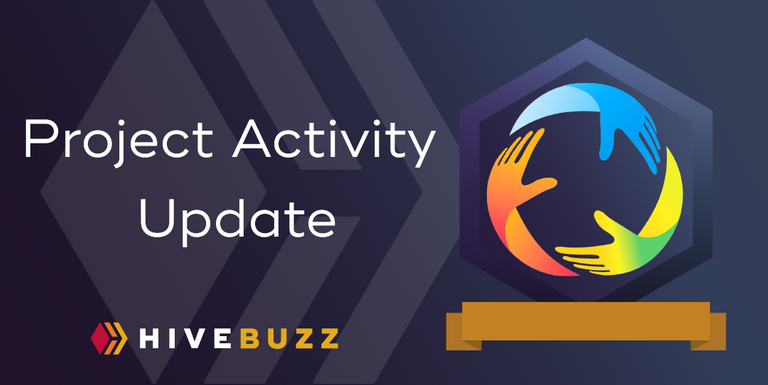 How time flies. It high time to report on our activity since our last update. So, without waiting, let's get to the heart of the matter immediately.
What did we do since our last report?
Updates to the Hivebuzz Website
We have made several small updates to our website
Regular authors progress indicator



we've added progress indicators on the weekly and monthly author badges to let you know about how many days you published a post this week or this month and help those who post on Hive regularly.

Links to the ranking and our webshop in the toolbar



We have added new buttons to the HiveBuzz website to allow the user to quickly access these parts of the site.

New Challenge tab and Power Up Day countdown
We have grouped our challenge related badges into a new tab, mainly the Power Up Day badges as of today.



And to help attendees not miss the short window for PUD participation, we've made a countdown timer appear automatically before and during the event.
New badges
No less than 6 new badges have been generated lately:

Vienna meetup badge
The badge has been created for the reccurent meetups taking place in Vienna (Austria) organized by @manncpt.




UK Community meetup badge
The badge has been created for the recurrent meetups taking place around the United Kingdom. The last one took place on September 19, 2020 in Halifax, West Yorkshire, and was coordinated by Hive witness @c0ff33a.



Mental Health awareness badge
This badge was created on the occasion of World Mental Health Month. An initiative from @naturalmedicine and @riverflows to reward Hive authors who contribute and help to shine a light on sensitive and often underexplored issues, encourage others to open up, tell their stories and seek and give support during hard times.

Papillon Charity badge
The HiveBuzz team wished to promote the charitable work carried out for years by the Papillon Foundation for a long time. Therefore, we created this new badge awarded to all participants in the Weekly Hive Charity Giveaway, an initiative from @papilloncharity and @combination.

Halloween badge
We wanted to add some fun to Halloween this year and invited users to take part in the Halloween challenge and share their scariest Halloween story!



and last but not least

The Power Up Helper badge
This badge has been created to reward users who help each other and show everyone how mutual support is an important concept within the Hive community! More on this below.


Power up Day - September, October and November editions
The power Up day which takes place the first of each month is now an event eagerly awaited by a growing number of Hivers. This initiative continues thanks to the overflowing energy of @traciyork and @victoriabsb who each month animate this moment brilliantly.
For September 1st, we introduced the concept of levels.

For October 1st, it was the turn of the Power Up helper.


For November 1st, we took a break with the new features due to the workload generated by the hardfork 14 which took place a few days earlier. But we should soon announce something new for December 1st.
In the meantime, we invite you to read the reports of these editions which contain very interesting figures. [1] [2] [3]
What's next?
Of course, as announced above, we are preparing the December 1st PUD. But there is another major event that is coming soon and is getting our full attention.
We hope you didn't miss the last @roelandp's announcement post about HiveFest⁵
This is the next big challenge for us. Indeed, each year we add our little funny touch to this event which promotes meetings and fun as much as presentations of topics all more interesting than the others.
It will not be an easy task this year because the event will be much shorter and moreover will take place in a virtual world.
But it takes a lot more to discourage us and we are already busy working hard to keep you entertained again.
Therefore, we are looking forward to seeing many of you participating in HiveFest⁵ this year!
---
Thank you for reading and thank you all for your support!
The Hivebuzz Team