I was warned that time passes more quickly the older one becomes, and this has proven to be true. Somehow three weeks went by since I last posted. How can this be? Once again, I have been too busy living to write about my life, or to have a go at fiction.
So what have I been doing? Spending time with my grandchildren, going to appointments, visiting with friends, and shoveling snow. Monday we got 4", and yesterday (Wednesday) I measured 14.5" of the fluffy stuff. Nearby Mt.Spokane Ski and Snowboard Park only got an inch more than we did! My husband uses his tractor to plow and blow snow in the driveways and yard, and my usual contribution is to shovel the front porch. I barely got the 4" off in time for the 14.5" to take its place. And I didn't get to the steps at all, so there is 18" of snow waiting for me to move it this afternoon.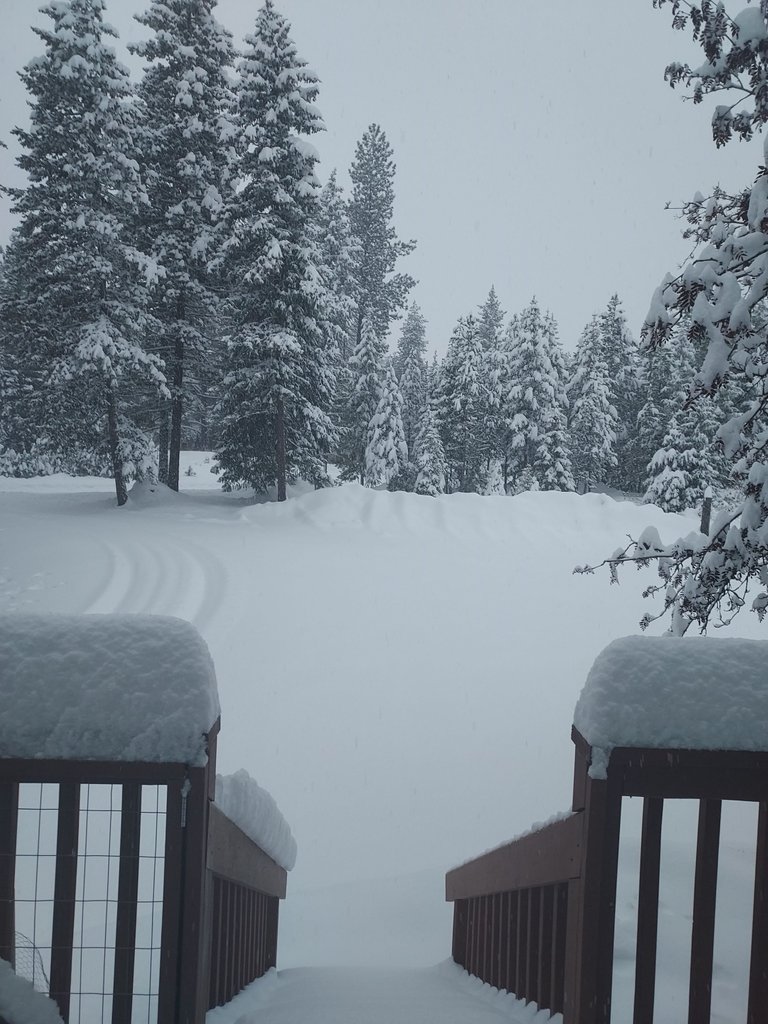 A photo just doesn't do it justice. I tried.
What else have I done? Oh yes, I went to see a local production of "The Music Man." It included 58 young actors, age 9-young adult, and it was fantastic. This is the group for which I used to manage the costumes, until I retired from that in 2020. It's fun to go see a play without knowing anything about the costumes beforehand, and just sit back and enjoy it.
And I attended the Fall Folk Festival in Spokane. I volunteered as a greeter for two hours, and then listened to music for about two hours, and then went home. As usual, a wide variety of music was performed throughout the day, in several rooms. I heard some very unusual music, and some very enjoyable music in the short time I had to roam around the building.
I think I should resume being active in the freewriters group; that kept me writing every day for quite some time. Maybe I should dust off my brain cells and try fiction again. And maybe I should just go back to bed with a good book and the little dog.