¿ Por que el hombro es tan importante en la calistenia ?
Why is the shoulder so important in calisthenics ?
---
---
---
Hola amigos de #HIVE y #SWC, espero todos se encuentren bien, en esta ocasión les traigo un post informativo, dónde les resaltó la importancia de entrenar la articulación más implicada en los ejercicios de Calistenia, es decir, la articulación Glenohumeral o mejor conocida como Hombro.
Hello friends of #HIVE and #SWC, I hope everyone is well, this time I bring you an informative post, where I highlighted the importance of training the joint most involved in Calisthenics exercises, that is, the Glenohumeral joint or better known as Shoulder.
---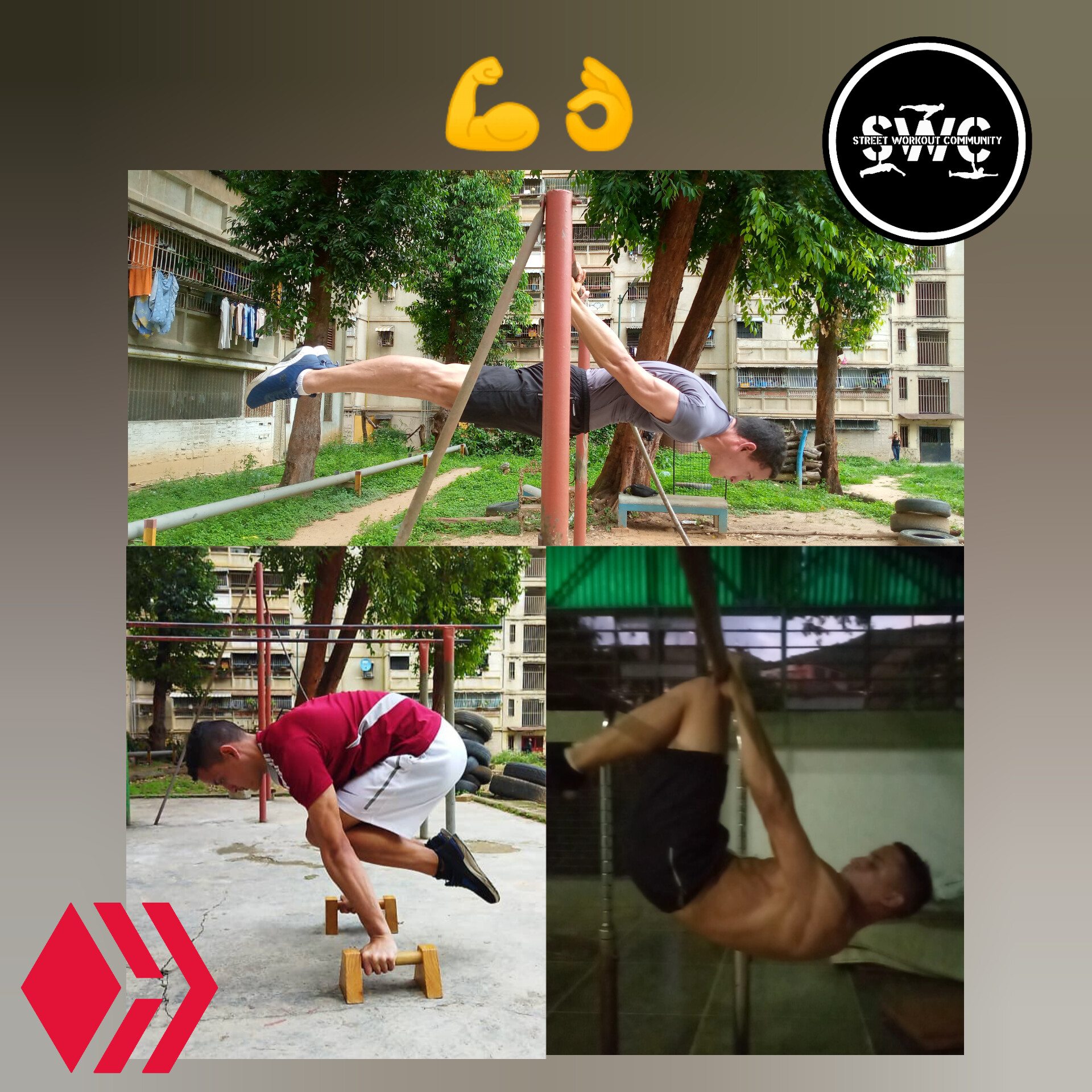 ---
| 1.-Importancia de los Hombros. | 1.-Importance of the Shoulders. |
| --- | --- |
---
Cómo se mencionó anteriormente esta articulación es la que mayor movilidad posee en el cuerpo humano, gracias a esto podemos realizar los distintos ejercicios de Calistenia de nuestro tren superior, desde una simple flexión o dominadas hasta ejercicios más complejos como Front Lever, Back Lever, planchas y sus variantes, así como también diversas acciones en nuestra vida diaria.
As previously mentioned, this joint is the one with the greatest mobility in the human body, thanks to this we can perform the different Calisthenics exercises of our upper body, from a simple push-up or pull-ups to more complex exercises such as Front Lever, Back Lever, planks and its variants, as well as various actions in our daily life.
---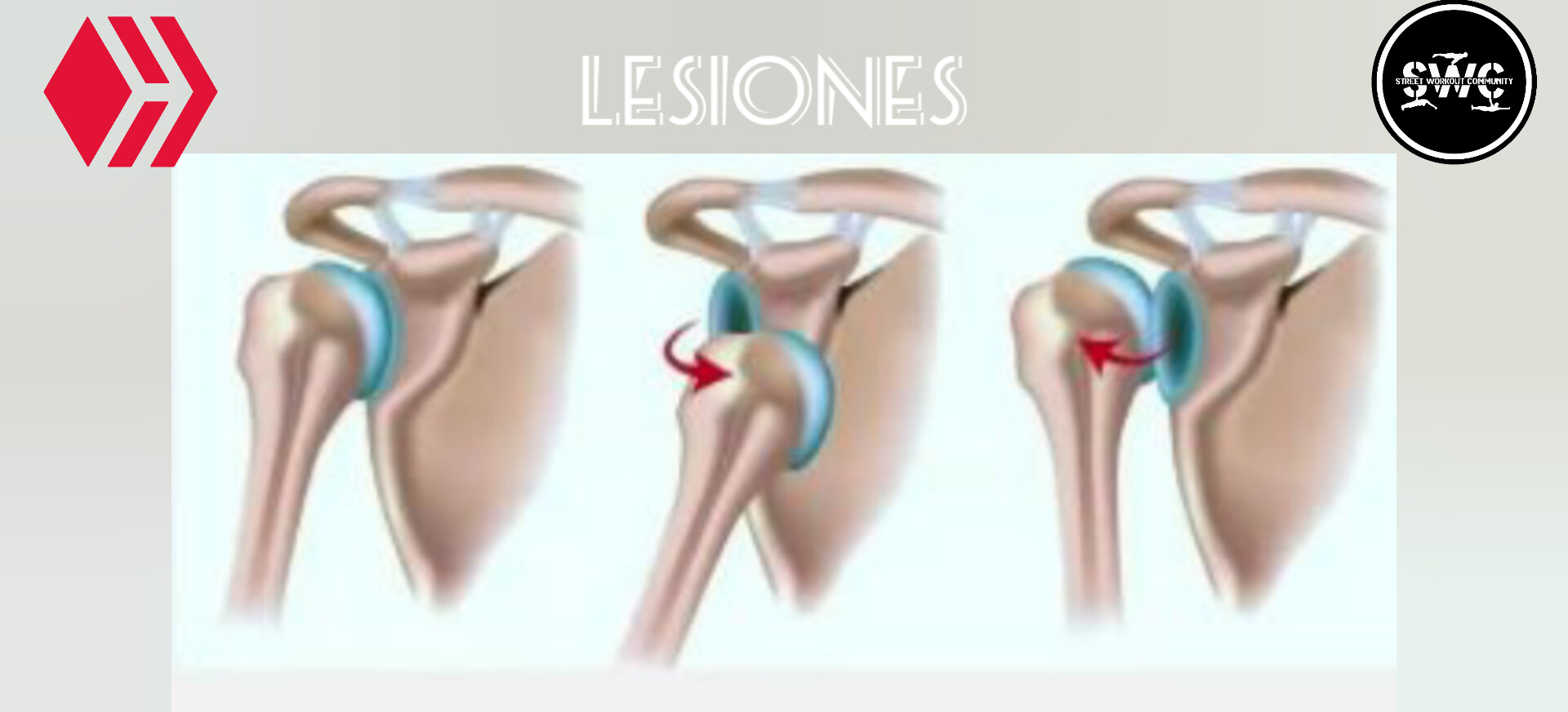 ---
| 2.- Lesiones de hombro. | 2.- Shoulder injuries. |
| --- | --- |
---
Debido a que interviene mucho en la calistenia esto hace muy susceptible a lesiones; tanto del manguito rotador, tendinitis, dislocaciones, fracturas, entre otros. Por ello debemos asegurarnos de entrenarlo correctamente para asegurarnos de contar con un hombro saludable.
Because it is involved a lot in calisthenics this makes it very susceptible to injury; both rotator cuff, tendinitis, dislocations, fractures, among others. Therefore we must make sure to train it correctly to ensure that we have a healthy shoulder.
---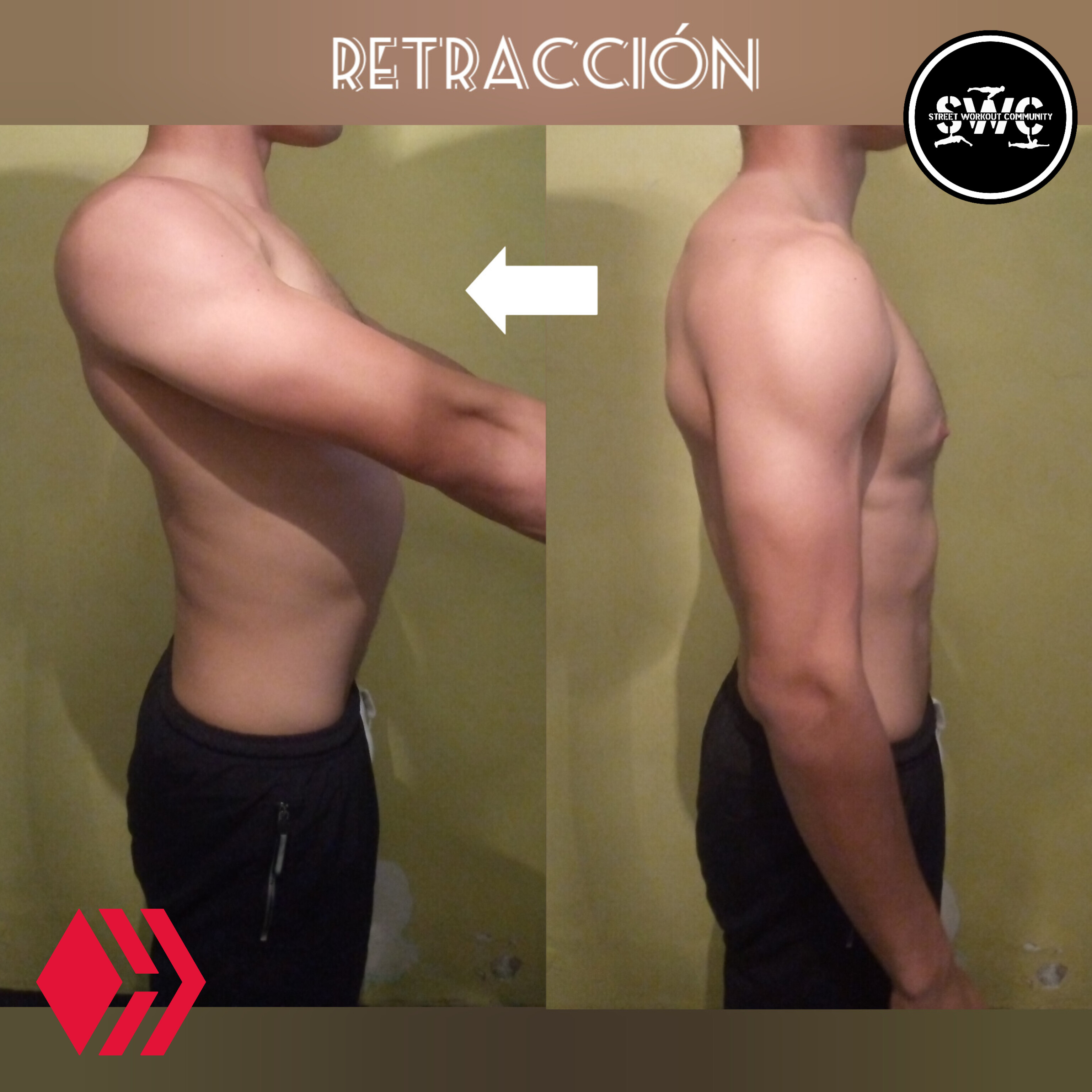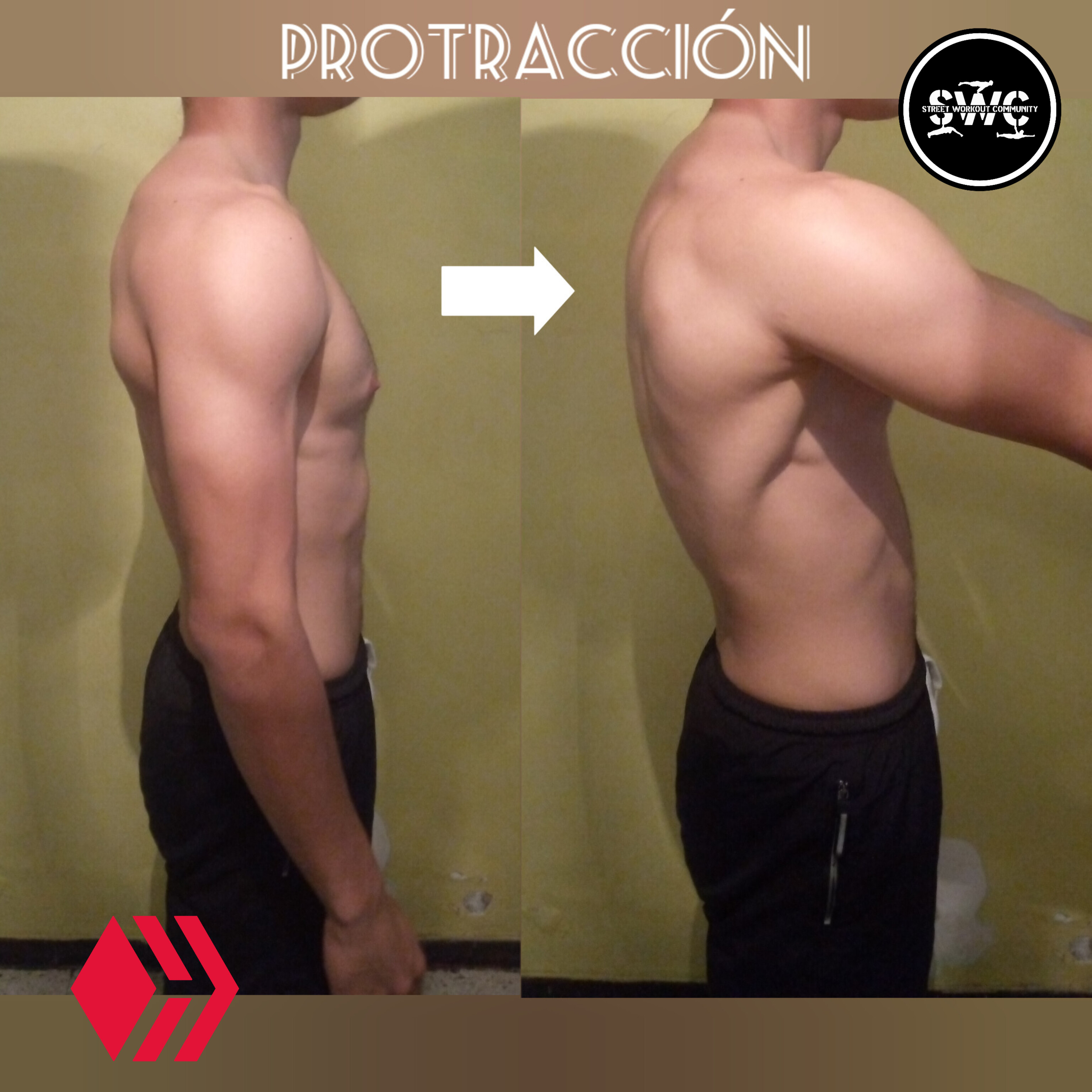 ---
| 3.- Retracción y Protracción Escapular. | 3.- Scapular Retraction and Protraction. |
| --- | --- |
---
La retracción y la Protracción Escapular son gestos o acciones que intervienen en la técnica de los ejercicios de Calistenia. Con al retracción llevamos nuestros hombros ( o Escapulas ) hacia adentró y atrás, o buscamos juntarlas, esto se usa en los ejercicios de tracción. Y con la Protracción llevamos nuestros hombros hacia adelante y afuera, o las separamos, y se usa en los ejercicios de Empuje. Estos gestos son importantes para la correcta realización de los distintos ejercicios en los cuales se utilizan.
Retraction and Scapular Protraction are gestures or actions that are involved in the technique of Calisthenics exercises. With the retraction we bring our shoulders (or Scapulas) inwards and backwards, or we seek to join them, this is used in traction exercises. And with the Protraction we bring our shoulders forward and out, or we separate them, and it is used in the Push exercises. These gestures are important for the correct performance of the different exercises in which they are used.
---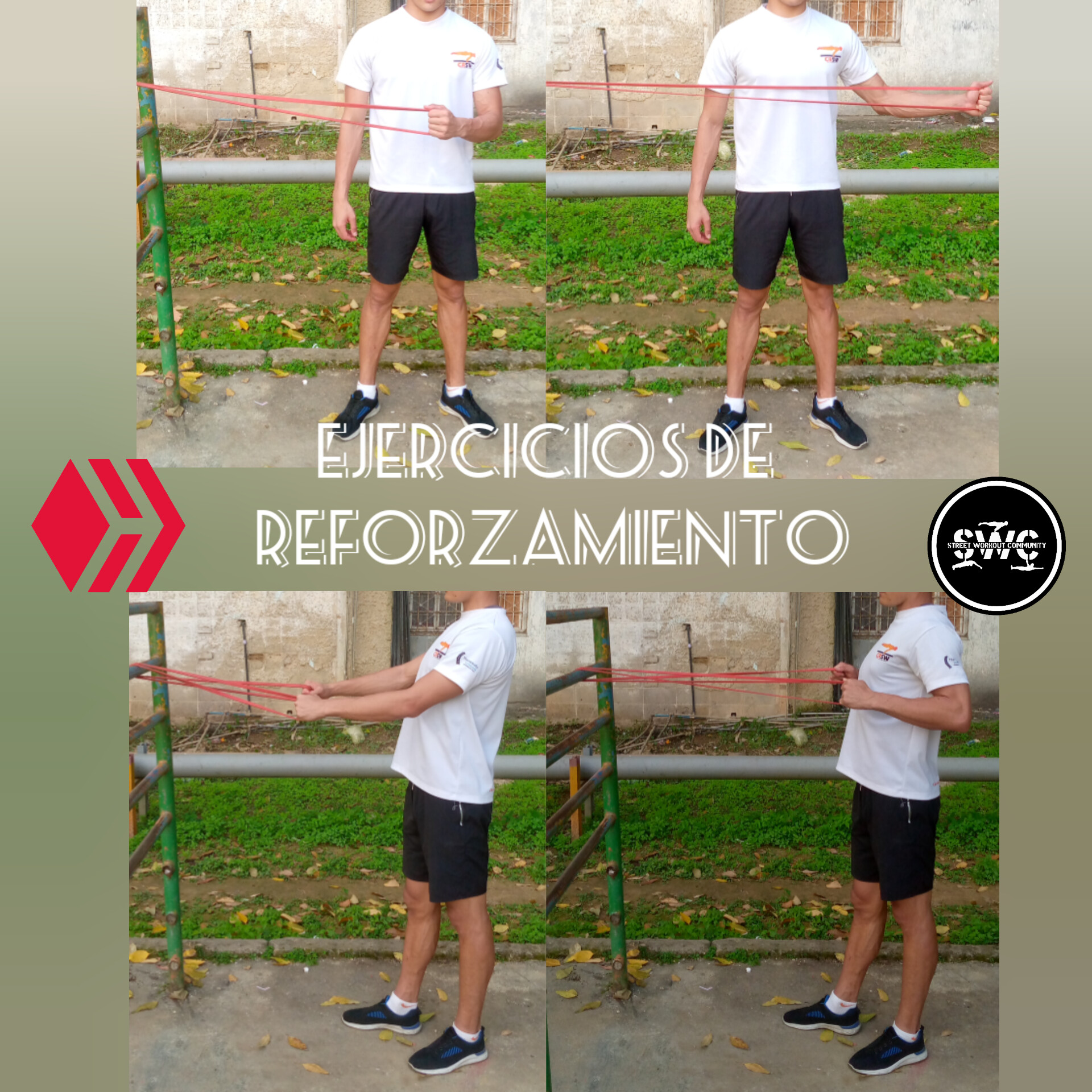 ---
| 4.- Postura y Movilidad. | .-4 Posture and Mobility. |
| --- | --- |
---
Para gozar de buena salud de nuestro hombro o más bien de nuestra cintura Escapular, es fundamental que gocemos de una correcta postura. De no hacerlo, debemos corregirla con ejercicios de movilidad y complementarios, como los que les muestro en la imagen.
To enjoy good health of our shoulder or rather our Shoulder girdle, it is essential that we enjoy a correct posture. If we don't, we must correct it with mobility and complementary exercises, like the ones I show you in the image.
---
Espero este post les sirva de ayuda, ya sea para que se informen o para recordarles la importancia de contar de una buena salud de nuestros hombro. Cualquier opinión, consejo o sugerencia lo pueden colocar en los comentarios, estaré muy agradecido. Mantengan la DISCIPLINA, CONSTANCIA y la PERSEVERANCIA, hasta el próximo post.
I hope this post will help you, either to inform you or to remind you of the importance of having good health for our shoulders. Any opinion, advice or suggestion can be placed in the comments, I will be very grateful. Maintain DISCIPLINE, CONSTANCE and PERSEVERANCE, until the next post.
| 🌐💯Redes sociales 🌐💯 | 🌐💯Social Network🌐💯 |
| --- | --- |