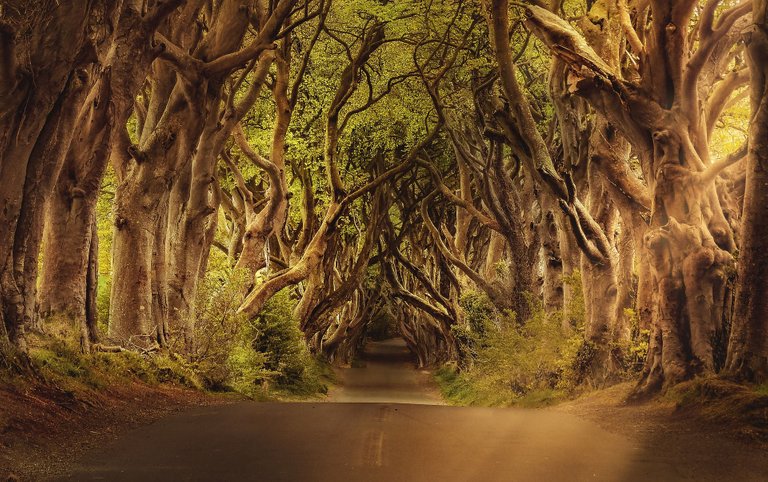 Image by Darkmoon Art in Pixabay
English
He stared once more at the hare's bruised body, or how little there was left after the tires hit it. He wondered what additional damage the flimsy creature could have done to cause his car's engine to break down. He hated those setbacks, especially when he had an important business meeting. If the car hadn't broken down he would already be entering the city.
Damn animals! she muttered, kicking the wheel. It was not the first time that a representative of the animal kingdom had been the victim of his car. The previous occasions, nothing happened apart from the impact with the animal that was thrown in front of the car or the vibration that it felt when the wheels passed over its body.
Of course, his business required immediacy and for that reason he could not drive at low speed and he was not going to put his life at risk by suffering an accident by trying to avoid the small animals that crossed his path.
He looked at the trees that surrounded him and in the middle of which the road wound, silence dominated the landscape. She got back in the car and tried to start the engine. It did not work. He grabbed his cell phone from the passenger seat just to check it was still out of range. He tossed the cell phone and got out of the car once more. Okay, he was in the middle of nowhere with a broken down car and isolated but some other vehicle would have to go through there.
It would have been preferable to choose a more central place to spend the wedding anniversary, but Gertrudis always got those rustic ideas as a form of celebration and when that happened it was impossible to make her change her mind. And when company business required his presence, he had to come no matter where he was at the time.
He scanned the sky streaked with tree branches. It was getting dark? It couldn't be, It was still very early, he raised the left sleeve of his shirt to reveal the Rolex. He scanned the watch. It was only three-thirty in the afternoon. Why did the day seem less bright? Maybe he was getting paranoid.
Went once more to the car, he opened the back door and walked in. He got hold of the portfolio and, opening it, began to examine the documents it contained. Yes, the company would finally buy the land. Of course, he would have to convince some partners who were always reluctant to how much acquisition the company wanted to make. It was because of these types of individuals that businesses did not prosper as they should. The purchase of "Los Eriales" was something that should have already been consummated, if it had been, they would already be in the construction of ... An overwhelming noise brought him out of his musings. Was it a howl? A squawk? He couldn't say for sure, he put the papers aside and got out of the car.
The day was now darker, he took a few steps around the car trying to see the origin of that sound in the surroundings but nothing was seen in the foliage. But looking at the crash site, he froze, the hare was gone and it wasn't just the body, the blood that had stained the asphalt and the tires had disappeared, it was as if he had never been there. Still lost in surprise, he checked under the car, knowing in advance that he would find nothing. Was that a reason to worry? He could not deny that the situation disturbed him, but everything had a logical explanation, if the rabbit was not there it was because some other animal devoured it and had licked all the blood, and that animal could have produced the howl that he had heard. But the explanation did not convince him at all, besides, that animal could not attack him?
He got into the car once more and tried to start the engine, nothing happened. He had to learn mechanics and carry his toolbox, if so he might have already solved the problem. He got out once more, now more concerned. He wondered why another vehicle hadn't passed. He turned and took the cell phone from the car, looked at the antenna icon on the screen looking for coverage and walked a bit down the road, he would have to look for a high place, maybe there was a house there.
As he walked down the road he looked both ways, wishing at the same time to hear the familiar sound of a car, but only silence surrounded him. Shortly after, he found himself in front of a small path that went into the forest. Could it be the access road to a house? There were no tire marks, but if there was a car perhaps the owners had not used it lately because it was broken, it was a probability.
He went down the road while looking at the mobile. At the same time he began to get the feeling that he was being watched. He stopped suddenly, focusing his attention on the foliage. It was impossible for him to see what might be in the thicket, but he could almost assure that there was something there. He noticed how quickly darkness was closing in on the place. He checked the time on his cell phone. Could that be possible? It was only four thirty in the afternoon.
He advanced a little further until his walk was interrupted. The howl had been heard again with a gloomy echo around him, he sensed that the origin of that noise was behind him. He felt a cold sweat run down his back and he began to turn, expecting to find some strange animal ready to attack him. Was that really what he was afraid to see? No, his growing fear envisioned something worse, one of those fearsome creatures that inhabited the dark nightmares of any mortal. However, there was nothing there. But what was presented before his eyes was totally different from what he had traveled, the foliage seemed to have multiplied and the main road, from which he had only gone a few steps, had disappeared, desperate and a victim of terror, he ran towards where he assumed the main road had been, while among the dark recesses of the foliage creatures with luminous eyes seemed to appear and began to approach him threateningly. Soon his steps became heavier and his vision began to blur, but not enough to prevent him from contemplating the strange figures that seemed to take shape from the foliage itself, beings that approached and surrounded him. Soon he felt his strength leaving him and he no longer knew about himself.
He couldn't tell how long he was unconscious until a noise was heard in the distance. As he became aware of himself, the sound was increasing, when it already occupied almost all his hearing capacity, he opened his eyes and he barely had time to avoid being hit by a car. It was a car that was passing at last, he put his fright aside and ran after the car screaming to get the driver's attention, but ... something was not right. Why did this car seem huge to him? Even the road was huge, besides, his screams… his screams were not heard like his screams. He stopped in a terrible uncertainty. He raised his arms and looked at them. A cry of panic rose from his throat.
He run into the thick of the forest. Shortly after she found herself in front of a stream that formed a pool of calm waters, confused and in a panic he started to approach the shore but stopped. In his mind the most unlikely ideas were presented, but for him they had a strange certainty. He resumed his cautious advance and a few seconds later he was on the shore, he looked out before the calm waters and what he saw made him cry out in horror, the image of the puddle was not that of the man he had always seen in the mirror and who was currently around forty-six years old, the reflection that the waters returned was that of a hare.
Español
Contempló una vez más el magullado cuerpo de la liebre, o lo poco que habían dejado los neumáticos. Se preguntó que daño adicional podía haber ocasionado aquella endeble criatura para que el motor hubiese acabado por romperse. Odiaba esos contratiempos, sobre todo cuando tenía una importante reunión de negocios. Si el coche no se hubiese averiado ya estaría entrando a la ciudad.
¡Malditos animales! masculló dando un puntapié a la rueda. No era la primera vez que un representante del reino animal era víctima de su coche. Las ocasiones anteriores no ocurrió nada aparte del impacto con el animal que salía despedido por delante del auto o el bache que sentía cuando las ruedas pasaban sobre su cuerpo.
Por supuesto, sus negocios requerían rapidez por lo que no podía conducir a baja velocidad y tampoco iba a poner en riesgo su vida sufriendo un accidente por intentar evadir a los pequeños animales que se atravesaban en su camino.
Contempló los árboles que le rodeaban y en medio de los cuales serpenteaba la carretera. El silencio dominaba el paisaje. Volvió al coche e intentó poner el motor en marcha. No dio resultado. Tomo su teléfono celular del asiento del copiloto sólo para comprobar que seguía fuera de cobertura. Arrojó el móvil y salió una vez más del auto. De acuerdo, estaba en medio de la nada con un coche averiado e incomunicado pero algún otro vehículo debía pasar por allí.
Habría sido preferible escoger un lugar más céntrico para pasar el aniversario de bodas, pero a Gertrudis siempre se le metían aquellas ideas campestres como forma de celebración y de allí era imposible sacarla. Y cuando los asuntos de la compañía requerían su presencia debía acudir sin que importase donde estuviese en ese momento.
Oteó el cielo surcado por las ramas de los árboles. ¿Estaba oscureciendo? No podía ser, aún era muy temprano, se levantó la manga izquierda de la camisa para dejar al descubierto el Rolex. Auscultó el reloj. Solo eran las tres y media de la tarde ¿Por qué razón le parecía que el día se había tornado menos luminoso? Tal vez se estaba poniendo paranoico.
Se dirigió una vez más al auto, abrió la puerta trasera y entró. Se hizo con el portafolio y abriéndolo comenzó a examinar los documentos que contenía. Si, la compañía compraría el terreno por fin. Claro que tendría que convencer a algunos socios que siempre se mostraban renuentes a cuanta adquisición pretendiese hacer la empresa. Era por ese tipo de individuos que los negocios no prosperaban como debían. La compra de "Los Eriales" era algo que ya debía haberse consumado, de haber sido así ya estarían en la construcción de… Un sobrecogedor ruido lo sacó de sus cavilaciones, ¿Había sido un aullido? ¿Un graznido? No podía decirlo con certeza, dejó los papeles a un lado y salió del coche.
El día estaba ahora más oscuro, dio unos pasos rodeando el auto tratando de divisar en los alrededores el origen de aquel sonido pero nada se avistaba en el follaje. Pero al contemplar el lugar del choque quedó paralizado, la liebre ya no estaba y no era sólo el cuerpo, la sangre que había manchado el asfalto y los neumáticos había desaparecido, era como si nunca hubiese estado allí. Aún ensimismado por la sorpresa revisó debajo del coche sabiendo de antemano que no encontraría nada. ¿Era para preocuparse? No podía negar que la situación le inquietaba, pero todo tenía una explicación lógica, si el conejo no estaba era porque algún otro animal dio cuenta de él y había lamido toda la sangre, y ese animal pudo haber producido el aullido que había oído. Pero la explicación no le convencía del todo, además ¿no podría atacarle aquel animal?
Entró una vez más al auto e intentó encender el motor, nada ocurrió. Ha debido aprender mecánica y cargar su caja de herramientas, de ser así quizás ya habría solucionado el problema. Se apeó una vez más, ahora más preocupado. Se preguntó porque no había pasado otro vehículo. Volvió y tomó el móvil del auto, observó en la pantalla el ícono de la antena buscando cobertura y avanzó un poco por la carretera, debía buscar un sitio alto, quizás hubiese una casa por allí.
Mientras recorría la calzada observaba a ambos lados deseando al mismo tiempo oír el familiar sonido de un auto, pero sólo le rodeaba el silencio. Poco después se encontró ante una pequeña vereda que se internabaen el bosque ¿Podría ser la vía de acceso a una casa? No se veían marcas de neumáticos, pero de haber uno quizás los dueños no lo hubiesen usado últimamente por estar descompuesto, era una probabilidad.
Se internó por el camino mientras observaba el móvil. Al mismo tiempo comenzó a tener la sensación de que era observado. Se detuvo de improviso centrando su atención en el follaje. Le era imposible divisar lo que pudiese haber en la espesura, pero casi podía asegurar que había algo allí. Se percató de la rapidez con la que la oscuridad se cernía sobre el lugar. Revisó la hora en el móvil ¿Podía ser aquello posible? Sólo eran las cuatro y media de la tarde.
Avanzó un poco más hasta que su caminata fue interrumpida. El aullido se había oído nuevamente con un lúgubre eco a su alrededor, intuyó que el origen de aquel ruido estaba detrás de él. Sintió como un sudor frío recorría su espalda y comenzó a volverse esperando encontrarse con algún extraño animal dispuesto a atacarle ¿Era realmente eso lo que temía ver? No, su creciente miedo avizoraba algo peor, una de esas temibles criaturas que poblaban las tenebrosas pesadillas de cualquier mortal. Sin embargo, no había nada allí. Pero lo que se presentaba ante sus ojos era totalmente distinto a lo que había recorrido, el follaje parecía haberse multiplicado y la carretera, de la que sólo se había alejado unos pasos había desaparecido, desesperado y víctima del terror echó a correr mientras entre los oscuros recovecos del follaje parecían asomarse criaturas de ojos luminosos que comenzaban a acercársele amenazadoramente. Pronto sus pasos se hicieron más pesados y su visión comenzó a tornarse borrosa, pero no lo suficiente para impedirle contemplar las extrañas figuras que parecían tomar forma del propio follaje, seres que se acercaban y le rodeaban. Pronto sintió como sus fuerzas le abandonaban y ya no supo más de sí.
No podría decir cuánto tiempo estuvo inconsciente hasta que un ruido se dejó oír a lo lejos. A medida que tomaba conciencia de sí el sonido iba en aumento, cuando aquello ya ocupaba casi toda su capacidad auditiva abrió los ojos y apenas tuvo tiempo de evitar ser embestido por un auto. Era un coche que pasaba al fin, dejó a un lado el susto y echó a correr detrás del bólido gritando para llamar la atención del conductor, pero… algo no estaba bien ¿Por qué le parecía que aquel coche era enorme? Incluso la carretera era enorme, además sus gritos… sus gritos no se oían como sus gritos. Se detuvo presa de una terrible incertidumbre. Levantó los brazos y se los contemplo. Un desgarro de pánico afloró en su garganta.
Echo a correr internándose en la espesura del bosque. Poco después se encontró ante un riachuelo que formaba un estanque de aguas tranquilas. Confundido y presa del pánico se dispuso a acercarse a la orilla pero se detuvo. En su mente se presentaban las ideas más inverosímiles pero para él tenían una extraña certeza. Retomó su avance cauteloso y unos segundos después estaba en la orilla, se asomó ante las tranquilas aguas y lo que vio le hizo gritar de espanto, la imagen del charco no era la del hombre que siempre había visto en el espejo y que últimamente rondaba los cuarenta y seis años, el reflejo que le devolvían las aguas era el de una liebre.
---