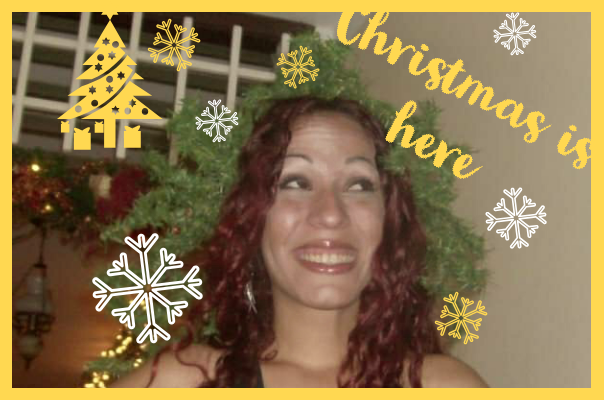 There are many reasons now to remember Christmas, and that is that in Venezuela we have gone through many hardships in recent years. There was one specific year when only my brother and I were receiving the new year by looking out the window because we could not travel to visit my mom because we did not have money for the ticket. After that time everything was worse, the following year my uncle died in the house while I was setting the Christmas table. And last year I stayed in the house, alone, lying in my house watching TV. I suspect that this year will be different even if it is only my sister, my nephew and I, I will not spend it alone like last year. I feel it.
But not everything has been bad, this time has always meant for me the reunion with my friends and family. As many of you know, I spent my college years outside of my hometown, so every year I would go home for Christmas to reconnect with my friends and family.
Hay muchas razones ahora para recordar las navidades, y es que en Venezuela hemos pasado por muchas penurias en los últimos años. Hubo un año en específico en que solo estábamos mi hermano y yo recibiendo el año nuevo viendo por la ventana porque no podíamos viajar a visitar a mi mamá porque no teníamos dinero para el pasaje. Después de esa vez todo fue peor, el año siguiente, mi tío murió en la casa mientras yo ponía la mesa de navidad. Y el año pasado me quedé en la casa, sola, acostada en mi casa viendo televisión. Sospecho que este año será diferente aunque estemos solo mi hermana, mi sobrino y yo, no la pasaré sola como el año pasado. Lo presiento.
Pero no todo ha sido malo, esta época siempre ha significado para mí el reencuentro con mis amigos y mi familia. Como muchos saben pasé mi época universitaria fuera de mi home town, así que cada año regresaba a casa para navidad a reencontrarme con mis amigos y mi familia.

| | |
| --- | --- |
I would go crazy to return to meet my friends in my town and drink until dawn. It was one of the things that made me happy. Here I am seen by my sister and my friends.
Yo me volvía loca por volver para reencontrarme con mis amigos en mi pueblo y beber hasta amanecer. Era una de las cosas que más me alegraba. Aquí me ven von mi hermana y mis amigos.

And when I didn't go to Caicara, I would come to Valencia to spend Christmas with my grandparents, here we also made hallacas and ham bread, there was never a lack of Coca-Cola and cider :). But it wasn't dawn, I didn't have any friends here to go drinking.
Y cuando no iba a Caicara, me venía a Valencia a pasar las navidades con mis abuelos, aquí también hacíamos las hallacas y el pan de jamón, nunca faltaba una Coca-Cola y la sidra :). Pero no amanecía, aquí no tengía amigos para irme a tomar.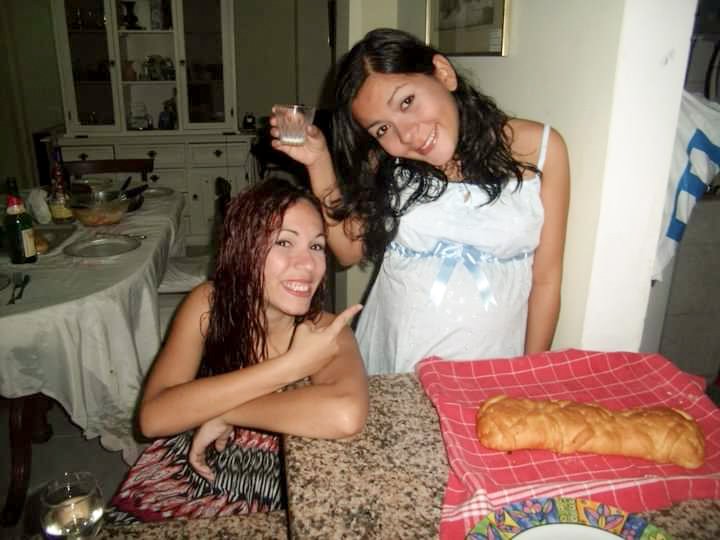 This was my best Christmas present: An Alejandro in the oven, a couple of weeks after this picture there was already that dwarf squealing and making his aunt happy.
Este fue mi mejor regalo de navidad: Un Alejandro en el horno, un par de semanas luego de esta foto ya estaba ese enano pegando chillidos y haciendo feliz a su tía.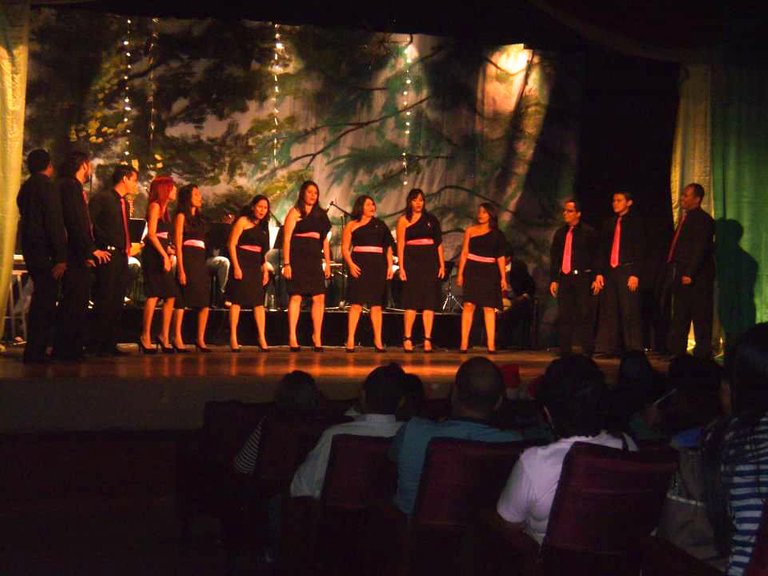 And my musical side was always active during Christmas, we didn't stop from November to all the parties we were invited to, and the Christmas gala and the living birth couldn't be missed, I was always with the choir in all these activities singing Christmas bonuses and carols. I am not difficult to recognize, tell me which one I am.
Y mi parte musical siempre estaba activa durante las navidades, no parábamos desde noviembre a cuanta parrandas nos invitaran, y la gala de navidad y el nacimiento viviente no podía faltar, siempre estaba con el coro en todas estas actividades cantando aguinaldos y villancicos. No soy difícil de reconocer, díganme cual soy yo.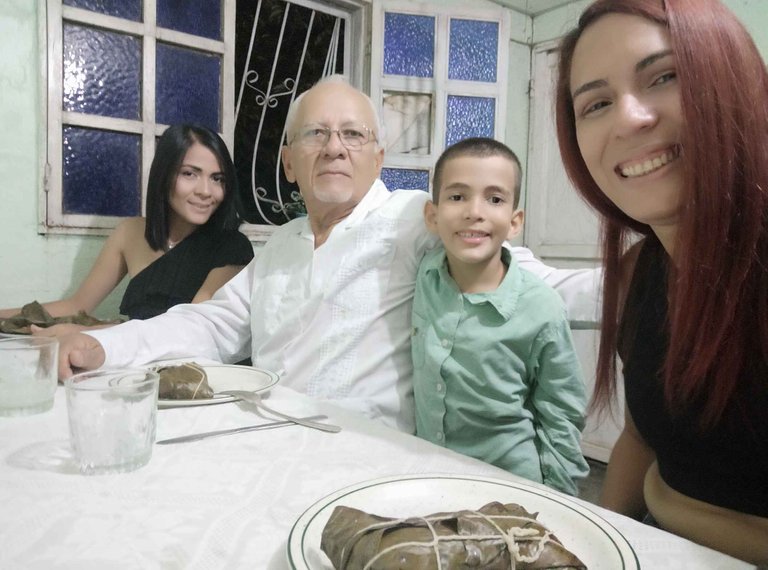 And although last Christmas I was alone, two days later I took a bus to go to Caicara del Orinoco to meet up again with my father, my sister and my nephew. I made hallacas and ham bread and met my father's family. Although the diaspora has separated us, I still have part of my family here and that is enough for me. I hope that next year my mom will be back and that the family will continue to grow, and that the Christmas pictures will be more crowded, but if not, that's okay.
Y aunque la navidad pasada estuve sola, dos días después tomé un autobús para irme a Caicara del Orinoco y reencontrarme con mi papá, mi hermana y mi sobrino. Hice hallacas y pan de jamón y me reuní con mi familia paterna. Aunque la diáspora nos ha ido separando, aún me queda parte de mi familia aquí y eso para mi es suficiente. Espero que el año próximo ya mi mamá esté de vuelta y que la familia siga creciendo, y que las fotos de navidad sean más pobladas, pero si no es así, no pasa nada.
MERRY CHRISTMAS TO ALL!!
¡FELIZ NAVIDAD A TODOS!