By Canadian Renegade
Hey everyone, we are optimistic that you are doing well. If you live somewhere experiencing this exceptional heat, we hope you are managing it well.
We had been posting at a pretty good clip for awhile but the planting season and other real life activities have been eating up the majority of our time the past month or so.
A few weekends ago my dad, brother, and I took little R and H fishing for Father's Day and a good time was had by all. My dad's boat motor even crapped out after lunch which was just like the childhood fishing trips my brother and I remember!
R and H also celebrated their 4th birthday. Hard to believe that they are four already!
In between these types of family activities, I have been hard at work on the garden and on the nursery project; both have been a ton of work.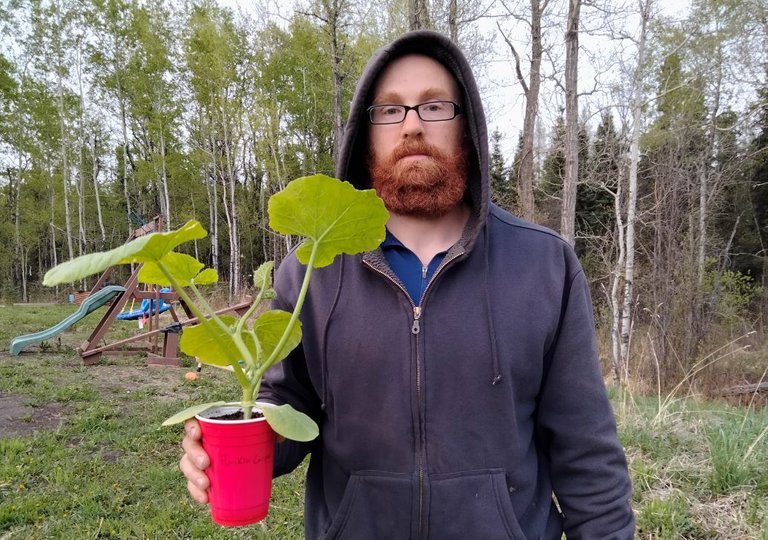 Pumpkin three weeks after being started in the basement!
A couple of days after I transplanted the squash and tomatoes that I had started in the basement we had a brutal two day wind storm that basically flailed most of these tender plants to death. Our main garden area is pretty sheltered but the wind came in at the exact angle it needed to inflict the most damage! Unfortunately, I didn't take any pictures of the damage.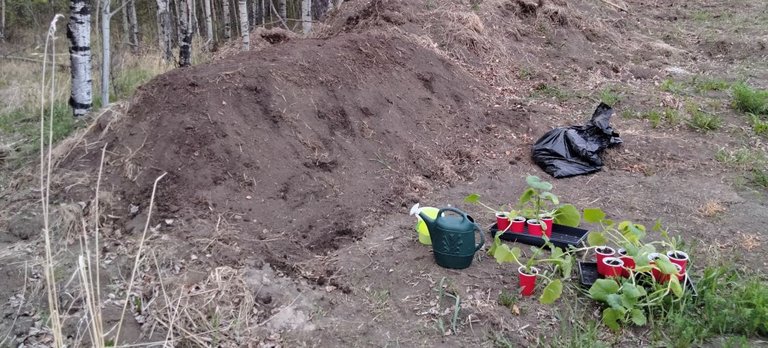 Impromptu Hugel mound before planting. We only planted a small section this year. The rest will have to wait for next year.
I had hardened the indoor plants off for about three days which, honestly, seemed like enough time to get them used to the sun. I will definitely be hardening off my starts for a longer period next year, perhaps a couple of weeks. They need to have time to adapt to heavy wind and rain, not just the sun. Additionally, I will be brainstorming some sort of wind break to offer protection to the one unprotected side of the garden.
We also lost over half of our tomato plants due to the wind storm and had to actually go buy a couple six packs to fill in the empty spots in the garden. Some of the squash survived but they were basically stunted due to the damage they had to recover from. All of our slicing cucumbers were also killed but there were enough extra pickling cucumber plants to fill in the garden area that had become vacant.
I also ended up having to re-seed a few of our rows of crops. Some of the seed I used this year was really old, over ten years, because I just wanted to use it up. Even though some of the older seeds did well, I had to re-plant some of the carrots and beans.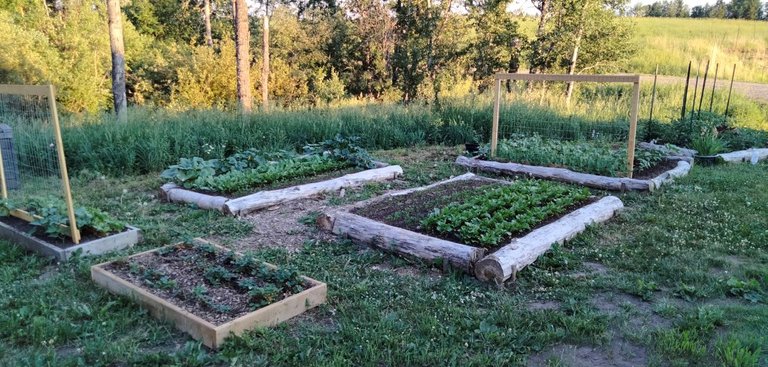 The Garden a few weeks after planting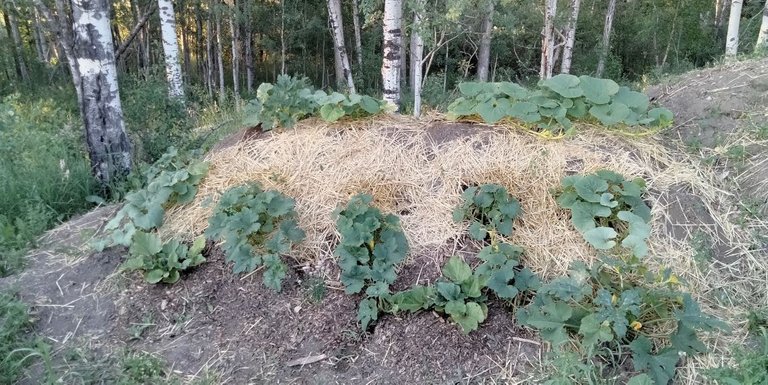 Hugel mound a few weeks after planting. The wind blew a lot of the straw away and I hadn't topped it up yet.
The nursery has also been very time consuming and has been a learning process. The area we decided to plant has very poor soil so there has been a lot of prep work involved before the trees and shrubs even get in the ground. I will probably do some dedicated posts about some of the things I have done/experimented with to help the trees.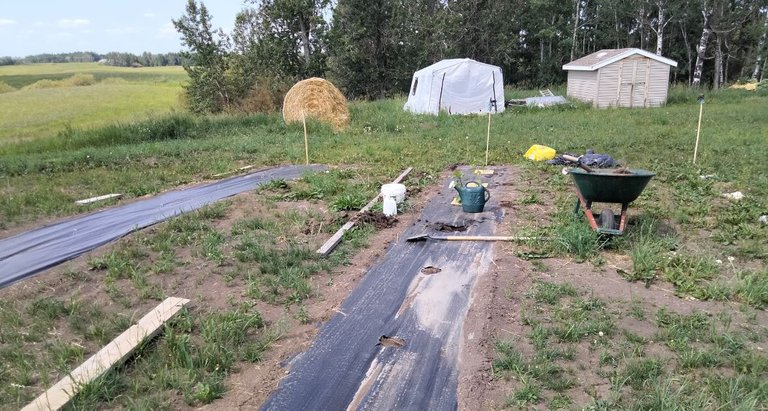 Nursery being planted out.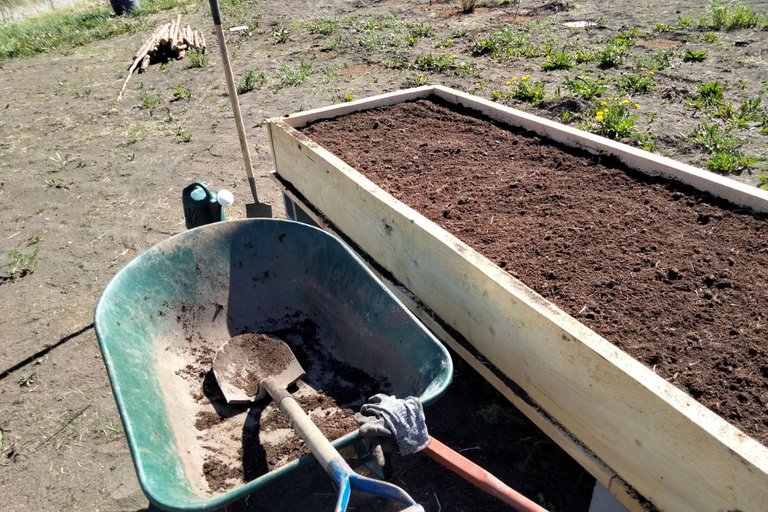 Air pruning bed filled with soil.
Of course, if all of this wasn't enough work, we then started to get hit with extreme heat and drought that a lot of you have probably also been experiencing. Because we are just getting started on this property, we have limited infrastructure for watering. Most of our watering has been done by hand with watering cans. This normally wouldn't be too much work but with the crazy heat and close to zero rain it has an abnormal amount of effort.
We have been trying not to use too much well water on our garden beds because it's high in minerals and, over time, salts can build up in the soil. We have future plans for water catchment off the roof but have basically been relying on a submersible pump to draw water from our pond into a rain barrel.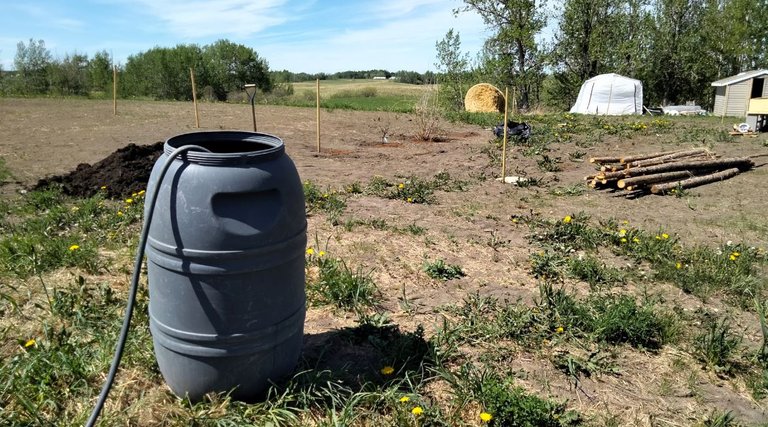 Water barrel filled from the pond.
I had to water almost every night after the kids were in bed to keep everything hydrated. It has been a pain but the heat has really made the garden grow well otherwise. The garden is definitely doing better than it did last year when the weather was too wet and cold.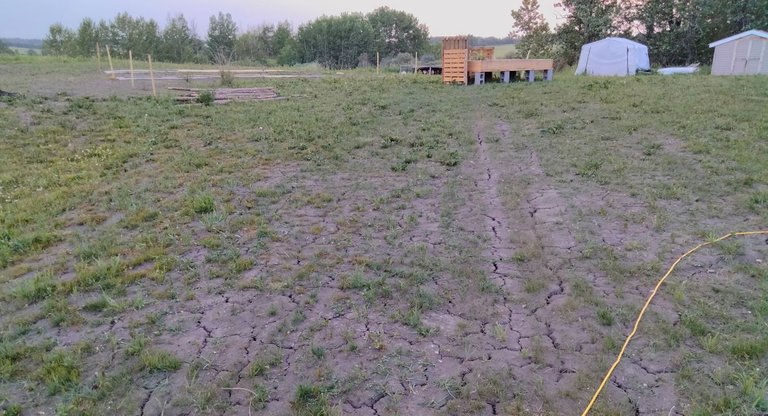 The drought hasn't been all that it's cracked up to be!
In our colder climate, there are some crops I have pretty much given up on like melons and corn. I can't help but think that if I had tried them this year they would have done well. The only time I have ever had success with melons was also a year that was exceptionally hot.
Well, that's it for this update post. Hopefully things around the homestead will calm down a bit so will be able to get back to more posting!
---