The break
Those who followed my blog must have noticed my long period of break in regards to gardening posts. For the whole of 2020, I had some health issues, for some reasons my liver had high level of enzymes and I always felt tried and drowsy. The doctors still don't know what's going on and are still doing regular tests.
In addition to that, my place got some water damages due to flood and we had to deal with multiple attempts to get things fixed and prevent water ingress into our basement. As a results of all that, I had to stop my worm farming and black soldier fly farming activities and our backyard has been scraped out.
We had to go from this backyard full of plants: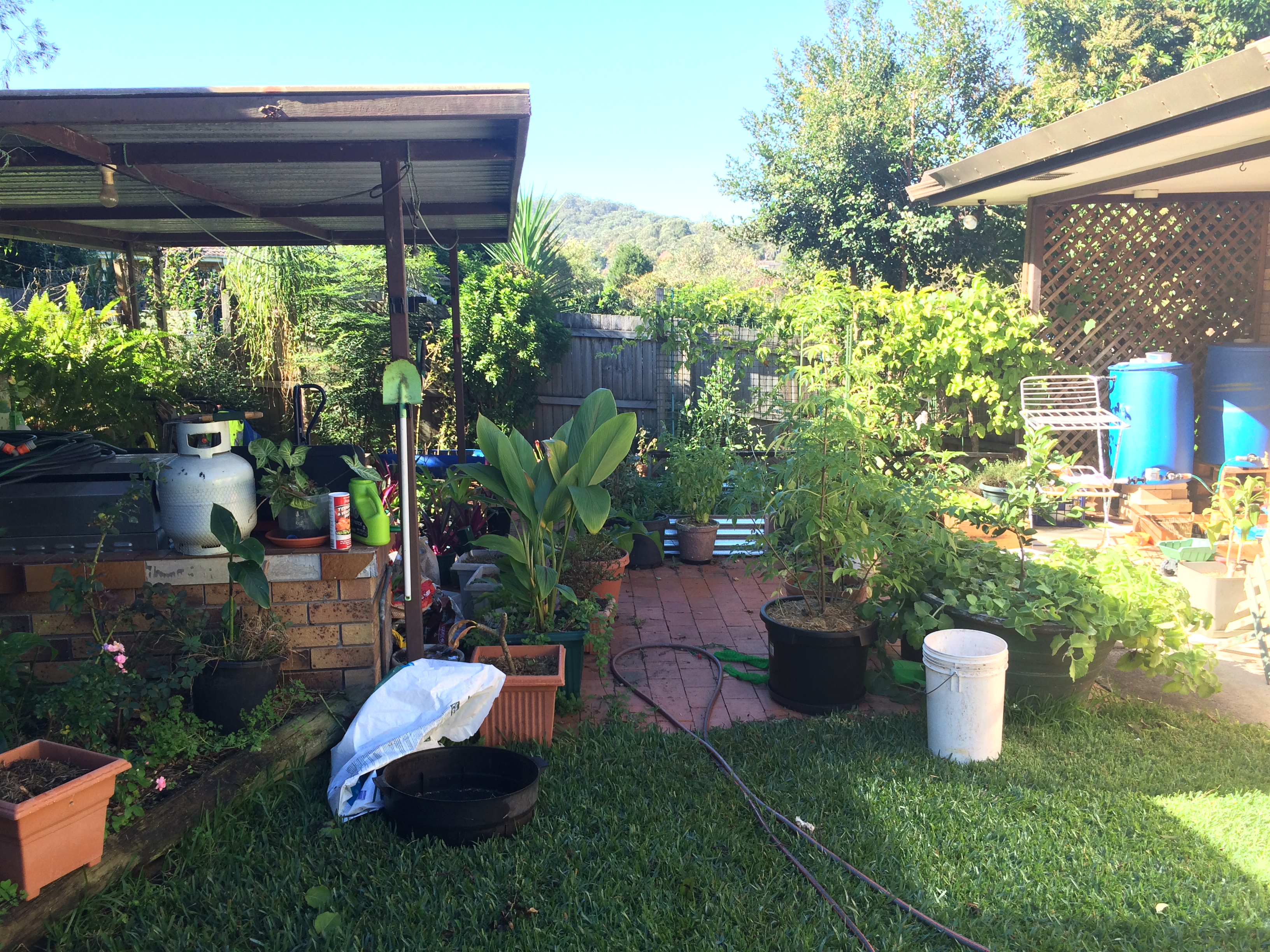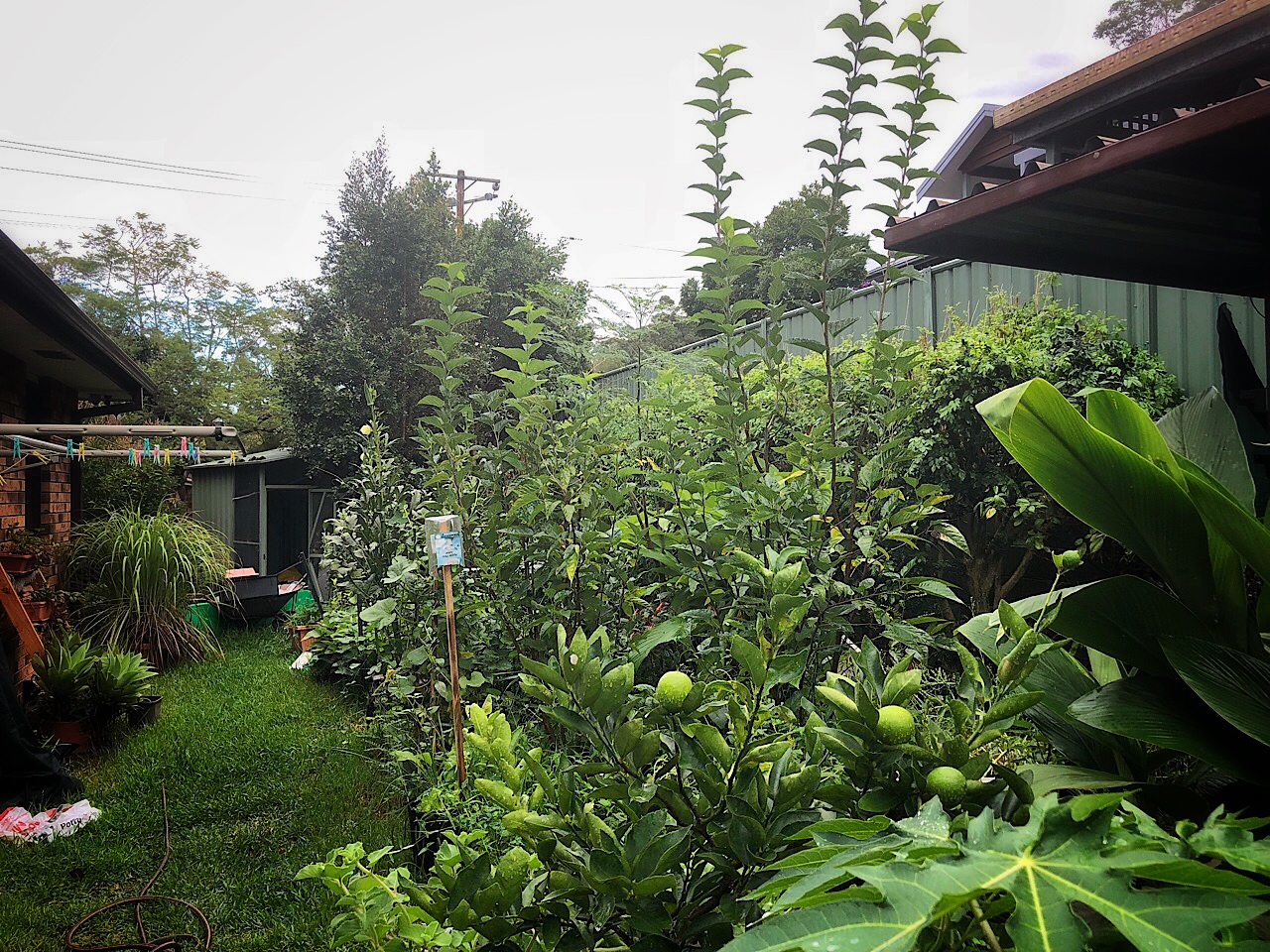 To this backyard covered with concrete: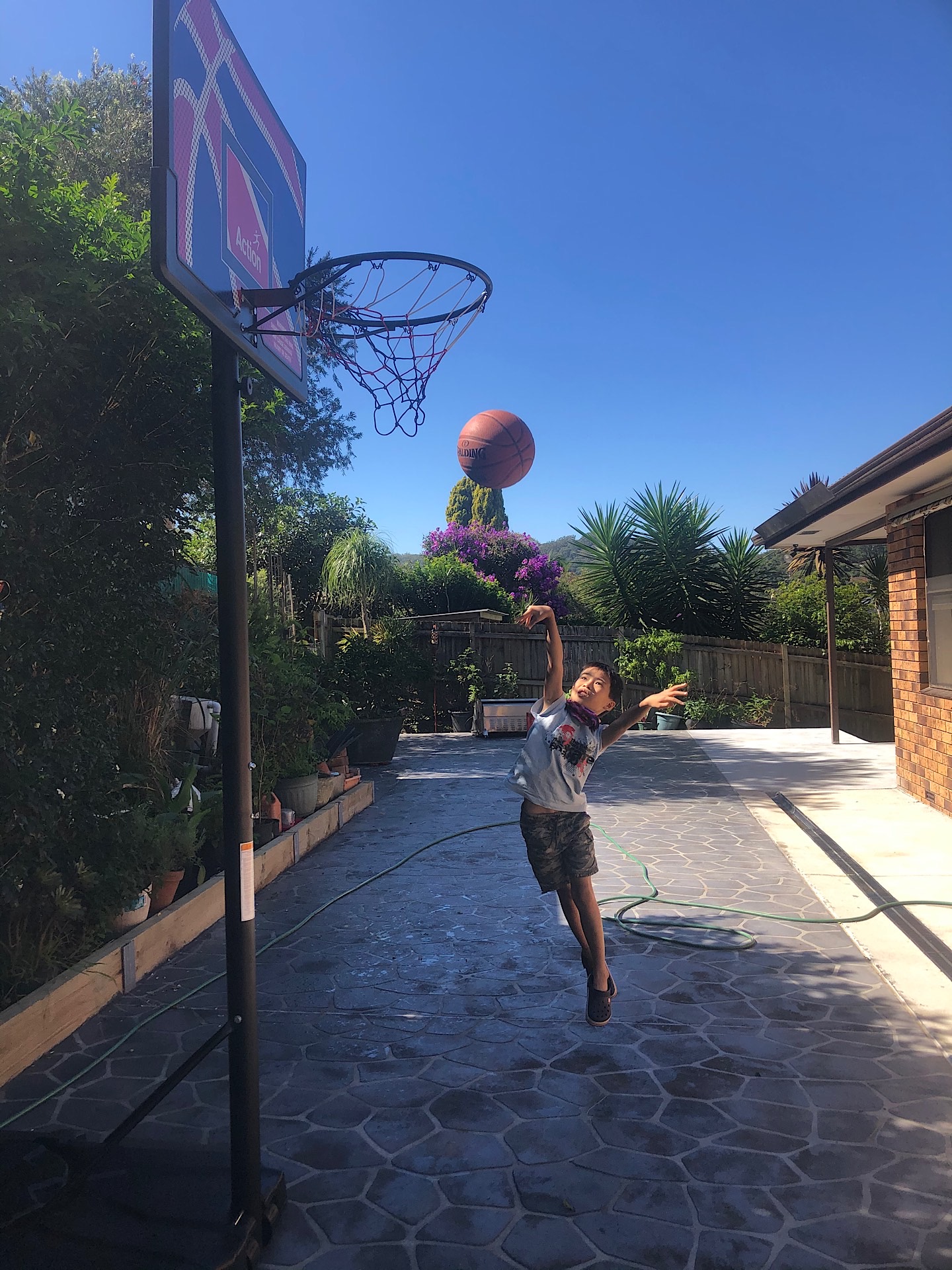 The change
Living on a hill, we had stormwater issue had to rebuild the backyard in an attempt to redirect the water away. So we removed the BBQ roof, removed a pergola covered with some crawling star jasmine. As a result, we have now a much larger entertaining area with more light and breeze coming through. My boy is now going out in the backyard much more than before and it's a very fresh atmosphere.
Some friends were wondering what would happen to all of our plants. We didn't throw them away, they were just going to be transplanted elsewhere. In one of corner of the backyard, we had our unused aviary removed to make more space for planting.
Before the renovation work, we sold a lot of the plants but kept multiple cuttings and seedlings to restart the garden once the work is completed.
The main garden bed
We now have three garden beds. The main one is on the left side of the house. The entrance has been planted with some succulents (Black roses and Portulacaria afra) and a lavender plant.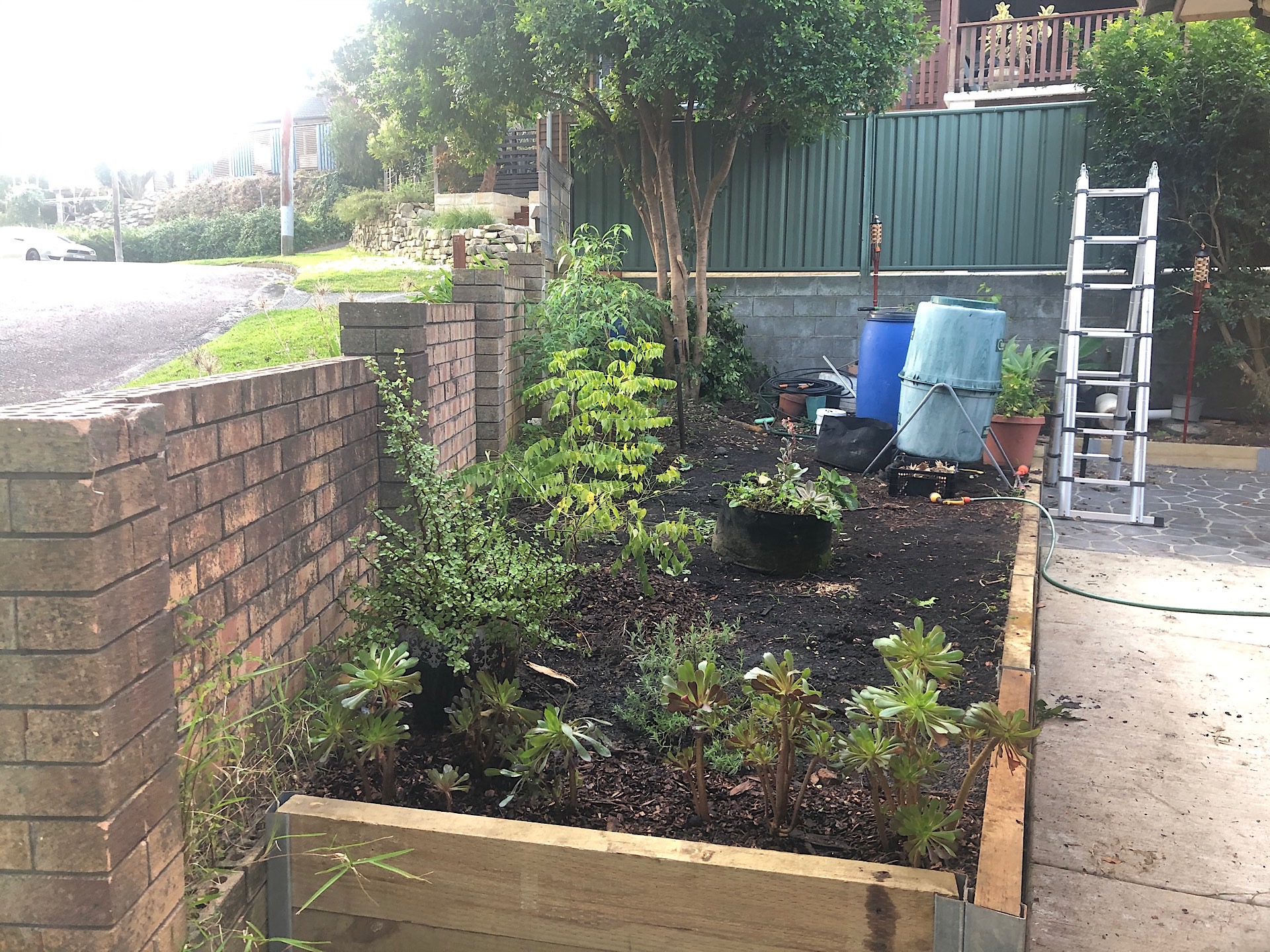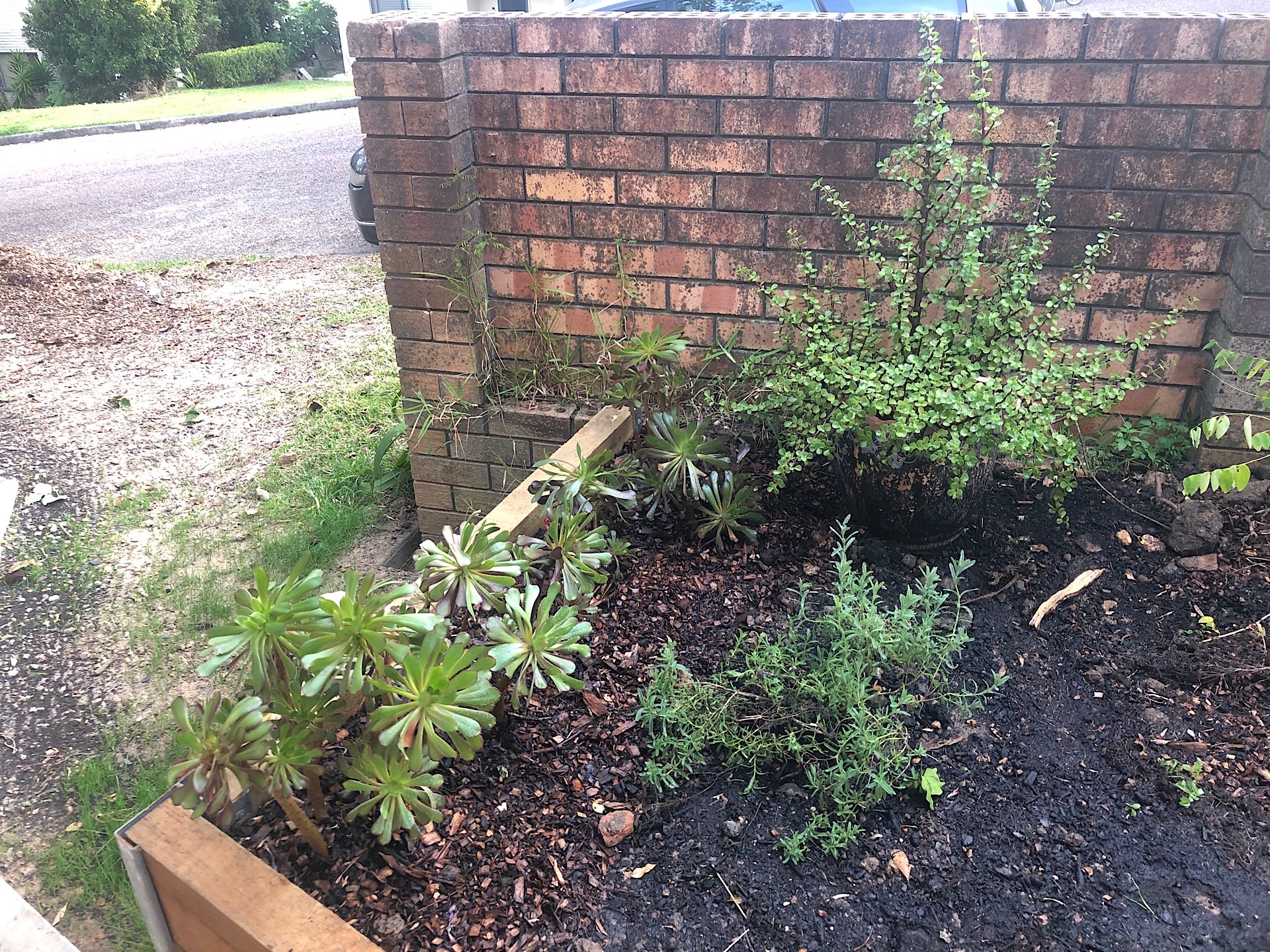 Along the brick fence we planted some medium size trees. As they grow up they will become some green privacy screen.
First we have some Katuk which leaves and fruits are edible.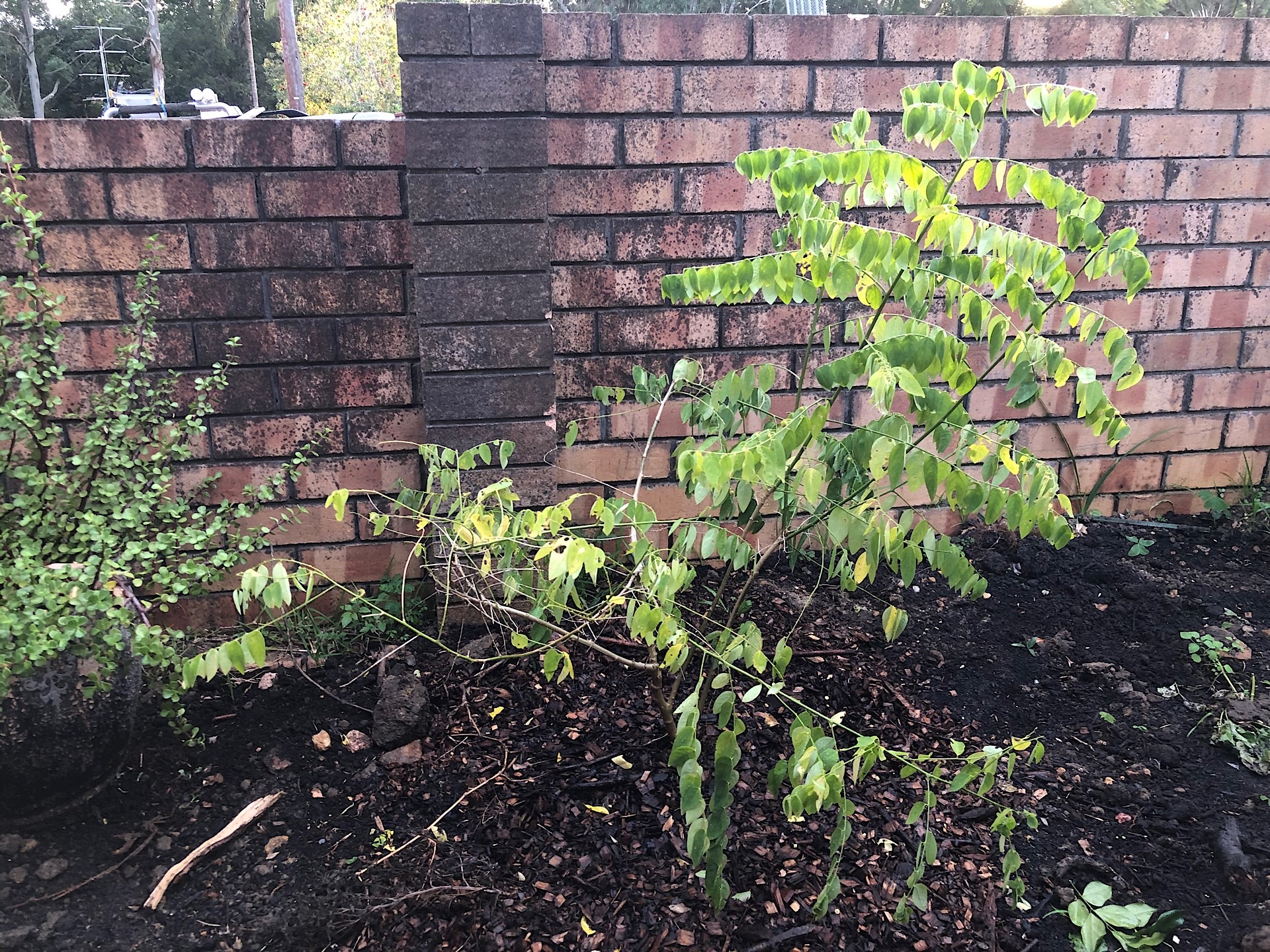 Next to it is the popular Moringa tree.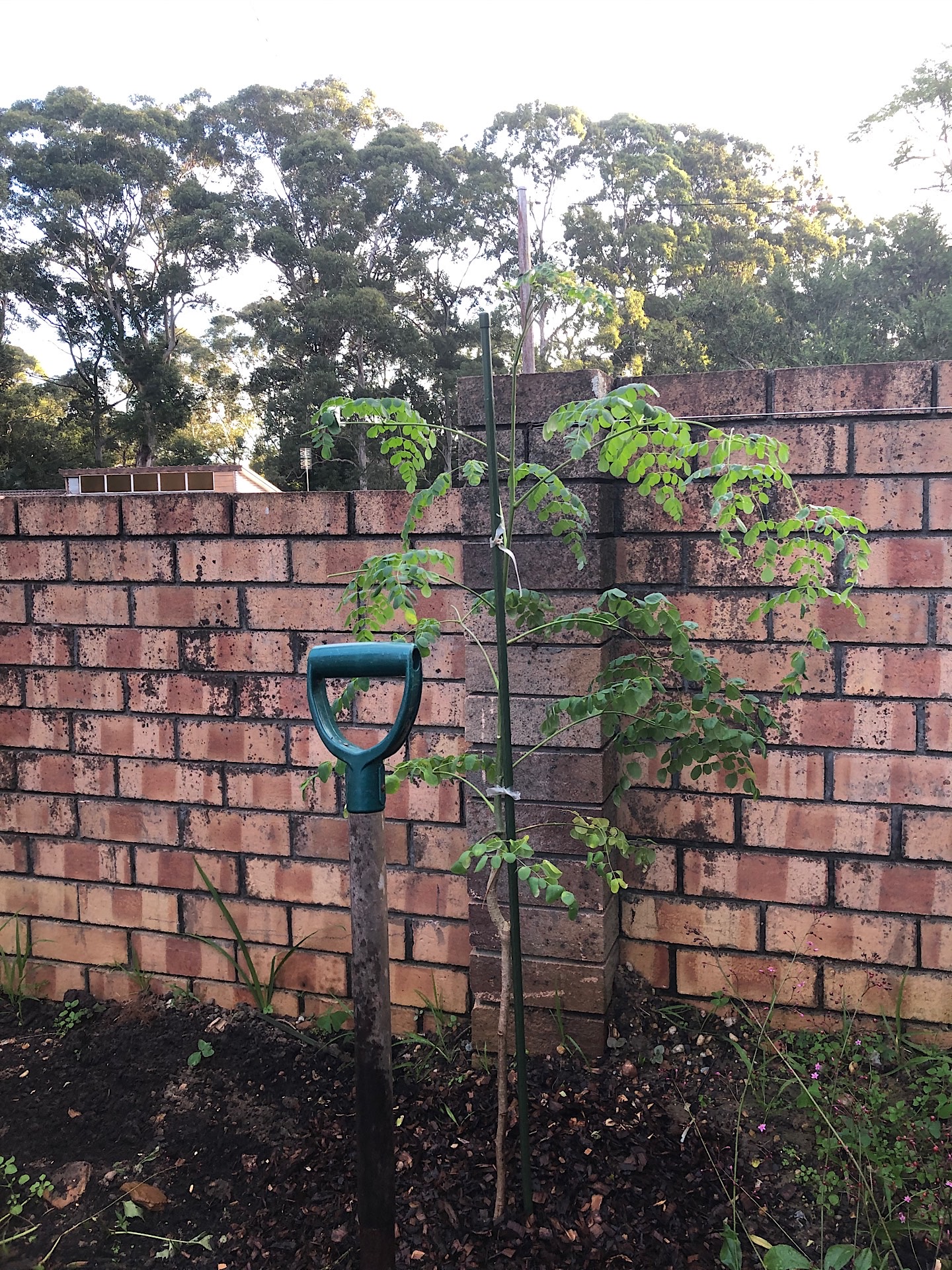 Followed by a Pseuderanthemum palatiferum (a Vietnamese super food and precious medicinal plant called Hoàn Ngọc).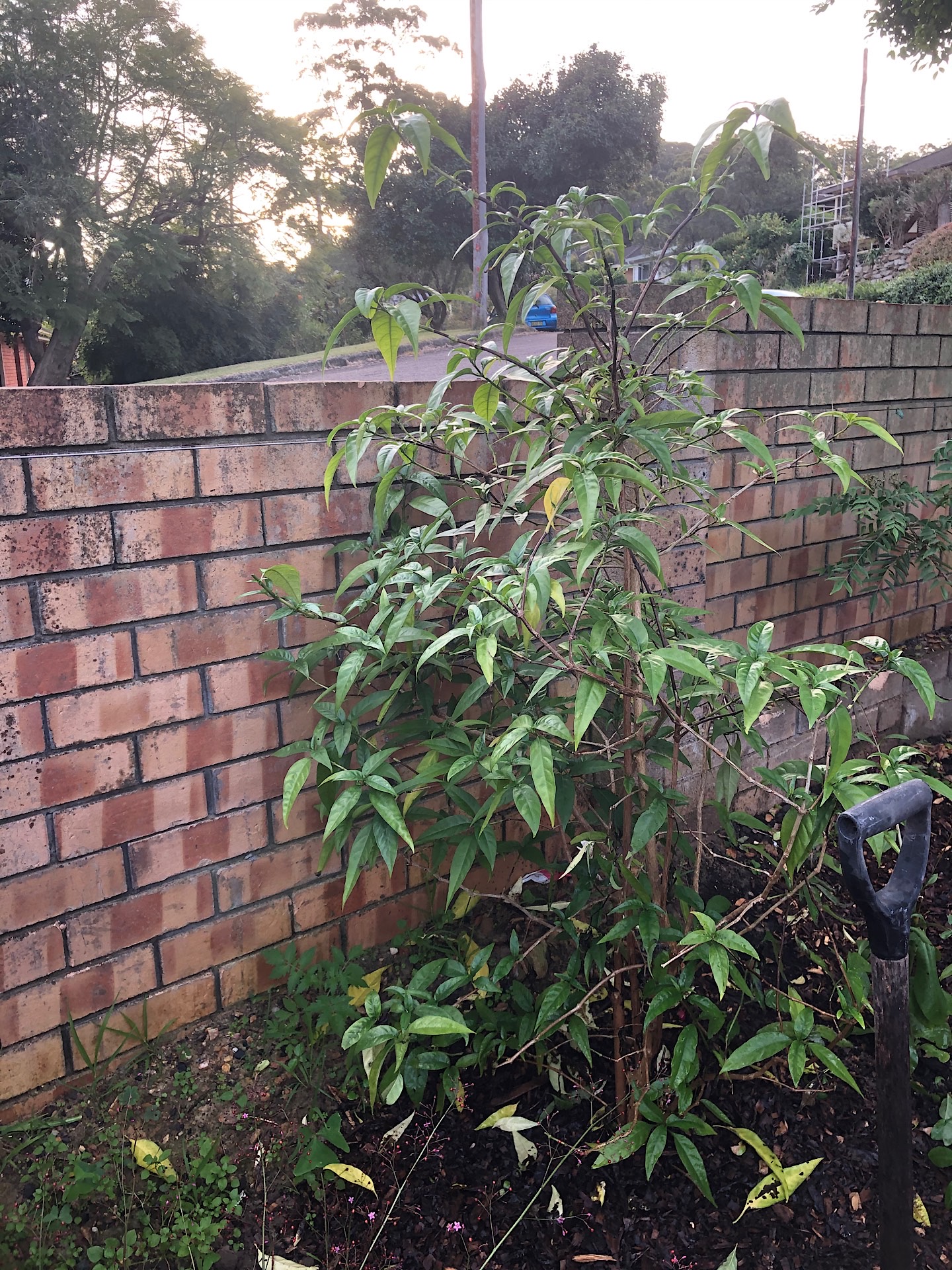 And lastly, a curry tree.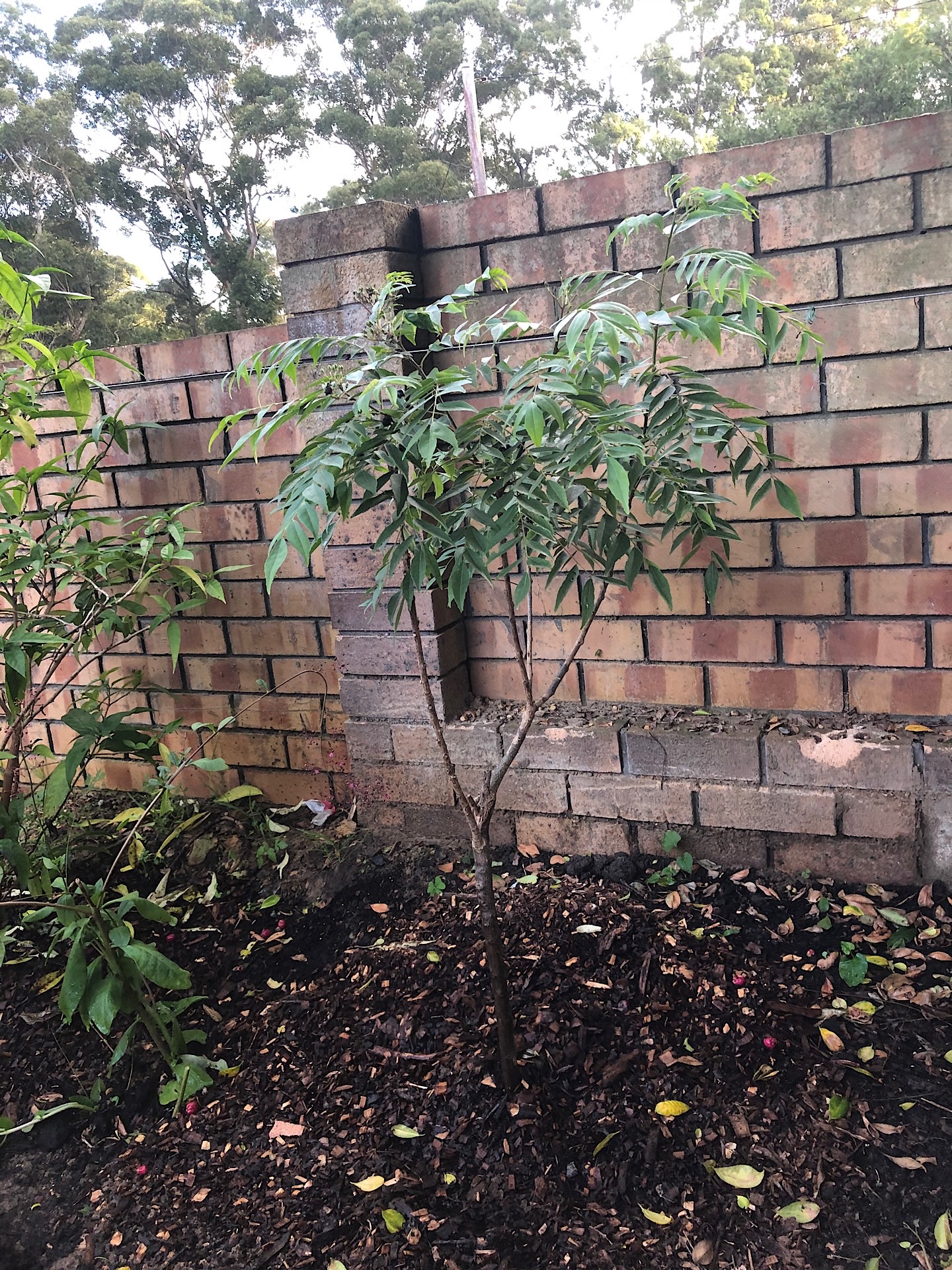 In between the trees, I've planted some False Ginseng or also called Jewels of Opar. Like the actual Ginseng, this plants is full of nutrient and trace minerals. It can be cooked just like the Malabar spinach.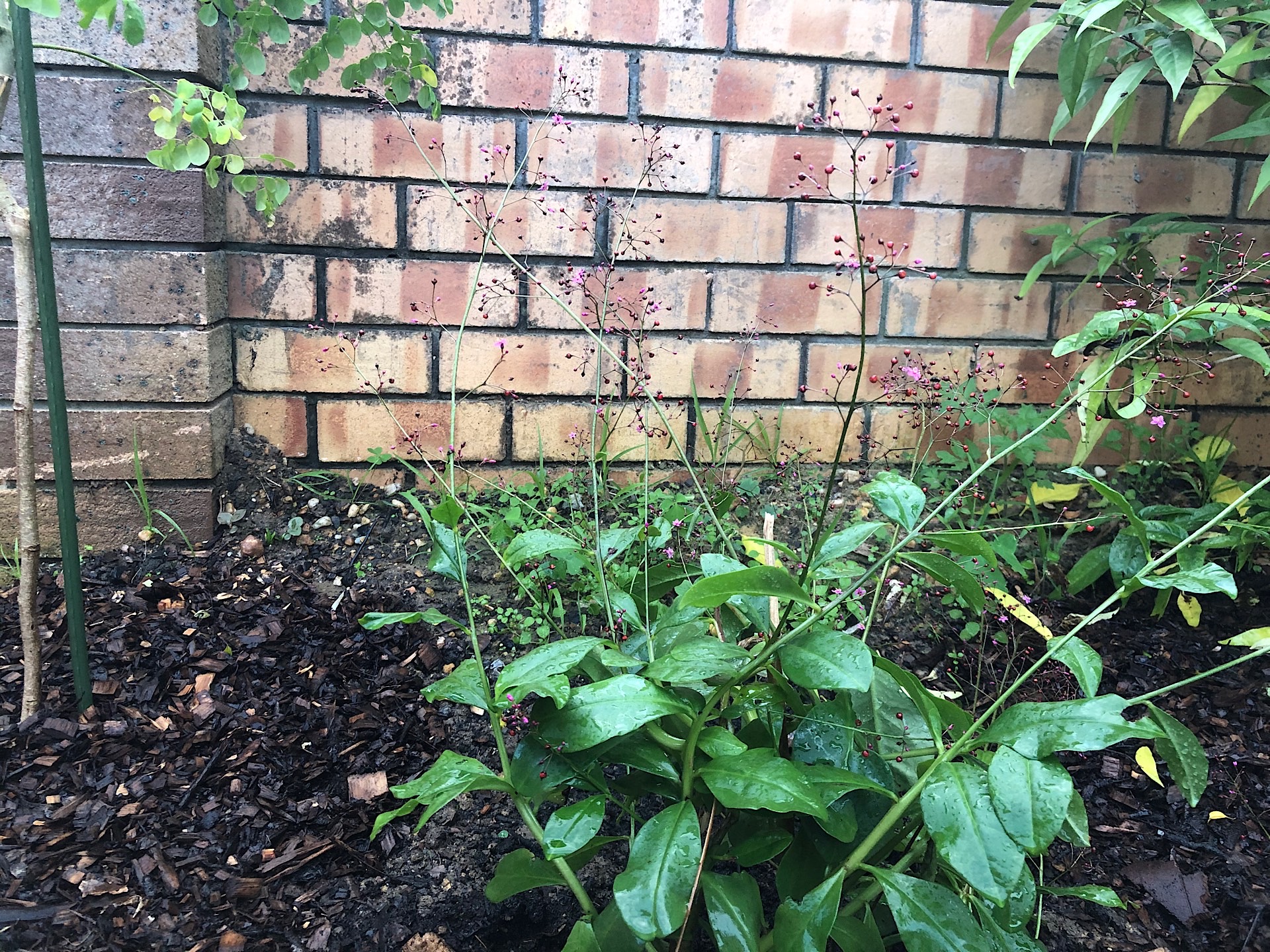 Our family love Mulberries so we kept this little one.

The middle garden bed
Right behind the house is a little section I kept for my wife. I've planted some Aloe vera at the back and she added some of her succulents on the edges.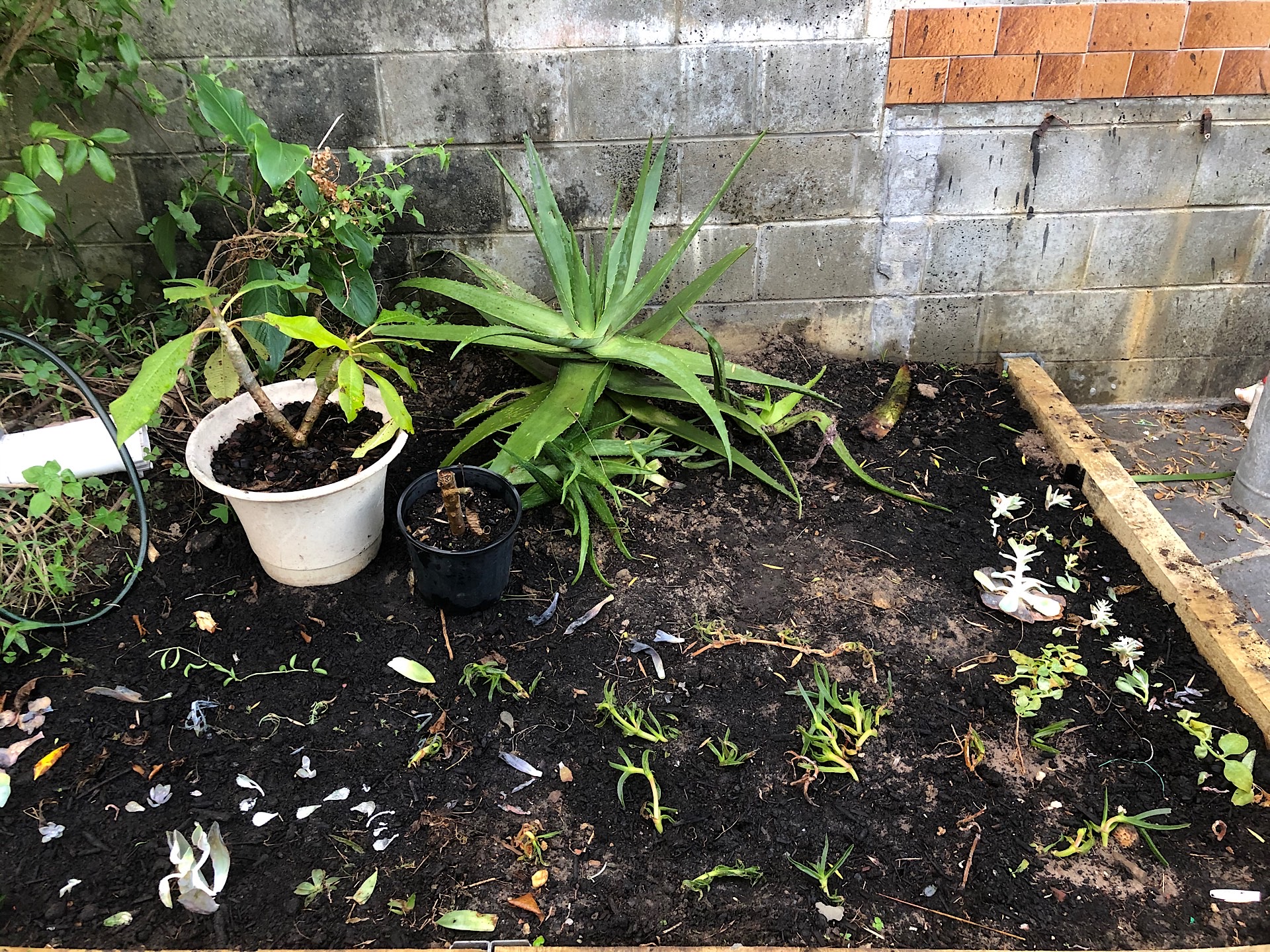 The secondary garden bed
On the right side of the house, we have a narrow but long section of soil, where we have planted edible plants and veggies were will be harvesting frequently. We used to plant a lot in containers but we are now getting rid of pots and have started transplanting the plants directly into the ground. First are the chili plants.
Here is the Sunshine chilli in the foreground. Behind it is the Peruvian chilli Aji Amarillo. They grow into long and thin yellow pods.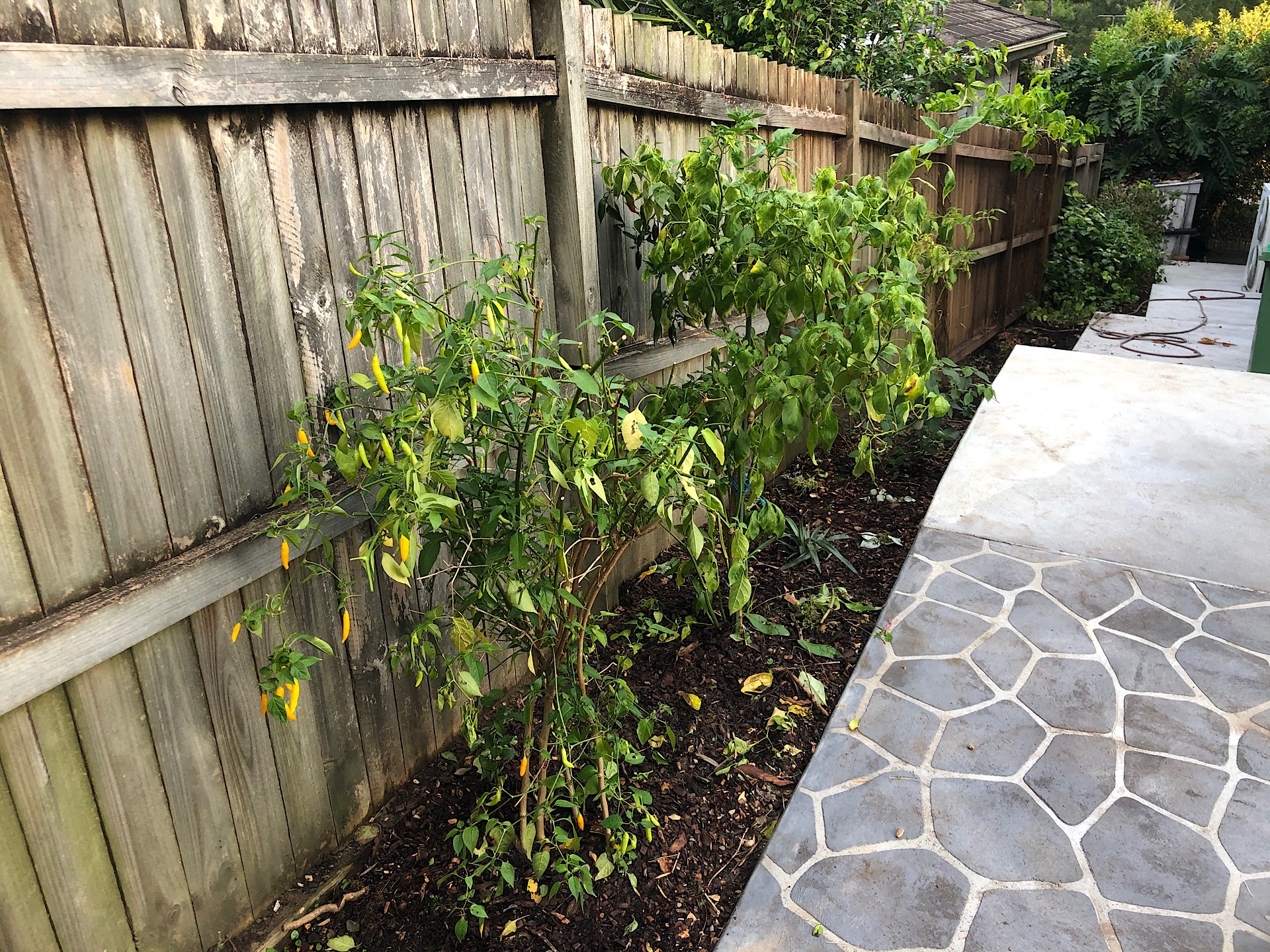 The Aji Amarillo is a very tasty chilli. It's mild if you eat the whole chilli but almost not hot if you only eat the skin and discard the core and seeds. When ripe, the pods are in bright beautiful orange.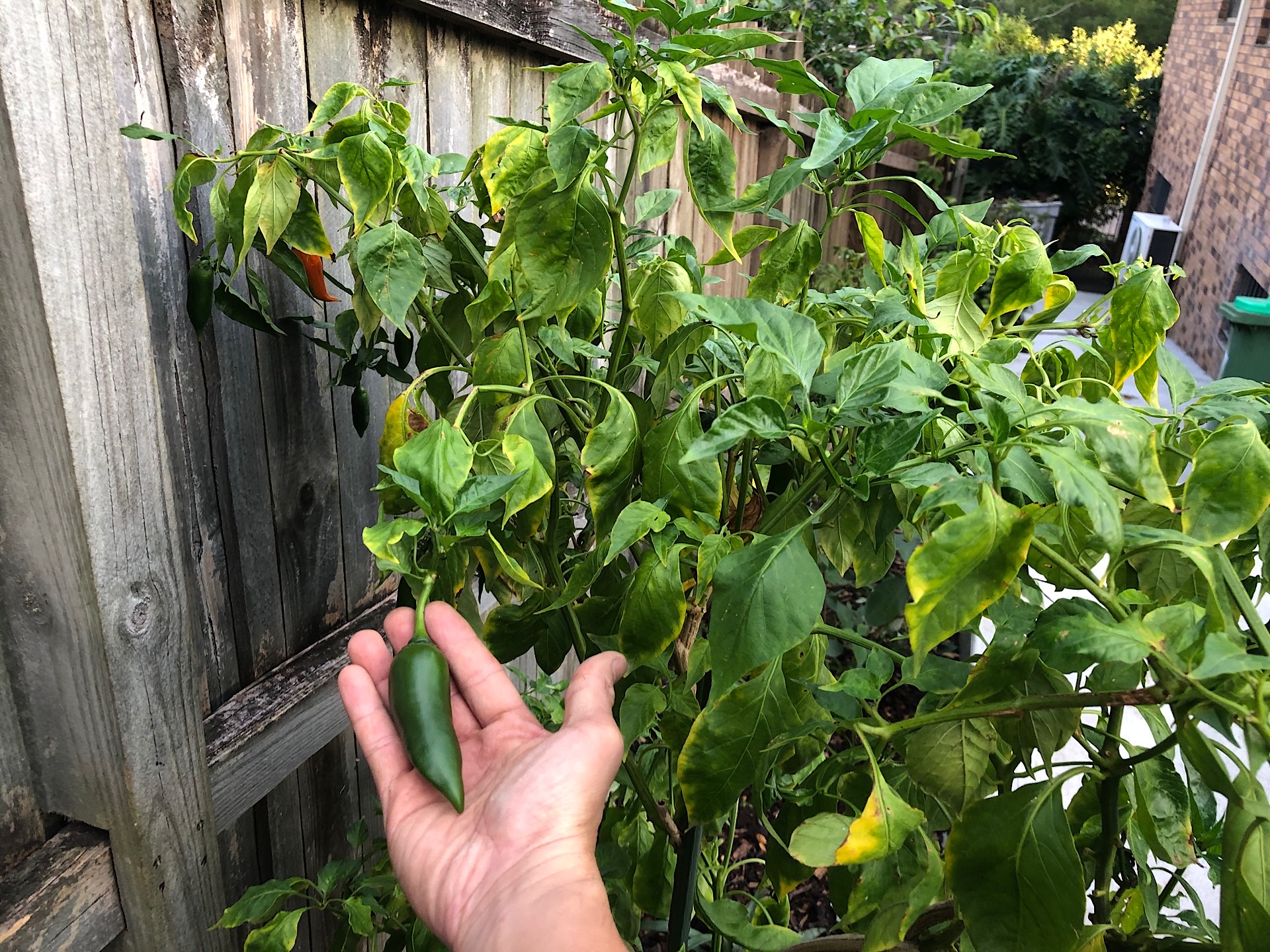 Here, on the left we have the Ramie. It's a cousin of the Nettle and my wife uses it to make some Vietnamese cakes called. On its right is a Thai chilli that are very long and red.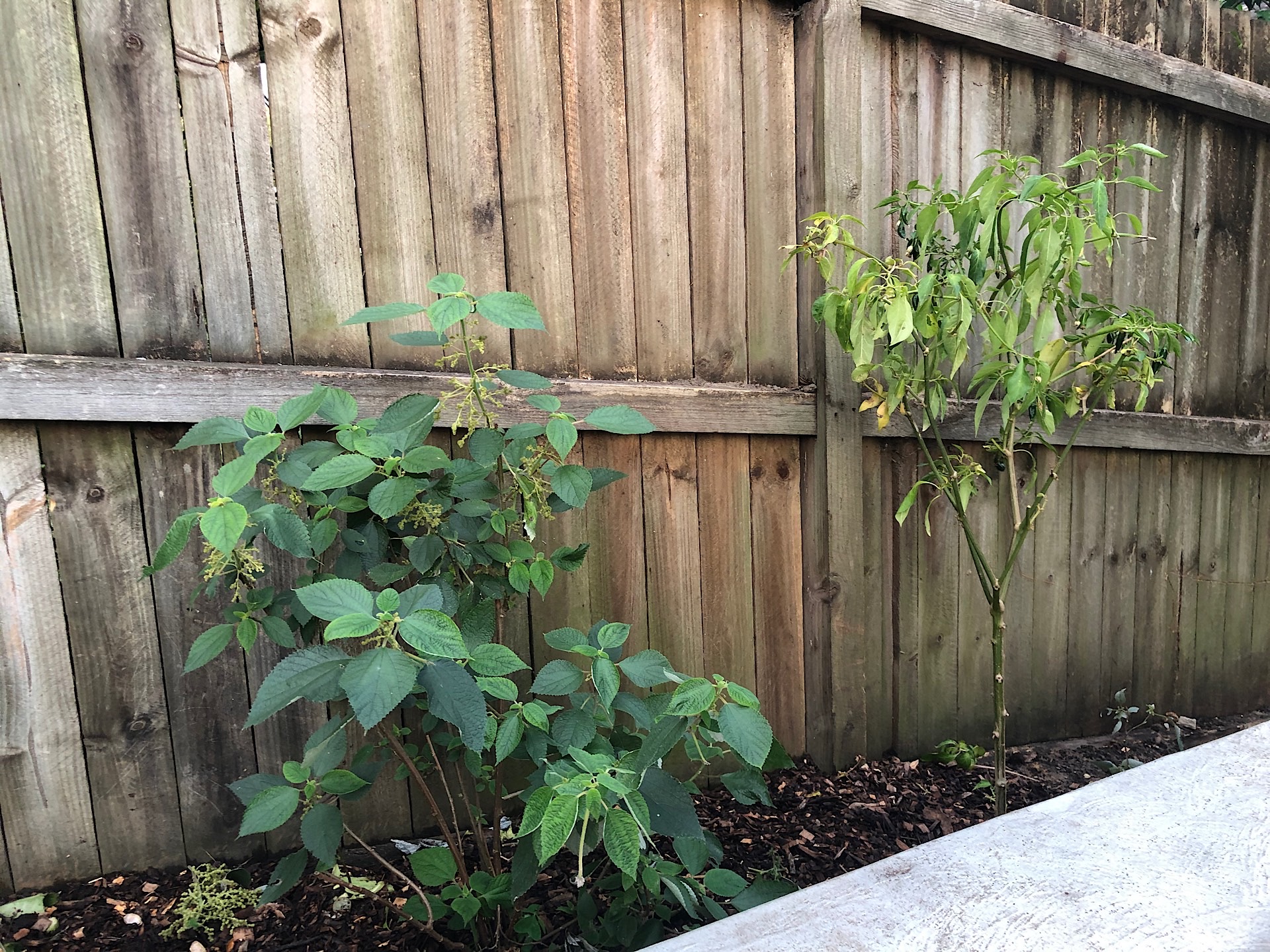 Here is the uncooked (left) vs cooked Ramie cake my wife made:
![Uncooked Ramie cake(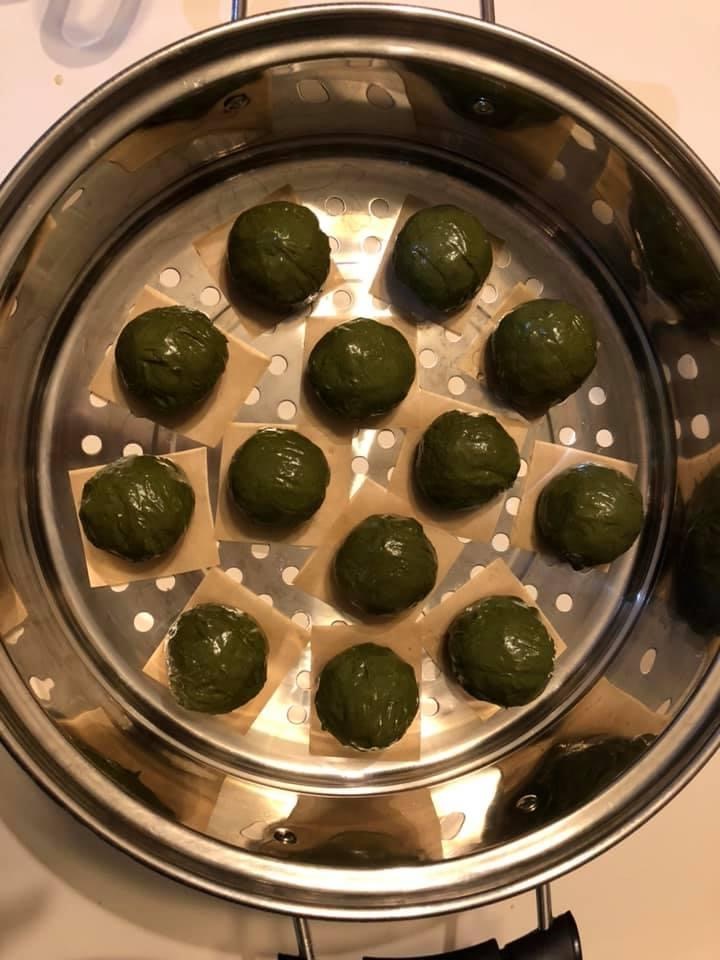 )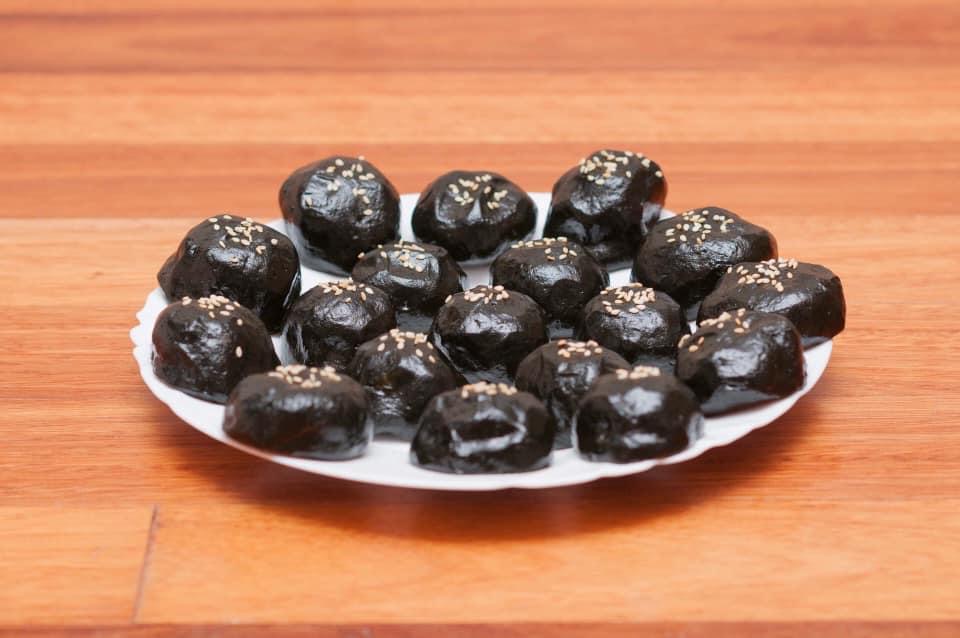 Apart from making cake, apparently you can also make a tea out of the leaves to help with stomach pain / acid reflux.
Vietnamese people love their mint! We've saved a little bunch and it will grow in no time.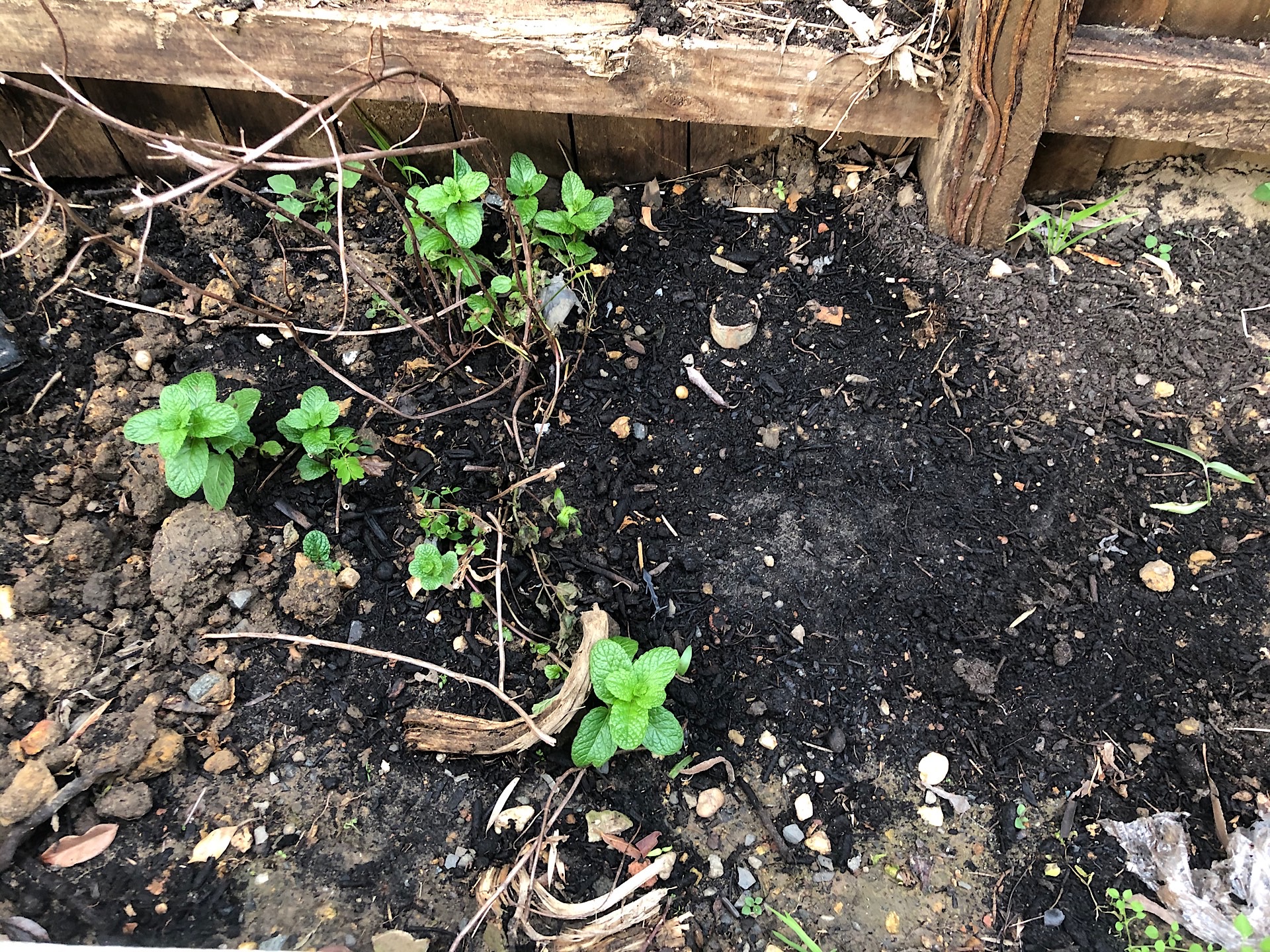 This is the Common Purslane, it grows everywhere in NSW. You go by the beach or in a park and you can spot then among the grass. It has a sour taste and we eat it in a soup. It's also a plant full or nutrients.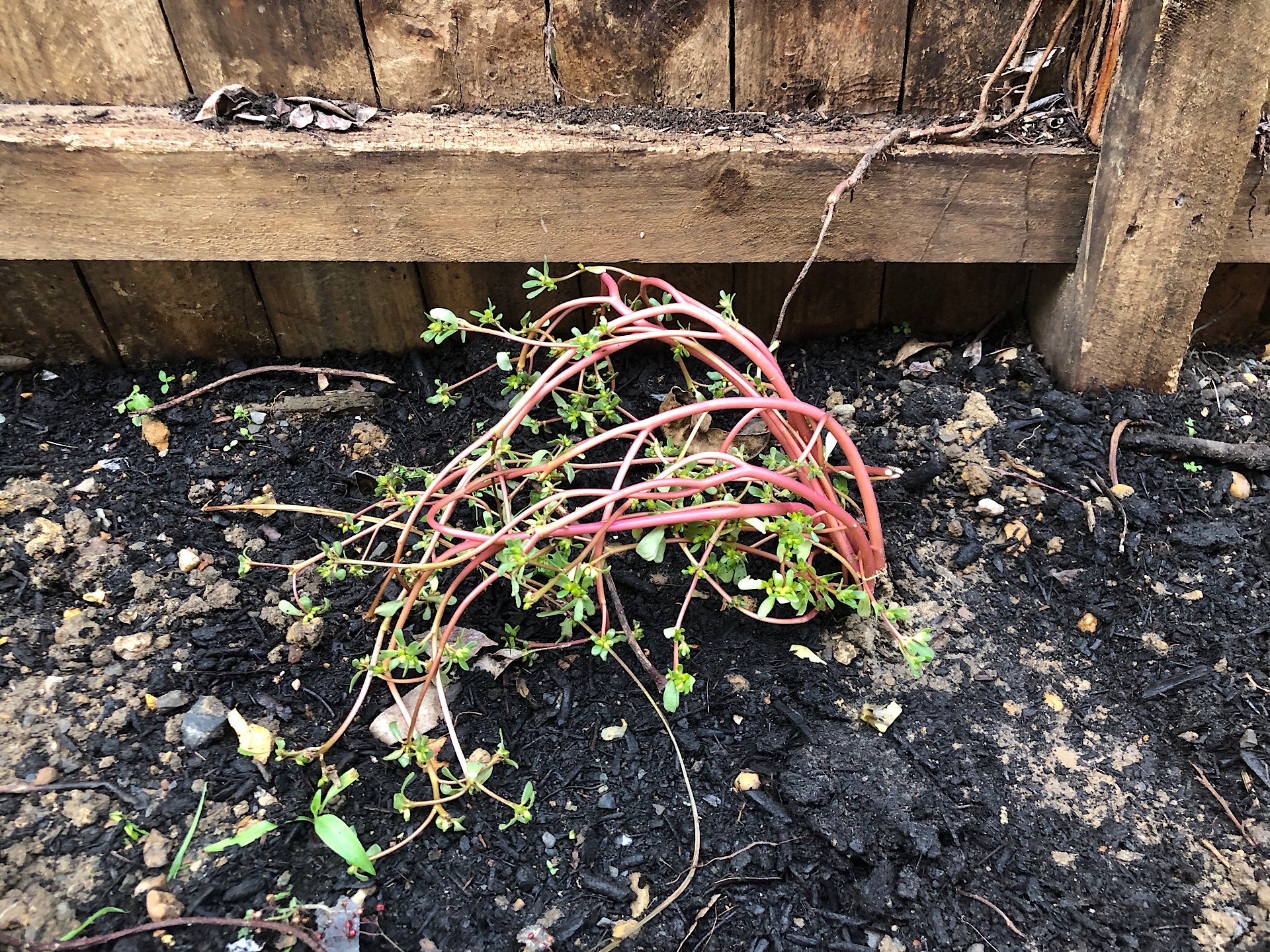 The Magenta Plant has small and lovely Magenta/Pink flowers. You take the green leaves, cook them and the liquid will look blue but when you add it to other ingredients such as sticky rice, the rice will turn Magenta. We are using this plant as a natural food dye.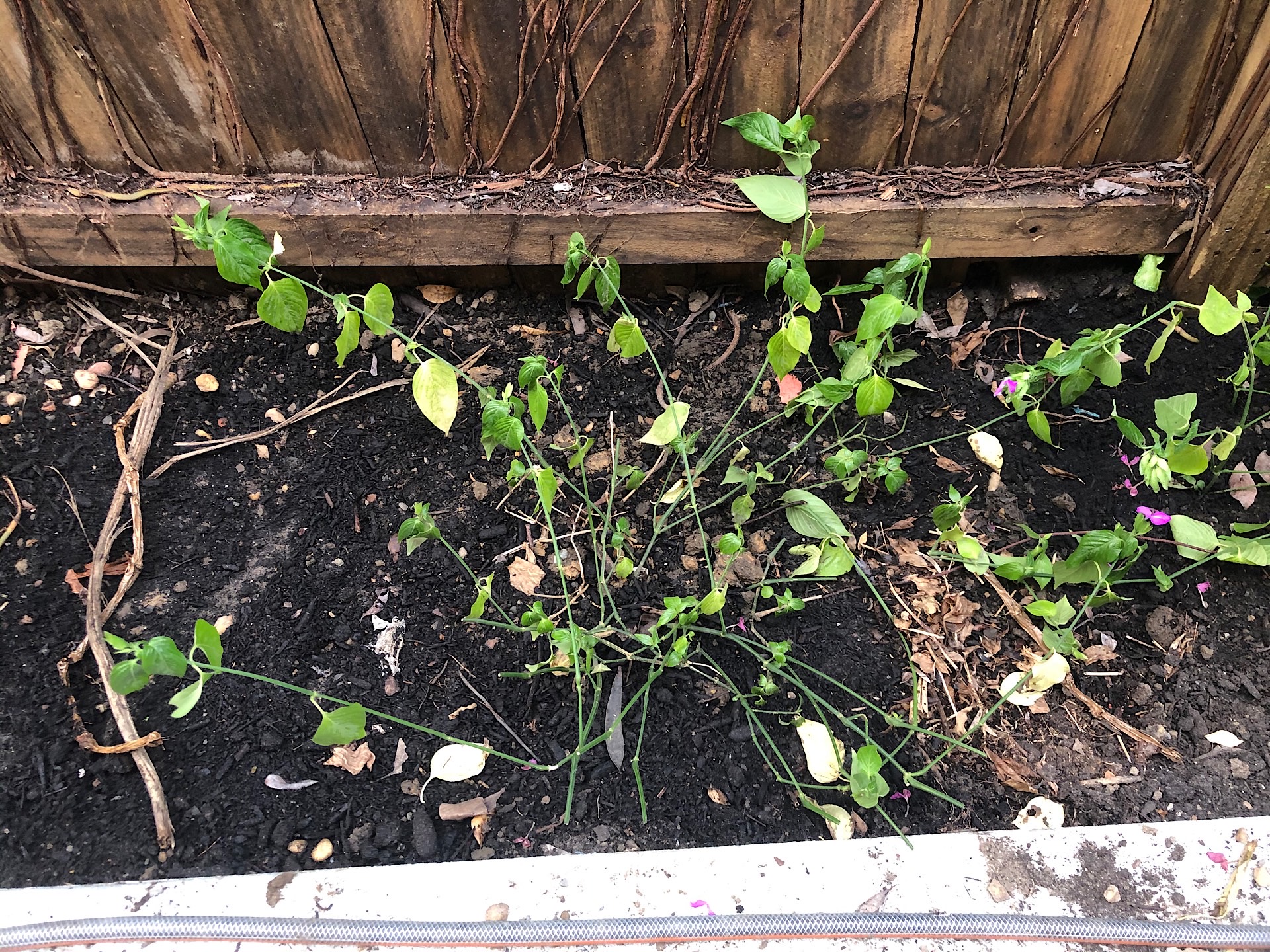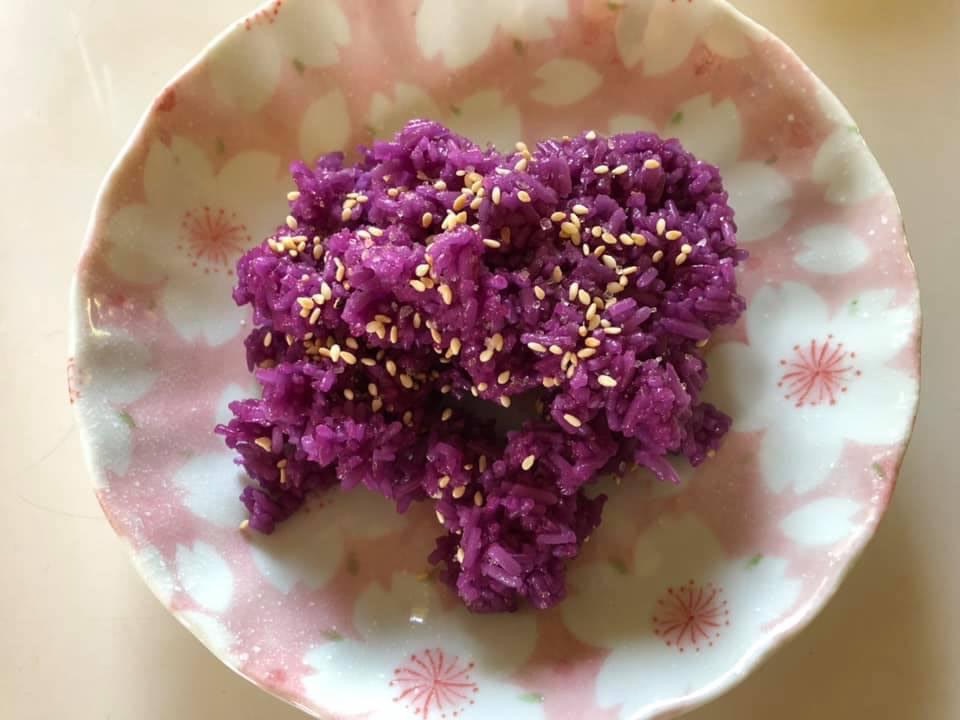 The bottom section of this garden bed was left untouched by the backyard renovations. It's still full of Piper Lolot which we use for Vietnamese cooking. You can eat it raw with summer rolls or cooked wrapped around beef and cooked on a BBQ. Hmmmm yum!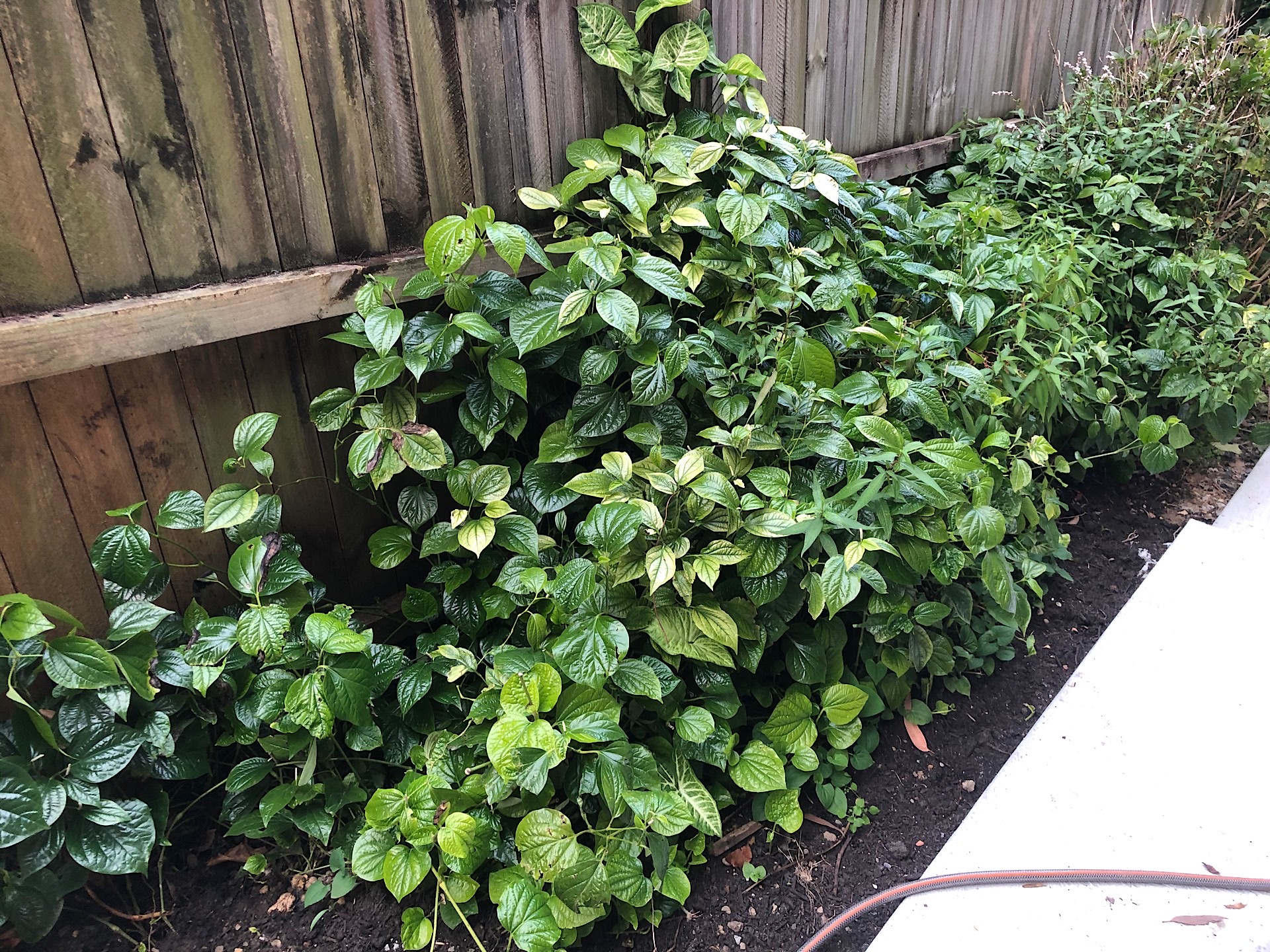 The lolot has spread so much that it has covered the area of the Vietnamese mint. We will have to prune it a little bit.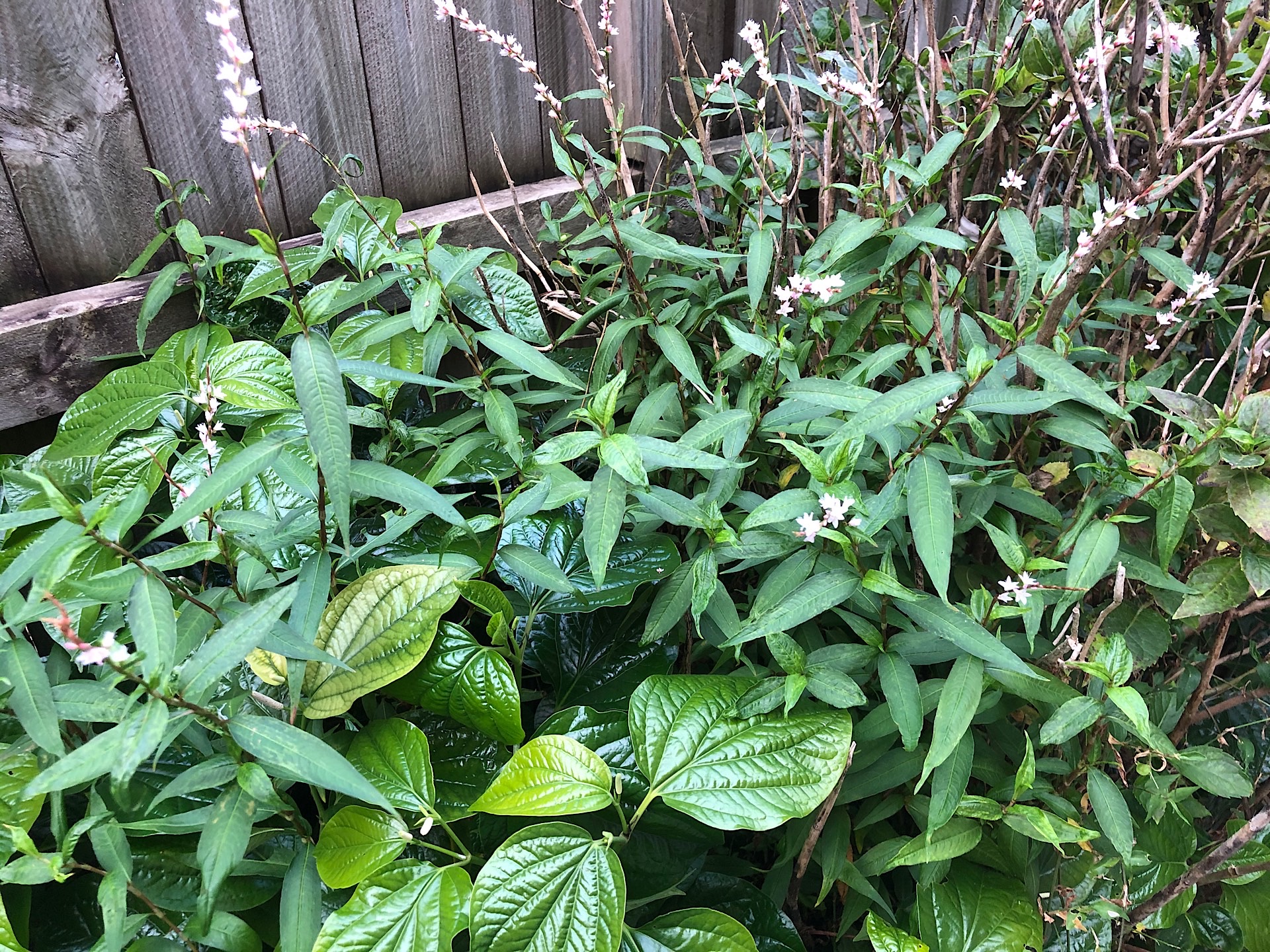 The fish mint was also overtaken by the lolot so we transplanted one in another area.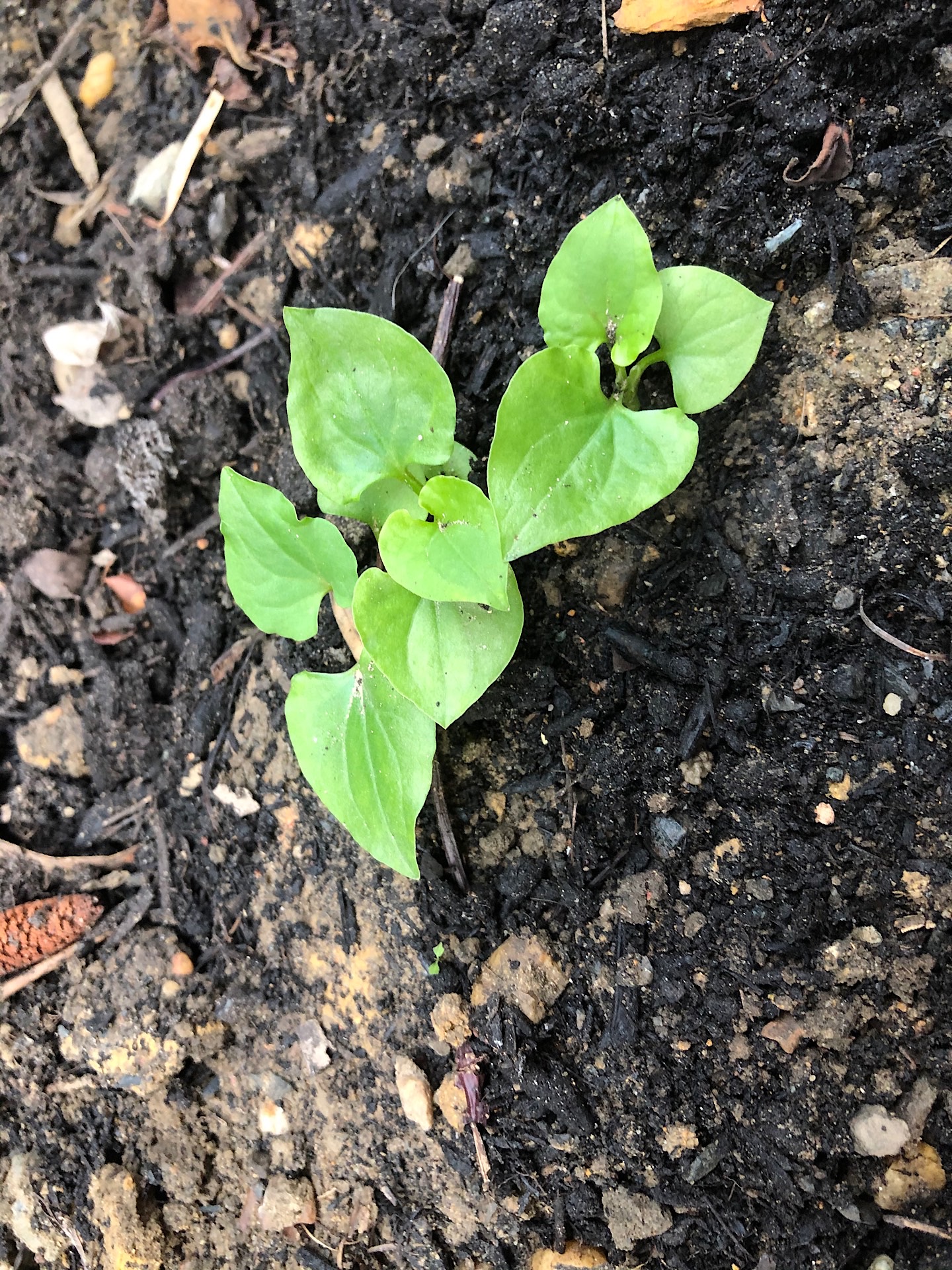 More work to be done
It's been several weeks we've been slowly working on replanting the backyard. There are still more to be done. Hopefully, the plants will settle during this Autumn and next Spring they will start to thrive.