Una pequeña merienda, rapida y facil de hacer // A small sweet snac,k quick and easy to make
Hola Hiver's, no les ha pasado que en medio de la tarde le dan ganas de comer dulce, pero no tienen tiempo o no les provoca salir a comprar algo?... bueno esta receta es para ustedes
Hello Hiver's, hasn't it happened to you that in the middle of the afternoon you want to eat candy, but you don't have time or it doesn't make you go out to buy something? ... Well this recipe is for you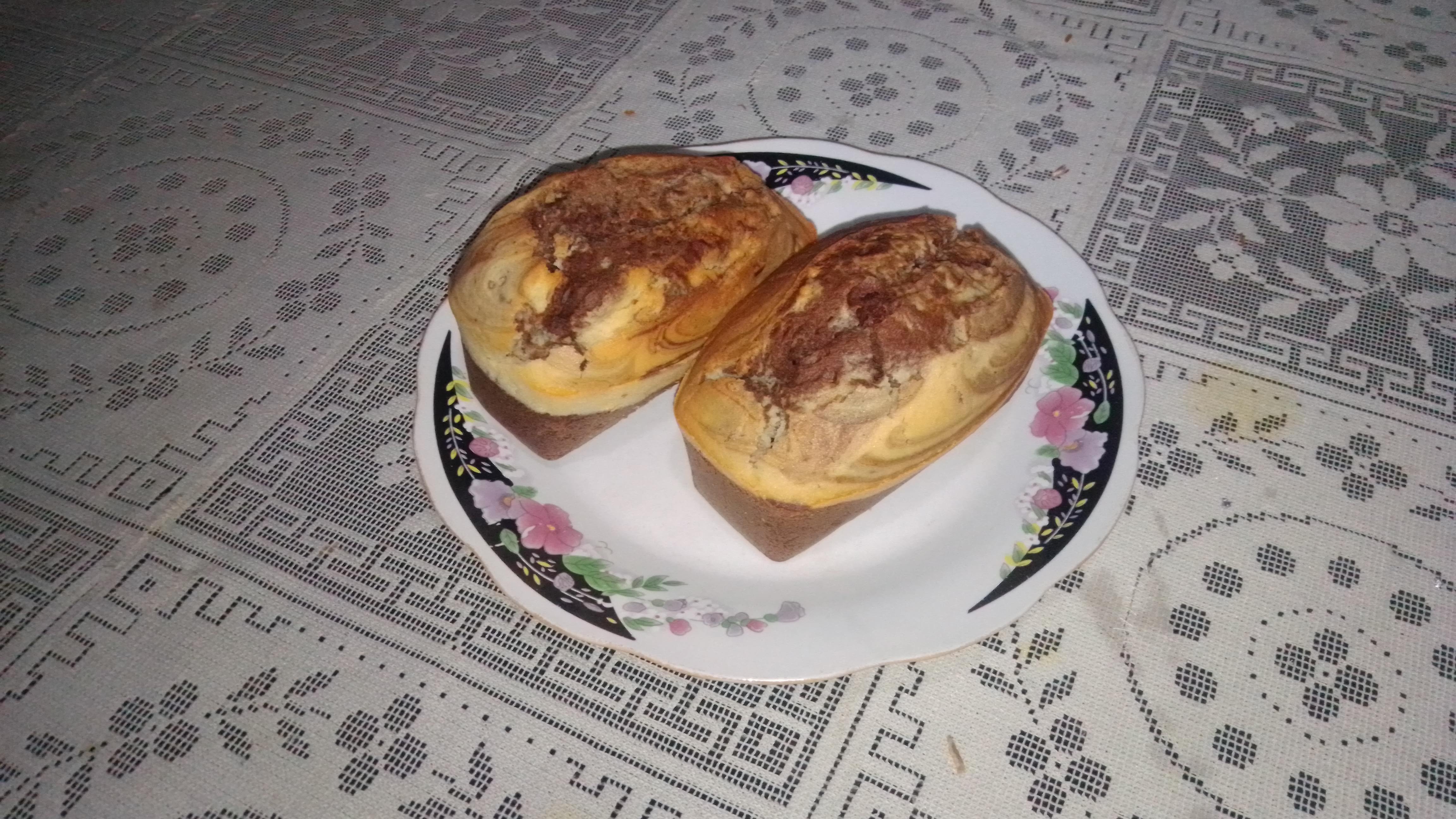 Hoy les vengo a enseñar una receta de un biscocho marmoleado (la mayor parte de chocolate) que he estado usando varias veces ya y me a gustado, por lo que quería compartirla con ustedes.
Today I come to show you a recipe for a marbled sponge cake (most chocolate) I've been using several times already and I to have liked, so I wanted to share with you.
Empecemos con los ingredientes:
280gr. de harina de trigo.
100gr. de margarina.
2 huevos.
150gr. de azúcar.
1 cdta. de polvo de hornear (este se usa si la harina no es leudante).
20gr. De chocolate en polvo.
½ taza de agua o leche (o juego del sabor que prefieran, si les quieren dar más sabor )
Let's start with the ingredients:

280gr. of wheat flour.
100gr. of margarine.
2 eggs.
150gr. of sugar.
1 tsp. baking powder (this is used if the flour is not self-rising).
20gr. Chocolate powder.
½ cup of water or milk (or set of the flavor that you prefer, if you want to add more flavor)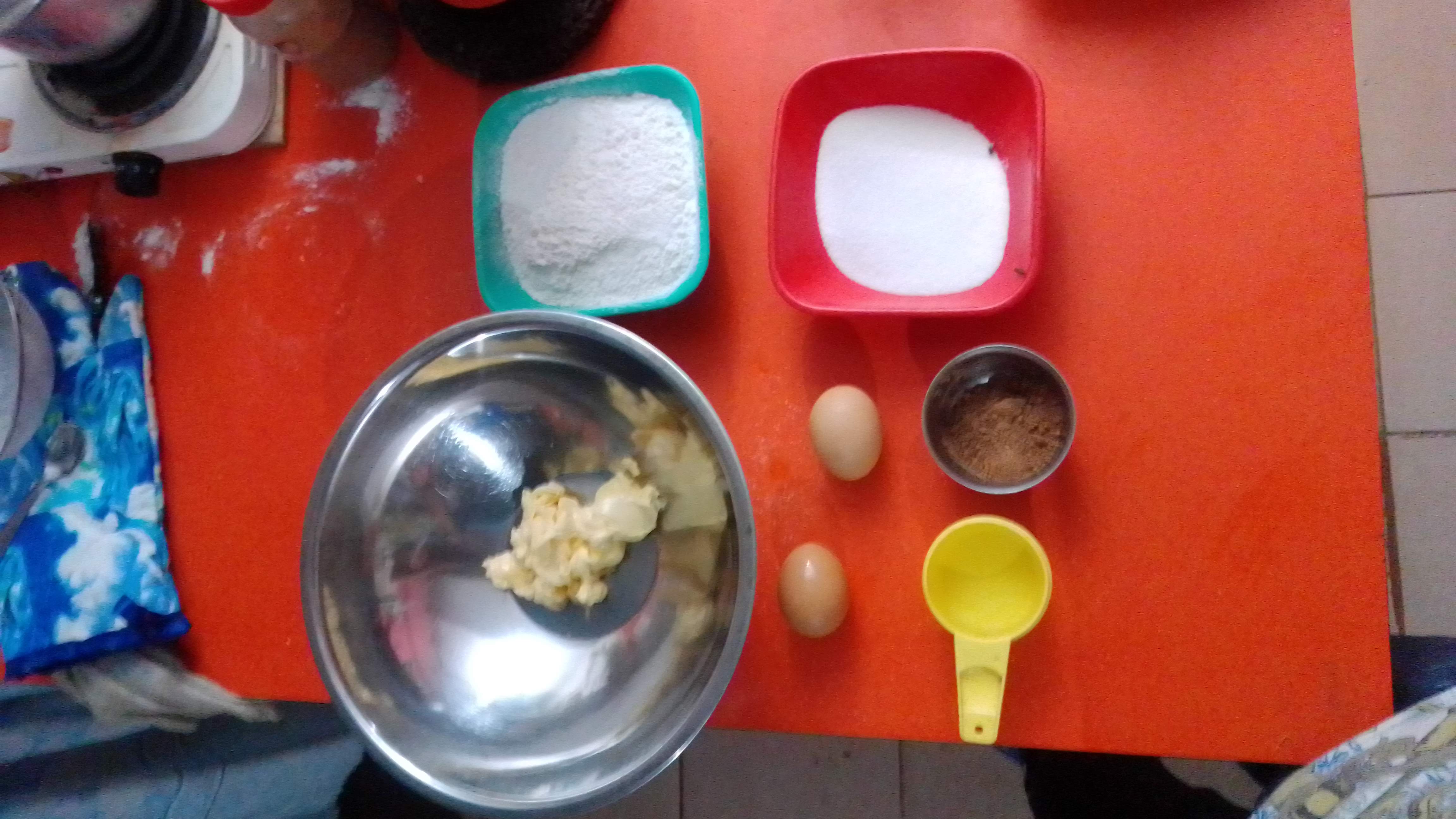 Empecemos la preparación // Let's start the preparation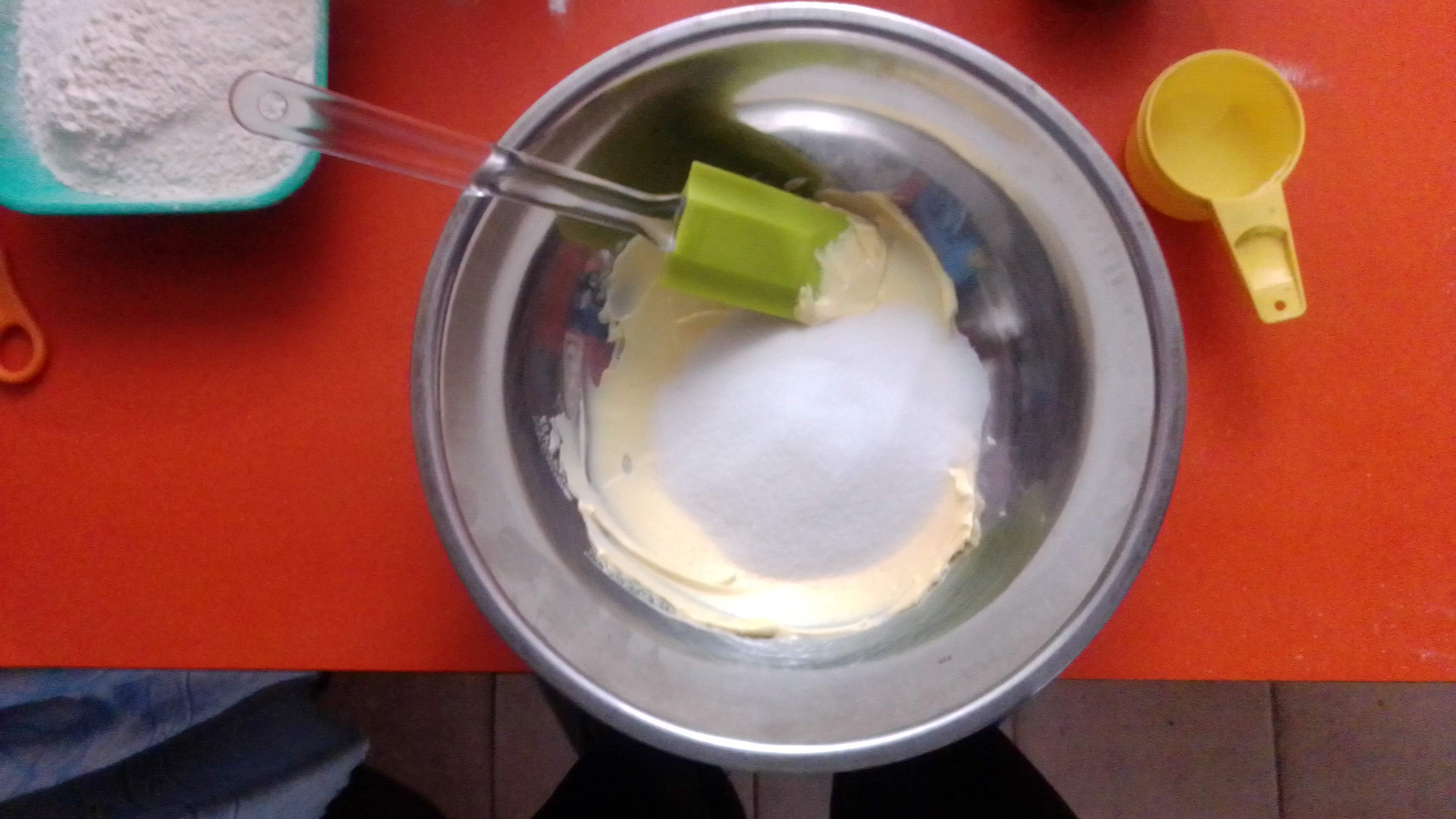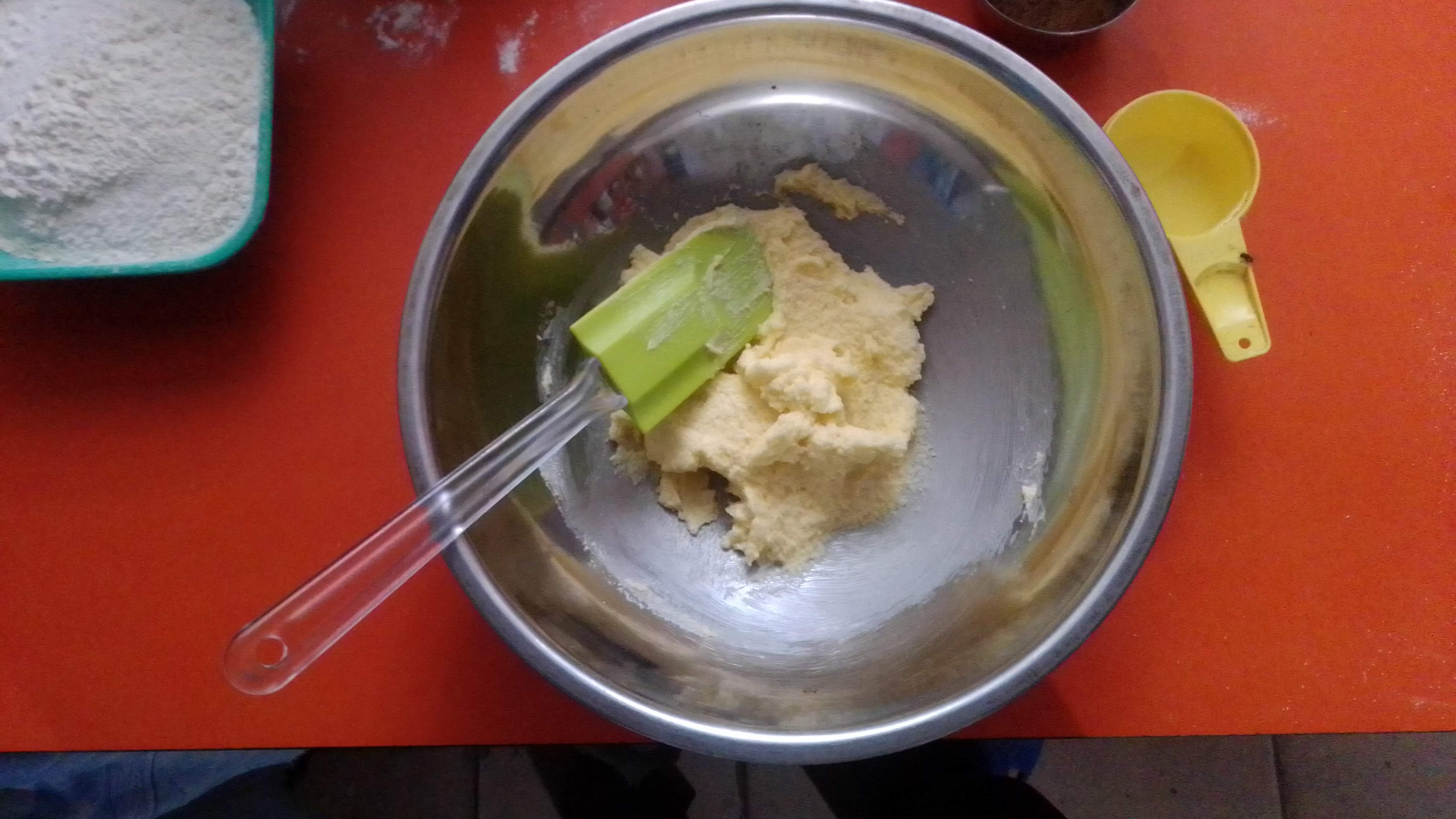 En un bol colocamos la margarina (si está algo dura suavizarla hasta quedar cremosa) junto con la azúcar (trate de que no tenga grumos) hasta quedar homogénea. >In a bowl we place the margarine (if it is somewhat hard, soften it until it is creamy) together with the sugar (try not to have lumps) until it is homogeneous.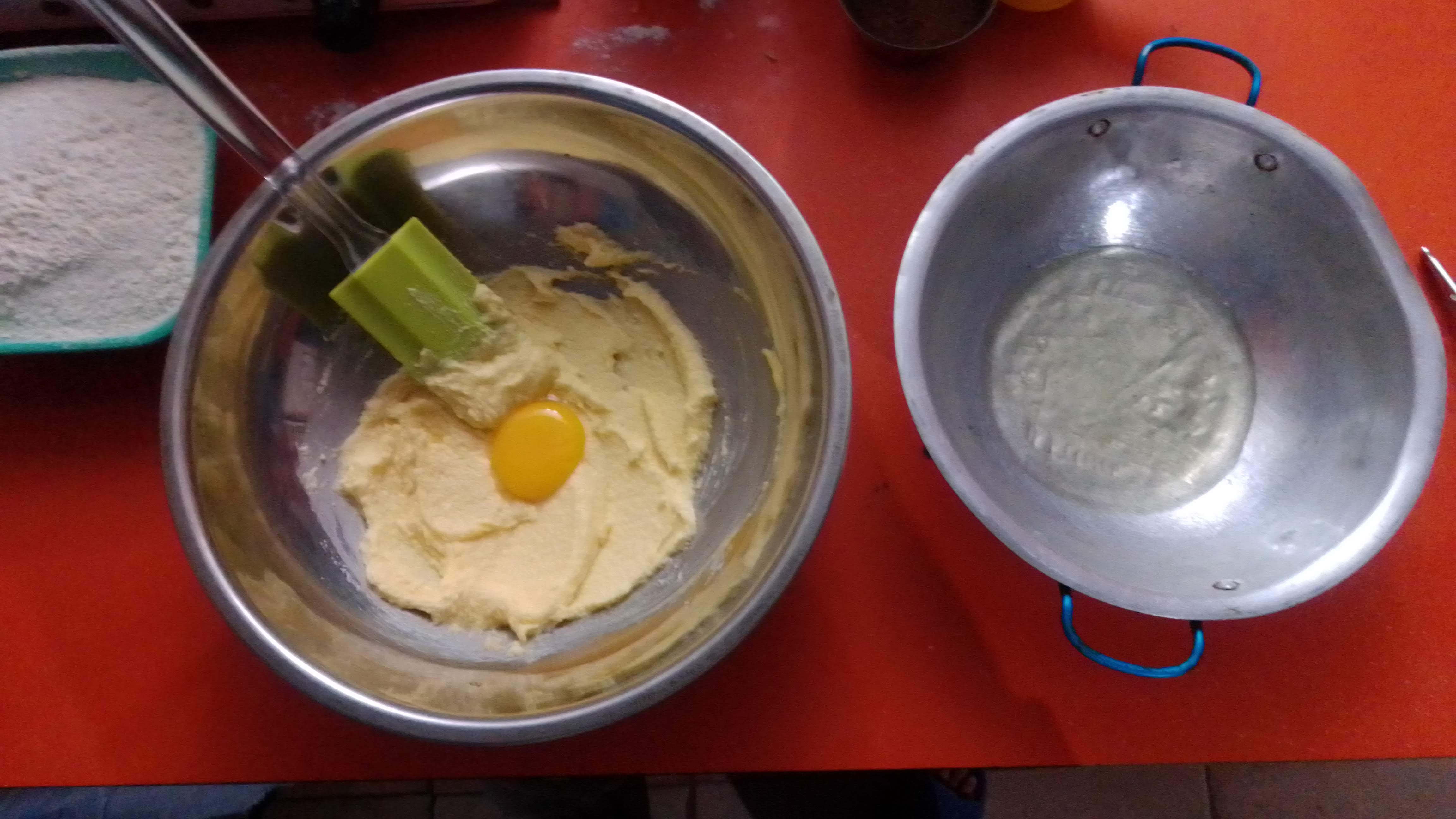 Ahora tomamos los 2 huevos y separamos las yemas y las claras, las yemas las agregamos a la mezcla una a una hasta quedar bien integrada; las claras la dejamos aparte para más tarde.
Now we take the 2 eggs and separate the yolks and whites, the yolks are added to the mixture one by one until they are well integrated; clear we leave aside for more later.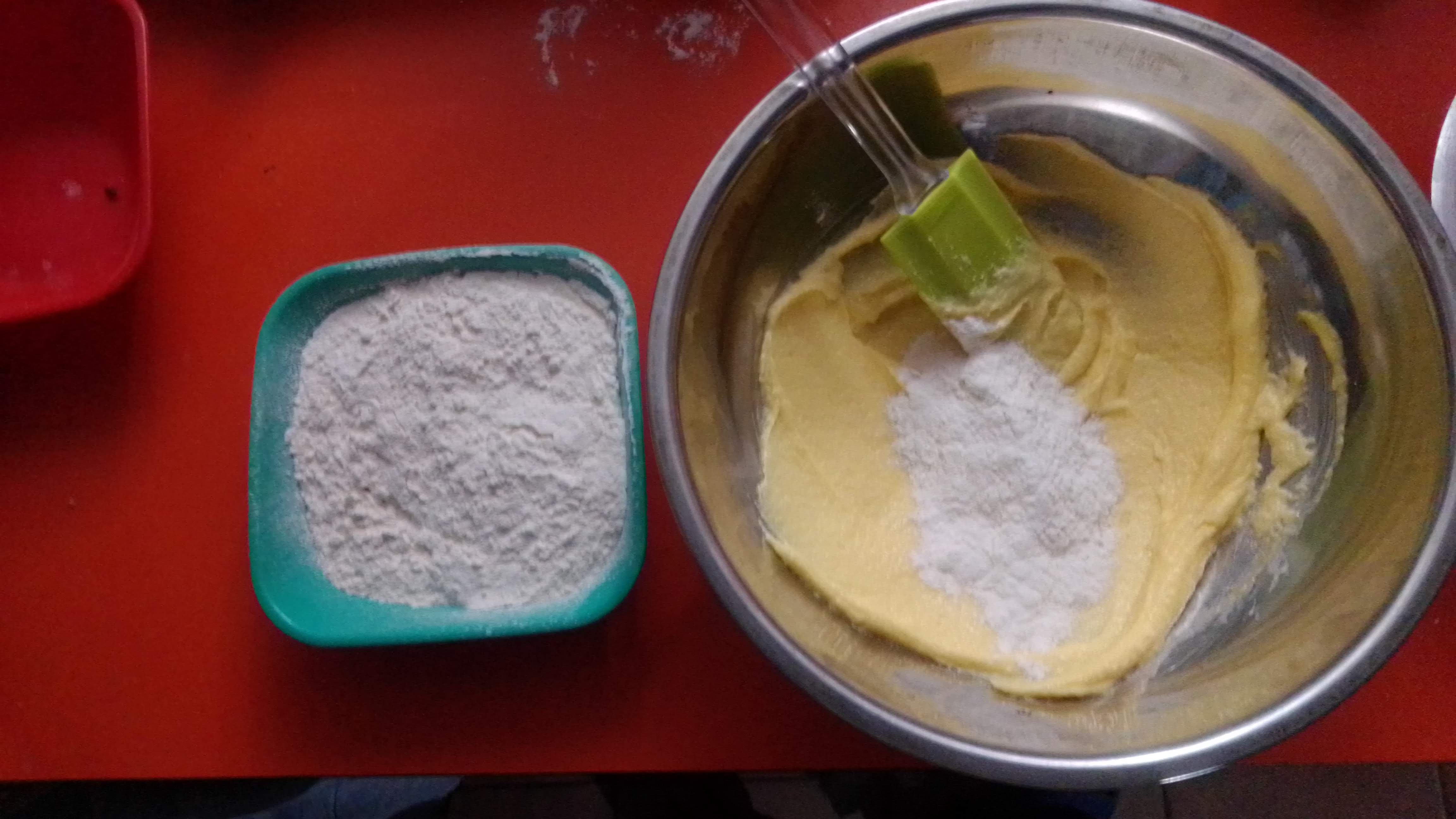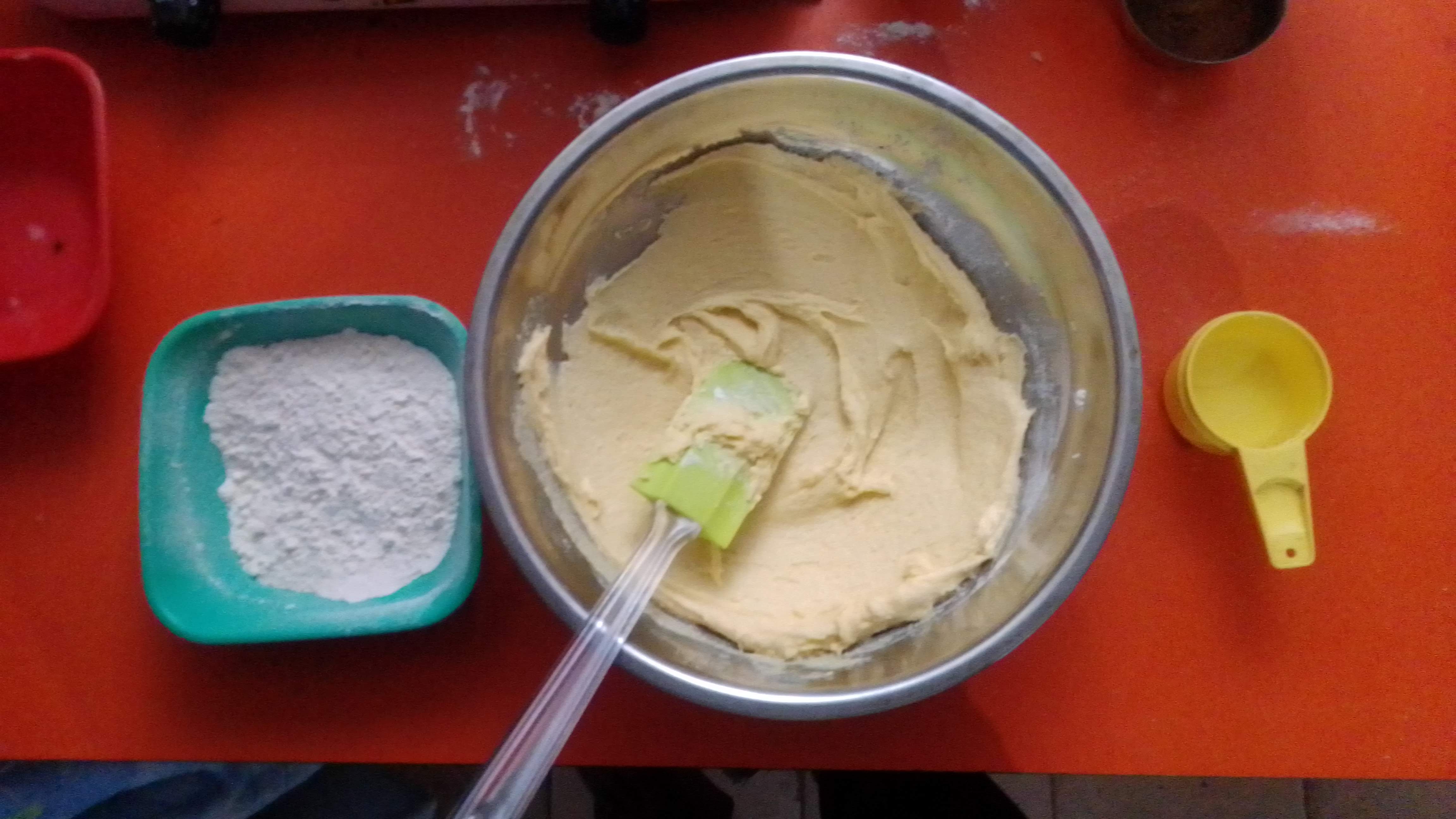 Agregar la harina (todo previamente tamizada) poco a poco a la mezcla hasta que esté bien integrada. Se agregara el polvo de hornear a la harina solo si la harina no es leudante o lo quieren que se esponje más.
Nota: si la masa se pone muy densa y es difícil de revolver, agrega de a poco la ½ taza de agua.
Add the flour (all previously sifted) little by little to the mixture until it is well integrated. The baking powder will be added to the flour only if the flour is not self-rising or they want it to be more fluffy.
Note: If the dough gets mu and thick and difficult to stir, slowly add ½ cup of water.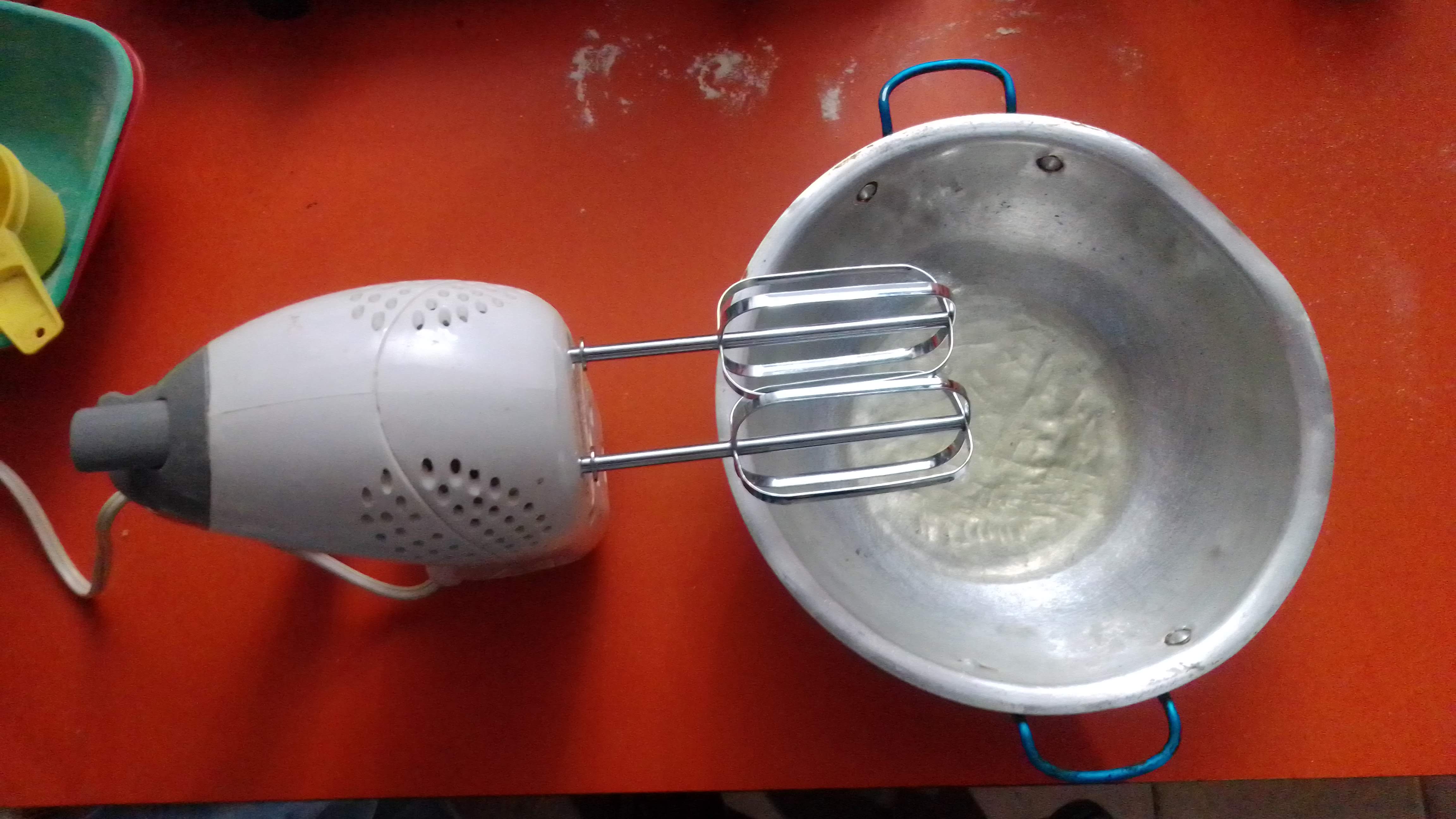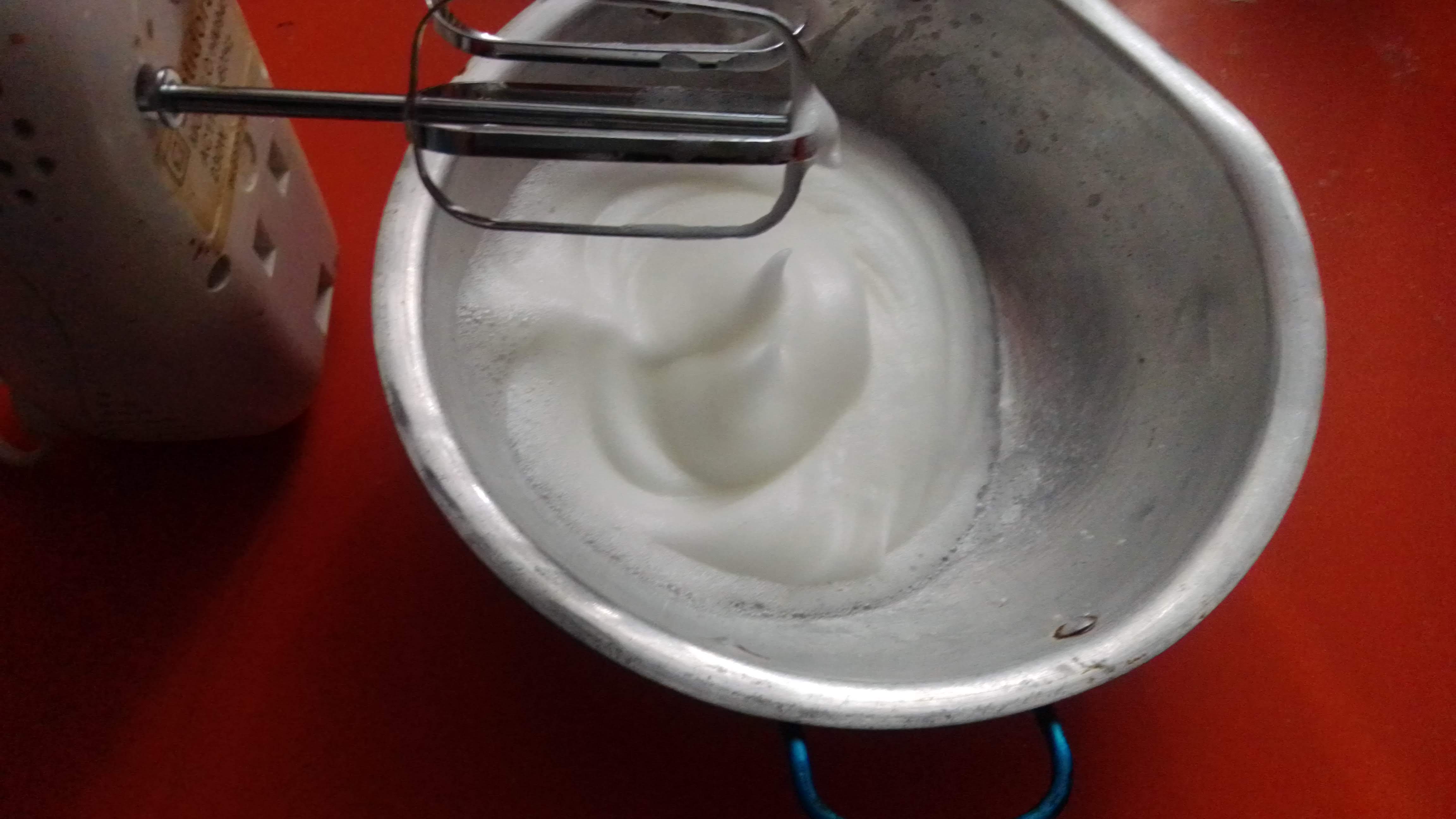 Apartamos un momento la mezcla, tomamos otro bol y colocamos las claras de huevo que separamos anteriormente, las batimos (ya sea con la batidora o manualmente) hasta que estén a punto de nieve.
We put the mixture aside for a moment, take another bowl and place the egg whites that we separated previously, beat them (either with the mixer or manually) until they are stiff.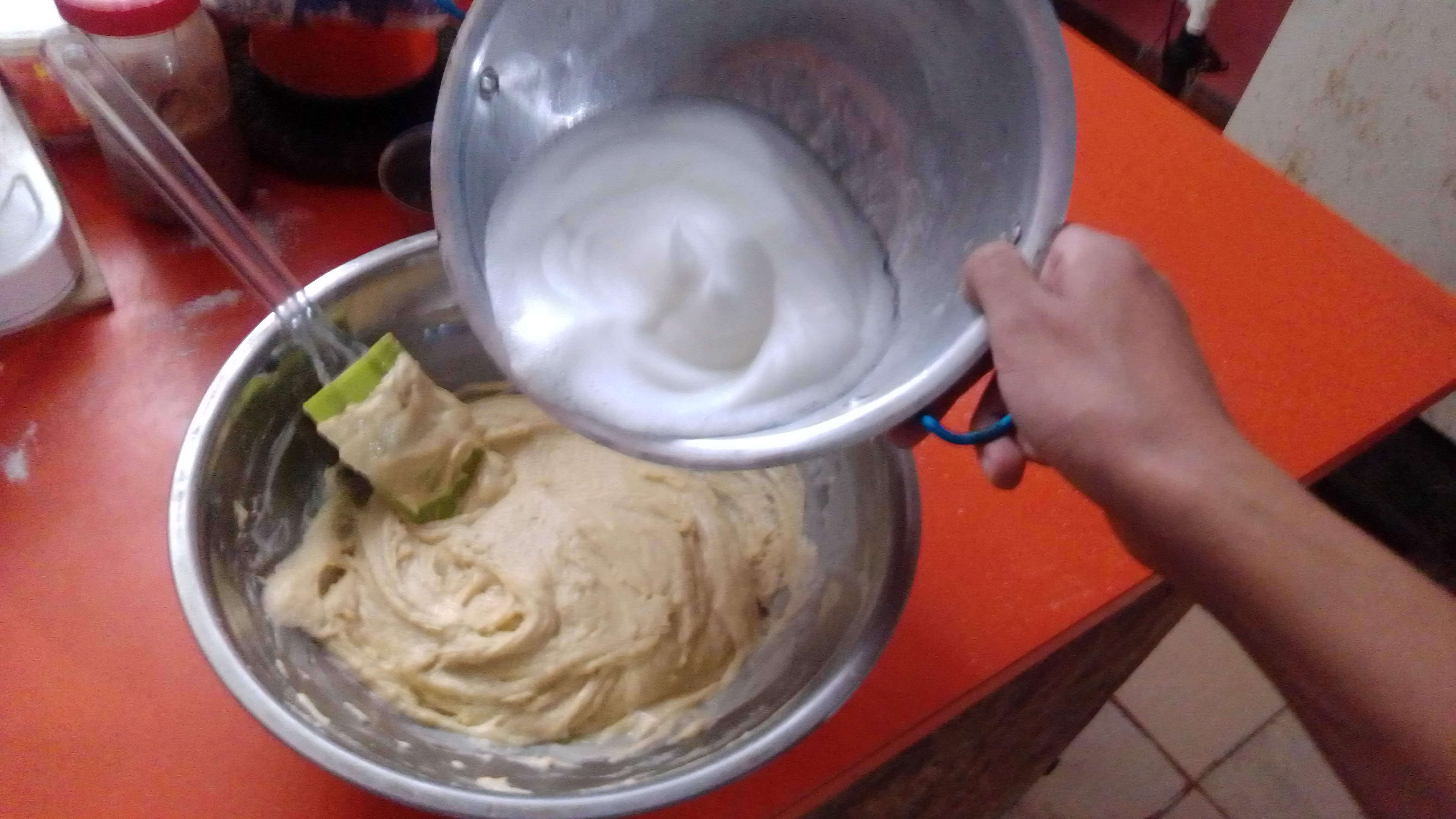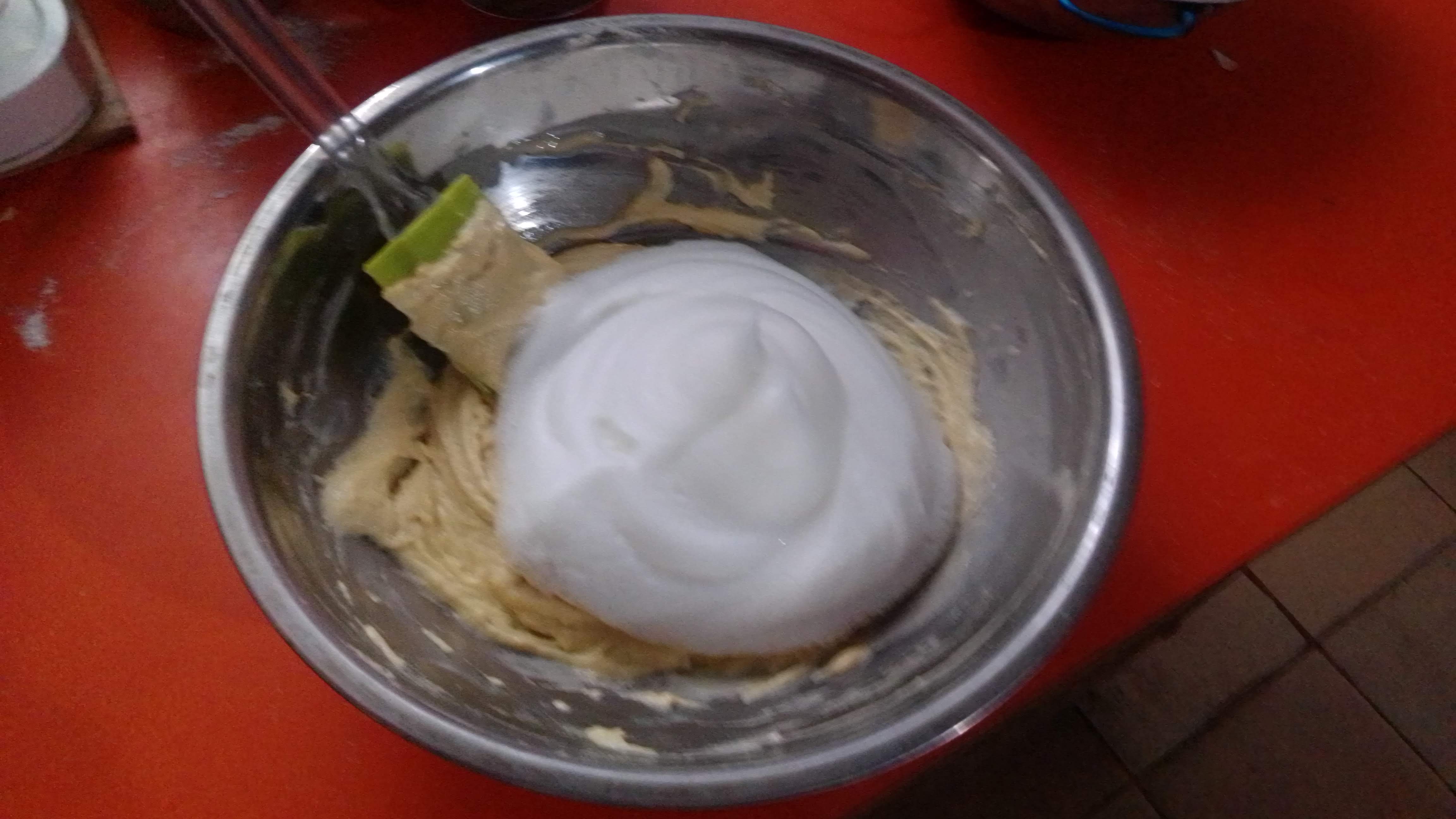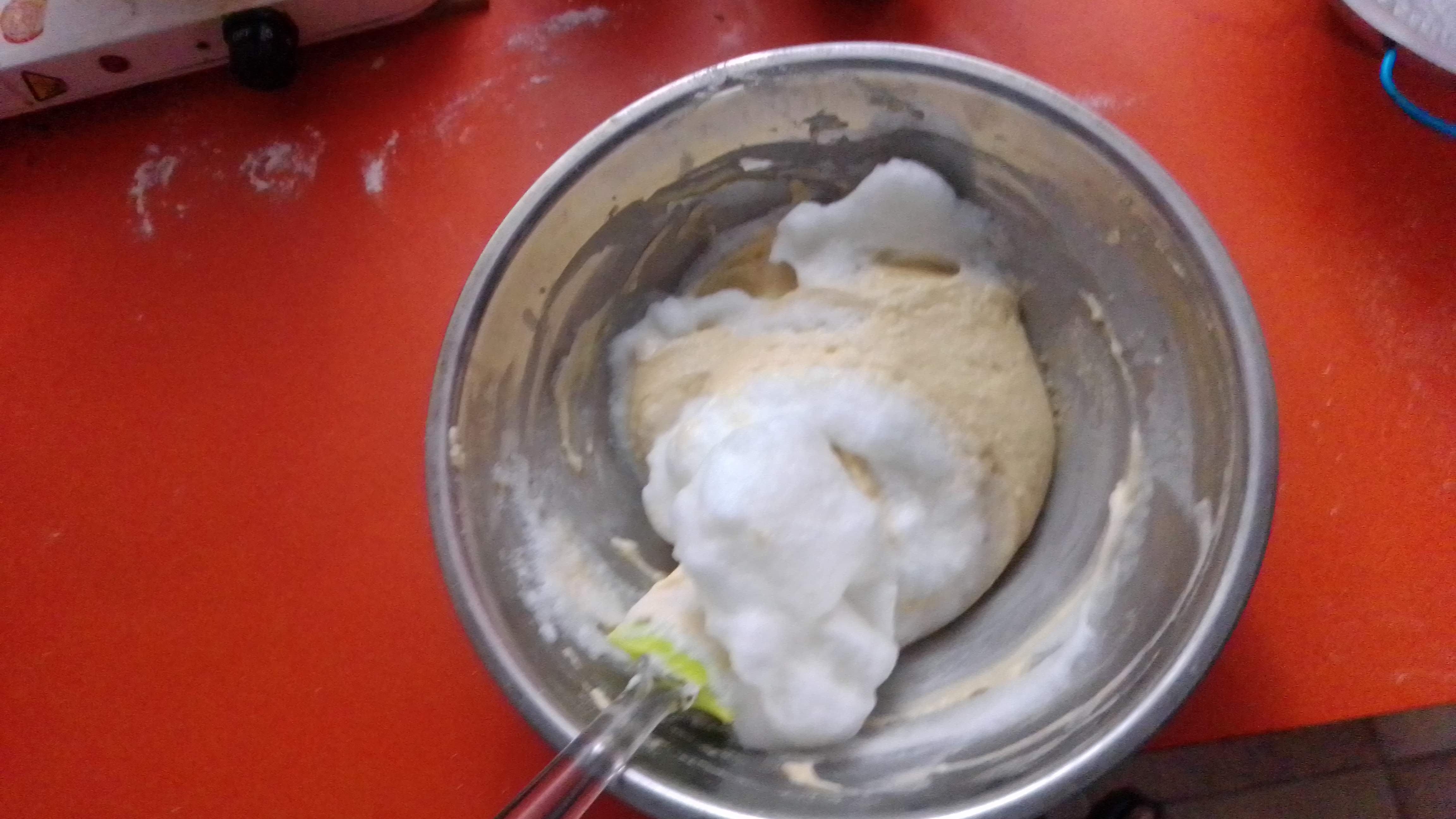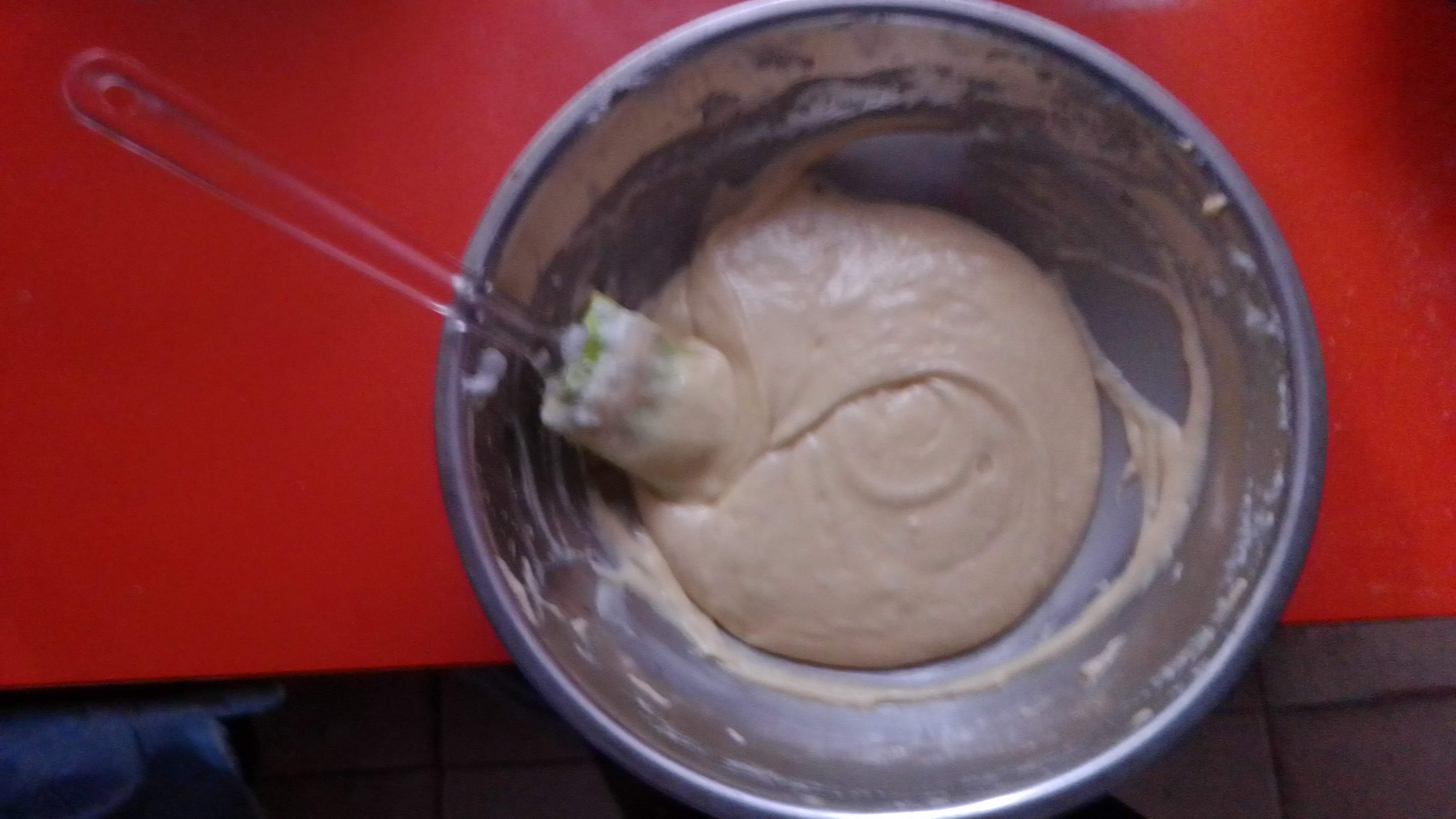 Tomamos la mezcla e integramos las claras batidas, la revolvemos poco a poco para que no se baje la clara hasta que quedar integrada.
We take the mixture and integrate the beaten whites, we stir it little by little so that the white does not drop until it is integrated.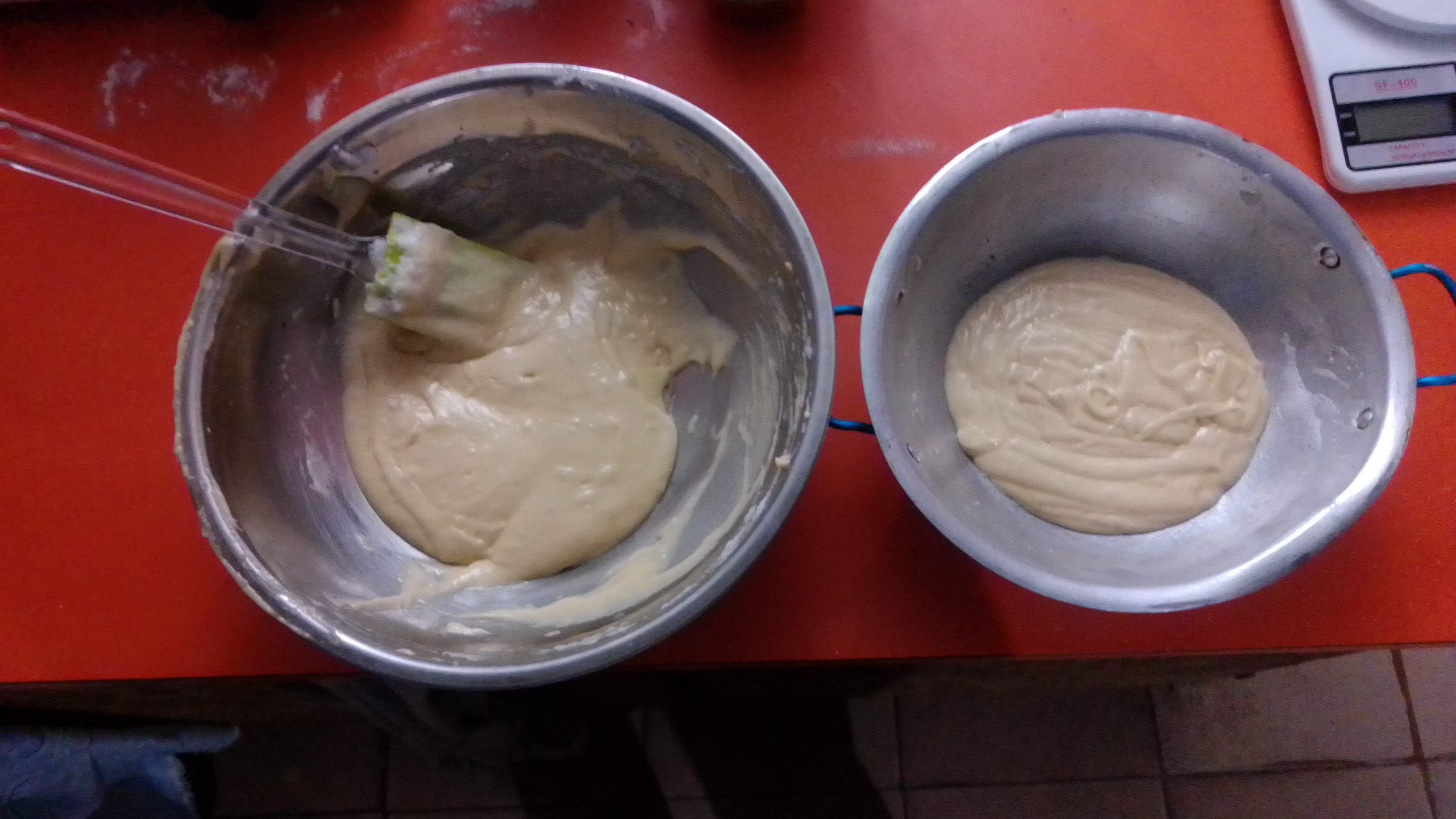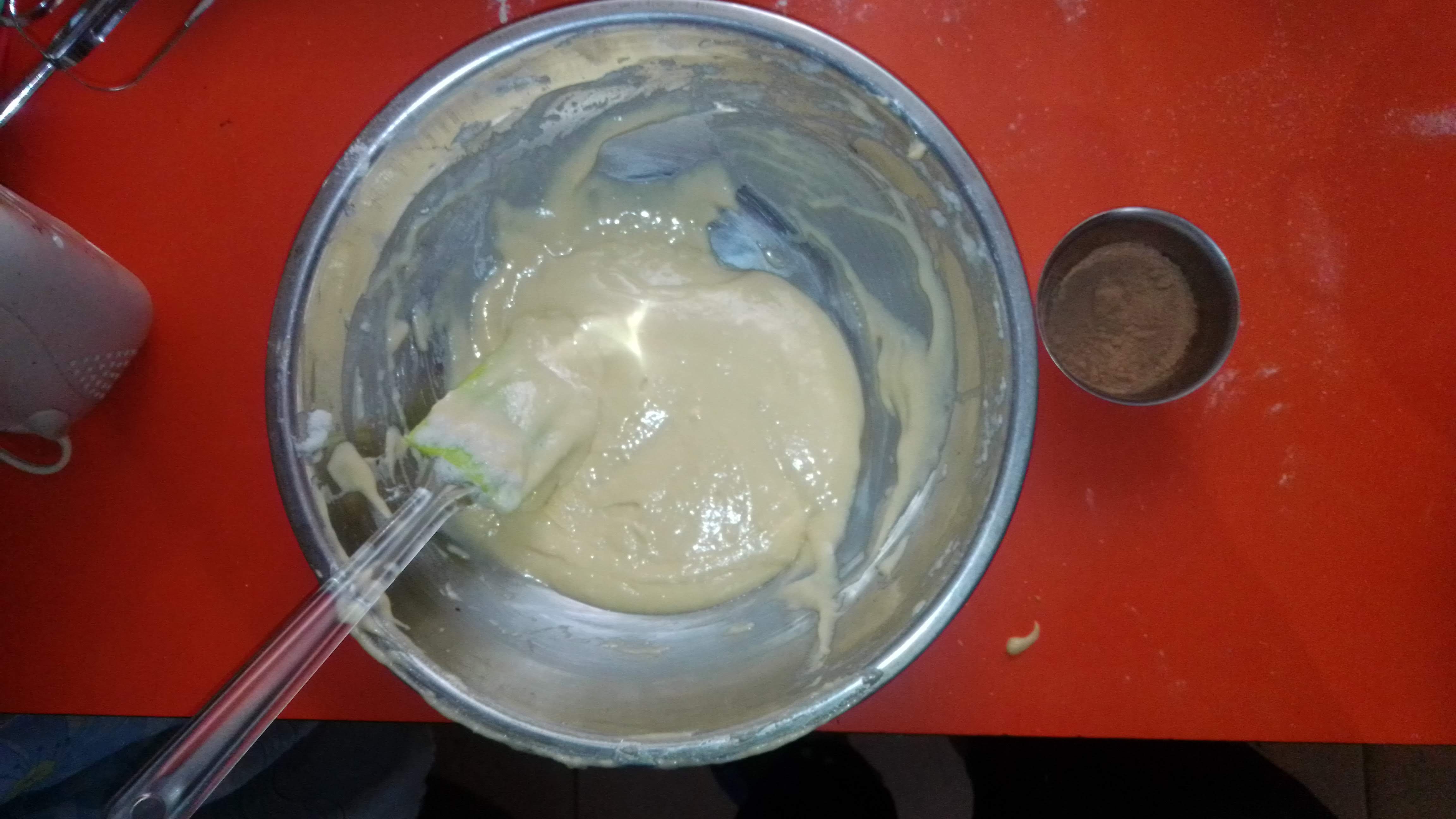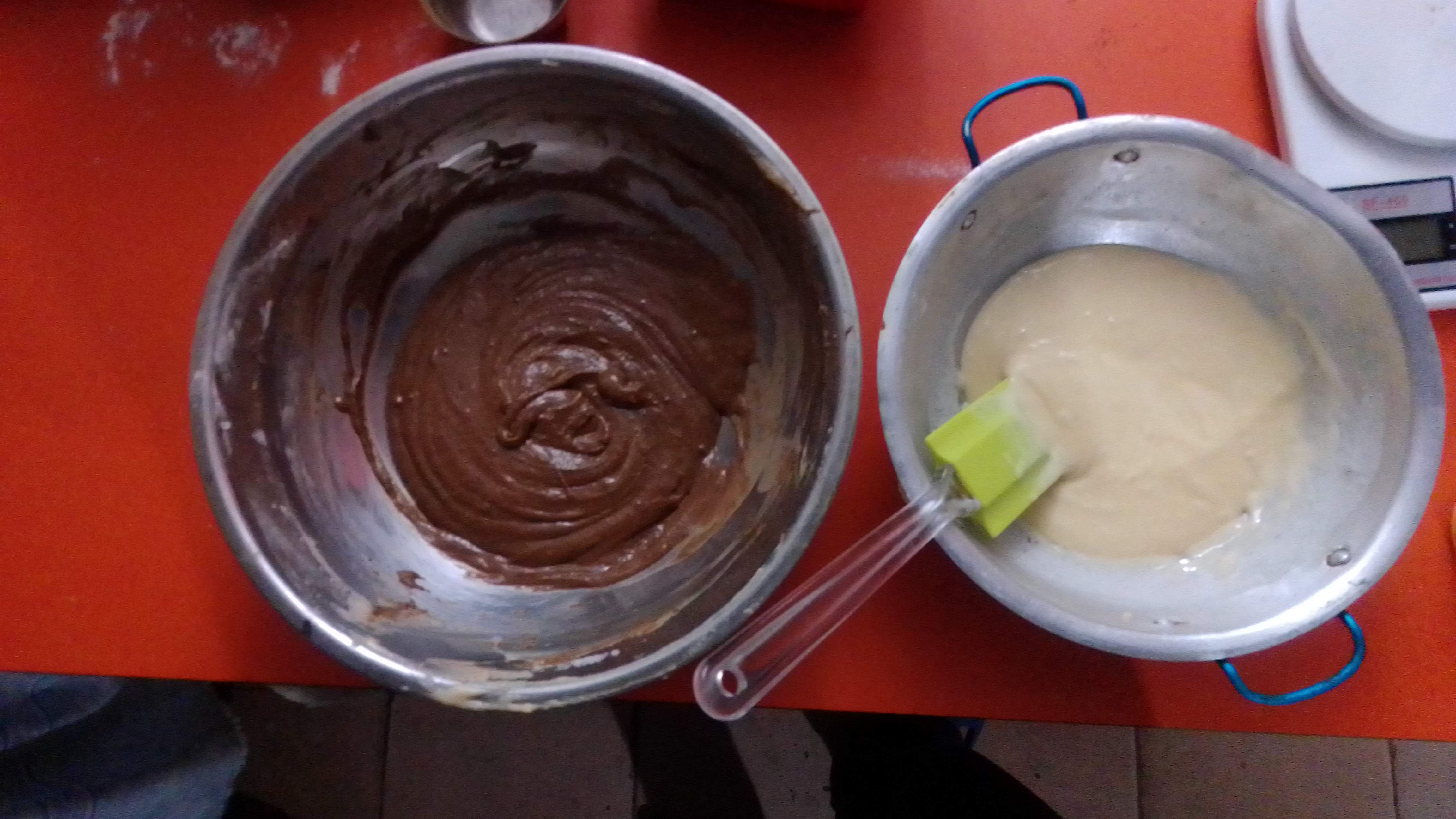 Apartamos 250gr. de la mezcla y agregamos los 20gr. de chocolate en polvo al resto.
Nota: como le agregamos más seco la mezcla quedara más densa que la otra le agregaremos de a poco agua (lo que han escogido como el líquido) para que queden a la misma densidad y no ocurran problemas al hornearla.
We set aside 250gr. of the mixture and add the 20gr. of chocolate powder to the rest.
Note: as we add drier, the mixture will be denser than the other, we will add water little by little (what they have chosen as the liquid) so that they remain at the same density and no problems occur when baking it.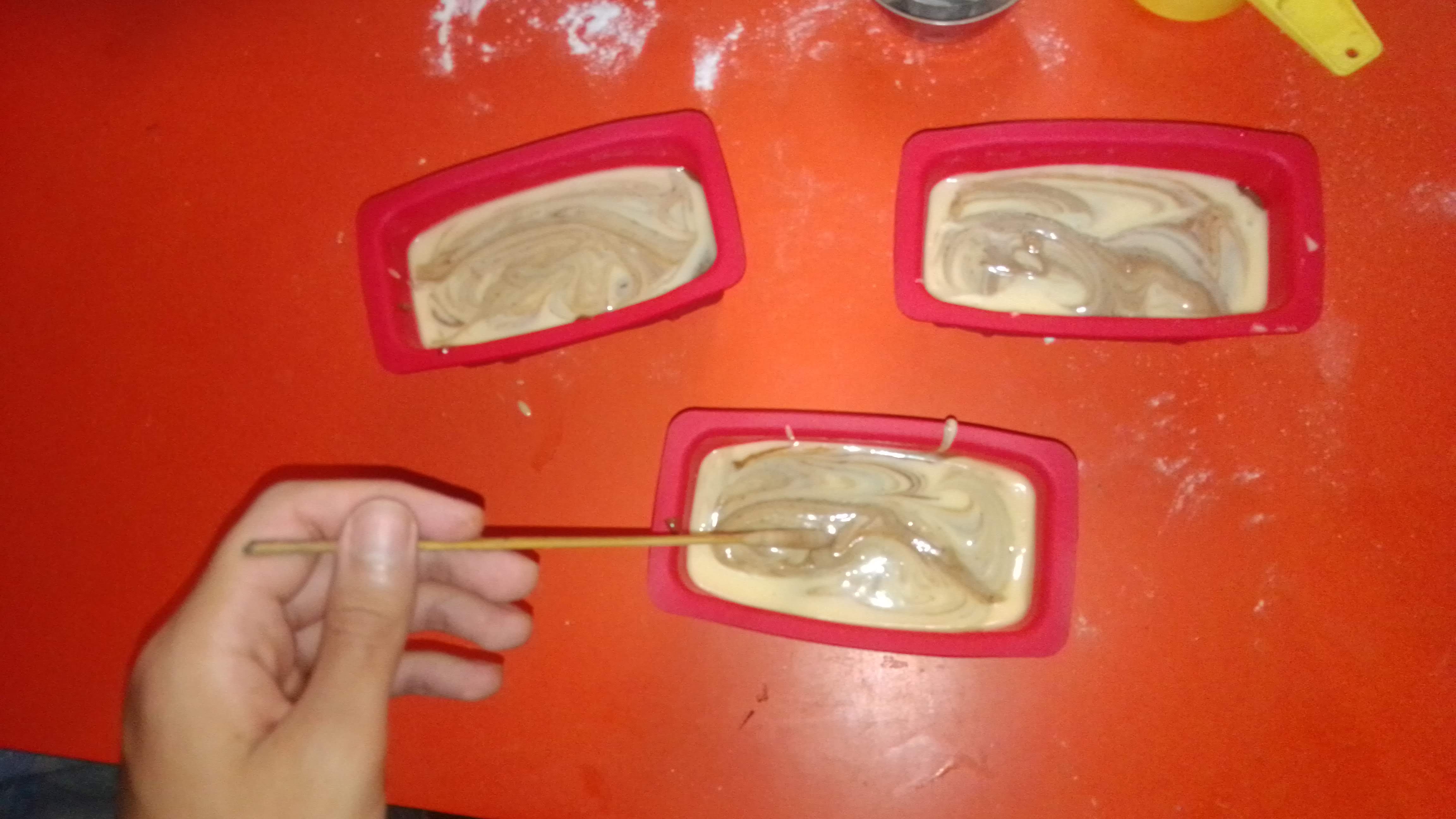 Tomamos nuestro molde ya engrasado, ya sea con margarina o aceite (si tienes moldes de silicona no hace falta engrasar, lo cual es mi caso) y vertemos alternando las mezcla (un poco de la sencilla y luego un poco de la con chocolate y seguir repitiendo) hasta que llenemos el molde hasta la mitad. Ademas usamos un palillo para revolverlo un poco para dar el efecto marmoleado.
Nota: no se pasen de la mitad porque puede que se desborde y se bote del molde al hornear. en mi caso utilice 3 moldes de 290 ml cada uno y los llene medio dedo arriba de la mitad, pero al ser de silicona no se botó ya que el molde se expande un poco.
We take our already greased mold, either with margarine or oil (if you have silicone molds it is not necessary to grease, which is my case) and we pour the mixture alternating (a little of the simple one and then a little of the one with chocolate and continue repeating) until we fill the mold halfway. We also use a toothpick to stir it a little to give the marbling effect.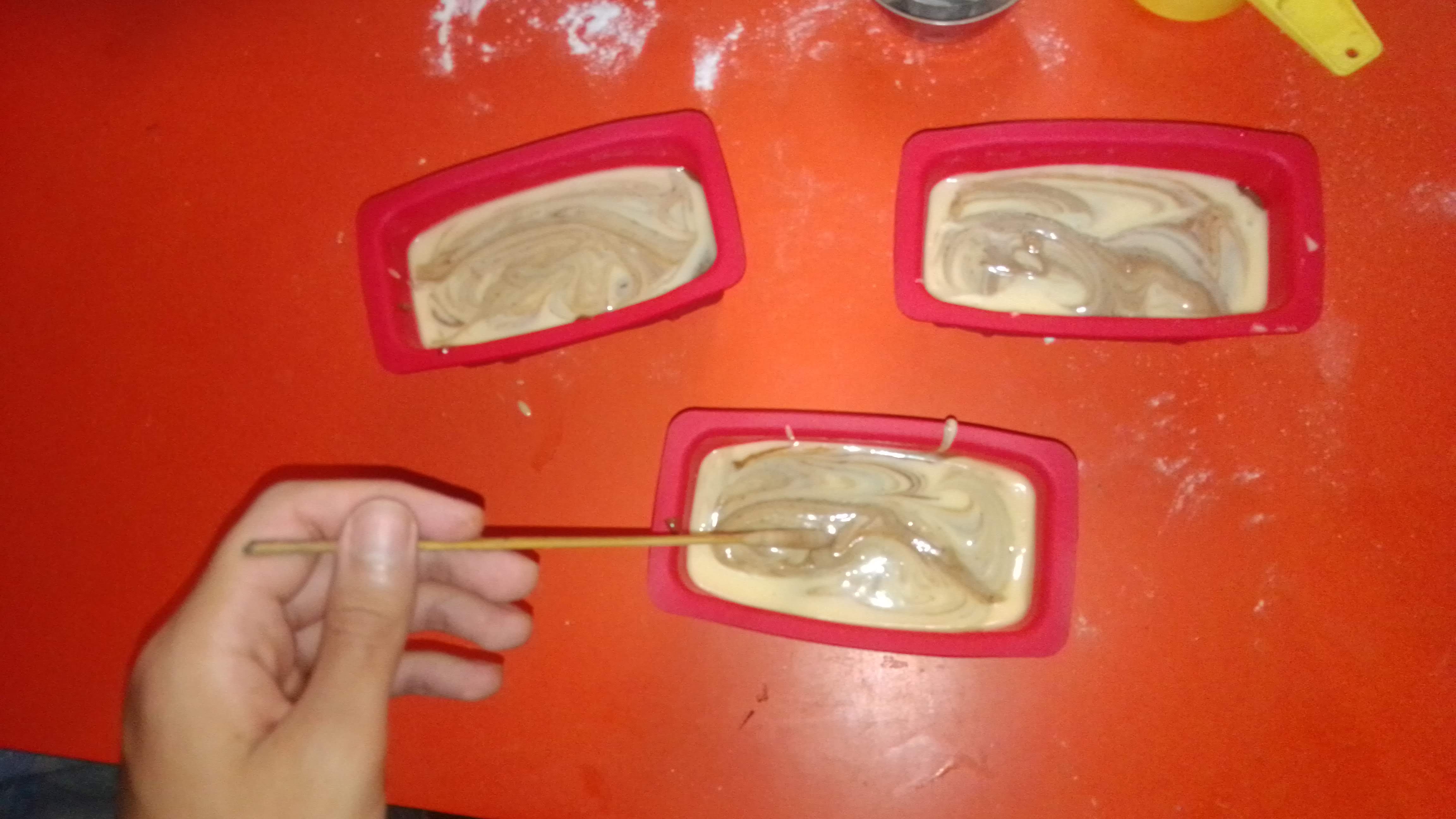 Note: do not go over half as it may overflow and fall out of the pan when baking. in my case I used 3 molds of 290 ml each and I filled them half a finger above half, but being silicone it was not thrown away as the mold expands a bit.
Le damos unos golpecitos contra la mesa al molde para que se le salga el aire y no se hagan burbujas al momento de hornear. Los colocamos en el horno (previamente calentado a 180ºC) durante 40~45 minutos.
We tap the mold against the table so that the air escapes and no bubbles are made when baking. We put them in the oven (previously heated to 180ºC) for 40 ~ 45 minutes.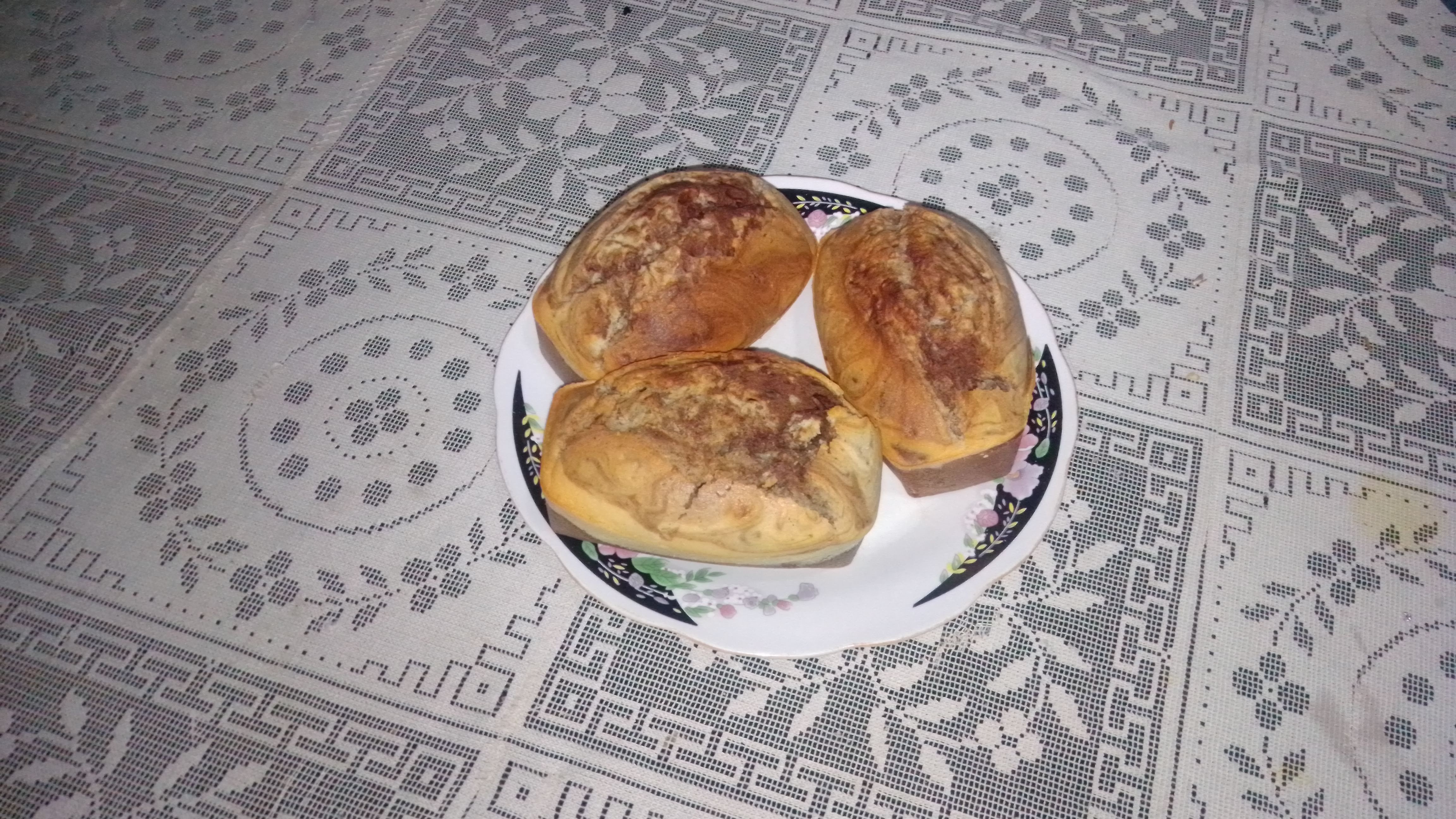 Y listo!! Tenemos nuestra dulce merienda marmoleada, Disfrutenla.
And voila!! We have our sweet marbled snack, enjoy it.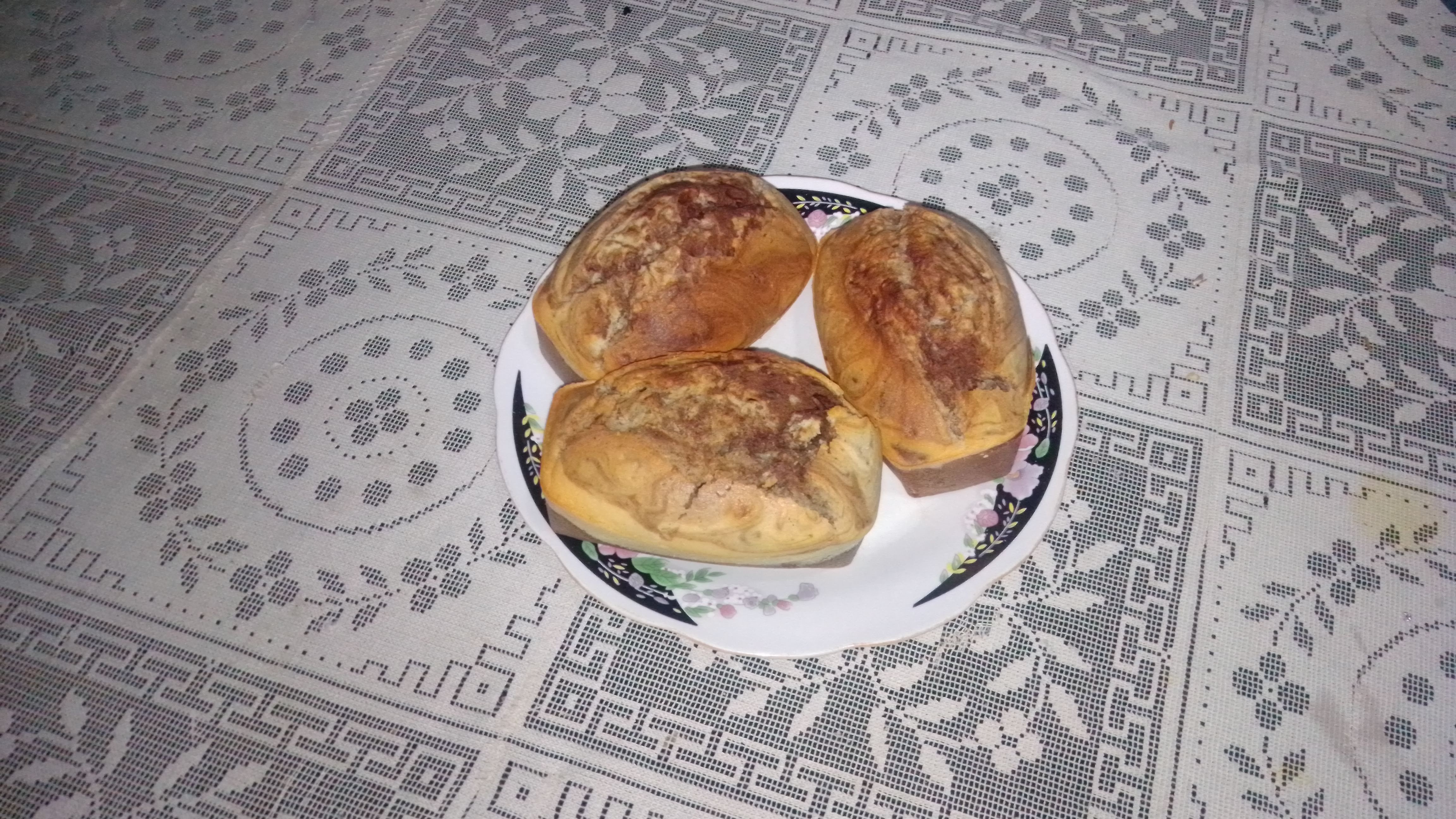 Las fotos fueron tomadas por un Alcatel 1S // The photos were taken by an Alcatel 1S