Hi Hive Lovers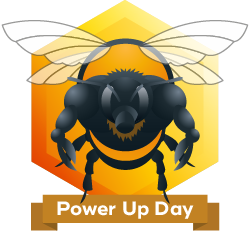 The resources and power of your engagement will strengthen your influence on the blockchain. That means your voice will be stronger, both in content, proposals, and witnesses.
That's why you (especially those of you who have just joined the #HiveCommunity), must really pay attention to your #HivePower. The more Hive Power you have, the more potential you will get.
Participating in #HivePUD is one way to obtain and own Hive Power. You can periodically find @hivebuzz posts about the monthly #PUD, and for the last month of 2022, you can check it out in full here.
Anyone, of course, can participate as long as they meet the terms and criteria that have been set. You just need to make sure that you don't miss the moment to power up.

The time you turned on Power Up should be UTC, and the countdown has started again. Again, be sure of your timing. Please double-check the "countdown" on your "POWER UP" menu here.
I'm still very confident I can meet the basic criteria of the @Hivebuzz team's terms and conditions for this #HivePowerUpDay on December 1st, and I really don't want to miss this great opportunity.
The only thing I've confirmed is that I didn't redeem any Hive I had while I was waiting for #HivePUD. I will only do it for PUD.
I'm sure many of you are doing the same to increase your resources and strengths. Of course, it would be something special to be able to end this year by participating in this cool program.
Even though we are preoccupied with the #HiveBuzzWorldCupContest, I am sure you are looking forward to the #HivePUD on December 1, 2022, and there is still time for you to prepare.
Participate in Hive Power Up Day, December 1, 2022.
Prepare yourself and power up!
About Me