Now why would I end today's title with a question-mark? All lives matter, that's a fact. So, do white lives matter? Yes of course they do because, again, all lives matter. What is it then, that gives black people a monopoly or a special right to claim that their lives matter? And why do leftists (and rational people on all sides) lose their cool when white people put up banners with the slogan "White Lives Matter"?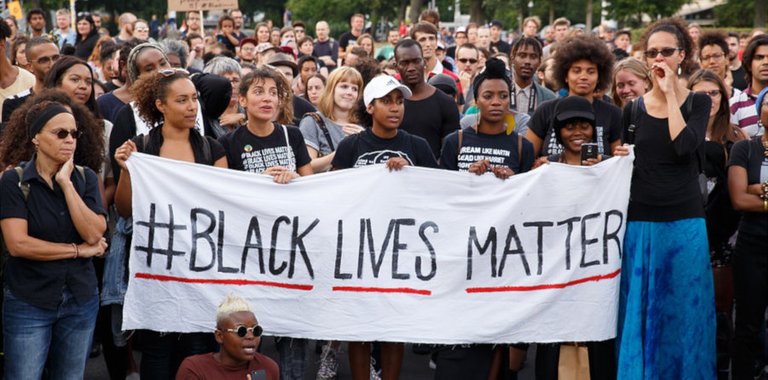 Image by Montecruz Foto - source: Flickr
When the English Premier League restarted, all players from 20 clubs kneeled and some raised their fists to pay homage to the Black Lives Matter movement. For the first 12 matches players also wore shirts with the slogan. But last Monday when Manchester United played against Burnley, a plane flew over the stadium trailing a banner displaying the message "White Lives Matter Burnley". The officials from the Burnley club naturally condemned that message and issued an official apology; the Burnley captain said after the game that he was "ashamed and embarrassed". Now, what's amazing to me (but not really) is that there are people, mostly from the alt-right, white supremacists, neo-fascists and some others who are equally clueless, who don't understand or don't want to understand why the slogan "White Lives Matter" is an insult to the non-white people who until this day live with their necks under the boot of the white race.
The video I share with you today is from Carl Benjamin a.k.a. Sargon of Akkad; he's either ignorant or racist, I'll leave that up for you all to decide for yourself. Carl is one of those people who argue that if Black Lives Matter, why don't White Lives Matter? He states that if we agree that All Lives Matter, then surely both BLM and WLM are valid. And by arguing like that he demonstrates that he completely misses the point. Of course all lives matter. No one person is inherently better or more worthy than any other person. And "race" is a social construct; there's no gene or cluster of genes common to all blacks or all whites. On the contrary; one might find more genetic variation between two black people from different African countries than there is between a black and white person from America. Race is not biological, so to attach worth to the color of one's skin is particularly ignorant, or is born from a misguided notion that one socially constructed race is better than any other socially constructed race.
Kanye West, Prager University, and the Illusion of Free Thought
To be fair to Carl, he doesn't claim that one race is better than another. But to be fair to everyone, Carl IS upset by the public outrage aimed against the White Lives Matter publicity stunt during the Manchester United vs. Burnley soccer match, and like the slogan he portrays white people as an unfairly suppressed social group. In his rant, like so many coming from the alt-right and neo-fascists, white people are victims. He thinks it's unfair that white people can not fight for THEIR rights, when black people can. He doesn't or won't understand the difference between a black man saying that he's "Proud To Be Black" and a white man saying he's "Proud To Be White". The difference, dear Carl, is that white people are in power, and have been for centuries. Your problem is that you, like your fellow right wing charlatans on the internet (like Charlie Kirk, Candace Owens, Stefan Molyneux, Jordan Peterson among countless others), don't recognize the existence of white privilege and male privilege. You deny the truth of systemic racism, just like Jordan Peterson. You somehow mistake affirmative action born out of identity politics for suppression of your precious white race.
In the law we've identified, for good sociological and historical reasons, several so called "protected groups" in order to make it illegal to discriminate against these historically suppressed groups like women, gay people, non white people and so on. According to people like Carl here these laws as well as identity politics are part of a leftist conspiracy of Marxist professors. Jordan Peterson gave a speech titled Identity politics and the Marxist lie of white privilege; follow that link if you want to listen to someone who's way smarter than Carl make the same erroneous claims. Same sex couples celebrate their fairly recent right to not be discriminated against each year during "Gay Pride". These far right reactionaries invented "Straight Pride" which is just as insulting as "White Lives Matter"; straight people and white people are not included, for good sociological and historical reasons, in the law's protected groups. And if you need an explanation as to why that is, you're simply ignorant or malicious.
Where I do partly agree with these white male cry-babies is in the exaggeration, the virtue signalling and the feigned "white guilt" present in some parts of the political left. So you don't have to feel guilt over past crimes against the suppressed groups; you are not personally guilty of slavery. What you can be guilty of is contributing to the continued suppression of these groups, and that's what you're doing Carl, Jordan, Stefan, Candace, Charlie... You all provide a gateway to fascism, white supremacy and white nationalism with your faux appeal to common sense and calls for black people to "get over it" because slavery is no more. Watch the first video to see many of them "in action" while they sell their racist message through the PragerU misinformation platform; that one's at least funny...
Do White Lives Matter, Too?
---
Thanks so much for visiting my blog and reading my posts dear reader, I appreciate that a lot :-) If you like my content, please consider leaving a comment, upvote or resteem. I'll be back here tomorrow and sincerely hope you'll join me. Until then, keep safe, keep healthy!

Recent articles you might be interested in:





Thanks for stopping by and reading. If you really liked this content, if you disagree (or if you do agree), please leave a comment. Of course, upvotes, follows, resteems are all greatly appreciated, but nothing brings me and you more growth than sharing our ideas.