"Every leap of civilization was built off the back of a disposable work force. We lost our stomach for slaves, unless engineered. But I can only make so many." This quote might as well have come from the Bible, but it's from Niander Wallace in the film Blade Runner 2049; Wallace is the film's antagonist and the creator of "replicants", the bio-engineered disposable workforce of the future...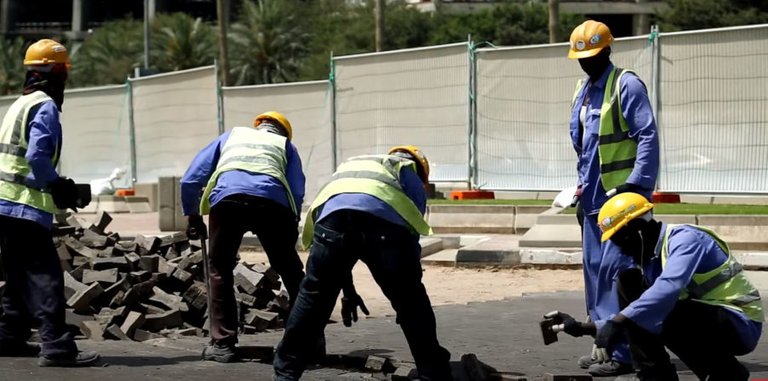 source: YouTube
And make no mistake: that disposable workforce is real, has always existed and will remain as long as we keep intact the capitalist paradigm. What we generally call "civilization" has come about in our early history, right around when we first created nations or empires. The early ones, like the, Sumerian, Mesopotamian, Babylonian, Persian and Egyptian empires didn't have well defined borders, but they did have a government, a language and the same class division that perpetuates till this day between a few rich and powerful, and the rest. As far as we know, this division did not exist when we were tribal nomadic hunter-gatherers; only when we settled down and invented agriculture, the stratified economic classes arrived. In fact, one theory of state development poses that the early states were created to protect the private property of the few.
In all likelihood the state's sole right to exercise force through its military and police forces, as well as the imaginary lines on a map we call borders, are a remnant of the economic stratification brought about by agriculture and sedentary life. Think about that for a moment. We were free to move anywhere we want, until a few rich individuals decided we couldn't anymore because they drew lines around their privately owned territory. I want you to ponder on the sheer arrogance, the immeasurable sense of self-importance, the megalomaniacal narcissism that allows one to think it's okay to claim a portion of the planet for themselves. And to then let others work that land for ones own enrichment. Indeed, every leap of civilization was built on the back of a disposable workforce. Wallace was right for the most part. The only part I dare question is the part when he said that we've lost our stomach for slaves; they've been replaced by wage-slaves, that's all.
And when the population of a nation has reached a point where workers have become too expensive, our modern Pharaohs, Emperors and Kings simply move their production facilities to a nation that hasn't gained those expensive worker-rights yet. Or they let poor people cross their borders who are willing to work for much lower wages. What I want to say is this: almost all our grievances are caused by the class stratification that is as old as civilization itself, and exists for the benefit of the very few. Stop-signs, fences and borders are the greatest impediments on our freedom of movement, and those are also inventions of the very few who don't want the working poor to be part of, or even witness their lavish lifestyles. There's only one ideology I know of that acts as a counter to this millennia old power-imbalance, and that's socialism, economic democracy. The beautiful thing is, taking the above into consideration, that a world without classes is also a world without borders...
Today's video is partly about what I've discussed here, with an emphasis on the phenomenon of borders, states and migration. I hope you find it enlightening :-)
Borders Are Violence | Renegade Cut
---
Thanks so much for visiting my blog and reading my posts dear reader, I appreciate that a lot :-) If you like my content, please consider leaving a comment, upvote or resteem. I'll be back here tomorrow and sincerely hope you'll join me. Until then, keep safe, keep healthy!

Recent articles you might be interested in:





Thanks for stopping by and reading. If you really liked this content, if you disagree (or if you do agree), please leave a comment. Of course, upvotes, follows, resteems are all greatly appreciated, but nothing brings me and you more growth than sharing our ideas.