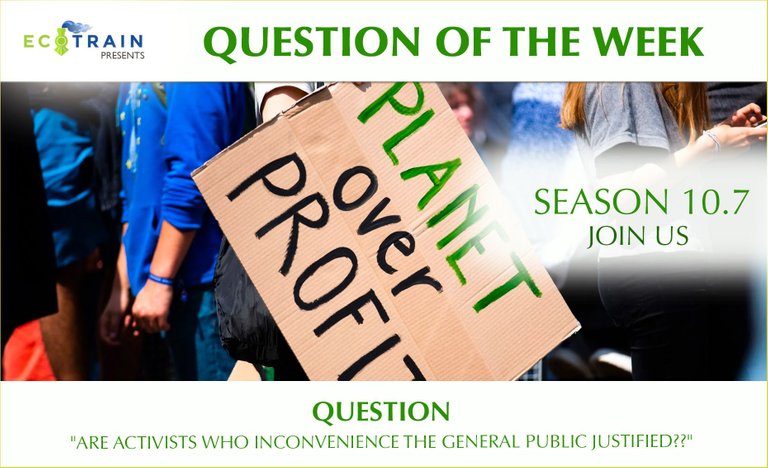 Welcome back to the question of the week, in collaboration with Dreemport! I've been taking it easy on you all for a while now, so this week we look at a more controversial topic around the issue of activists such as those concerned about climate change, and people who are protesting and generally making their voices heard in many ways... often to the frustration and anger of the general public! In the UK for example there are few groups such as insulate Britain and the Extinction Rebellion who are causing all kinds of problems for the general public by doing things like blocking traffic and even gluing their heads to the road! Until very recently there were no laws against this and so things ground to a halt where these activists were demonstrating! Another prime example is the truck blockade that happened in Canada in protest of very strict measures by the government against people who were protesting against lockdowns and restrictions. This has caused a lot of conflict between these people and the general public and in some cases has led to violence and unrest.
Even today there is no clear consensus as to the extent to which climate change will affect this world, and indeed whether we are even responsible for it or if it is really happening. Nevertheless, there are many people who believe that we are at at a tipping point in terms of CO2 emissions, and if we pass this point there is no return! People who are demonstrating and blocking roads believe that this is a life or death situation for the planet and the way we have been living on it through this great industrial and technological age.
The question is whether you think that their actions are justified, and if causing significant delays and problems for commuters and people trying to go about their daily business. Does a perceived notion of the world being in serious trouble justify their actions, or are they just selfish and even deluded individuals! This is a difficult question because no one can prove the point about climate change until we see the results of it, and since no one is sure, can they really be justified in their actions? This question can of course be extrapolated to other issues that people think are most important, and the same question can be asked. Is it ever OK to demonstrate in a way that may causes harm or troubles to other people who are simply not engaged in these issues? Are there any issues that are so important that it makes it OK to stop others in the street who are trying to make a living and live their lives as they see fit!?
As always there is no right or wrong answer, but your opinion is valuable! It's always good to see what people thing from different parts of the world, and walks of life. If you don't believe that climate change or the way that we are living is a problem, i am particularly interested to hear if you still think that their actions are justified or not. Perhaps you have taken action yourself and can share a personal story about a time that you took action or joined a demonstration to support a cause. Did you inconvenience others, and how was the experience? DO you think that these actions help the cause or hinder it? Does inconveniencing other people just put their backs up and makes them even less likely to listen to the voices of those speaking, or is this the best way that people can get their voices heard.
Whatever you have to say we want to hear about it! Perhaps you have a better idea or way for people to demonstrate or speak out that you think is more productive? If so please do share it! All viewpoints are welcomed so please do feel free to share what you think!

POSTING GUIDELINES
Q. "ARE ACTIVISTS WHO INCONVENIENCE THE GENERAL PUBLIC JUSTIFIED?"
- Share a link to your post in the comments below.
- Use the topic tags qotw and ecotrain when you post.
- We welcome everyone to join us and post your answer to this QOTW.
- Your answer can be a written post, a video, or any way you wish to express yourself.
- You can post anytime from now until Sunday 22 May 2022.
- You must Subscribe to the ecoTrain Community to post.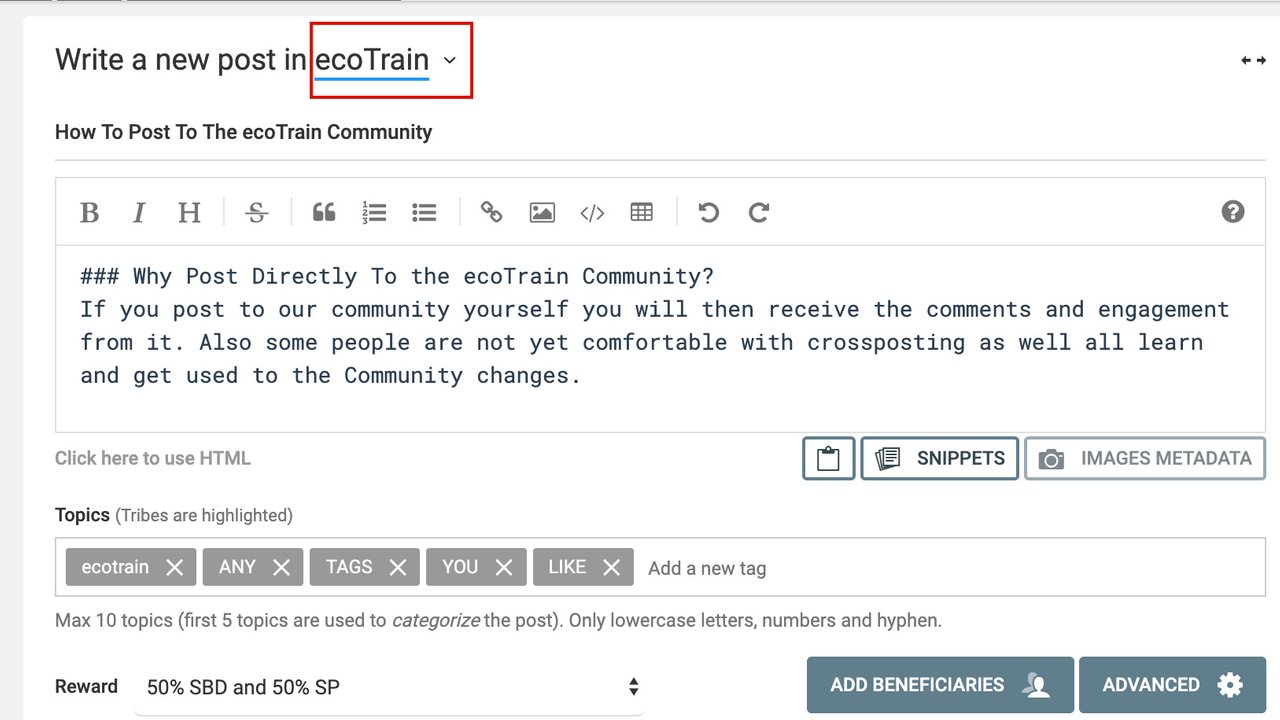 Please also post a link to your post in the comments so that I will be sure to find it and add it to the weekly tie-up post.
How to submit your post to Dreemport
Please visit the DreemPort website and create an account.
The submission date is fixed to Friday so on Friday 20th May only please submit your hive post URL by noon PST in order to compete.
The CURATION of those posts happen on Monday and everyone will see the results on Tuesday!


CHECK OUT OUR PREVIOUS QUESTIONS OF THE WEEK
SEASON 10
SHARE A STORY ABOUT ONE OF YOUR FAVOURITE NATURE EXPERIENCES
https://peakd.com/hive-123046/@ecotrain/question-of-the-week-tie-up-post-share-a-story-about-one-of-your-favourite-nature-experiences-thank-you
WHAT HABITS OR ADDICTIONS, BOTH GOOD AND BAD, HAVE YOU DEVELOPED AND WHICH YOU WOULD LIKE TO GET RID OF?
https://peakd.com/hive-123046/@ecotrain/ecotrain-qotw-tie-up-post-what-habits-or-addictions-both-good-and-bad-have-you-developed-and-which-you-would-like-to-get-rid-of
WHAT THINGS COULD WE DO DIFFERENTLY TO REDUCE CLIMATE CHANGE?
https://peakd.com/hive-123046/@ecotrain/ecotrain-qotw-tie-up-post-what-things-could-we-do-differently-to-reduce-climate-change
WHAT ASPECTS OF SUSTAINABILITY AND HOLISTIC LIVING ARE IMPORTANT TO YOU?
https://peakd.com/hive-123046/@ecotrain/question-of-the-week-tie-up-post-what-aspects-of-sustainability-and-holistic-living-are-important-to-you
---
SEASON 9
IF YOU COULD ASK GOD ONE QUESTION AND GOD WOULD GIVE YOU AN IMMEDIATE ANSWER WHAT WOULD THE QUESTION BE AND WHAT ANSWER WOULD YOU WANT TO HEAR?
https://peakd.com/hive-123046/@ecotrain/ecotrain-qotw-tie-up-post-season-98-if-you-could-ask-god-one-question
WHAT DOES SUCCESS LOOK LIKE FROM A SPIRITUAL PERSPECTIVE?
https://peakd.com/hive-123046/@ecotrain/ecotrain-qotw-tie-up-post-what-does-success-look-like-from-a-spiritual-perspective
WHY IS IT SO HARD TO MEDITATE?
https://peakd.com/hive-123046/@ecotrain/ecotrain-qotw-tie-up-post--why-is-it-so-hard-to-meditate
DO YOU BELIEVE IN DESTINY OR KARMA? CAN BOTH BE TRUE?
https://peakd.com/hive-123046/@ecotrain/ecotrain-qotw-tie-up-post-95-do-you-believe-in-destiny-and-karma-can-both-be-true
CAN SPIRITUALITY AND TECHNOLOGY LIVE TOGETHER?
https://peakd.com/hive-123046/@ecotrain/ecotrain-qotw-tie-up-post-can-spirituality-and-technology-live-together
HAVE YOU EVER WITNESSED A MIRACLE?
https://peakd.com/hive-123046/@ecotrain/ecotrain-qotw-tie-up-post-have-you-ever-witnessed-a-miracle
IF THERE IS A GOD WHY IS THERE SO MUCH SUFFERING IN THE WORLD?
https://peakd.com/hive-123046/@ecotrain/qotw-92-tie-up-post-wow-what-a-response-from-150-people-if-there-is-a-god-why-is-there-so-much-suffering-in-the-world
WHAT DOES SPIRITUALITY MEAN TO YOU?
https://peakd.com/hive-123046/@ecotrain/ecotrain-qotw-season-91-awards-post-what-does-spirituality-mean-to-you
---
SEASON 8
WHAT DO WE FEAR, WHY DO WE FEAR?
https://peakd.com/hive-123046/@ecotrain/ecotrain-qotw-awards-post-what-do-we-fear-why-do-we-fear
WHAT PREVENTS ACTION?
https://peakd.com/hive-123046/@ecotrain/ecotrain-qotw-awards-wowwwwwwwwww-what-a-response
WHAT IS THE BEST KIND OF ACTION?
https://peakd.com/hive-123046/@ecotrain/ecotrain-qotw-awards-post-season-85-what-is-the-best-kind-of-action
IF NOT YOU THEN WHO? IF NOT NOW THEN WHEN?
https://peakd.com/hive-123046/@ecotrain/ecotrain-qotw-awards-post-season-84-if-not-you-then-who-if-not-now-then-when
WHAT ACTION DO YOU THINK NEEDS TO BE TAKEN TO COMBAT CLIMATE CHANGE?
https://peakd.com/hive-123046/@ecotrain/ecotrain-qotw-awards-post-season-83-what-action-do-you-think-needs-to-be-taken-to-combat-climate-change
WHAT ACTIONS DO YOU THINK ARE NEEDED IN YOUR LOCAL AREA?
https://peakd.com/hive-123046/@ecotrain/awards-post-ecotrain-question-of-the-week-season-82-what-actions-do-you-think-are-needed-in-your-local-area
WHAT ACTIONS HAVE YOU TAKEN IN YOUR LIFE THAT LED TO POSITIVE CHANGES?
https://peakd.com/hive-109038/@ecotrain/ecotrain-question-of-the-week-awards-post-season-81

Supporting People Who Help
Make The World A Better Place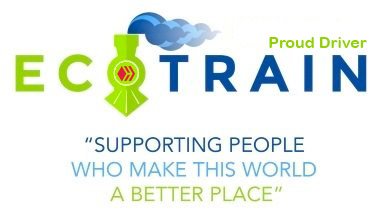 CLICK HERE TO SUBSCRIBE TO THE ECOTRAIN COMMUNITY