I'll lay out the scenario and build up to my find. Follow along and see what you think.
My body clock has been off since I went to bed at 6 AM and 7 AM recently. I often toss away concern for sleep to make sure I go to bed proud that I didn't skip trying to save valuable items from unnecessary waste.
Last night, I had no choice but to take a nap from 10:20-11:20 PM. I knew it'd mess me up, but I needed to recharge for my walk outside. Per usual, I got busy addressing upcoming crypto airdrops and had a choice to make at 3 AM. It was 30 degrees and I was still tired. To go out extra late or recover on sleep?
I found a way to psych myself up and hit the road with a purpose knowing that it'd be a long one.
The first spot I hit delivered a few LEGO minifigures and loose bricks. This is one of my favorite things to find and I consider it a good omen when I start off with these. I took a few other small items while my face and head were adjusting to the cold, and marched on.
It didn't take long until I found a bunch of trash bags that had household items in them from a move out, divorce, or major purge. I found the first clue by squeezing the outside of a bag to feel what turned out to be a label printer. As this bag had blue drawstrings, I cherry picked the others with the same color string (the rest had none), and started feeling those bags from the outside. I found a bunch of stuff including two cell phones, about a dozen pairs of Italian and Spanish shoes/heels (several in original boxes), and designer bag stuff. This person was absurdly wasteful as many of these shoes were barely worn. I took a few of the better pairs to try to bring them to a consignment shop nearby where they'd have more luck selling them for me at a 50/50 split. There were also about a dozen felt jewelry pouches to get me excited for a mistaken toss, but I didn't strike gold.
With my backpack full of women's shoes and holding two shoeboxes, I set the goal of finding a bag to carry them in. Within a block, I found an open garbage bag of household stuff that was picked over. This was my sign that there should be more. The bag had contained vintage photos and media, as well as a gold-plated pen and a sterling silver brooch from Japan. I took those two ($50 and $30). Assuming the bag was perused by a homeless person who wasn't too keen on finding what I look for, I maneuvered my hands over the other black bags to eventually find 3 more that had the same owner's stuff.
My hands have sonar. It's pretty cool. If you visualize the shapes and feel the texture, you can often easily make out what the item is without seeing it with shocking accuracy.
Aside from tons of interesting vintage photos, I found this gem at the bottom of one bag that I almost missed. It's a paperweight, yet I knew it was a good one by its quality. It was hand-signed on the bottom and in excellent shape. It has two super tiny chip on two edges you can barely see (called flea bites), but I'll consider finding it that way after it was potentially thrown on the sidewalk a huge victory.
Here's the beauty, which easily sells for $200-$250. They're from the early 80's and super rare. For scale, I included the coins I found last night.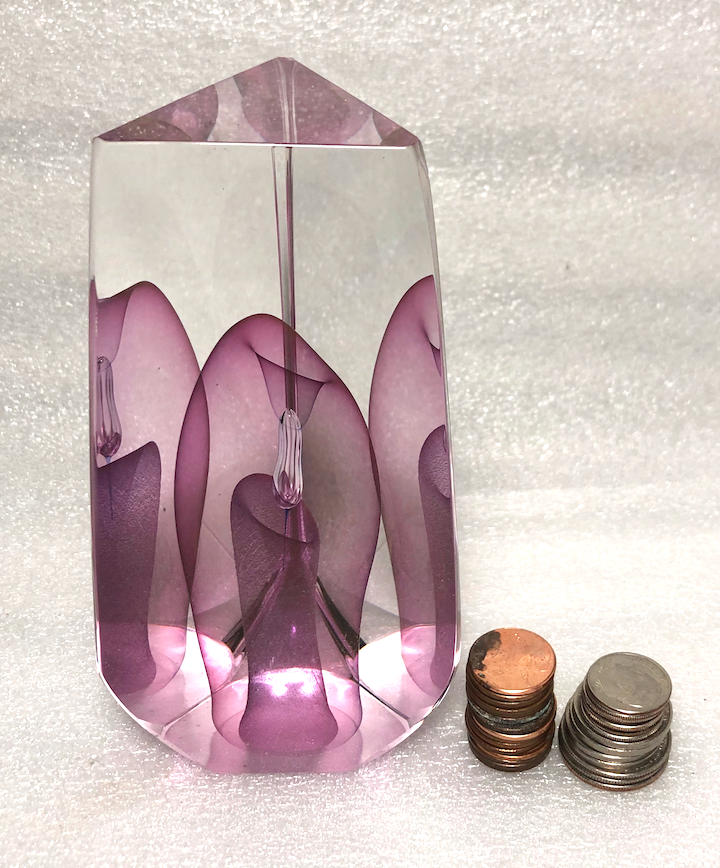 Tack that sweet find on with the LEGO minis, and I was feeling like I was on the right track. I often try to find silver lining in the fact that I'm outside when 98% of my city is asleep through rewards I find along the way. They're little signals to me, and I've had countless of them over the years when I needed them most to keep going. Faith is powerful.
An average find isn't a clue from the universe for me or anything, but as special items appear and accumulate by the nature of how I find them, that means something to me. This item here wasn't anything major, but I felt like I was on the right trail by how I used my intuition to find it buried in a pile of black bags under the moonlight with a phone battery fading at 17% from the cold only 2 blocks into my walk. Nobody else in their right mind would've been able to find this unless they sought it with a passion.
I then crossed the street and had no choice but to find this large AeroGarden Farm getup, which is fairly expensive. I find a few normal AeroGardens each year to sell or gift, but didn't know they come this big. I rolled my eyes because I'd have to take it, meaning that I'd have to lug this awkward item around with the swinging light canopies. Oh well.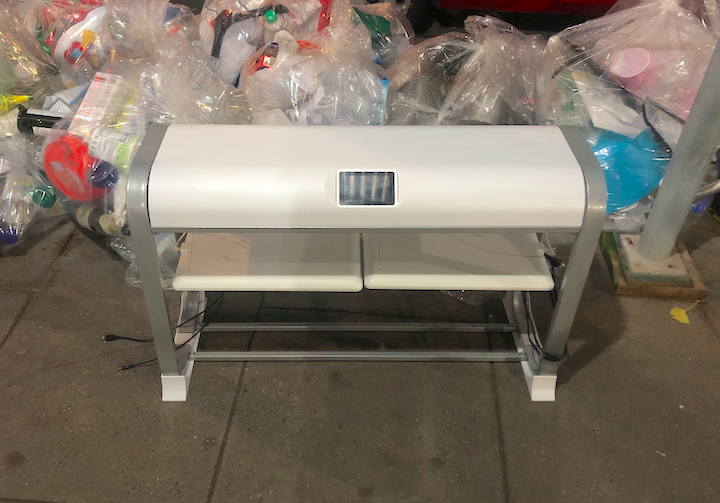 I also found the large reusable grocery bag I needed to address the bag issue and filled it up. This may sound mundane, but when it's cold and you want one hand in your pocket while carrying stuff, it's huge and allows me to function better. Why don't I bring one with me? I want to find what I need. I want to be resourceful. The only thing I ever take is a backpack that was given to me for this purpose since I was too stubborn to use one before, a screwdriver with several bits, a rubber glove, and my phone. Simple, yet you can see how productive I can be, while bringing home large quantities of items. Where there's a will, there's a way.
Now for the the real part of the story. Right after this point was where this went from semi-normal (for me) to amazing.
---
The spot directly to the right of the pic above is the place I found the late NHL hall of fame hockey player's stuff a few weeks ago. I blogged about this then. After a few walks of nothing there since, there were several of their bags again! This time, it was more personal documentation and family photos. There was also a pair of Chanel shoes, but they were beat up. I felt a little weird to be seeing this personal life stuff because I knew who the person was. In other cases, I don't know them, and don't mind. His wife also recently passed, so it was a double whammy with her stuff too.
So.... just after plucking out these two boxes of 12 vials of wine each (cool, right?)...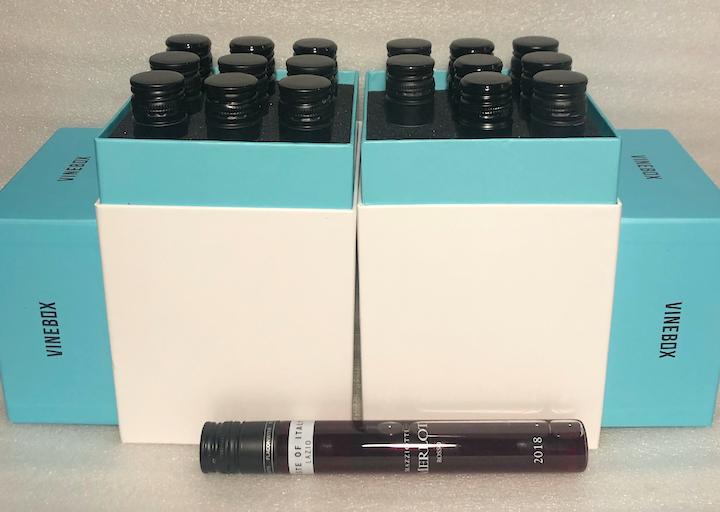 ... I started feeling more uneasy that I was looking through personal documentation of the deceased and their family photos. Of course, I'd never compromise or exploit any of that, but I felt a bit uncomfortable given their stature. As was the case across the street just before, it was the same situation, but I didn't know them to not think twice.
This is where it gets special.
To try to make myself feel at ease, I made a wish to simply find some of their hockey memorabilia, and, that if this was ok with them, for them to show me a sign that it was.
Within seconds, I found a gift bag with their hockey team all over it. Woah! Stunned I plucked it and put it on the sidewalk. It felt like there was a good amount of stuff in there, but I actually got distracted in finding an unused Bloomingdales gift card right after. How? because a new gift card from that store could be a pretty penny. After I snapped out of it, I went down to the hockey bag to see nothing significant at first. Bummer. It wasn't my hockey score, but I did pull out one item that made my jaw drop.
Let's recap:
I was hoping to find this person's bags again and I did weeks later at 5 AM in 30 degrees.
I asked the universe or the late person(s) for what I wanted and made an attestation that I simply wanted to find and save some hockey stuff.
I then asked for that person or the universe to give me a sign that this was ok, and not an intrusion. True story. I grew up in a haunted house and have a picture of my relatives as guardian angels at my Mom's car accident, so I believe.
Andddd this is what I found in a hockey bag... Read the words!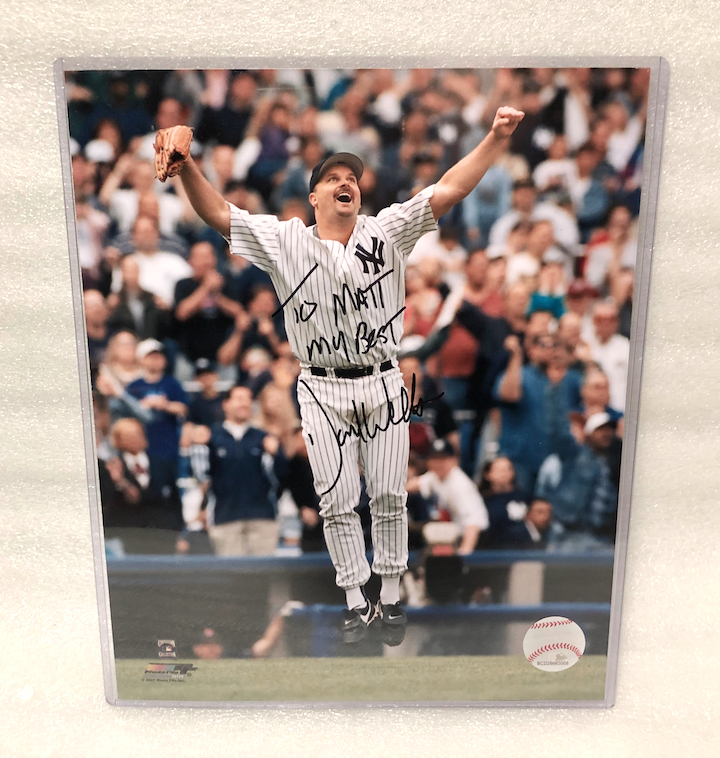 To Matt
My Best
David Wells
Let that sink in. My name is Matt. I play 45 games of baseball every year. I'm a pitcher. "My Best" as an endorsement...
The person who's item this was is not named named Matt. He and his wife have no children named Matt from any marriage.
Now that's a sign if I've ever seen one. Can't make it up.
David Wells is a pitcher shown at the last out of his perfect game where he admitted to pitching it hung over. Thankfully I wasn't going to drink all that wine above to be in that boat, but if pitch a perfect game next season, I will faint.
As I consider if I should scale up or back on this, things like this give me no option but to push forward. While this is a bit personal, I'm sharing this because it's a lesson to appreciate. Put your thoughts out there and the universe will sometimes return them to let you know it's listening.
Proof of find outside at 5:05 AM with shoeboxes and grocery bag.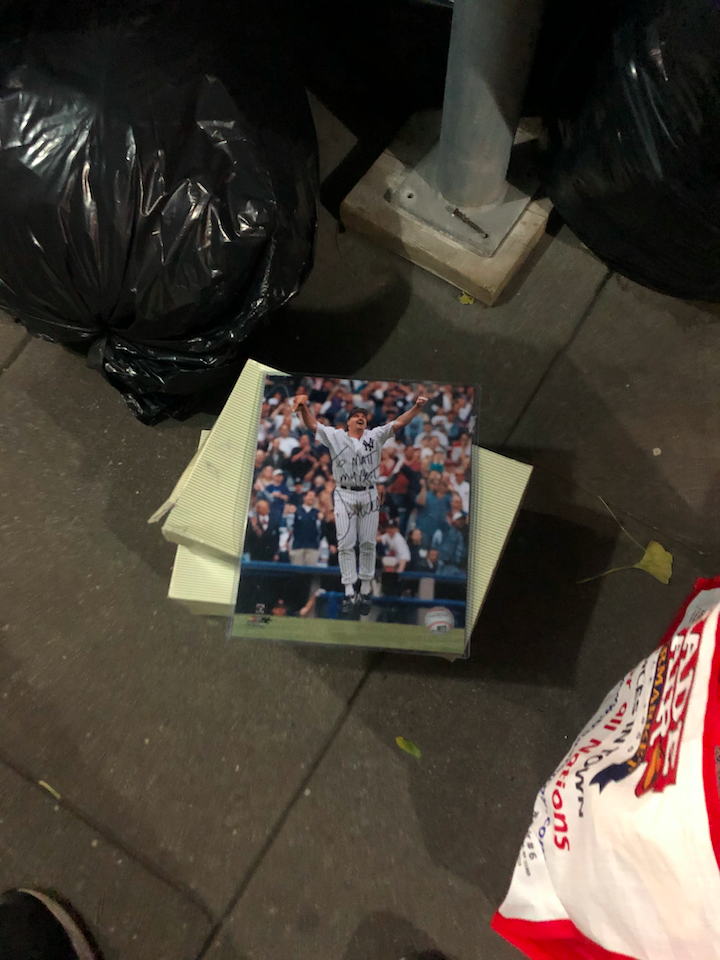 ---
After processing this sign and looking weird to some old guys walking their dogs, I walked around a bit more to find a vacuum hose I really needed. At this point, I apparently had cut my finger pretty bad and was bleeding a lot. I didn't notice at first because my hand was cold. At this time, two snobby women walked by in their yoga clothes and one woman gave me two separate dirty looks. I simply said hello as she stared at me. Too bad she doesn't know my cause.
A few piles down the road, carrying the AeroGarden on my shoulder, a full backpack, and the full shopping bag, trying not to get blood on anything, I came across two black garbage bags that were open with stuff all over the sidewalk. It was probably the same person who sloppily left the other bag of pictures open before. In this case, I felt the need to put everything back in the bags for good karma. Precisely as I stopped to do this, a man came out of the building and stared me down, likely thinking that I made the mess. Oh well. After he walked by, I immediately found an Apple wireless mouse, wireless keyboard, 3 Macbook chargers, two leather clutches, and some other odds and ends. I tried to take a picture, but my phone was on 2% and didn't let my camera work in power save mode. I also found most of those coins in the paper weight pic above inside a clutch.
After this, I put everything back in the two torn bags, tied them the best I could, and hoped that nothing got in the cut on my finger. When that resident hopefully walks back later, he'll see that I fixed the mess, got rewarded, and hadn't created it. Again, a nice message for me. I stopped to clean it up and then saw the prizes the prior person left for some reason.
At this point, I couldn't carry anything else. My backpack was stuffed and the grocery bag was overflowing. I didn't want my finger to get on anything so I decided to go home, only 1/3 into my walk route. Damn. I often don't like when I find too much too soon because it makes me conflicted. Do I cash out to rest, or go back out to keep claiming free money. It was still dark and I couldn't use my flashlight anymore to see in the bags or research finds, so I gave in. I told myself that I'd go back, charge my phone, examine what I found, wash up, and consider bed or another round after. TBD.
---
After getting home, I processed my finds into piles and did some research on the Bloomingdales gift card. After calling later in the AM, it turns out that it expired in 2013. Damn.
At around 6:40 AM, exhausted in my bed, I said F*ck It as I usually do and got suited up again to finish the route. With the sun up, despite lots of commuters walking, I felt it'd be an easier stroll. Within 15 minutes I found this BabyBjorn High Chair which is a very good item. I sold one last month for $130 cash, but they're worth about $250-$280 used online after shipping. This was the same chair model as that one which I got shamed for by a woman in front of a group of people for carrying trash. This was a meaningful sign of redemption for me here as it was the first thing I found just after going back out. I'll connect those dots, but it's a special item for me being the second time I've every found it, the first I was shamed for and it stung. This was untainted as it should be.
Easy pickins'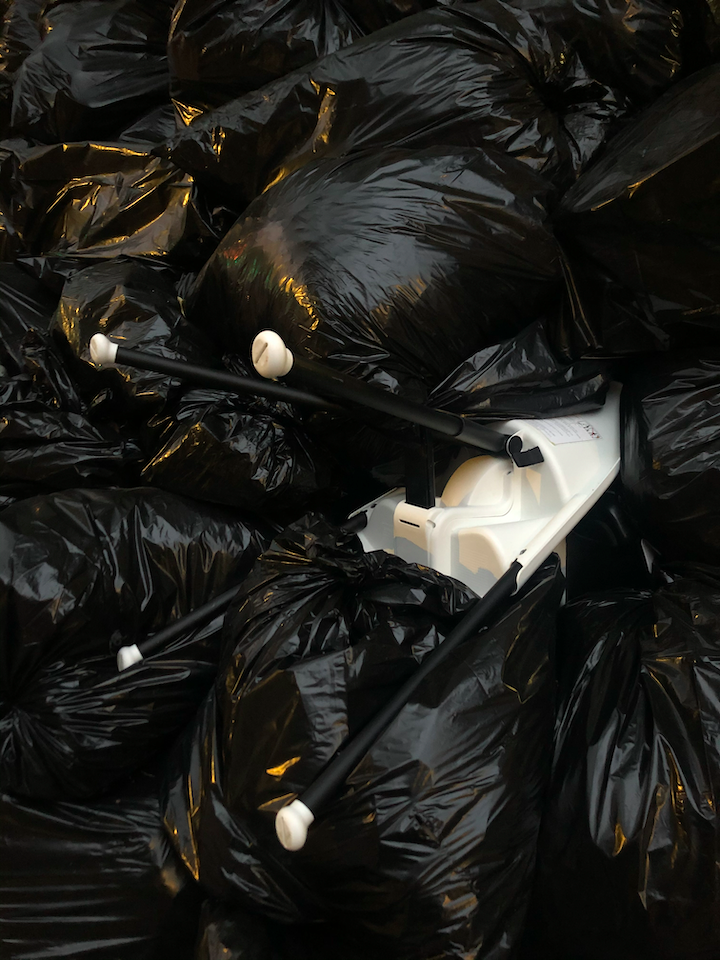 Exhausted and cold, I walked most of the remainder of the route and found some toys, including a working Mattel clown Jack-In-The-Box from 1971. After that, it was time to go home.
I went to bed at 11 AM. I'm exhausted now writing this and am immediately going out to deliver a large Pottery Barn lamp for $140 cash. My eyes hurt, but I'll try to walk after I lug this heavy 6 foot lamp over to the buyer. Knowing me, I'll find a way to go out later. I just need to make sure I make time to sell this stuff because my sleep is off now.
---
That's my story and I'm sticking to it. I found a bunch of other stuff last night, but I've said enough.
The signed picture seconds after asking for a sign cool, inspiring, or just eerie?
The universe or other is listening and I'm now recharged to continue with my cause in a city where I'm the oddball for caring. Hopefully my effort to document this over the years has created some change on Hive because it's all I know how to do. My friends and family don't seem to want to get involved, so it's just me for now.
P.S. - to those who don't know why signs are important to me... I quit my six-figure corporate job to pursue this passion over 6.5 years ago. I left it all behind to pursue my freedom and what I believed in. My late Dad also resented me for not following in his corporate path and ultimately disowned me just before he died of cancer without an apology. I need these markers to push me since there's nobody else but me.
Thanks for your interest, support, and any comments.
Liquid rewards will go towards my Splinterlands Plot purchase.
"My Best,"
Matt