EN
Hello HIVE Community!
In our last post we introduced you to our new Raise 3D printers and showed you how the setup of a professional 3D printer with 2 extruders looks like.
Now we have tried to test a two-color print and this is the result:
DE
Hallo HIVE Community!
In unserem letzten Post haben wir euch unsere neuen Raise 3D Drucker vorgestellt und euch gezeigt, wie die Inbetriebnahme eines professionellen 3D Druckers mit 2 Extrudern ausschaut.
Nun haben wir zum Testen einen zweifarbigen Druck ausprobiert und das ist das Ergebnis: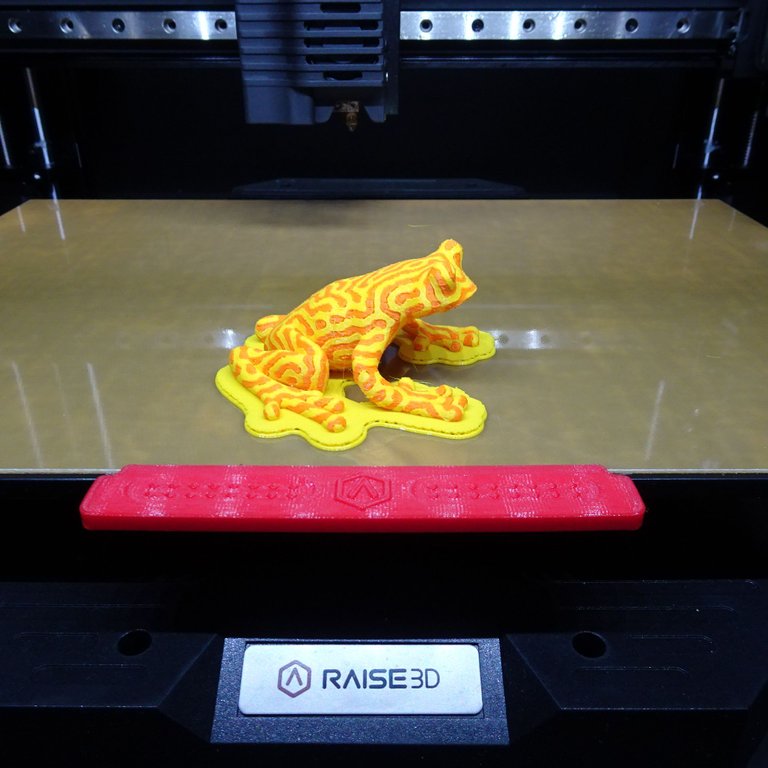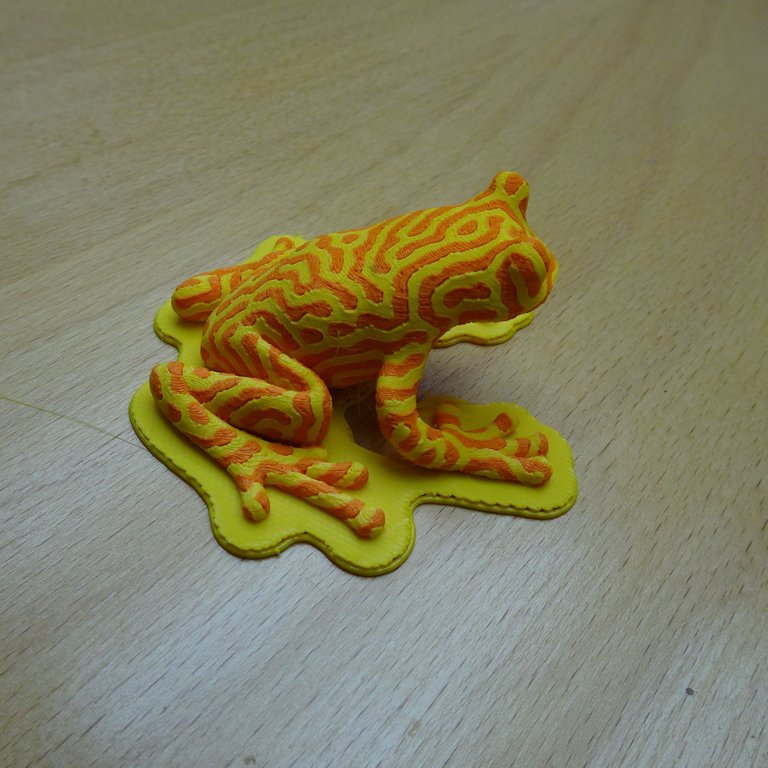 A print like this can not be simply set in the slicer, it already requires a special prepared figure, which consists of 2 STL files that fit on top of each other.
We have chosen this figure from Thingiverse.
In our small animation you can see how the two parts look like separately.
Einen Druck wie diesen kann man leider nicht einfach im Slicer einstellen, es benötigt schon eine speziell vorbereitete Figur, die aus 2 übereinander passende STL Dateien besteht.
Wir haben uns für diese Figur von Thingiverse entschieden.
In unserer kleinen Animation könnt ihr sehen, wie die beiden Teile getrennt aussehen.

During printing, both extruders are used one after the other for each layer. In addition, the printer builds a small tower next to the model to clean the nozzle.
Beim Drucken selbst kommen bei jeder Schicht immer beide Extruder nacheinander zum Einsatz, zusätzlich baut der Drucker neben dem Model noch einen kleinen Turm, um die Nozzle zu reinigen.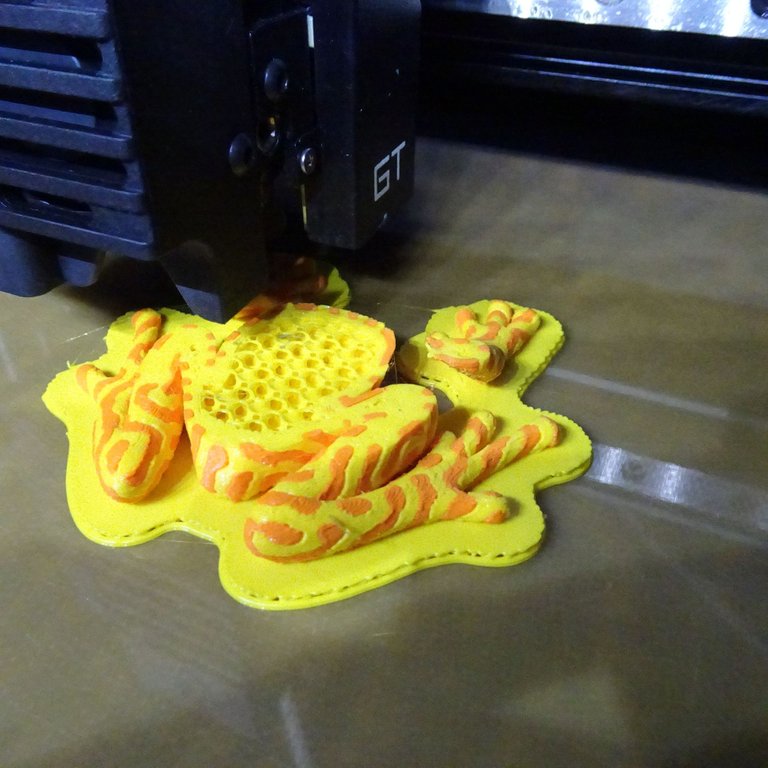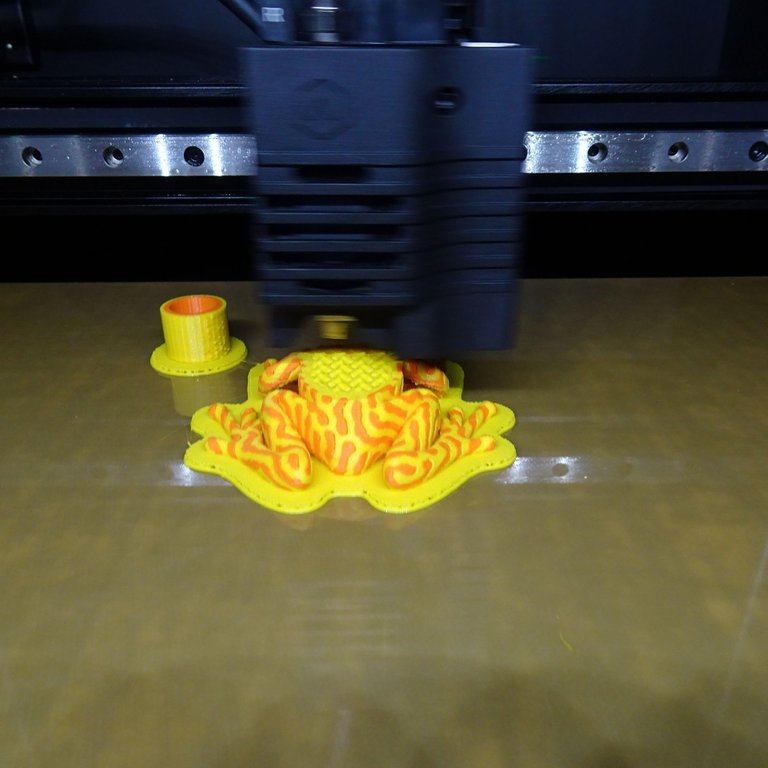 All in all, a second extruder is a very useful invention. Apart from such gimmicks, it is also possible to make prints where the support structures are made of a water-soluble material such as PolyDissolve S1 from Polymaker, in order to remove support structures where it may not be easy to get at later.
We hope you also enjoyed this little presentation and wish you a good time.
Alles in allem ist ein zweiter Extruder eine sehr nützliche Erfindung. Außer solcher Spielereien sind damit z.B. auch Drucke möglich, bei denen die Stützstrukturen aus einem wasserlöslichen Material wie z.B. PolyDissolve S1 von Polymaker bestehen, um auch Stützstrukturen zu entfernen, wo man möglicherweise später nicht mehr so einfach ran kommt.
Wir hoffen, auch diese kleine Präsentation hat euch gefallen und wünschen euch noch eine schöne Zeit.



Druckado.de - your provider for everything related to 3D-printing - HIVE payments accepted!

Join our Discord Server.

Thanks for your interest!
Have a great time and see you soon, your
druckado.de - Team.